The Coca-Cola Company (NYSE: KO) announced full year 2016 earnings on February 9th. The company gave an update on its progress of re-franchising its bottling operations, while giving final 2016 numbers, and 2017 guidance. This article looks to evaluate the performance of Coca-Cola, and determine course of action for investors.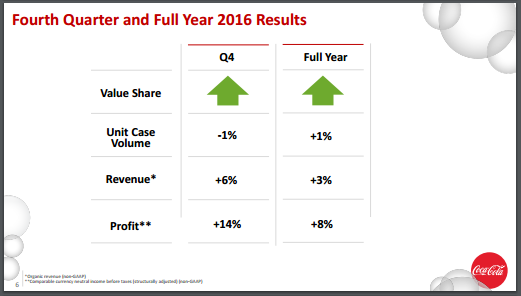 Q4 for Coca-Cola was solid. Unit case volume was down, -1% for the quarter due in large part to a struggling Latin America market. For the quarter, the North American quarter did manage a 1% gain in case volume for the quarter. This brought total case volume for the year up 1% overall, with developed markets carrying the day with low single digit growth while developed markets remained flat. Sparkling beverages will continue to face overall headwinds in the form of social trends moving towards healthy still beverages. Coca-Cola has had some success adjusting to this trend. Its Coca-Cola Zero Sugar brand saw double digit case volume growth in Western Europe, while its Smart Water brand saw double digit volume growth in North America. Unfortunately these healthy alternatives, and new marketing strategy of its core brands (launched in 2016) has not been enough to drastically move the needle....yet.

Coca-Cola has been using is pricing strength to help make up for this. In large part due to pricing, organic revenues were actually up 6% for the quarter. This brought the end of year figure to 3% growth. Net revenues have been hammered by restructuring related to the re-franchising of its bottling operations, and foreign exchange headwinds due to the strong US dollar. With this taken into account, net revenues were actually down, -6% for the quarter, and -5% for the full year.
Coca-Cola continues to progress its process of re-franchising its bottling operations. While this will shrink revenues for the company, the result will be a much higher margin operation that will essentially "do more, with less". By end of 2017, the re-franchising of its United States bottling operations will be completed. An agreement was finalized to begin the re-franchising process in China, while the process is ongoing in Japan. These structural changes will provide continued revenue headwinds in 2017, and 2018.
Coca-Cola gave guidance for 2017, and warned of some headwinds forecasted into 2018.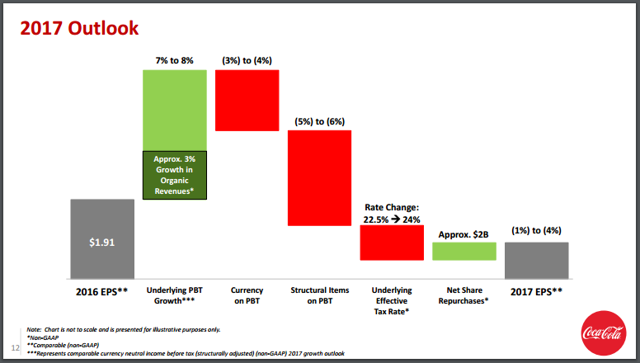 Coca-Cola is calling for essentially a repeat performance of 2016 next year. Management is predicting another 3% growth in organic revenue. With headwinds in the form of currency exchange, continued revenue losses due to bottling operations, and an increased tax rate - earnings are projected to fall between 1% - 4%. It was interesting to see management give an early look at 2018 as well. The conditions in 2018 appear worse than they are for 2017. The revenue headwinds will increase to 16% - 17% related to structural activities, the US dollar is projected to remain strong, and the tax rate will increase further to 26%. This negative outlook is likely the key reason why shares have been kicked down to around $41 per share.
It is important to recognize that Coca-Cola is in the middle of a transformation. The revenue hits from its bottling operation re-franchising process are temporary. The strong US dollar is an external headwind unrelated to the actual performance of operations, as is the tax rate. Unfortunately, operations are not able to do enough to keep earnings growth positive, and therefore the stock deserves to be priced lower. If shares can be had for the right price, long term investors could consider accumulating. Given the bleak earnings outlook for the next two years while Coca-Cola continues to reinvent itself into a leaner, more profitable organization, investors looking for immediate capital appreciation would be better served to look elsewhere.
Coca-Cola's earnings of $1.91 per share at 20X earnings would equate to a share price of $38.20 per share, and yield 3.66% at that share price. A yield that large would indicate a huge discount to historical averages, as the median 10 year yield is only 2.79%. However, investors need to remember that much of the last 10 years has bloated values of dividend paying stocks because of the low interest rate environment. The earnings growth at Coca-Cola is struggling right now, and at the end of the day - earnings drive everything, including dividend growth. Because of the struggles to grow earnings - yet the high quality of the company, I feel 20X earnings is a "fair" deal for the beverage giant.
I do think Coca-Cola will be in good shape for the long haul once it finishes the bottling re-franchising process. The resulting lower cost, and higher margin environment will accelerate cash and earnings growth as revenues continue to rise from Coca-Cola's robust pricing power, and still beverage portfolio expansion. Long term investments are best made when quality businesses hit temporary setbacks. However, it is important in this case that the price is right. If Coca-Cola falls to $38 per share, I would strongly considering opening a position for the long term.
If you liked this article, please find my profile icon at the top of this page, and hit the "Follow" button. I enjoy engaging with those who comment, and am always looking for feedback that allows me to improve on the content I provide. As always, thanks for reading.
Disclosure: I/we have no positions in any stocks mentioned, and no plans to initiate any positions within the next 72 hours.
I wrote this article myself, and it expresses my own opinions. I am not receiving compensation for it (other than from Seeking Alpha). I have no business relationship with any company whose stock is mentioned in this article.