According to a new survey released by an outfit called Exodus Travels, Americans get their "second wind" at age 56. That's good news for yours truly, as I just recently turned 56. Sure enough, I've had a pretty good run lately. For example...
The middle-school basketball team I coach just won our second consecutive conference championship. The girls celebrated by unleashing a torrent of Silly String my way.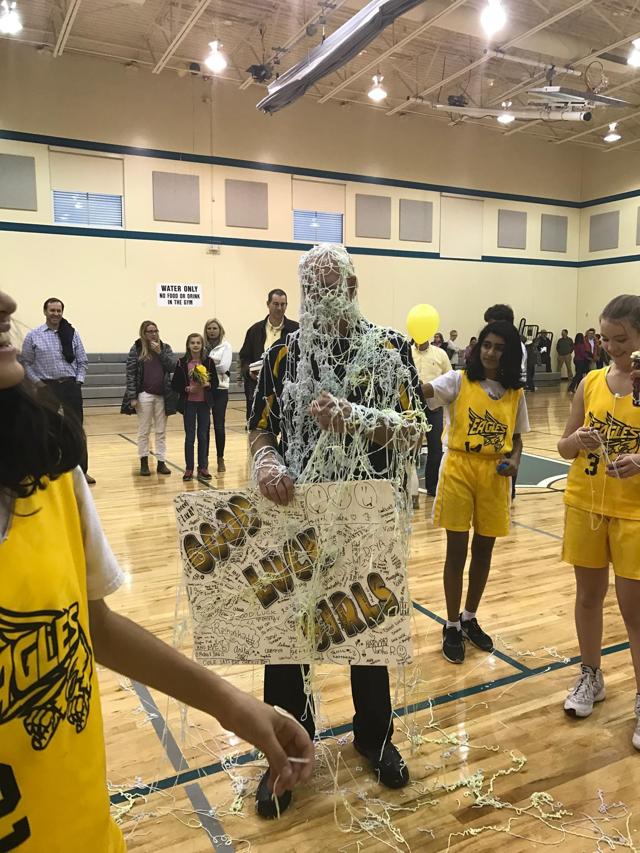 Also...
While I wasn't thrilled to see those cheatin' New England Patriots win the Super Bowl, I did marvel at one of the greatest sports comebacks ever. And hey, at least I was intelligent enough to know that betting against Tom Brady isn't the best money-management strategy.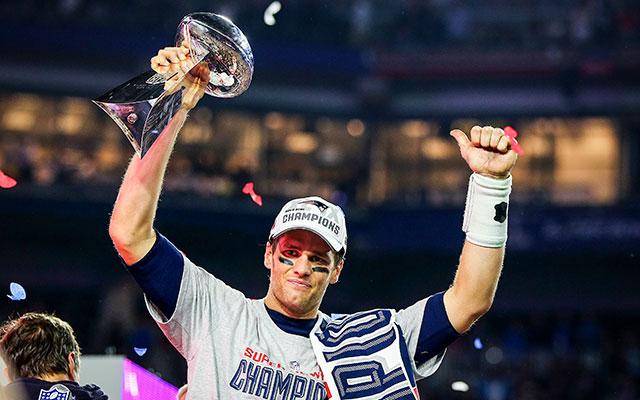 Also...
In his most recent article, my Seeking Alpha colleague David Van Knapp - a.k.a. The Godfather of Dividend Growth Investing - named me as one of his mentors, saying: "Mike Nadel will probably be surprised to see himself mentioned here ... " Surprised? Given that I undoubtedly have learned 10 times as much about investing from Dave as he has learned from me, I was positively flabbergasted! I also was honored and flattered.
Also...
This is my 100th article for Seeking Alpha. Woo-hoo! Strike up the band... or at least a couple of out-of-tune clarinets and a refurbished trombone. With nearly five years having passed since Article No. 1, I still enjoy being part of such a knowledgeable and sharing online community. I know I will learn something (maybe even dozens of somethings) out of the comment stream that will make me a better investor.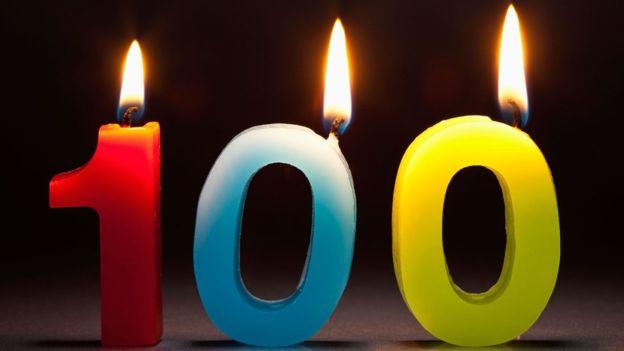 So yes, my second wind truly has kicked in, giving me plenty of vim and vigor to tackle today's subject:
Active Investing vs. Buy and Hold
Back on December 16, 2014, I used $25,000 to fund the Dividend Growth 50, a real-time, real-money portfolio of companies selected a couple of months earlier by a panel of Seeking Alpha contributors.
These were hardly Investing Secrets of the Rich & Famous - most components are the top brands in their industries and many literally are household names. So it was little surprise that I owned the majority of these stocks in my personal portfolio well before the DG50 project was conceived.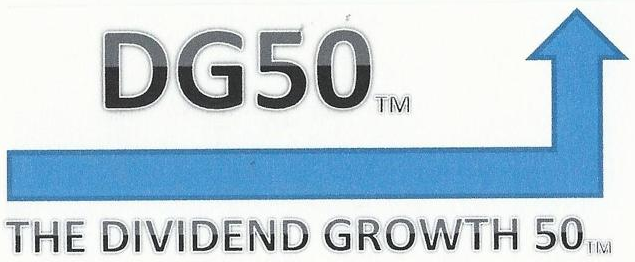 Dividend Growth 50 rules prohibit selling for any reason. The idea is to see how a "typical" buy-and-hold DGI portfolio performs long term - I'm talking about at least a decade or two. So far, it's performed quite well, thank you.
My own portfolio doesn't have such rules. I will sell shares if the company isn't raising its dividend to my satisfaction, if earnings and/or cash flow aren't growing (or aren't expected to grow), if I believe a company has fundamentally changed due to a major "corporate event" (such as a merger), if I consider the stock to be extremely overvalued, if I find a company I like much better in the same sector, etc.
In the two years and two months since the Dividend Growth 50 came into existence, I have sold some or all shares of nine companies that were in both my personal portfolio and in the DG50. (Again, I did no selling within the DG50.)
So how has that gone? And what lessons have I learned?
Price Action
As for the first question, let's take a look at the nine companies, sell dates, prices and other pertinent information. I'll discuss my rationale and my conclusions in a little bit.
| | | | | |
| --- | --- | --- | --- | --- |
| COMPANY | DATE SOLD | SALE PRICE | PRICE 2/8/17 | DIFFERENCE |
| Walgreens Boots* (NASDAQ:WBA) | 3/12/15 | $83.93 | $81.53 | +2.9% |
| Wal-Mart (NYSE:WMT) | 3/23/15 | $83.83 | $67.81 | +19.1% |
| General Electric** (NYSE:GE) | 4/17/15 - 8/28/15 | $27.47 -$25.15 | $29.43 | -7.1% to -17.0% |
| Baxter International (NYSE:BAX) | 8/4/15 | $39.39 | $48.35 | -22.7% |
| Kinder Morgan* (NYSE:KMI) | 8/14/15 | $33.95 | $22.41 | +34.0% |
| ConocoPhillips (NYSE:COP) | 1/4/16 | $47.59 | $49.60 | -4.2% |
| Target* (NYSE:TGT) | 3/17/16 | $82.82 | $64.77 | +21.8% |
| Deere*** (NYSE:DE) | 8/19/16 - 11/9/16 | $86.68 - $90.91 | $108.42 | -19.3% to -25.1% |
| Emerson Electric (NYSE:EMR) | 11/30/16 | $57.23 | $62.41 | -9.1% |
Key: DIFFERENCE illustrates percentage I gained (+) or lost (-) as related to current price; * indicates that only partial positions were sold - I still own some WBA, KMI and TGT in my personal portfolio; ** GE was sold on two dates, half at $27.47 and the other half at $25.15; *** DE was sold on two dates, half at $86.68 and the other half at $90.91.
With four of the nine companies, I came out ahead having sold when I did. My biggest mistake with KMI was not dumping it all, as it is down 34% from my sale price. On the other end of the spectrum, Walgreens is down only slightly from when I trimmed about a fourth of my position nearly two years ago.
It looks like I was smart to have sold Wal-Mart and Target, although the latter sale was only a fourth of my stake. I generally am not a fan of investing in big-box, bricks-and-mortar department stores. Target, especially, offers nothing a shopper can't get cheaper and more conveniently from Amazon (NASDAQ:AMZN).
With the other five companies on this list, I would have made out better had I simply been a hands-off investor. Industrials, in particular, have taken off since I sold them. Deere and Emerson had languished for such a long time and I was so happy to see their price pop a little, I figured I'd take my profits and move on.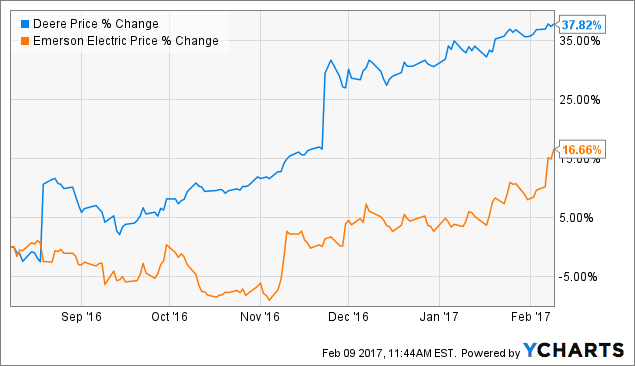 I sold Baxter after it spun off Baxalta; I also unloaded the new company, which since has been bought by Shire (NASDAQ:SHPG).
A year ago, I was patting myself on the back for selling ConocoPhillips before it announced a 66% dividend cut. Look at COP moving higher now that oil prices have surged past $50/barrel. Heck, COP even announced a 6% dividend hike last month.
What Have I Learned?
Selling a stock requires numerous decisions: When do I sell? At what price do I sell? What do I replace it with? At what price do I buy the replacement? There are a lot of moving parts, and the more one tinkers with moving parts, the higher the odds of messing up the machinery.
At the time of each sale, I had good reasons for my decisions. KMI and COP seemed incapable of sustaining their dividends. DE and GE had stopped growing income for shareholders. WMT and EMR had offered only tiny dividend hikes and little earnings growth. After its spin off, BAX slashed its dividend. TGT faced numerous headwinds and its management had made numerous missteps. WBA had run up swiftly in price and appeared overvalued, as did DE.
Despite those good intentions, however, many moves ended up being "wrong," at least from a total return standpoint.
Of course, had the market turned bearish instead of sustaining a bull run that is nearing its eighth birthday, I probably would have been "ahead" on all of the sells. So another thing I have learned is to not beat myself up to much over my less-successful investing decisions (or to crow too loudly over my successes).
Specifically, I have learned that I'm not sure I can trust myself to judge cycles in an industry such as Industrials. I did not see the advances of Deere and Emerson Electric coming at all. So either I have to stop buying Industrials or I need to be ultra-patient with them - as I have been with 3M (NYSE:MMM), a core holding - or I need to try to educate myself better.
I'm not all that surprised COP and KMI recovered some as oil prices increased. I'm happy to say the stocks I bought with the funds from those sells - Dominion Resources (NYSE:D), Verizon (NYSE:VZ) and Ventas (NYSE:VTR) - have done quite well for me.
And that's another thing: One shouldn't judge moves in a vacuum. Yes, GE has gone up since I sold it; but I used the sale proceeds to add to my 3M, which has outperformed GE during that time frame.
On the other hand, I used a big chunk of my Baxter proceeds to purchase shares of Gilead (NASDAQ:GILD), which has officially surpassed KMI - and my 1988 Ford Escort - as the biggest lemon I've ever owned. Which brings us back to the difficulty of making several correct decisions with every sale.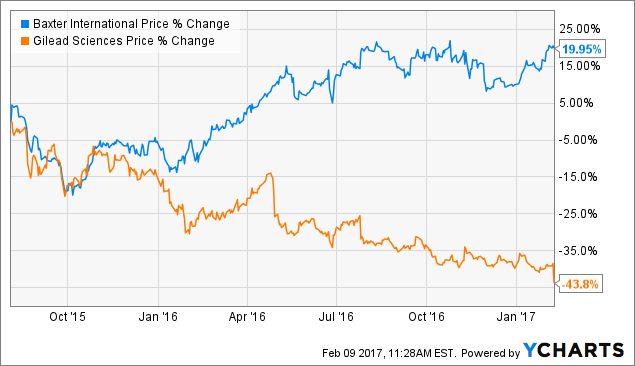 Proceeds from my most recent transactions - liquidating my DE and EMR positions - are still sitting in cash, waiting to be deployed whenever the market turns.
Yes, I am guilty of doing some market timing here, and I know that's a no-no with many visitors to the DGI Fun Zone, but holding a little cash as part of an overwhelmingly stock-centric portfolio gives me comfort.
Conclusion
I am mostly a buy-and-hold guy who reinvests all dividends. I categorize myself as a "reluctant seller" - it might not seem that way given all of those stock sales in the table above, but it's true.
Thirteen companies make up the core of my personal portfolio, representing nearly 60% of my holdings, and I never have sold a share of any of them. Another half-dozen stocks top my next tier - I call them "Role Players" - and I haven't sold them, either. So now we're talking about more than 70% of my portfolio being managed using the same buy-hold-drip strategy that the DG50 mandates.
Most selling takes place around the edges of my portfolio: cyclicals, more speculative holdings, companies I have a little less confidence in, etc. As learning laboratories go, I could do a lot worse.
And now that I've got my second wind - along with my second basketball title - my mind is clear to learn a lot more as I get started on my second 100 articles.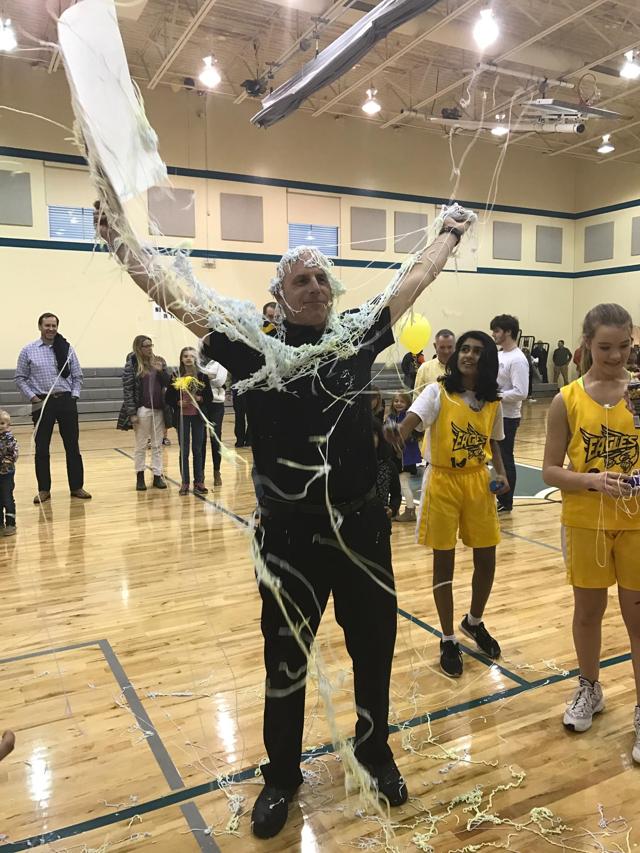 Disclosure: I am/we are long BAX, COP, D, DE, EMR, GE, GILD, KMI, MMM, TGT, VTR, VZ, WBA, WMT.
I wrote this article myself, and it expresses my own opinions. I am not receiving compensation for it (other than from Seeking Alpha). I have no business relationship with any company whose stock is mentioned in this article.