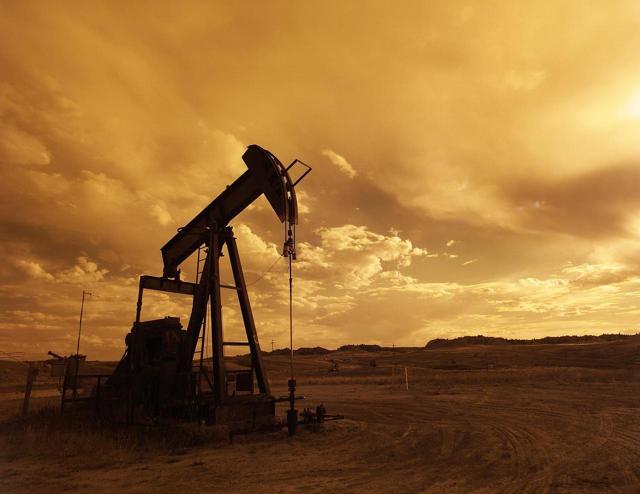 source: Stock Photo
With much of the financial media focusing on the OPEC and Russian production cut, it has given the wrong impression concerning many U.S. shale producers like EOG Resources (NYSE:EOG). The idea circulating is that the output deal has been the catalyst for many shale producers ramping up production, when in fact the increase in output was already in the plans of many shale producers.
This is a problem because it gives the impression OPEC and Russia still determine the direction of the market and price support level of oil, when the U.S., now the global oil supply leader, has taken over that role. After all, there's a reason the deal was forced to be made in the first place - it came from the rapid growth of supply coming from shale.
In essence, the output cut deal was in reality the surrendering of the former oil production leaders to the new sheriff in oil town. Any thinking concerning OPEC in particular dictating the market is only a fond nod toward a past that no longer exists; it gives a sense of certainty and security to many investors used to OPEC interference over the years, but this time around it's a false sense of security, as evidenced by the enormous amount of supply coming to the market, significantly offsetting the production cuts.
This is significant to how investors look at a company like EOG because if they tie in market manipulation tactics used by OPEC to its performance, it gives the impression what the cartel does will determine the success or failure of EOG.
That could be the truth with high-cost producers, but with EOG, after slashing production costs and increasing productivity, it doesn't apply. It has positioned itself to generate a profit at almost all price points oil may be at. The question now isn't profit or no profit, but how much profit it'll generate.
What has brought EOG to this place
The first thing EOG did to successfully compete at a very high level was to make a decision to only drill in areas that generate a 30 percent return when oil is at $40 per barrel. If a specific location doesn't offer that return, it won't drill there. Those parameters forced a discipline upon the company that remains till today, while at the same time challenging its management team to find and creatively develop its ample resources.
A couple of key steps EOG took to achieve its low-cost goals was to acquire acreage connected to existing locations it owned. The reason for that was it figured out if they drilled longer horizontal wells they would produce better results.
Another step was to increase the amount of sand it used when drilling its wells, which boosted productivity per well. Basically, what that does is widen the rock and keep it open longer, which allows for more oil to be extracted. These two steps were the key to it increasing production. Longer horizontal drilling was a major factor in lowering costs.
Those wells not considered to be premium or able to be brought to that level, are normally sold off. With its current acreage portfolio, it should be able to drive growth over the next decade; not even taking into improvements sure to come from the creative upstream company.
Importance of its low-cost position
There are two things that are most important to EOG in regard to its low-cost production. The first is it doesn't have to make supply decisions based primarily upon what OPEC and Russia decide to do in order to artificially prop up the price of oil over the short term.
Not only does that not work as it has in the past, as confirmed by what has happened since latest cut was implemented in January, where the price of Brent oil has struggled to sustainably break past the $55 per barrel mark. But price support for oil, even at this modest level, can't be counted on to last for a very long time.
EOG can also pick and choose its production level based upon the price of oil based upon actual demand, which means it now has control over the future growth of the company, and can respond to every condition the market environment offers at any time. That's its major competitive advantage, one that its competitors at this time are struggling to come close to matching.
As an example of what EOG can do because of it slashing costs, we'll look at what it has said concerning its output strategy going forward.
If the price of oil averages around $50 per barrel, it will increase production at a compounded 15 percent clip through 2020. If it jumps to $60 per barrel, it will increase output to about a compounded 25 percent annually. No one can come close to those levels. Also note this is at a compounded rate. The company says it can do all this within the confines of cash flow.
What all of this suggests is EOG can now continue to produce at strong levels in the years ahead, and even if the price of oil drops, it can simply remain in a holding pattern or boost production incrementally while waiting for prices to rebound.
Conclusion
EOG Resources has taken control of its destiny by the successful implementation of its vision. I see it as one of the few companies in the upstream oil sector that investors could take a position in and sit back and wait for it to grow for many years into the future.
There will of course be an ebb and flow to its performance, but it can now compete in almost any oil price environment, and all that is left to determine is the pace it plans on growing output. This is one of the reasons I don't like the interference coming from OPEC and Russia, as it has taken the visibility out of the market and given some producers pause until they see where the price of oil will go based upon actual market conditions.
Not only has the deal been largely offset by supply coming from Canada, Brazil and Libya, but U.S. shale producers haven't even started ramping up production so far in 2017; most of the increase in U.S. supply has come from Alaska and offshore locations.
I think this uncertainty has held back some production because producers want to know they're not going to end up selling into a low-cost price environment if the impact of the output deal remains weak, and if it eventually falls apart. One way or the other it'll end, and there is no hint producers have any intention of backing off increasing output.
As mentioned, EOG, because of its expertise in bolstering efficiencies and increasing productivity, can now compete at most price levels, which means it'll continue to boost supply, although the price of oil will determine the pace.
Investors should consider EOG a long term bet that will pay off for many years. Eventually organic demand for oil will return as the market rebalances, and once that happens, it'll be able to sustainably grow at a much higher profit point as demand catches up with supply.
Disclosure: I/we have no positions in any stocks mentioned, and no plans to initiate any positions within the next 72 hours.
I wrote this article myself, and it expresses my own opinions. I am not receiving compensation for it (other than from Seeking Alpha). I have no business relationship with any company whose stock is mentioned in this article.