Real estate investment trust VEREIT, Inc. (NYSE:VER) looks like a good deal from an income and valuation perspective. VEREIT has had a turbulent past, but under new management the company has gotten a fresh start. Importantly, there is a lot of potential for VEREIT to increase its dividend payout moving forward due to the company's low AFFO payout ratio. Likewise, VEREIT is lowly valued based on a run-rate adjusted funds from operations basis, limiting investors' risk to overpay for the REIT's flow of income.
VEREIT is a higher-risk real estate investment trust that is located at the higher end of the risk spectrum. The REIT has grown fast under previous management before a new management was brought in to clear up an accounting scandal, and put the company back on track to sustainable growth. The latest correction in REIT valuations, in my opinion, has created a good opportunity to gobble up a few shares of VEREIT well below $10.
Lowly Valued, Thanks To Latest REIT Sector Correction
REIT valuations have come down a lot in the last several months, and fears over a faster pace of interest rate hikes in 2017 are the main reason for that.
The Federal Reserve gave interest rates a lift in December, which was only the 2nd time in a decade that interest rates went up. REIT investors tend to be sensitive to higher prime rates, and they sold real estate investment trusts in the 2nd half of last year. As a result, good but higher-risk REITs have seen a significant drop in valuation, which in turn has made the reward-to-risk combination very favorable for income investors.
VEREIT's shares appear to have found a bottom, too.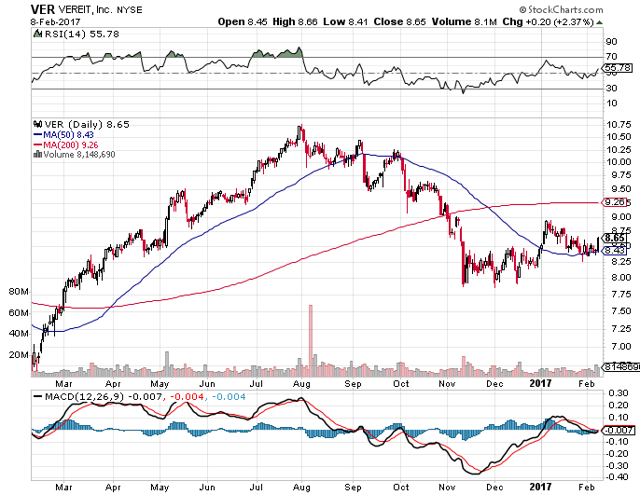 Source: StockCharts.com
VEREIT's shares are selling for ~10.5x Q3-16 run-rate adjusted funds from operations, which isn't all that expensive considering that the REIT has very good dividend coverage and that its shares are throwing off a six and a half percent dividend yield.
Low AFFO Payout Ratio Allows For Significant Dividend Growth
VEREIT's current dividend rate of $0.1375/share significantly underestimates the REIT's potential to increase its dividend.
VEREIT's AFFO payout ratio has averaged only 68 percent since Q3-15, leaving significant headroom for the company to grow its dividend. VEREIT's AFFO payout ratio has fluctuated between 65-71% in the last five quarters, suggesting that the dividend is about as safe as it gets.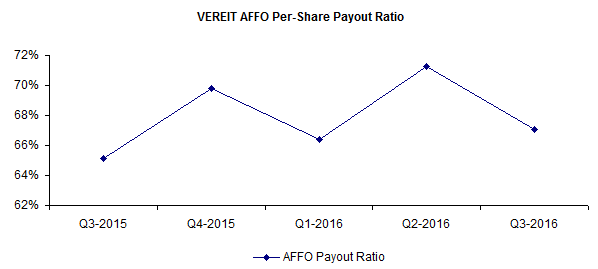 Source: Achilles Research
Your Takeaway
VEREIT looks like a good REIT to gobble up on the shakeout in the sector. The REIT has a lot of potential to increase its dividend payout due to its low adjusted funds from operations payout ratio. The dividend at this point is very safe, and VEREIT's run-rate P/AFFO ratio of ~10.5x is reasonable. An investment in VEREIT yields ~6.4 percent while there is a good chance that the yield on cost for income investors will continue to rise over time. Buy for yield, income growth, and capital appreciation.
If you like to read more of my articles, and like to be kept up to date with the companies I cover, I kindly ask you that you scroll to the top of this page and click 'follow'. I am largely investing in dividend paying stocks, but also venture out occasionally and cover special situations that offer appealing reward-to-risk ratios and have potential for significant capital appreciation. Above all, my immediate investment goal is to achieve financial independence.
Disclosure: I/we have no positions in any stocks mentioned, and no plans to initiate any positions within the next 72 hours.
I wrote this article myself, and it expresses my own opinions. I am not receiving compensation for it (other than from Seeking Alpha). I have no business relationship with any company whose stock is mentioned in this article.