Limoneira (NASDAQ:LMNR) is a microcap (market cap = $241.8M; enterprise value = $346.1M) 125-year-old agribusiness company based in Santa Paula, California. Although Limoneira's market cap is small by stock market standards, it is one of the largest lemon and avocado suppliers in the U.S.
Though Limoneira seemingly trades at high multiples (TTM P/E 32.7, forward P/E 42.5, P/B of 1.9), I believe it to be one of the cheapest stocks on the market. This is because the true value of Limoneira's land and water rights in Southern California and Arizona is grossly underestimated on their balance sheet due to the practice of carrying land holdings on the books for the purchase price, rather than the current market price.
Additionally, beginning this year, Limoneira will start to benefit from a number projects and investments that have been in the works for years, including their massive Harvest real estate development, efficiencies gained from their new lemon packing plant, trees becoming fruit bearing, and the potential benefits of a tariff on Mexican goods and lower taxes on corporate profits earned in the U.S. Though Limoneira's shares have struggled since their IPO 2010, I believe these catalysts have shares primed for a move upward, and I rate the stock a buy at its current price ($17.01).
Monetization & Deep Value of Land Holdings
Of Limoneira's roughly 10,000 acres, 41% are in Ventura County, a highly desirable region of California just north of Los Angeles. Land in California's Central Valley comprises 39% of the holdings, while land in Yuma, Arizona and San Obispo, California round out the final 13% and 7% of their portfolio, respectively. The Ventura County ($535K median home sale price) and San Luis Obispo ($490K median home sale price) holdings are particularly attractive components of Limoneira's land portfolio. As the chart below shows, much of Limoneira acreage was bought decades ago, and consequently, their worth is underestimated by their book values.
Source: Limoneira 10-K
Limoneira is in the midst of carving out 537 acres of their Ventura County holdings for development of 1,500 residential units, 560,000 sq. ft. of commercial space, and 150,000 sq. ft. of light industrial area. Additionally, the neighborhood includes a proposed K-8 school, an assisted-living center, an agricultural preserve, and numerous parks and hiking trails. The 1,500 residential units will be built on 523 of the acres in a new housing development called "The Harvest at Limoneira," a 50/50 Joint Venture between Limoneira and the Lewis Group, a private construction and development company.
While the cash flows from the project are highly dependent on real estate values, Limoneira anticipates receiving between $100M-$130M from the Harvest project over the course of the next 7-10 years ($20M of which has already been received). The JV is currently finishing removing trees from the property and grading is expected to begin this spring, with lot sales beginning in late 2017 (early FY 2018).
Limoneira has not provided guidance for the expected cash flows from East Area 2 (commercial and industrial space). The cash flows from this project will likely initially be significantly lower as Limoneira will retain and lease some, if not all, of this land. However, while the initial cash flows will be much lower than those from the JV, these leases should provide a steady stream of future income that can boost Limoneira's bottom and top lines. It is worth noting that Limoneira has experience renting properties, as they generated $5.6M in revenue and $2M in operating income from their current housing rental operations.
Limoneira also has a planned real estate development of 450 units in Santa Maria, California, a town an hour north of Santa Barbara with a population just over 100,000. This project is much smaller than Harvest and has had little material progress, but with median home values of $335K, Limoneira should be able to rake in millions in cash flow from this development. If Limoneira earns the low end of their cash flow guidance from Harvest ($100M), and one assumes an average home price of $525K for the 1,500 residential units, then Limoneira achieves a cash flow margin of 12.7%.
If one is to then assume the margin drops to 10% for 450 units in Santa Maria selling for an average price of $335K, Limoneira would earn approximately $15M. Obviously, this value of $15M is approximate and generated from a very rough calculation, but it shows that if Limoneira successfully executes on their current real estate projects (Harvest, East Area II, Santa Maria), it is very reasonable to expect that they could earn somewhere between $110M and $150M over the next 10-15 years.
And it is important to remember that while these properties do account for some of Limoneira's most valuable land, following the transactions, Limoneira will still own 4,000 acres in Ventura County and 720 in Luis San Obispo County.
The property in Luis San Obispo County is called Windfall Farms. Although it is not currently for sale, Windfall is one of Limoneira's more compelling assets. A former thoroughbred breeding farm, Limoneira has converted 220 acres to vineyard (planted in FY 2014 and 2015), and has plans to plant another 100 acres in 2017. Management has stated that land in this area of California with mature grapes (7+ years of age) sells for approximately $50,000 an acre.
Windfall Farms is also particularly attractive due to several very productive, recently drilled wells on the property, which Limoneira drilled just in advance of a regional well-drilling moratorium. The property can also be divided up into 10-acre parcels that can then be sold as a personal Californian vineyard to high net worth individuals. This ability to split the property into smaller tracts is rare, and regardless of whether Limoneira ever splits up the land, the ability to do so adds extra value to the property.
Management has provided some guidance as to what their total land holdings may be worth. Below are my estimates based on Limoneira's guidance and property values of the areas:
| | | | | |
| --- | --- | --- | --- | --- |
| Property | Acres | Book Value | Low Estimate | High Estimate |
| Harvest | 523 | $66.1M | $100M | $130M |
| East Area II | 30 | $0.05M | $1.9M | $2.4M+ |
| Ventura County | 4000 | $57.5M | $256M | $320M |
| Tulare County | 3200 | $48.2M | $41.6M | $96M |
| Yuma, Arizona | 1300 | $25.7M | $25.7M | $25.7M |
| Windfall Farms | 720 | $27.0M | $27.1M | $27.2M |
| Santa Maria | 17 | $11.0M | $11.0M | $15.0M+ |
| Rental Assets | N/A | $18.6M | $18.6M | $78.0M |
| Totals | 9790+ | $254.2M | $481.9M | $694.3M |
It is important to remember that not only are these figures estimates, but they also involve real estate valuation, an imprecise science. Nonetheless, they provide a reasonable estimate for the value of Limoneira's land - and it is important to also remember that movement in land prices is not necessarily a bad thing. The graphs below show the upward trend, albeit volatile, in farmland values in California.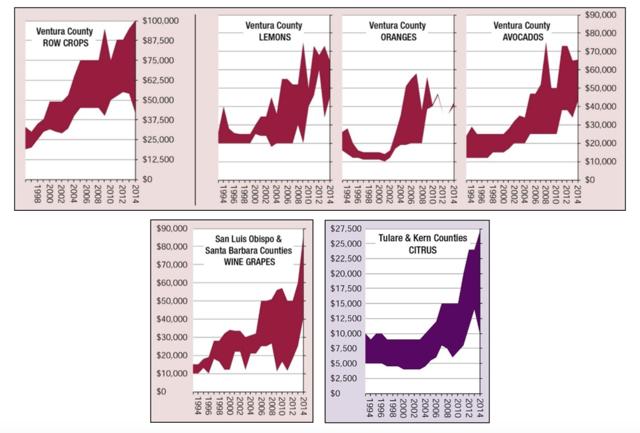 Source: Limoneira ICR Conference Presentation
Water Rights
Perhaps the most compelling reason to invest in Limoneira is their vast water rights throughout Southern California and Arizona. Valuing water is a challenging exercise - there is no developed water market, so prices are difficult to discern. Prices also vary greatly depending on the legal strength of the right, the water's quality, and the water's proximity to population centers/access to infrastructure (e.g. aqueduct). Limoneira's water rights are listed below:
-8,600 acre-feet of adjudicated water rights in the Santa Paula basin.
-11,700 acre-feet of Class 3 Colorado River rights.
-28,000 acre-feet of water affiliated with Limoneira's properties.
-500 acre-feet per year of tag rights from Cadiz (NASDAQ:CDZI) at Limoneira's Cadiz operations.
Limoneira's Santa Paula rights are their most valuable water asset, as they are located near population centers, infrastructure, and are adjudicated - meaning they have strong legal protections. The city of Santa Paula recently enacted a law requiring developers to purchase water rights from the city at a price of $26K an acre-foot. If one applies this figure to Limoneira's Santa Paula rights, their value comes out to $223.6M.
It is much more difficult to assess the value of Limoneira's other water rights, as they are not as protected as their adjudicated rights, nor have there been recent city ordinances regarding the price of water rights. However, in 2015, when the California drought was reaching its apex (at least for now), Los Angeles was purchasing water (not the right, but the physical good) for $700 an acre-foot from farmers in California.
Limoneira also has investments in the following water companies: Thermal Belt Mutual Water Co., Farmers Irrigation Co., Canyon Irrigation Co., San Cayetano Mutual Water Co., and Middle Road Mutual Water Co. These companies are essentially utilities for farmers, delivering irrigation grade water to farmers in Ventura County. Additionally, Limoneira has formed a partnership with Water Asset Management to explore the potential of monetizing their Colorado River water rights.
The partnership has existed for several years and no material developments have taken place thus far. Management has characterized any monetization of the water rights as a mid- to long-term plan, so I would be surprised to see any advances anytime soon, especially in light of the rainy winter in the West this year.
Lastly, Limoneira does hold two financial assets worth mentioning, the largest of which is Limoneira's stake in Calavo Growers (NASDAQ:CVGW). In 2005, the company acquired 1 million shares of Calavo for $10 a share. They have since slowly sold off shares to fund operations and land purchases. They now hold 300K shares.
With CVGW currently trading at $56.95, this stake is worth roughly $17.1M. Secondly, in 2014, Limoneira purchased a 35% stake in Rosales S.A., a Chilean citrus and avocado grower, for $1.75M. As a part of the deal, Limoneira took responsibility for managing Rosales' lemon sales to Asia. In compensation, Limoneira receives $0.50 per carton of lemons sold to Asia; Limoneira is expecting this to generate $200K-$300K annually.
Agricultural Operations
Though I initially stumbled upon Limoneira while searching for water companies, I have learned to appreciate their rapidly growing agribusiness. Over the past 5 years, Limoneira has invested heavily in growing their productive acreage. This has helped their agricultural operations deliver superb top and bottom line growth: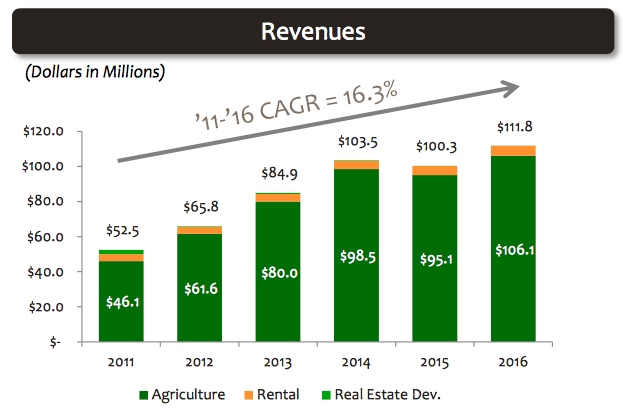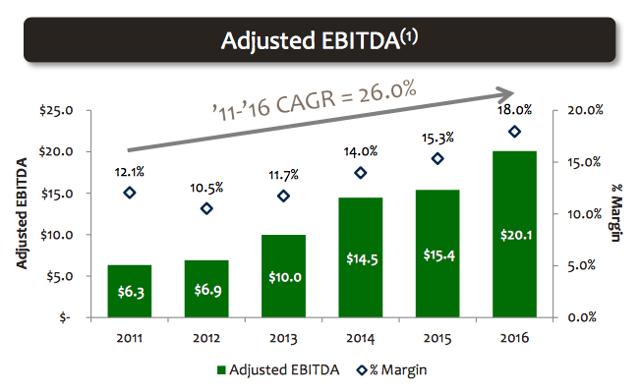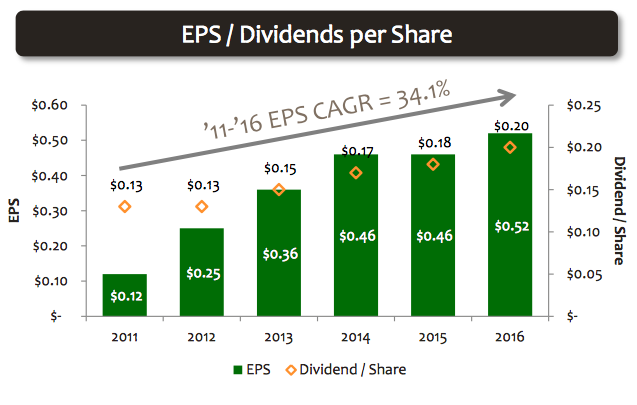 Source: Limoneira ICR Conference Presentation
The numbers speak for themselves. It is undeniable that Limoneira is growing their business, improving their operating efficiency, and committed to distributing uninvested cash to shareholders. Few companies achieve this level of growth, and given Limoneira's real estate and agribusiness catalysts, I expect the upward trends to continue.
Limoneira has also been wise about their investments in acreage so as to diversify their operations so they capture each of the 3 citrus growing seasons. Due to Limoneira's recent land purchases in Yuma and the Central Valley, they now produce lemons year round. This helps smooth sales throughout the year, and adds a layer of geographic protection to Limoneira's operations.
Agriculture Catalysts
Over the past few years, Limoneira has invested heavily to bring more lemon acreage online, and the first of these trees (700 acres) will begin to bear fruit in late 2017 (early FY 2018). All together 2,000 new acres of lemon trees will begin bearing fruit within the next 3 years, increasing Limoneira's annual lemon output by ~30% (900K-1.3M cartons).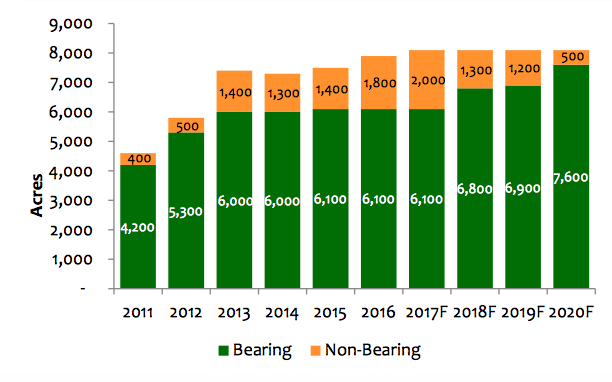 Source: Limoneira ICR Conference Presentation
Limoneira will also see increasing harvests from their vineyard at Windfall Farms, meaning they will likely build on the $300K in revenue earned last year from grape sales, though it will probably be at least another few years until sales from the vineyard grow to the point where they have a noticeable impact on results.
Finally, Limoneira will benefit from their new, state of the art, $28.8M packing plant in Santa Paula. The plant came online in March of last year, but this will be the first full fiscal year in which they will benefit from the facility. Management has estimated that it will shave $1-$1.50 off of the cost of a carton of lemons - meaningful savings given that a carton of Limoneira lemons typically sells for $20-$25. In addition to boosting margins, the facility also ensures Limoneira will have adequate infrastructure in place to account for the additional acreage that will begin bearing fruit over the next few years.
Lastly, the plant also positions Limoneira as the premier lemon packing organization in the region. This should attract business from 3rd party growers in the area who need their lemons packed. While this is a low margin business, it is profitable, and it will help Limoneira more quickly pay off the costs of building the new plant.
The Trump Effect
While I try not to make major investment decision based on politics, I believe that Limoneira is primed to benefit if President Trump succeeds in two of his biggest stated goals over the next four years: a) lowering taxes on corporate profits earned in the US and b) taxing imports from Mexico.
In the scenario of the lower tax rate, Limoneira would benefit simply because the vast majority of their sales are in the U.S. A whopping 97% of Limoneira's sales were registered in the U.S. (77% direct sales, 20% to domestic based exporters). Only 3% of sales were to international locations. Obviously, the domestic-based exporters need to be able to sell the lemons abroad, and Limoneira has targeted international expansion as a significant growth opportunity, so should a trade war develop, it could hurt Limoneira.
But with a FY 2016 effective tax rate of 39.5%, and 97% of its business transactions taking place on American soil, Limoneira would clearly reap major benefits from a lower tax rate - especially given the impending cash flows from the Harvest project.
To the second point, Limoneira could benefit from a tariff attached to Mexican goods through avocado sales. Though Limoneira is predominately a lemon company, they still derived 10% of their FY 2016 sales from avocados and are one of the largest domestic producers of avocados.
Given that Mexico supplies 93% of the Hass avocados consumed in the U.S., there is opportunity for Limoneira to simply benefit from the higher average avocado sale prices that would result from a border tax. Unfortunately for Limoneira, American citrus growers supply nearly all of the lemons consumed domestically, so any potential increase in sales price would not carry over to lemons.
Despite these potential positives, it is vital to also consider that foreign workers, mainly from Latin America, work in American fields to harvest agricultural goods. It could pose severe problems for Limoneira if a current modest labor shortage spirals into a crisis due to mass deportations - wages could spike, cutting into margins, or even worse, fruit could stay stranded on trees.
President Trump is a tough nut to crack, and he is yet to propose policy regarding the H-2A visa program that many foreign farmhands use. Yet he has been very vocal about his desire to deport undocumented immigrants, who are estimated to form 60% of field workers.
I personally believe the economists and farmers who say mass deportations would cripple farming operations are right to be worried. I also personally believe President Trump and others in power understand that a spike in food prices caused by their policies would likely spell the end of their political careers. Nonetheless, President Trump has proven to be unpredictable, and a labor shortage would certainly hit Limoneira hard.
Risks
In addition to a potential labor shortage, there are many other risks faced by Limoneira. I suggest any prospective investors read the "risks" section in Limoneira's 10-K for a more comprehensive list. Below are the risks that, along with a labor shortage, I view as most threatening to Limoneira.
Disease: The Asian Citrus Psyllid (ACP) and Huanglongbing (HLB) disease are a serious threat to Limoneira's agricultural operations. The citrus psyllid can carry HLB, which effectively destroys the quality of any citrus fruit, and the tree itself, within five years. While the ACP has been found throughout California, HLB has only been found in one tree, and this was several years ago. This is obviously a very serious threat, but is something that Limoneira and the California Department of Food and Agriculture are very aware of.
Limoneira has thus far implemented numerous measures that have at least prevented infections for the time being. A great deal of research is going into preventing and stopping the spread and progression of the disease. While it is mainly concentrated in Asia, the disease has impacted citrus growers in other regions, such as Florida and Brazil, so California is lucky in that those areas are providing the impetus behind serious research and prevention efforts.
Drought: In some respects, droughts benefits Limoneira - it has abundant water sources, so it is in much better shape than many other farmers if drought hits. If access to water is limited, Limoneira will benefit from higher prices for citrus while maintaining or even growing market share. Additionally, droughts also add value to Limoneira's significant water rights, and it could aid them in their bid to sell water to utilities and communities.
However, with the recent droughts faced by California, and given the necessity of water for life, the state government could restrict Limoneira's access to water. During the recent drought in California, farmers were spared from restrictions, but this could change in the future, especially if public opinion mounts against them. Additionally, though unlikely, the government could simply seize water resources. However, if California were to exercise eminent domain on all or a part of Limoneira's water assets, they would be required to compensate LMNR for its water rights.
I won't make a guess as to what this would be worth, but given that their Santa Paula adjudicated rights alone seem to be worth almost $225M, I wouldn't be surprised if any compensation (depending on how much they take) would be in the tens to hundreds of millions of dollars.
Valuation: The market has consistently valued Limoneira below the value of its acreage. While I personally think the steep discount to book value implies a Ben Graham type value situation, I also respect the fact that the market may value Limoneira differently than I anticipate. As a young investor, I have plenty of time to let Limoneira grow into its "true" book value, but other investors may not have the time or patience for this sort of equity.
Closely Held: Limoneira is a closely held, family company (insiders own 18.2%). This means that management is not held to the same level of scrutiny by the board as most public companies are. I could only find one instance where this came to bite shareholders, but it was in an egregious way. Several years ago, the company "invested" in the racing career of Charlie Kimball, the son of Gordon Kimball, who is on the board of Limoneira.
Outside of this, I am actually pretty impressed with the management. Harold Edwards seems like a capable and thoughtful CEO and President. As the CEO and President since 2003, he has guided Limoneira through their IPO and an exciting period of expansion in both total revenue and sources of revenue. From what I can gather from reading the earnings calls, Mr. Edwards and other high level managers are well-spoken, informed, and are generally conservative in their projections for the company's performance. For those that are interested in hearing Mr. Edwards speak, here is a short interview with him.
Debt: Limoneira carries $90.8M in debt. While I think this is a manageable amount, especially in light of the monetization of Harvest, it is still a significant debt load. Management has stated they hope to remain levered in the 3-4x range so I doubt it will climb much higher, but it is worth keeping an eye on - especially given that $66.7M of notes are coming due within over the next 3 years. I imagine most of this will be refinanced, but I hope that Limoneira pays off a significant portion with some of the cash earned from Harvest.
Choppy trading: Limoneira has been dead money since its IPO in 2010. I don't think this should scare off investors, but its disappointing performance must be noted.
Real Estate: Declining real estate values would have a negative effect on Limoneira's book value. That said, if values were to crash, Limoneira has the flexibility to opportunistically add to their land portfolio, as well as develop their housing projects at a slower pace, while they wait for prices to recover.
Argentinean Competition: Recently, Argentina has been increasing lemon exports to the U.S. Their growing season coincides with that of Southern California's, so the increase in supply can have an impact on Limoneira's sales and profit. Fortunately, for Limoneira, the imports from Argentina are of lower quality and more heavily skewed towards industrial uses (e.g. juices, scents), while Limoneira's lemons are of higher quality and generally served at restaurants or bought at supermarkets, so the competition will have a lesser impact on Limoneira than other lemon suppliers.
Conclusion & Recommendation
I have been bullish (and long) on Limoneira since it sold off from $25 a share to $20 a share in early 2015 following an earnings miss. Shares have struggled mightily since then, even falling to an all-time low of $11.30 during last January's sell off. Despite the volatility and poor performance, I believe Limoneira to be a buy at its current price for the following reasons:
-It trades at a steep discount to book value.
-It possess vast water rights in California and Arizona.
-It has begun to monetize its Harvest assets, and will continue to see major cash flows from the project over the next 7-10 years.
-Agribusiness investments in the recent packing facility and increased acreage will propel continued top and bottom line growth.
-Share price has corrected ~20% following FY 2017 guidance that disappointed analysts.
-Though profits from Harvest and the increased acreage will begin to be realized in late 2017, they are not included in the forward P/E as Limoneira's fiscal year ends in October. As the year progresses and analysts/investors look beyond FY 2017, I expect optimism over the developments to push shares higher.
-The potential to benefit from lower corporate taxes and higher avocado prices resulting from proposed legislation by President Trump.
Clearly, Limoneira falls under the category of a high-risk high-reward investment. I would not recommend investors go overweight in shares of Limoneira. However, with so many catalysts on the horizon, I very much like the risk-reward at its current level. I believe it to be a buy at its current price of $17.01, and will likely purchase a small position for my Roth account within the next few trading days.
Disclosure: I am/we are long LMNR.
I wrote this article myself, and it expresses my own opinions. I am not receiving compensation for it (other than from Seeking Alpha). I have no business relationship with any company whose stock is mentioned in this article.