Not all company managements go for the flashy stuff. Some plod along very deliberately until they are very sure of the facts and what they want to do. Only then does operations expand and production show the benefits of the previous deliberation. Laredo Petroleum Holdings Inc. (NYSE:LPI) appears to have a very deliberate management (led by Randy Foutch, Chairman and CEO) that will try the patience of a market whose definition of long term is the time between breakfast and lunch. But shareholders may be about to benefit from that careful research and delineation process that management has been undertaking.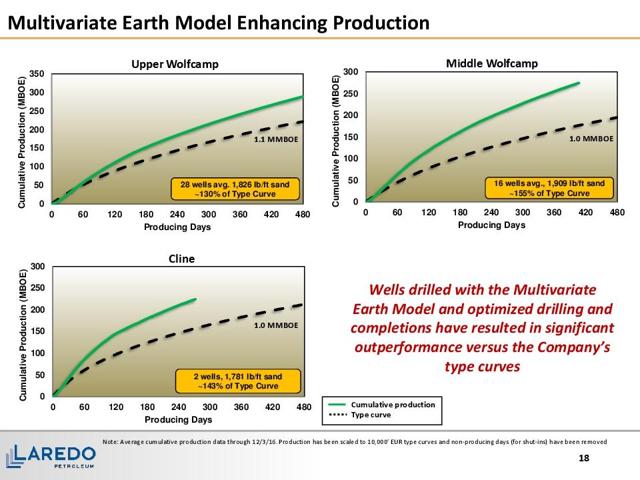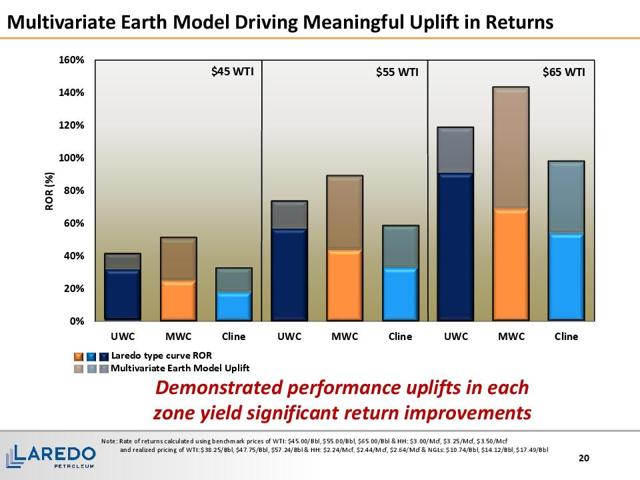 Source: Laredo Petroleum Holdings Inc. January, 2017, Corporate Presentation
This company has been doing research as part of a consortium. Some have donated money and other things. This company operates the wells and the land. The research group shares the results. Those results will remain proprietary for a few years. This research keeps the company on the leading edge of the latest operational techniques. Those latest results have the potential to save shareholders a lot of money and lower the company breakeven point.
What is interesting is that this company appears to be achieving better results by drilling longer laterals. The latest conference call indicated no problems with completing the longer laterals. Continental Resources (NYSE:CLR) reports better results from a shorter lateral that includes other well design improvements. These kinds of disparate results imply a lot of room for production improvements in the future. Indeed, Laredo just reported that the latest two wells are significantly exceeding the expected production type curve. That production type curve has not been in place all that long.
The first slide shows some decent returns. If those continue, then this company will have a far lower breakeven by the end of the year on any new wells drilled. This is good news for a company that has taken some large valuation hits in the past (along with the rest of the industry) that have left the balance sheet highly leveraged. Shareholders equity is a shadow of its former self from a few years back.
Source: Laredo Petroleum Holdings Inc. January, 2017, Corporate Presentation
The company received a big vote of confidence when the bankers renewed the credit line. That credit line is still largely unused. But with the costs shown in the second slide dropping, management has felt comfortable enough to add a fourth rig. Total operational costs have declined to the point where the company can operate four rigs in the place of the three rigs operating throughout fiscal year 2016.
This company does have a decent hedging program. Management can upgrade that hedging program if it feels that is necessary to provide more protection. So the four rig program can be expected to deliver more production. Combined with the improved well results shown before this, that fourth rig could lead to a cash flow increase seldom seen in this industry.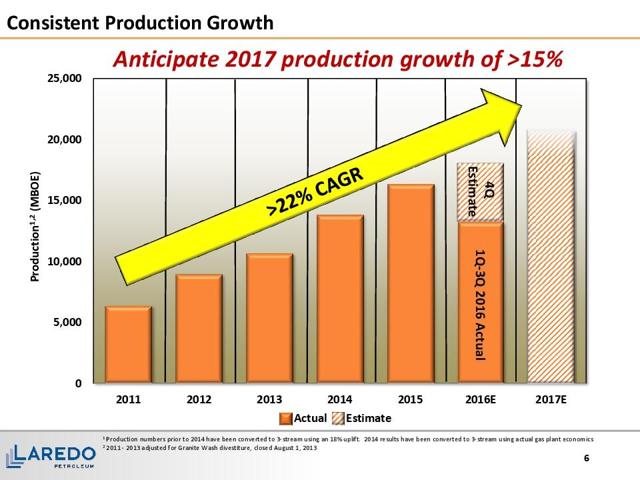 Source: Laredo Petroleum Holdings Inc. January, 2017, Corporate Presentation
Management mentioned that they expect to add the fourth rig in November, 2016. That rig is expected to accelerate production increases beginning in the second quarter. Mr. Market really likes accelerating increases, especially when those increases have some hedge protection. In 2017, management has hedged about 70% of the production. But that will drop considerably in 2018.

Source: Laredo Petroleum Holdings Inc., Third Quarter, 2016 Earnings Press Release
The company reported second quarter production of 47,667 BOED. So the third quarter production shown in the press release above represents an increase of 7.5% from the second quarter amount. When the effect of the fourth rig begins to be felt in the second quarter, that production increase should enlarge over the previous quarter. Lower oil prices could quickly change the picture and lead to a "hunker down" strategy if needed. Or the company could upgrade its hedging to protect 100% of its production several years out as some of the other competitors in the industry do. Either way, this company could be on its way to reporting a major production increase in 2017.
Cash flow from operations before working capital changes was about $91 million in the third quarter. The nine month figure was $239 million. That indicates some cash flow improvement as the year has progressed. This company like others in the industry reduced activity in the first quarter when commodity prices were very low. So production and cash flow both suffered until new drilling offset some very normal production declines.
Long term debt is about $1.353 million. So the current cash flow is getting to the tighter end of satisfactory. But the fourth rig and ongoing well production improvements should make next year a far more comfortable year. Only a sustained drop in commodity pricing combined with the company management's failure to comprehensively hedge for such a decline would change that scenario. Right now a sustained drop in commodity pricing appears unlikely.
So this stock, which trades at about 10 times cash flow from operations before considering long term debt, and 14 times cash flow from operations adding in the long term debt is probably a speculative buy at the current time. Cash flow appears to be headed for a significant increase next year. In fact cash flow from operations could double by the fourth quarter of 2017, using the quarterly rate. The accelerating increasing production and probably lack of weak commodity pricing (like in the first quarter of fiscal year 2016) all point to the steady and large cash flow increase this fiscal year. So this stock could follow the cash flow and double over the next year.
The company chairman has built oil companies before and sold them. That lowers the risk of investing in a company such as Laredo. Previous management experience building companies is a huge plus for shareholders. That experience shows from the infrastructure investment that has given the company industry leading low costs. Combine those low costs with well costs approaching the $6 million range and increasing initial production for a winning combination. The stock is probably best used as part of a basket of speculative stocks to lower risks.
Disclaimer: I am not an investment advisor and this is not a recommendation to buy or sell a security. Investors are recommended to read all of the company's filings and press releases as well as do their own research to determine if the company fits their own investment objectives and risk portfolios.
Disclosure: I/we have no positions in any stocks mentioned, and no plans to initiate any positions within the next 72 hours.
I wrote this article myself, and it expresses my own opinions. I am not receiving compensation for it (other than from Seeking Alpha). I have no business relationship with any company whose stock is mentioned in this article.