Will Starboard Value finally unlock value at Macy's (NYSE:M)? The fund has been pushing for a spinoff of the real estate for over a year. Shares have fallen 15% in the last year and off nearly 50% from the near $70/share price tag in 2015.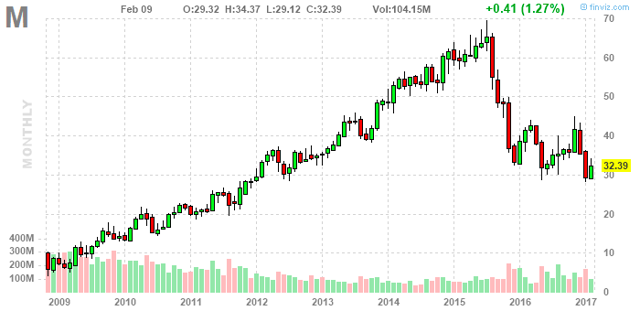 We, are, however closer to a catalyst. Macy's CEO Terry Lundgren is stepping down. Yet, spinning off the real estate into a real estate investment trust (REIT) might hit regulatory issues given the stricter REIT standards. Thus, monetizing the real estate will likely have to come via buyouts.
In particular, before Lundgren steps down as CEO, it looks like he's making a last ditch effort to sell the entire company. The big/recent catalyst is that Hudson's Bay has reached out to Macy's about a buyout. Hudson's Bay is a department store operator, with brands like Home Outfitters, Lord & Taylor and Saks Fifth Ave. Hudson's Bay wants Macy's to double down and invest more in its business. However, Hudson's Bay has a sub-$2 billion market cap and Macy's is five times that. But if Hudson's Bay could manage to leverage its large real estate portfolio to raise debt for the deal, the thesis might not be to invest heavily in Macy's operations. Instead, Hudson's Bay could leverage Macy's real estate portfolio to unlock value by forming joint ventures with mall owners and real estate companies to realize real estate value without having to sell it off.
Yet, if Lundgren isn't successful in getting Macy's sold, we'll likely see Starboard Value become more aggressive. That is, Starboard will likely launch a proxy battle - like it's done at Darden Restaurants (NYSE:DRI) and Yahoo (NASDAQ:YHOO) - and push for board sets. With board seats, Starboard will be able to push its real estate monetization efforts more aggressively. Recall that Starboard convinced Darden to spin off its real estate into a REIT, Four Corners Property Trust (NYSE:FCPT). Notably, Starboard managed to get Four Corners' CEO on the Macy's board.
In the end, Hudson's Bay being able to swallow up the largest U.S. department store is unlikely. Hudson's Bay is facing declining same-store sales across the board, and adding Macy's declining business can't save it. Shopping trends have changed and Amazon (NASDAQ:AMZN) is changing the game. And Starboard Value likely isn't interested in a full buyout of the company, as that means the real estate value might not get fully realized. After all, Starboard says that Macy's real estate value is upwards of $20 billion, double from the current market value. But, for now, there's no easy or clear path to unlock that, meaning more interim pain for Macy's shareholders.
Disclosure: I/we have no positions in any stocks mentioned, and no plans to initiate any positions within the next 72 hours.
I wrote this article myself, and it expresses my own opinions. I am not receiving compensation for it (other than from Seeking Alpha). I have no business relationship with any company whose stock is mentioned in this article.