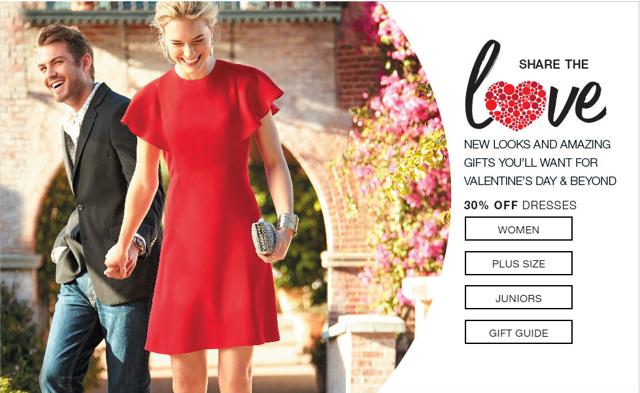 A 24.49% dividend yield for a company trading near its all-time low sounds like a good idea for long-term and contrarian investors searching for bargains. Yet in this article, I will discourage investors from buying into such a company. In the past 10 years, Stage Stores (NYSE: SSI) has seen its market valuation from $1 billion to the current $66 million. The stock price is currently trading at $2.45, which is near its all-time low. As I will describe in this article, investing in SSI presents more risks than rewards for investors. Below is a 10-year chart comparing SSI performance with S&P 500 Retail Select Industry (SPXSRE) and the Dow Jones Apparel Retailers (DJUSRA).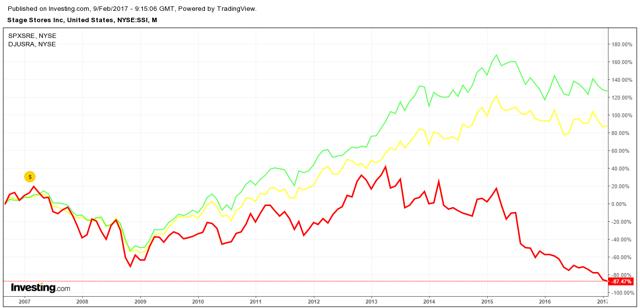 About Stage Stores
Stage Stores is a specialty department store with more than 800 stores and more than 13K employees. The company sells apparel and accessories under five brands: Bealls, Goody's, Palais Royal, Peebles, and Stage in 36 states. It also operates a direct to consumer model through its e-commerce and Send platforms. Most of the company's stores are located in small towns with less than 150,000 people.
The company's quarterly revenues have fallen from $351 million in October 2015 to $317 million in October 2016. During the same time, the net income has fallen from -$10.18 million to -$15.63 million with EBITDA falling from $2.49 million to -$10.2 million. At the same time, the company's cash and short-term investments have fallen from $23 million to $18.9 million, with long-term debt going up from $172 million to $236 million.
In terms of rewarding its investors, the company has been generous. The company has grown its dividend for seven years, with annual cash dividends costs moving from $11 million in 2012 to $18.65 million in 2016. The company has one of the highest dividend yields. Dividend.com ranks gives the company a dividend score of 3.0, which is slightly lower than their services average rankings as shown below.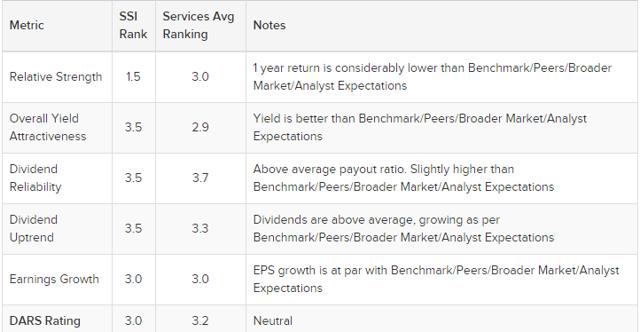 Source. Dividend.com
Stage Stores finds itself in a tough position. First, the company's debt has gone up significantly in the past few years. Second, the company finds itself competing with e-commerce giants such as Amazon (NASDAQ: AMZN), which have huge variety of products for people to choose. Amazon and Wal-Mart (NYSE: WMT) have recently introduced free two-day shipping. Since SSI deals with apparel and accessories, competing with these companies is challenging since people are ready to buy the items and wait for two days. While SSI offers online shopping, the terms shown below do not compare with what is offered by Amazon and Wal-Mart. Third, the number of people visiting malls has reduced significantly as people shift to online shopping.

Source. Stage Stores
Fourth, the company could be affected by the proposed border adjusted tax proposed by republicans. Since most of the accessories sold by Stage are not manufactured in the United States, the tax would make products a bit expensive. Finally, the company's margins are not encouraging as shown below.

Source. YCharts
Dividend not sustainable
As mentioned above, the company has a forward and trailing dividend yield of 24.49%. The table below shows the company's annual dividends and growth.

Source. Dividend.com
In the table above, the company's dividend annual growth has reduced from 25% in 2010 to the current 3.4%. In the past five years, the company has also repurchased stocks worth $584 million. Stage Stores trailing dividend payout ratio is -170.9%, which means the company is borrowing money to pay dividends and repurchase stock. When looking at dividend companies, this is the first thing you should look at. Ideally, a company should only return money to investors if it has the money. Borrowing and selling of assets to pay dividends is not the best way for a company to use money. SSI's free cash flow has reduced from $32 million in 2015 to -$50.4 million.
Final Thoughts
Stage Stores is in a challenging situation with the retail sector experiencing low foot traffic and shifts in consumer behavior as more people prefer to shop online. As shown above, the company's online sales cannot be matched with the likes of Amazon and Wal-Mart, which offer free two-day shopping.
According to the company, the core strengths are: unique real estate in small towns, trend-right brands sold at a compelling value, and an experienced team. While these strengths are good, they are not good enough to match those of the two companies mentioned above. For instance, in terms of trend-right brands, most brands sold by the company such as Madison Leigh are available at Amazon at a lower price. You can compare Madison Leigh's brand at Amazon and Stage Stores here and here.
At the current price, Stage Stores' stock price is without a doubt cheap. However, for investors buying companies because of their intrinsic value and dividend yield, I believe SSI is not the right choice. As I have explained above, the company's strategy to borrow to finance repurchases and dividends could come to bite in future.
Disclosure: I/we have no positions in any stocks mentioned, and no plans to initiate any positions within the next 72 hours.
I wrote this article myself, and it expresses my own opinions. I am not receiving compensation for it (other than from Seeking Alpha). I have no business relationship with any company whose stock is mentioned in this article.
Additional disclosure: Crispus Nyaga is a Wall Street writer focusing on companies in different sectors. While most of my recommendations have turned out well, some have not been quite successful. Therefore, before you buy or short a company, I recommend that you do your own independent research. Also, I am not a native English Speaker so kindly excuse any grammar and spelling mistakes. I do my best to publish on a regular basis. So, kindly follow me to receive instant updates when I publish.
Editor's Note: This article covers one or more stocks trading at less than $1 per share and/or with less than a $100 million market cap. Please be aware of the risks associated with these stocks.