The retail sector is going through a hard time. Michael Kors (NYSE:KORS) is one of the companies that has seen its share price under pressure. Since the summer of 2015 its shares have not really been able to find a clear trend and after a short upward gain, the shares have been going downward once again. Some contrarians might be interested in a well-known company and brand that trades at a P/E multiple of 8.7 vs. an industry average of 18.4, but I suggest to those contrarians that are looking for a turnaround stock to start looking somewhere else.
Q3 earnings
On the 7th of February Michael Kors announced its Q3 earnings. For the second time in a row the company saw a yoy decline in revenue. The $1.35 bln in revenue it made was 3.6% less than the year before. Despite the decline in revenue EPS actually did see a slight increase. Yoy in grew by $0.05 to $1.64. Wholesale net sales declined 17.8% to $473.1 mln, licensing revenue decreased 22.9% to $43.0 mln. Retail net sales, Michael Kors' largest revenue generating segment, actually saw a strong increase. The segment was up 9.2% yoy, but this was primarily driven by the 193 net new store openings.
Troubling performance trend
While the Q3 numbers do not look good, they may not look that bad at first. But when we study the trend in Michael Kors' results of the recent years it starts to look a whole lot worse. For example, let's look at the revenue growth that Michael Kors has been producing since Q3 FY 2014.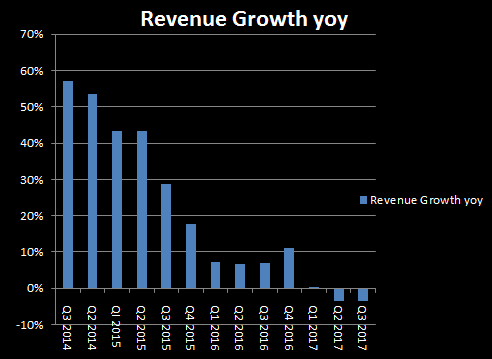 As you can see the revenue growth has been coming down for quite a while now with the most recent two quarters even seeing a revenue decline yoy. As revenue growth is a very important measure for any retailer, this clear downward trend is very troubling for its prospects. What I consider an even more important measure than over revenue growth, is comparable stores sales (CSS) growth.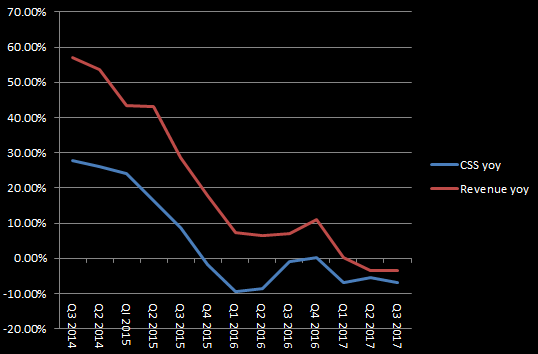 As you can see comparable store sales have been negative yoy since the end of FY 2015. This means that Michael Kors has been unable to generate sustainable growth. Thus far the company has been able to improve its net income during this period. But this was mostly because of unsustainable revenue growth. Being unable to do grow comparable store sales will eventually have as a result that overall revenue and earnings will start to decline as well. As discussed this has already happened with revenue. It will not take long before earnings take a dive as well if this trend cannot be turned around.
Outlook
So far it seems that this downward trend will continue in Q4 according to management. The outlook for Q4 it gave to investors in the press release of its most recent earnings stated that it expects revenue to be $ 1.035 to 1.055 bln with EPS between $0.68 and $0.72. Operating margin is expected to be around 14%, with comparable store sales declining harder than ever before in the low teens yoy. For the full FY 2017 this means revenue of $4.48 bln, operating margin of 19.9%, and EPS between $4.15 and $4.19.

As you can see, all margins have been declining since 2014 with the declines gaining momentum. Once Michael Kors was able to generate huge growth numbers but it seems that the brand simply has been too saturated to grow further. This results in declining margins and earnings. The company has to think of a new business model, or new markets if it wants to return to growth.
Asia
Although it is true that Michael Kors' performance has been lacking to say the least, company's management is seeing the problems but has so far been unable to do anything about it. It is currently focusing on expanding in Asia in search of driving revenue growth once again, but it will take a while for this to offset the current declining sales in both Europe and North America. Revenue generated in Asia in the most recent quarter only made up a little over 8% ($112.3 mln) of total revenue. Eventually management believes it can grow the Asia business to a billion dollar business, but at the way things are progressing now, this could take years. The revenue generated in Asia in the most recent quarter grew by around $53 mln yoy.
Plus if management were to succeed in generating $1 bln in annual revenue in Asia, this would add around $900 mln to the current earnings. Since the company is expected to generate $4,48 bln revenue for FY 2017, this would mean that the potential revenue growth from the Asia segment is a mere 20% total. Keep in mind that the comparable store sales are expected to decline in the low teens overall. A 20% potential gain from Asian market does not seem to be enough to offset this trend. We must also remember that this growth in Asian markets will not be driven by comparable store sales growth, since the company currently generates growth in this area by adding new stores. 143 stores were added in Greater China and South Korea in the last year alone.
Other risks
One risk to the company is President Trump, who could pose uncertainty to pretty much any company. Nobody really knows what he is thinking or what he is going to say next. In his speeches, or even his tweets, every now and then he attacks verbally attacks and insults governments, whole industries, companies and even specific persons. Just last December he was cause for concern in the industry Michael Kors operates in. He then announced part of his tax plan in which he wanted to pressure companies to buy goods made in the US instead of importing them from abroad, thus he wants to raise taxes on imported goods. Since the apparel industry is reliant on global supply chains this industry could be hit particularly hard. As a result a lot of stocks in the industry lost value after the announcement.
Furthermore there is of course the currency risk the strong dollar represents since the company want to drive future sales by growing its presence in Asia.
Conclusion
Despite a low P/E ratio this stock seems far from undervalued. All performance trends are currently in decline. The only hope for Michael Kors now is its expected growth in the Asian markets. But even this is far from certain and will take a while to achieve. Even if management succeeds in doing so it does not mean that it will be enough to offset declines in other segments. Other than that, compared to its peers P/S is slightly above the average of 1.3 at 1.4, with a further revenue decline expected, which will lead to an even higher multiple at current levels. P/B is also higher than the average of 2.8 at 3.7.
Because of the declining sales trend and the lack of a good alternative I would recommend investors to stay away from this stock. If you are looking for a retail stock, it is better to look somewhere else. Two stocks that I covered earlier with better prospects are Nike (NYSE:NKE) and FootLocker (NYSE:FL).
Disclosure: I/we have no positions in any stocks mentioned, and no plans to initiate any positions within the next 72 hours.
I wrote this article myself, and it expresses my own opinions. I am not receiving compensation for it (other than from Seeking Alpha). I have no business relationship with any company whose stock is mentioned in this article.