Sherwin-Williams (NYSE:SHW) is one of those rare companies with over 100 years of operating history. Simply put, it's a paint and coatings company, and business has been good over the years. Earnings are set to rise sharply following the completion of the Valspar Corp. acquisition, a deal which will set the company back $11B. The issue with this transaction, in our view, and the issue with SHW, as a whole, is it is expensive. The Valspar transaction was completed at an EV/EBITDA multiple of 15x (lower on a post-synergy basis) vs. SHW's higher multiple, making it less appealing on a multiple basis. Hopefully, the $280M to $320M of synergies can make up for the difference; still, we think the Valspar shareholders got the better end of this one.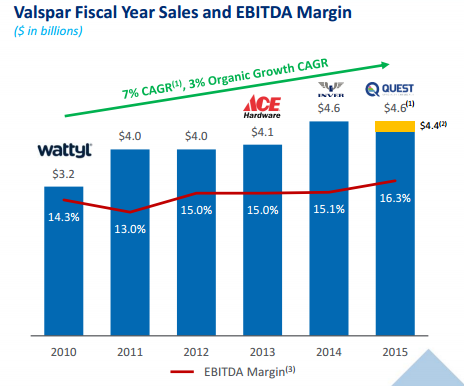 Source: Sherwin-Williams Investor Deck
SHW has earned itself Dividend Aristocrat status with close to 40 years of dividend increases, well above the 25 required to earn the title. While this is a feat in itself, we would point to the very low yield, at only 1.1%, which is the second lowest of all the Dividend Aristocrats, beaten only by C. R. Bard (NYSE:BCR).
While we won't argue with the quality of this company, the ability for it to produce outsized earnings over time, it's simply a valuation story, the company is too expensive. As a result, the yield is too low, and it would impair our income portfolio if we added it. We are forced to pass on SHW.
10-Year Dividend history: Dividends have grown meaningfully over the past decade rising from $1/sh in 2006 to $3.36/sh a decade later. While dividends rose, the payout ratio declined, which implies that earnings growth was even stronger than dividend growth. Looking at these two metrics tells a very strong story, but it leaves out one key point. The share price has risen at a faster rate than the dividend, leading to lower yields.
On the last earnings call, management stated it would modify the policy of paying 30% of the prior year's EPS as a cash dividend to support a dividend increase to $3.40/sh over the 2016 level. A small increase but one that allows it to maintain Dividend Aristocrat status, and future dividend increases should be supported by the recent M&A activity.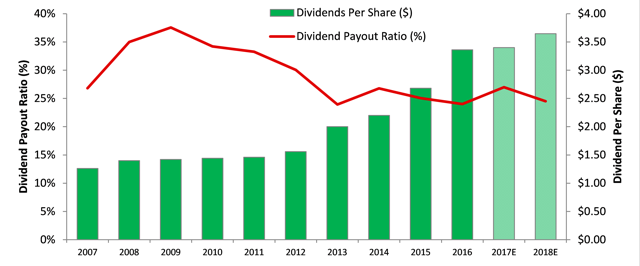 Source: SmartDividendStocks
Long-term Dividend history: Looking at dividends on a longer term basis shows a similar story, significantly higher dividends, growing at about 13% CAGR, a very strong long-term dividend growth rate that highlights the competitive advantage giving it the ability to produce abnormal returns for an extended period of time. In recent years, dividend growth has been much stronger than historical levels.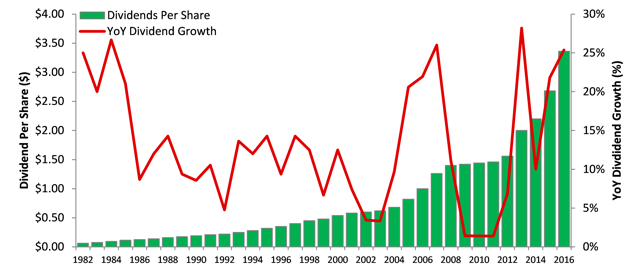 Source: SmartDividendStocks
Debt and leverage outlook: In order to shore up capital to finance the Valspar transaction, SHW removed its share repurchases so that it can reduce debt levels ahead of the acquisition. The result is a very clean debt profile, with $700M being paid down this year and no other payments required for a long, long time ($700M of the LTD is dated beyond 2040 and carries 4% to 4.5% interest rates). Clearly, with this debt level, leverage metrics are very manageable; Net Debt/EBITDA is under 1x, and interest coverage is about 12x. The story will change with the Valspar acquisition, but given it is also buying earnings, the leverage metrics will not deteriorate too much.

Source: SmartDividendStocks
Summary: Overall, we like the company, the industry, and even the Valspar acquisition. What we don't like is the price for any of it. In a market that has done very well, high-quality premium stocks such as SHW are selling for very high multiples, making it difficult to justify a purchase. While we do hold stocks with P/Es above 20x, as many of the Dividend Aristocrats have, we are often compensated with higher dividend yields. SHW offers a measly 1.1%, which is not enough to let us take a hold-and-see approach. Simply, the stock is too expensive for us, and we sit on the sidelines.
Disclosure: I/we have no positions in any stocks mentioned, and no plans to initiate any positions within the next 72 hours.
I wrote this article myself, and it expresses my own opinions. I am not receiving compensation for it (other than from Seeking Alpha). I have no business relationship with any company whose stock is mentioned in this article.