The deal
Fairfax Financial Holdings (OTCPK:FRFHF) has entered into a Scheme Implementation Agreement to acquire 100% of the shares in New Zealand based Tower Limited (OTC:TWRLY).
The purchase price of NZ$1.17/share equates to deal value of NZ$197m/US$144m representing a 47% premium to Tower's 3 month VWAP.
The deal is unanimously supported by Tower's board and major shareholders representing 18% of shares have committed to vote in favor of the deal.
Tower's stock price-weighed by earthquake provisions
The recent price history of Tower has been difficult of late with the stock price falling from ~$2.25 to ~$0.80 over the last two years.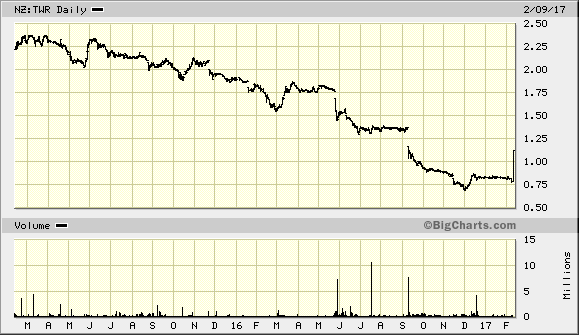 (Source: bigcharts.com)
Towers business has undergone a number of changes in the last few years, including the divestment of its Life, Health an Investments business, resulting in what has recently been a pure play General Insurance (P&C) business.
At face value, this business has reported net losses in the last two years (FY15 $6m loss, FY16 $21m loss), which appears to have been a significant contributor to the ~65% fall in stock price. These losses, however, mask the performance of the underlying business which appears to be highly profitable.
Normalizing for these losses underlying profit was $30m in FY15, and $20m in FY16 with the share price (pre announcement) reflecting a 6.7x underlying P/E (TTM), and Fairfax's offer a 9.7x underlying P/E .
The markets issues with Tower are largely legacy related - the uncertainty and complexity of liabilities related to the Feb-2011 Canterbury earthquake and disputes relating to reinsurance recoveries for Adverse Development Cover (ADC) to the reserves. To put these issues in context, while the estimated gross incurred claims related to this event are $870m, the current net outstanding claims are only $41m and the ADC recoveries under dispute are $44m (Peak Re). Overall, 89% by number and 96% by value of these earthquake claims have been settled to date. In FY16, additional provisions contributed a $25m impact to profits.
In order to unmask the ongoing business from the volatility of the back-book, management planned to split the business - separating the run-off of the Canterbury claims into a new entity 'RunOffCo" which would be managed to maximise capital release. This would allow the ongoing business value of "New Tower" to be fully appreciated by the market.

(Source: Tower Limited)
Whilst this strategy would have arguably unlocked value in the business, so far unimplemented, Fairfax's proposal appears to be opportunistically timed.
Quality float at a cheap price
In the Berkshire capital structure mould, insurance acquisitions are largely about buying cheap, quality float. Under this lens, Fairfax looks to have a good deal, with significant margin of safety despite the 47% premium to market price. In this respect, we probably question why Tower's board hasn't shopped around further for a higher offer.
Looking back the last 5 years, Towers' general insurance business writes about ~$250m of Net Earned Premium and has achieved an average underwriting margin of ~9% suggesting no cost to the float. With claims ratio's of ~50% and management targeting expense ratios of less than 35% going forward, it is highly possible that in time Tower could produce a mid-teen underwriting profit (or ~85% Combined Operating Ratio). This would deem the float very high quality.
Tower's FY16 accounts showed ~$1.66/share of cash and investments versus the $1.17/share offer price. This suggests Prem Watsa is acquiring float at 70c in the $1 and as a bonus could earn 15-22c/share in pre-tax underwriting profit (assuming a 10-15% underwriting margin). This is a significant bargain considering Fairfax's history of excellent underwriting and superior investment results.
Another way to look at it is if Fairfax can achieve a 5% after tax return on the acquired investment portfolio that would be 8c per share and with 10-15c per share from underwriting (post-tax), that is 18-23c of EPS which puts the deal on a 5x to 6.5x P/E.
What about the run-off risks related to the earthquake? Given the high underwriting profitability, any ongoing reserve deterioration related to earthquake losses can be met over time from new business underwriting profitability. Let's assume that 15% underwriting margins or ~$25m of annual NPAT is offset by an ongoing adverse development of $25m (similar to FY16). In this hypothetical scenario Prem still gets to keep the float acquired at a 30% discount. On this basis, the downside risk looks fairly limited.
Disclosure: I/we have no positions in any stocks mentioned, and no plans to initiate any positions within the next 72 hours.
I wrote this article myself, and it expresses my own opinions. I am not receiving compensation for it (other than from Seeking Alpha). I have no business relationship with any company whose stock is mentioned in this article.
Editor's Note: This article discusses one or more securities that do not trade on a major U.S. exchange. Please be aware of the risks associated with these stocks.