After the bell on Thursday, Pandora (NYSE:P) reported a top- and bottom-line 4Q16 beat. Revenues of $392.6 million exceeded expectations by $18.4 million, but represented a growth rate of only 17% YOY vs. FY16's 19% - suggesting a mild slowdown. Non-GAAP loss per share, adjusted for share-based compensation and intangible amortization, came in at -$0.13, which beat expectations by $0.08.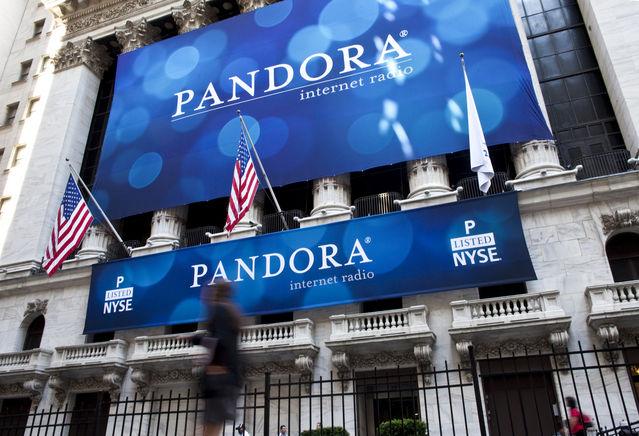 Credit: fumua.com
At first glance
The stock reacted negatively in after-hours trading, down about -3%, most likely due to 1Q17 and full year guidance. The table below summarizes how guidance compares to consensus estimates, when applicable. Keep in mind that the schedule does not account for the tax impact of non-GAAP items, indicating that the EPS gap is likely a bit larger. Intangibles is my estimate based on 4Q16 results.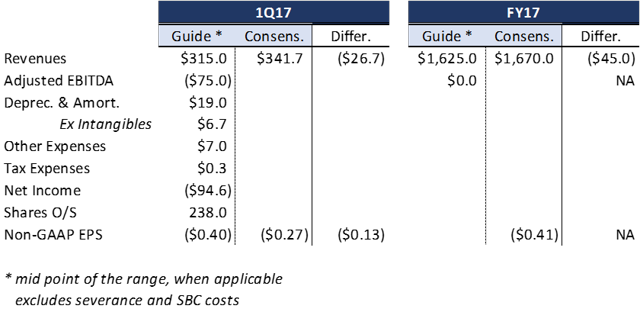 Source: DM Martins Research, using data from company press release
The results of the quarter were not all that bad. And although the mid-point of FY17 revenue guidance fell short of expectations, management's confidence in "full year 2017 adjusted EBITDA profitability" suggests a significant improvement below the revenue line compared to 2016, as the platform gains scale and the subscription services could reach positive ROI territory starting this year.
What matters most
Beyond the financials, however, I believe the health of Pandora's business metrics are most important in gauging whether the company might be able to achieve its 2020 goals.
As a quick recap, management is targeting total year revenue of $4 billion by the end of 2020 (vs. $1.38 billion in 2016) with gross margin of 42% and consolidated op margin of 15% (vs. -12.5% in 2016). To achieve this ambitious goal in such a short period of time, Pandora has laid out the following milestones for the next three years: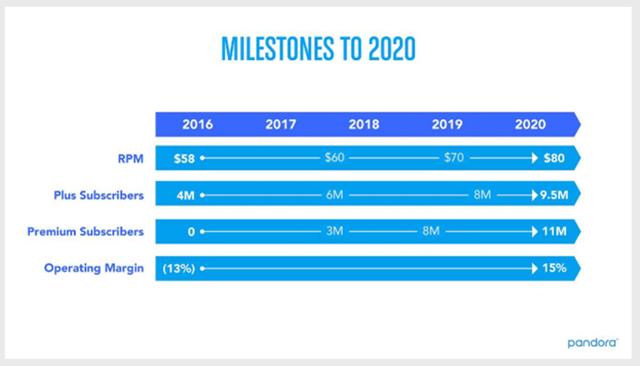 Source: Analyst Day presentation from October 2016
Active listeners in the quarter shrank slightly YOY to 81 million, down from 81.1 million in 4Q15, repeating a declining trend observed in every quarter of 2016 - not an encouraging sign. Ad RPM (revenue per thousand impressions) reached about $56 for the full year, but exited 2016 at over $67. This 18% YOY improvement in the quarter was the best since 1Q16, and may suggest that the $80 goal for 2020 might be achievable after all.
Subscribers to Pandora Plus, the company's $4.99/month service, reached 4.39 million in 4Q16. This will be a key number to keep track of in the coming quarters, as management needs to double the subscriber base through 2020 to successfully achieve its medium-term goals. The company did not report results for Pandora Premium, as the service is scheduled to go live only in 2017.
Investor takeaway
As I have mentioned, 4Q16 results were certainly not disastrous, and I don't believe the 2017 guidance miss is large enough to worry investors. The key question in my mind is: can Pandora execute on its aggressive 2020 plan, build a (late-coming) premium service from zero to 11 million users in three years, improve ARPU across the board, even as competitors like Spotify, Apple Music and Amazon pressure Pandora for market share?
It's possible. And if Pandora can execute on this plan, the $600 million in 2020 op profits could point to about $1 in full-year EPS and justify a stock price of at least $20 in three short years.
But I do not think the mission will be easy. There are many moving pieces and challenges that the company will need to manage properly in order to succeed. I believe Pandora could prove to be a rewarding bet to the more speculative investors. Until I have better visibility, however, I will likely not consider buying the stock at current levels.
Note from the author: follow me as I build a risk-diversified portfolio designed and back-tested to generate market-like returns with lower risk. I call it the Storm-Resistant Growth portfolio. The very early results have already exceeded my expectations. Take advantage of the 14-day free trial, and get immediate access to the content and the community.
Disclosure: I/we have no positions in any stocks mentioned, and no plans to initiate any positions within the next 72 hours.
I wrote this article myself, and it expresses my own opinions. I am not receiving compensation for it (other than from Seeking Alpha). I have no business relationship with any company whose stock is mentioned in this article.