Philip Morris (NYSE:PM) reported fourth-quarter results recently, showing encouraging growth. The company's guidance for the current year is upbeat, and Philip Morris should be able to increase its dividend by more than 2% this year, thus shares could still be attractive for income seekers.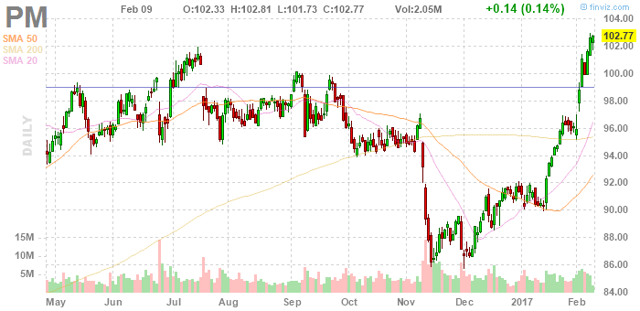 Philip Morris' shares are trading at $103 right now, close to the 52-week high and well above the lows in the high 80s we have seen at the end of 2016.
Philip Morris grossed net revenues (excluding excise taxes) of $7.0 billion, up a little more than nine percent year on year. This very strong revenue growth rate was not expected and was a very welcome change from the trend we have seen over the prior years: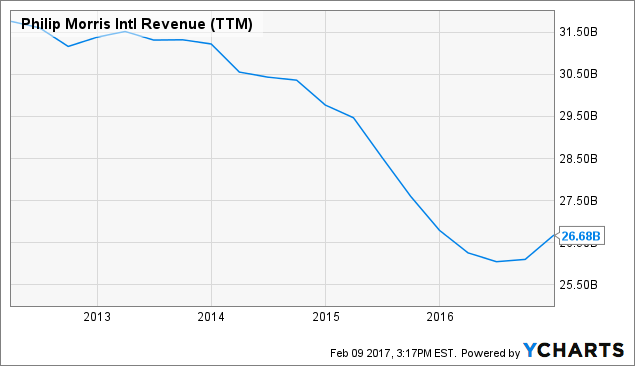 Over the last five years Philip Morris hasn't had one year of meaningful revenue growth, and sales have dropped significantly from above $30 billion to $26 billion. The 9% revenue increase we have seen in the fourth quarter could be one of the first signs of a change in the company's revenue trends, as Philip Morris is aiming to get back to growth via new products.
Cigarette volumes had dropped 4.1% in the prior year, but due to price increases Philip Morris was able to more than offset those volume declines: Higher prices impacted Philip Morris' fourth quarter revenues to the tune of $565 million, whilst improved volume/mix (bigger portion of high-priced brands) improved sales by another $104 million. Philip Morris' new reduced risk products (RRPs) such as its HeatSticks provided revenues of $340 million in the fourth quarter. This doesn't sound like very much, but the positive is that Philip Morris could have sold a lot more of its HeatSticks if supply would not have been constrained -- demand is a lot higher than what Philip Morris can get to the market right now.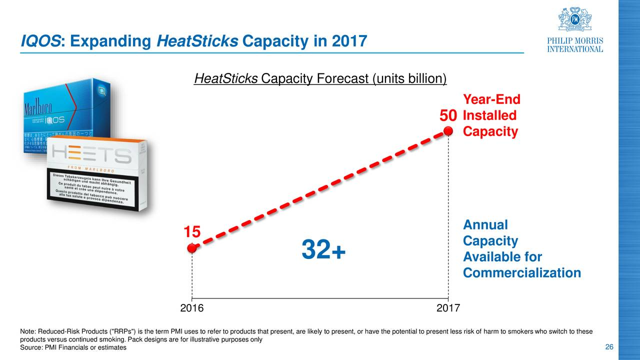 Luckily Philip Morris is making huge investments in order to increase capacity for its HeatSticks, with capacity increasing by several hundred percent this year (from a year end capacity of 15 billion units to a forecasted year end capacity of 50 billion units). In 2017 Philip Morris has sold 7 billion HeatSticks, whereas the company plans to sell 32 billion HeatSticks this year (which would mean revenues of roughly $3.5 billion from this franchise in the current year). With capacity continuing to increase throughout 2017 (and beyond), we can expect HeatSticks sales to hit a quarterly run rate of $1 billion by this year's fourth quarter, which would make RRPs a significant contributor to Philip Morris' bottom line.
It is thus not surprising that Philip Morris aims for a revenue growth rate of more than six percent for 2017, above its long-term goal of growing revenues by 4%-6% annually (since Philip Morris hasn't been able to grow by mid-single digits for a couple of years some huge improvements in the current year are a big plus).
Philip Morris also plans for earnings per share of $4.70 to $4.85, which would mean an increase of 7% from 2016's EPS of $4.48 (when we use the midpoint of the company's guidance).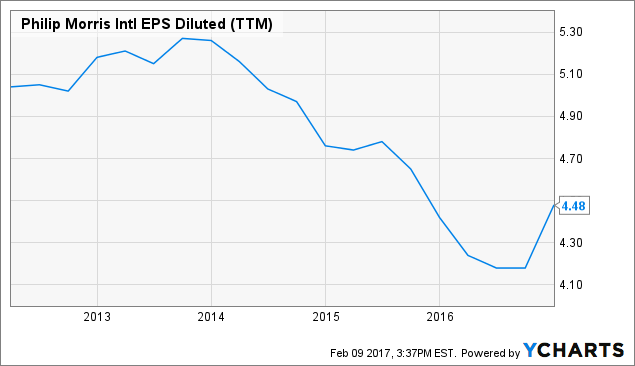 When we look at the last few years we see that it's been quite a while since Philip Morris has grown its earnings per share by seven percent, EPS have peaked in late 2013 and mostly declined since. Philip Morris' underlying performance was good, but currency rates adversely affected the company's reported EPS significantly over the last few years. If Philip Morris does indeed grow its EPS by seven percent this year (this includes negative currency effects - without those Philip Morris guides for 10.5% EPS growth), this would be a very welcome change as well.
EPS of $4.78 (midpoint of guidance) would also mean that the company's dividend payout ratio would drop from 93% to 87%, which leaves more room for dividend increases this year. Philip Morris has increased its dividend by 2% annually in 2015 and 2016, whilst earnings have been dropping, thus I believe that the company will reward investors with a bigger dividend increase this year, as EPS are expected to grow by high single digits. A dividend increase by 5% (to $1.09 per share per quarter) would bring the payout ratio to 91%, which would still mean a reduced payout in comparison to 2016, yet would be a lot more pleasing for investors than the past two dividend increases. Since Philip Morris targets free cash flows of $7 billion or more in 2017, this would mean that the company would not have to pay out all of its free cash flows via dividends and could thus use some cash for share repurchases or debt repayment.
I believe that Philip Morris will increase its dividend slightly less than its EPS growth rate over the next years in order to bring its payout ratio below 90%, but the company would still have room to grow its dividend by a significant amount each year: Philip Morris is expected to grow its EPS by 8.9% annually over the next five years, if the company would increase its dividend by six percent annually over the same time frame its dividend payout ratio would drop to 81% -- which is on par with Altria's (NYSE:MO) payout level and which is a good base for a consumer product company with low volatility in earnings and cash flows and low cash requirements.
With a 5% dividend increase PM's shares would yield 4.3%, which sounds attractive in comparison to the broad market's dividend yield of just 2.0% and also in comparison to treasuries that yield roughly 2.5%.
Takeaway
Philip Morris reported strong results for the fourth quarter, and the outlook for the current year is even better: Philip Morris will get back on growth track thanks to RRPs, and dividend growth investors will likely see a more significant dividend increase than we have seen in the past two years.
With a yield above 4.0% and sizeable dividend increases going forward, Philip Morris is not unattractive for income seekers.
Disclosure: I am/we are long MO.
I wrote this article myself, and it expresses my own opinions. I am not receiving compensation for it (other than from Seeking Alpha). I have no business relationship with any company whose stock is mentioned in this article.