It has been several weeks since I have written here, as January is typically a busy month for me and more so this year. Besides my regular newsletter writings, I also help small companies raise finance, and this year has started as the busiest I have seen in many years, especially junior miners.
My thesis with gold (NYSEARCA:GLD) has been that the typical year-end weakness would be followed by a strong rally, likely the next leg of the bull market. The nonsense talk of $900 and $1,000 gold prices in December was just that. I expected a January rally to test $1180, and then I wanted to see a break through the $1200-$1220 resistance area (was support on way down). This past Monday, we got the breakout in gold I was expecting above the $1220 level. This chart is the April Comex contract that has the most activity now. I circled the morning doji star reversal I pointed out in my regular writings last week as a good bottom indicator.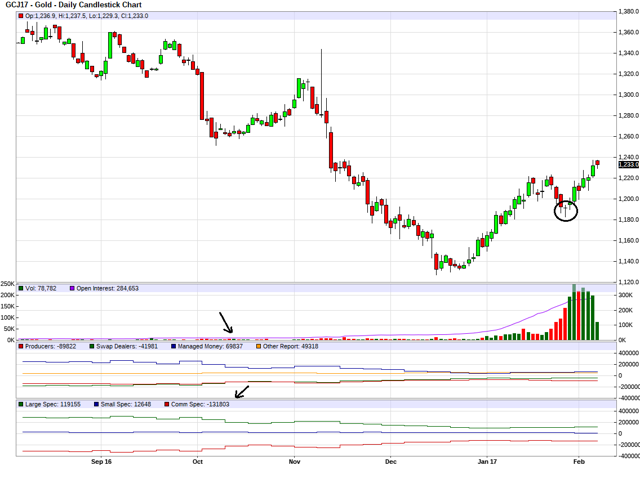 With that confirmed, I have two new gold stocks to consider. I commented last week that there was a good washout in Comex gold and I wanted to see the COT report to see how that worked out. The COT report really showed no decline in managed money long positions or commercial short positions. However, what is a good indication is the big decline in open interest that coincided with the down move and reversal near $1180. This next chart shows open interest of all Comex gold contracts, and you can see that open interest declined to 398,433 on January 31st (last data), the lowest level since the bottom in gold in January 2016.

Many of my gold stocks and others I follow have already seen big rallies this year and are approaching their 2016 highs. I keep a large spreadsheet of many gold stocks and it is a daunting task, but this helps me identify things I am looking for more easily and quickly; nevertheless I had to pore through a lot of current stock charts on Monday.
I wanted to find stocks that were still down in price relative to others, had low valuations, but also potential for strong growth in the future. A little stringent, but I found what I was looking for in Semafo Inc. (OTCPK:SEMFF) and Argonaut Gold (OTCPK:ARNGF).
Before I get to these, I have decided to buy New Gold (NYSEMKT:NGD) after being stopped out. I last wrote about New Gold here in December
In my regular portfolio, I set stop/losses after we buy into a stock, and with New Gold, it was at Cdn $4.50, but I don't always list them here. Hopefully, if you owned the stock, you had a stop/loss before the plunge in price end of January, but even so the drop was so dramatic, a stop/loss maybe didn't work for everyone, or you end up get stopped out even lower. Whatever the case, the price now is attractive with a longer-term outlook and rising gold price.
The cost to develop Rainy River has been disappointing, and that is reflected in the price. I am buying back now because I believe the up move in gold will be more of a positive influence than the negative Rainy River influence. The gold price can fix a lot of problems. Rainy River will go into production, so in the future, we will still see a large positive impact on New Gold's production profile. I show the chart of NGD on New York; so a US dollar price, but it trades more volume there, and you can see the big surge in volume on the down move. This is a very good signal of a washout bottom. The chart on Canadian trading reveals the same thing.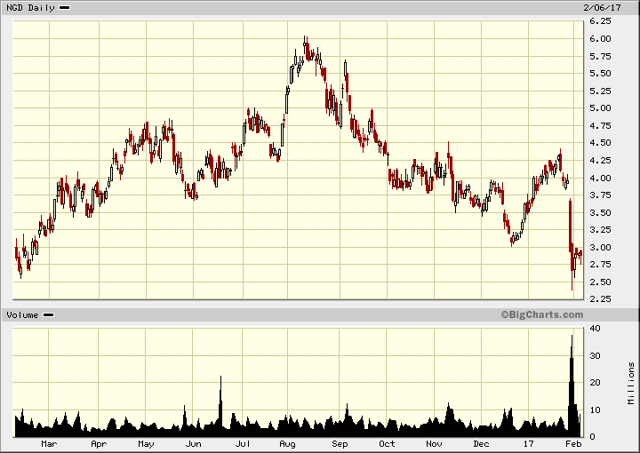 Semafo Inc. trades mostly on the TSX:SMF
Shares outstanding at 324.8 million; mostly institutional owned at around 89% of the outstanding.
Semafo operates in West Africa and has over 20 years of experience there commissioning three mines. They currently own and operate the Mana Mine in Burkina Faso, which includes the high-grade satellite Siou and Fofina deposits, and are developing the advanced gold deposit of Natougou. Most of this information is from their latest presentation and 2016 results announced February 1st.
In 2016, Semafo produced 240,200 ounces at a total cash cost of $548 and all-in sustaining cost of $720 per ounce at its Mana mine. As a result, the corporation has met its production guidance for the ninth consecutive year.
In the fourth quarter, Mana produced 55,100 ounces of gold at a total cash cost (1) of $571 per ounce and all-in sustaining cost of $694 per ounce;
All-in sustaining cost for 2016 of $720 per ounce, at the low end of the company's guidance of between $720 and $760 per ounce;

Development capital expenditures of $11 million in the year, representing stripping costs at Wona North and purchase of mining equipment;

Cash and cash equivalents of $274 million as at Dec. 31, 2016;

Gold sales of 240,600 ounces of gold, resulting in annual revenues of $300 million.
Semafo has been a steady and solid performer meeting their production guidance for the past 9 years. Their costs are low and they have strong cash flow and balance sheet because they are open pit mining high-grade ore in comparison to most open pit mining. Mana generally operates over 3 gpt, but came in at 2.88 gpt for 2016, as they decided to process 425,000 tonnes of low-grade material in 2016.
Not only does Semafo represent strong operating performance, the valuation on a per-ounce basis is quite low considering the quality of their assets. Currently, they have just over 6.2 million ounces of gold in reserves with Measured and Indicated resources added. At the current stock price, these gold ounces have an enterprise value of just US$172 per ounce.
Semafo is adding value through exploration by adding ounces and will see very strong production growth in 2018 with their next mine, Natougou, coming into production. This is perhaps too far off for the market to give it more valuation, but it will make a difference as we go forward.
Natougou project:
In December, Semafo was awarded the mining permit for Natougou. Construction is now under way with the mobilization of contractors on site to begin construction of earthworks and civil infrastructure.
Detailed design and engineering, which has now reached the 70% completion stage, should be finished at the beginning of the second quarter of 2017.
Development continues on track with $17 million of the $219 million total budget spent at year-end 2016. Following commencement of construction, first gold pour is scheduled for the second half of 2018.
This is an exceptional project and it can all be financed internally, so I expect little to no share or debt dilution. A 48% IRR is high and payback a mere 1.5 years. This will add substantially to their production profile at 226,000 ounces per year, and all in sustaining costs are about as low as you can find at only $374/ounce.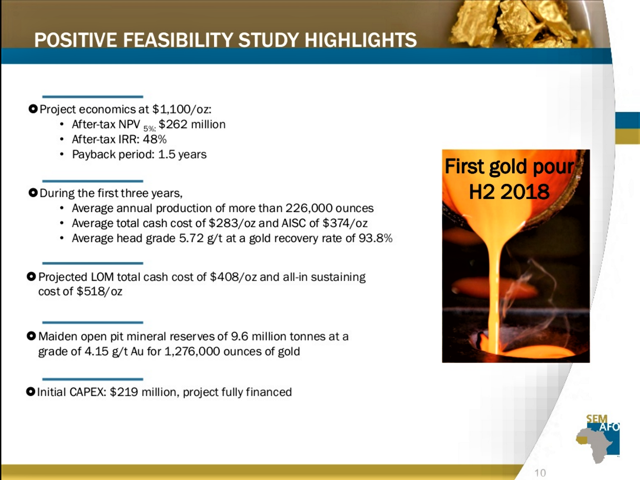 Semafo is a cash cow and will be more so with Natougou. Production growth is expected to be flat in 2017, but I believe it is only a matter of time before the market starts giving this stock a higher valuation based on current operations and the 2018 growth outlook.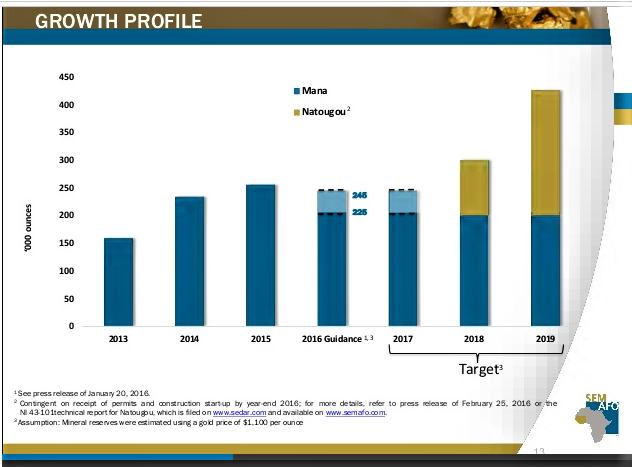 Perhaps, the stock chart is the best picture of all. I note it is still way below its 2016 high, and just broke out above the recent C$5.00 resistance area. This would indicate a short-term move to around $5.75 could be quite likely.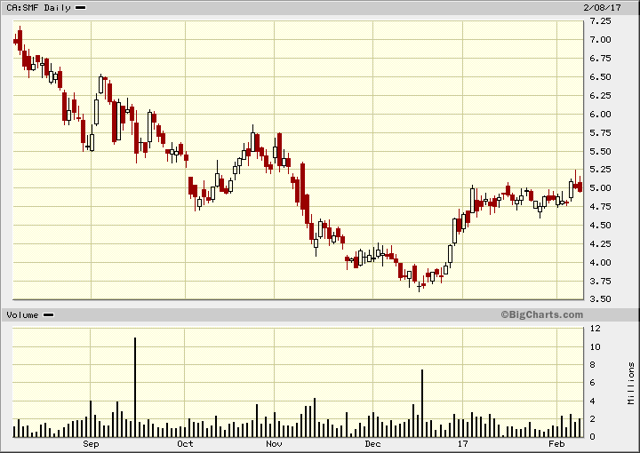 Argonaut Gold mostly trades on the TSX:AR Recent Price C$2.75
Shares outstanding 158 million.
Argonaut is a smaller producer, but I picked it for the same reasons as Semafo - stock well below the 2016 high, a very low valuation on a per ounce basis, and a strong growth profile with good balance sheet.
Argonaut operates two mines in Mexico and has two more advanced projects there; San Agustin just 10 kilometers from their producing El Castillo mine, and its first gold production is slated for Q3 2017. Current indicated resources are 845,000 ounces gold with 28.2 million ounces silver. Low Capex at $43 million can be financed internally.
San Antonio in Mexico has 1.7 million ounces Measured and Indicated. It is in the permitting stage. Some more details on these projects next page with slides from Argonaut's presentation.
Their advanced Magino project in Ontario Canada is well advanced and very significant at 3 million ounces proven and probable reserves and 4.1 million when adding in indicated resources. This will require a larger Capex of at least $540 million, but is further down the pipeline with more drilling required, feasibility and permitting.
Argonaut Gold had gold-equivalent-ounces production of 34,384 during the fourth quarter ended Dec. 31, 2016, and 122,097 during the year ended Dec. 31, 2016. During fourth quarter, production was 16,747 gold equivalent ounces at its 100%-owned El Castillo mine, located in the state of Durango, Mexico, and 17,637 gold equivalent ounces at its 100%-owned La Colorada mine, located near Hermosillo, Mexico.
During 2016, El Castillo and La Colorada gold-equivalent-ounce production totaled 62,766 and 59,331, respectively. Management expects year-end consolidated cash costs to be below the lower end of the range of revised 2016 guidance of US$825 to $875 per gold ounce sold. At year-end, the company had a cash balance of US$42 million and $30 million available on an undrawn corporate revolver.
Guidance for 2017
The company anticipates it will produce between 115,000 and 130,000 gold equivalent ounces during 2017 at a cash cost of between $725 and $775 per gold ounce sold, and all-in sustaining costs (AISC) of between $910 and $960 per gold ounce sold. Due to the anticipated start-up at San Agustin during the third-quarter 2017 and the ramp-up, the company expects the fourth-quarter 2017 to provide the strongest production and lowest costs during 2017.
Argonaut is in great shape with good cash flow from their current two producing mines that can fund future growth. Following is three slides from their presentation on their advanced growth projects, and then I will look at a surprisingly low valuation.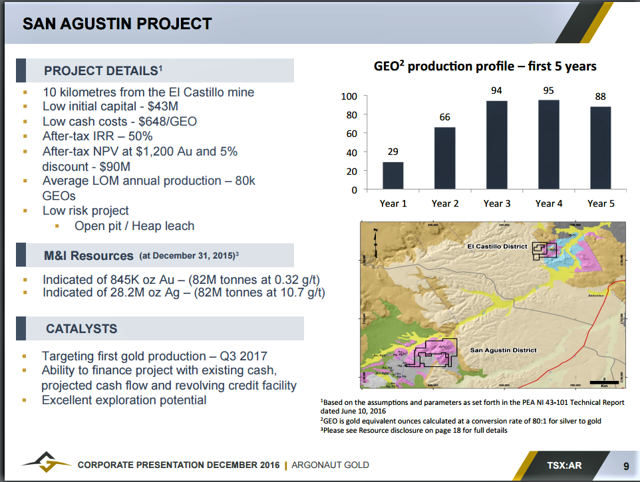 This is very close to their current producer El Castillo, so company-owned supporting infrastructure nearby and the projected IRR at 50% is very good. 80,000 ounces added production will be a very handsome boost to their production profile.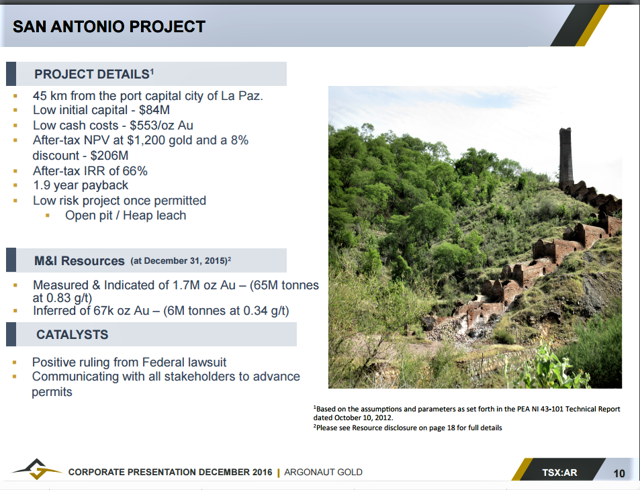 The Magino project in Ontario Canada is farther out on the production horizon, but is significant because of its size at just over 4 million ounces. I don't believe the market is giving this much valuation because of its lower grade and might be a reason the stock valuation is so low. That said, it gives very strong leverage to rising gold prices.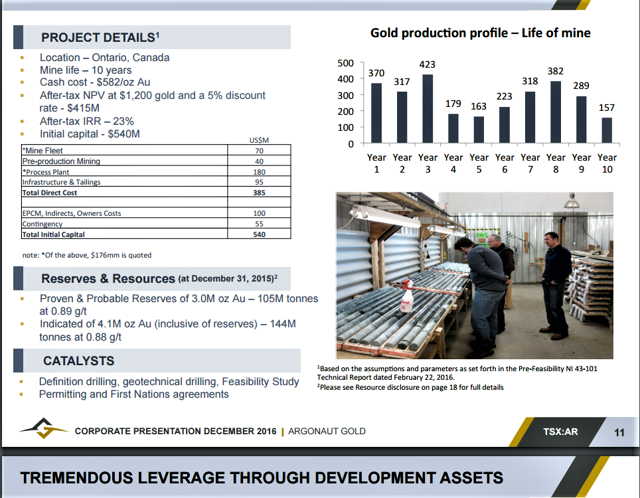 With two producing mines and three advanced projects, Argonaut has 8.2 million ounces gold in the Measured and Indicated category. At current prices, the market is only putting an enterprise value on this at just US$35 per ounce.
If one was to simply forget about their advanced projects and just value the ounces at the two producing mines, it comes to a very reasonable valuation of just $185 per ounce, about the same as Semafo, but Argonaut is a smaller producer with a shorter track record. Just the same, I believe Argonaut is an ideal stock to add to the portfolio now.
The stock has some volume on the OTC, but mostly trades on the TSX. The C$ chart shows some resistance between $2.75 and $3.00, so I would like to see a break of $3.15 or higher, and then we would be off to challenge the 2016 highs.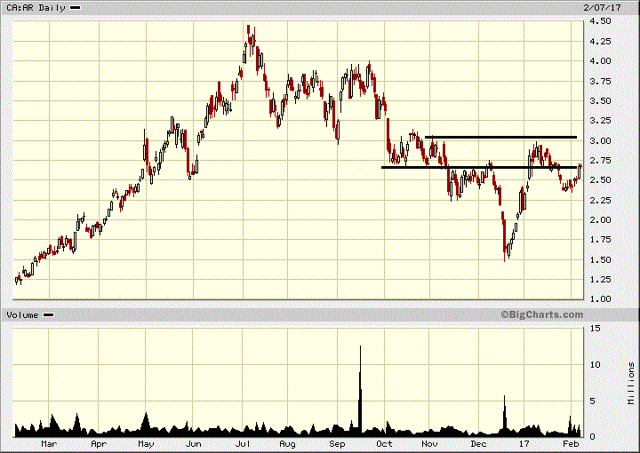 Disclosure: I am/we are long GLD, NGD, SEMFF, ARNGF.
I wrote this article myself, and it expresses my own opinions. I am not receiving compensation for it. I have no business relationship with any company whose stock is mentioned in this article.
Editor's Note: This article discusses one or more securities that do not trade on a major U.S. exchange. Please be aware of the risks associated with these stocks.