The Gold Miners Index (NYSEARCA:GDX) has been resurrected by the bulls after what was a dark and dismal Q4. The miners are up 36% off their December lows, and the bears who didn't hibernate have been squeezed to a pulp. The majority of gold stocks have participated in a big way and it's difficult to find anything that's still trading at a depressed valuation. Luckily for investors who have missed this rally there's a couple stocks that are lagging the pack. While these stocks are slightly more speculative than my typical positions, I would consider them both to be potential takeover targets. To avoid confusion, all figures in this article are in US dollars unless otherwise stated.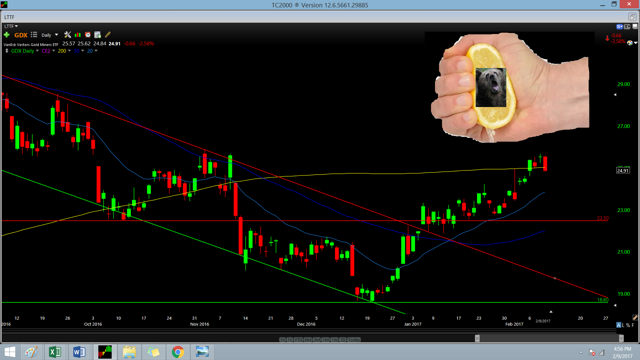 (Source: TC2000.com)
As we can see from the above chart the GDX has had a relentless bid under it the past few weeks, and there's been zero reprieve for those that were short. The index briefly hopped back above its 200-day moving average, but has sunken marginally below it as of today's close. If the GDX can climb back above its 200-day moving average, I see no resistance left for the gold stocks. This does not mean that the index will continue up in a straight line, but it does mean that I expect any dips to be shallow. I expect the rising 20-day exponential moving average to provide support for the index at $23.87. If this support does not hold, I would be very surprised if the 50-day moving average below did not trend higher and catch us at $22.50.The 50-day moving average is moving up at a pace of $0.08 a day and should be at $22.50 by early next week.
Bullish sentiment on gold has closed above the 60% level as of today's close, and this is also pointing to a move higher. The last line of defense for the perma-bears is at $1,265/oz and they're going to need to defend it with their life if they want to make it back to their caves in one piece.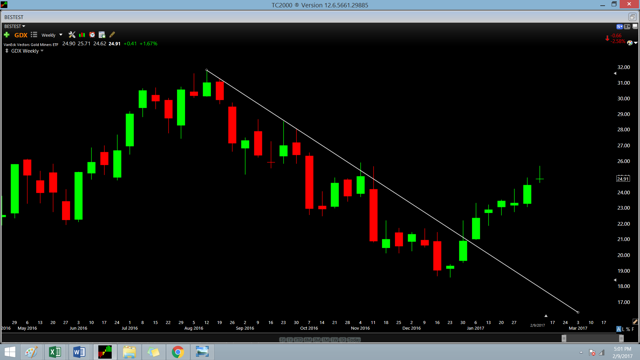 (Source: TC2000.com)
Zooming out to the weekly chart, we can see the powerful breakout that unfolded the first week of January. The GDX is on track for its first 8-week winning streak in history, and a close above $24.50 for the week would solidify this. We have seen higher lows on the GDX for 7 straight weeks now, and this is the definition of a change in trend. The bears may be doing jumping jacks over winning the battle today, but they've lost the war the past 6 weeks.
For those that haven't been following me the past few months, I will begin with a brief synopsis of my strategy when it comes to mining stocks. Rather than buying the index as many traders do, I prefer to do extensive due diligence and select individual companies which I believe to be industry leaders. To define an industry leader, I am looking for companies that have superior grades and lower costs, than their peers. There are two reasons that I do this:
1) The Gold Miners Index is made up of a good portion of dogs, and I don't care for owning a basket of miners that is mixed in with what I'd consider to be under-performers.
2) By doing my own research I can find the 'best in breed' juniors that are industry leaders, that also have an added kicker of being taken over by gold majors.
To explain what I mean by there being dogs in the index, let's look at the GDX:

(Source: Yahoo Finance)
The GDX is up 54% over the past year, yet a few of the stocks in the top 10 holdings have significantly lagged the index. Franco Nevada (NYSE:FNV) is up 31% over the same period, and Goldcorp (NYSE:GG) is up a petty 19%. Meanwhile Randgold (NASDAQ:GOLD) has had the least impressive run, posting a paltry 13% gain. These three companies make up over 17% of the index, and have posted less than half the performance of the GDX since the beginning of 2016. This has weighed on the performance of the index significantly, and is a reason why I prefer to hold miners which I deem to be the 'best in breed'.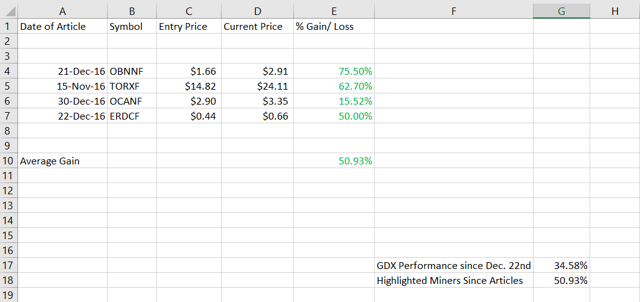 (Source: Author's Table)
The above table shows how this strategy has played out since the December lows, and my hand-picked outperformance vs. the index itself. Over the past month and a half my 4 juniors I've highlighted are up an average of 50.93% vs. a gain of 34.58% for the GDX. This is an outperformance of over 16%, which is a massive disparity over such a short time period. If we were to annualize this return, it would come out to nearly 100% over the course over a year.
Ok, enough about my methodology and why I'm not a huge fan of holding the GDX itself, time to unveil two speculative juniors I'm positioning myself in.
Avnel Gold Mining (OTCPK:AVNZF) is a gold explorer that is currently exploring financing opportunities to move its 80% owned Kalana Main project towards production. The project is seated on a 387 square kilometer land package and is fully permitted with the ESIA approval received in 2016. Kalana Main currently hosts 3.1 million ounces of gold at an average grade of 4.1 grams per tonne (g/t). This grade may not seem that exceptional at first glance, but it is industry leading when it comes to open-pit mines. To put this grade in perspective, Guyana Goldfields (OTCPK:GUYFF) and Torex Gold (OTCPK:TORXF) both operate open-pit mines and have average grades of 2.94 g/t and 2.62 g/t, respectively.

(Source: Company Presentation)
High grades often accompany low all-in sustaining cash costs, and in this department Avnel is in the top quartile. The optimized feasibility study has outlined the potential for all-in sustaining cash costs of $560/oz for the first five years, and $730/oz for the remainder of the mine life. Compared to the industry's average all-in sustaining cash costs of $875-$900/oz, these metrics are quite impressive. The feasibility study envisions the potential for annual production of 148,000 ounces for the first five years, with life of mine average production of 101,000 ounces. Mines producing over 100,000 ounces annually are very attractive to mid-tier gold producers, and we need to look no further than True Gold Mining and Orbis Gold for proof of this. Semafo Gold (OTCPK:SEMFF) took over Orbis Gold to acquire its Natougou Mine in 2015, while Endeavor Mining (OTCQX:EDVMF) took over True Gold to gain control of its Karma Mine last year. Both of these projects were similar in size to Avnel's Kalana Main Project and were both located in Africa.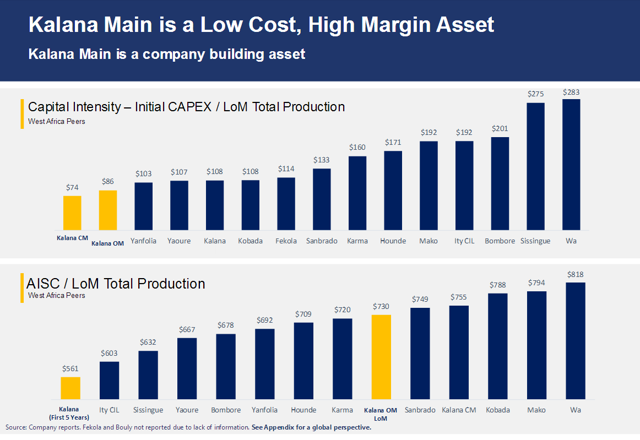 (Source: Company Presentation)
So why do I think the company is a potential takeover target? Let's compare recent acquisitions in Africa over the past few years.

(Source: Author's Table)
As we can see from the above table I've built, there have been 4 acquisitions in West Africa since 2015. All of these acquisitions were similar to Avnel Gold as they were all African juniors that were heading into the development stage of their life cycle. Taking a look at the table, we can see that the average price paid for these companies was $116 million. There is quite a large disparity in the acquisition price per ounce for these companies, but that's because no two resources are ever the same. While the average acquisition price per ounce was $30.28/oz, I only believe one company to be comparable to Avnel Gold.
Looking at the resource grade for the above 4 projects, only Orbis Gold's Natougou had similar grades to Avnel Gold's current project. All of the other projects were under 2.0 grams per tonne gold, amounting to less than half the grade of Avnel's current resources. This can be attributed to why Semafo forked over so much for Natougou, while the other intermediate producers seemingly stole the other projects.
Based on the above table, I believe Avnel's fair price per ounce is closer to $53.00/oz. I have placed a 40% discount on Avnel's ounces compared to Natougou's for 2 reasons.
The all-in sustaining cash costs at Natougou are estimated at under $400/oz, 30% below Avnel's estimated all-in sustaining cash costs for the first 5 years of production.
The resource grade at Natougou is 20% higher than Avnel's average resource grade.
Based on my fair valuation of $53.00/oz on Avnel's ounces, the company has the potential for a significant re-rating if it can move forward towards a production decision. Based on a resource of 3.1 million ounces, a valuation of $53.00/oz would give it a market capitalization of $164.3 million. Based on its fully diluted share count, this would result in a share price of $0.395 (US), an 80% gain from current levels. Unfortunately, Avnel only owns 80% of its project, therefore an extra 20% discount must be placed on this valuation. This would result in a market capitalization of $131.4 million US, and a share price of roughly $0.32 (US). This is still a 45% increase from the current share price, leaving the company with an attractive valuation at present.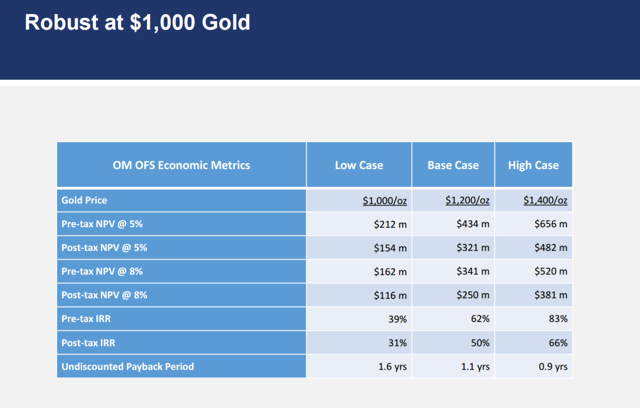 Based on this undervaluation, I have taken a position in Avnel in all of my investment accounts. I am amazed the company was not scooped up at its December lows by a mid-tier, but only think it's a matter of time before a hostile bid surfaces. Kalana Main's after-tax IRR is 50% using a gold price of $1,200/oz, and should be even more robust given the rally in the metal over the past few weeks. This acquisition is a no-brainer in my opinion, and I expect Semafo is licking its chops at the potential to steal not one but two robust projects in a 3-year span.
So what about the technicals?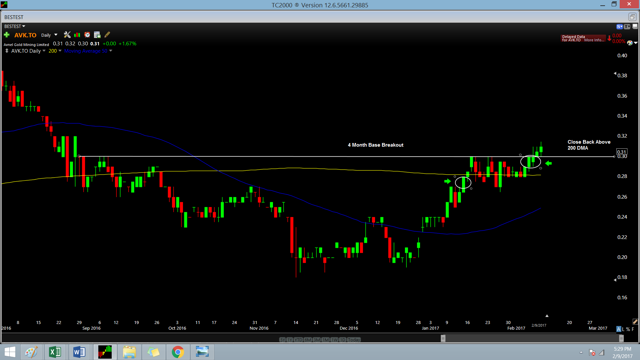 In my previous Avnel Gold article, I mentioned that I would only be taking a starter position in the company as the technicals were not confirming my fundamentals. While the fundamental picture was one of serious under-valuation, the stock was still beneath its 200-day moving average. Since that time the stock has regained its 200-day moving average, and is attempting to build a base above this level. In addition to this, the stock has managed to clear a 4-month base from late September, and is on track to make a new 20-week closing high. The stock finally looks poised to go higher and the fundamentals support a valuation at least 30% higher. I have shown the Canadian chart above as I prefer the TSX due to better liquidity and clearer charts. This is where I am long Avnel from and I have averaged up as of this week. My stop on this trade is below $0.25 (NYSEARCA:CAD) on a closing basis, which would represent a close beneath the 50-day moving average and the January 30th swing low.
The second stock that has fallen into my lap after combing through the gold sector is Eastmain Resources (OTCQX:EANRF). The company is also owns a high-grade open-pit project, but is located on the other side of the world. Eastmain's assets are located in James Bay, Quebec and the company has a very impressive shareholder base. Over 10% of the company's shares are held by Goldcorp and Integra Gold (OTCQX:ICGQF), and another 38% are held by institutions and major shareholders. This is a testament to the project and tells us that these larger gold companies are interested in taking a 'wait and see' approach while Eastmain continues to delineate its deposits.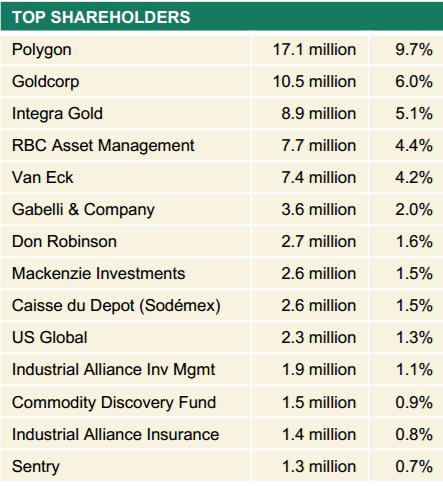 (Source: Company Presentation)
The company has been exploring their flagship Eau Claire deposit for a few years now, and has come up with a resource of 1.5 million ounces at an average grade of 4.0 grams per tonne gold. The company has 175 million shares fully diluted with $11.5 million in cash, giving it an enterprise value of $61 million at a share price of $0.41 cents (US). This is a very conservative valuation for an explorer of Eastmain's nature, especially given the catalysts coming down the pipeline. Not only is Eastmain expecting a new resource estimate in Q2, they are also expecting to release a preliminary economic assessment (PEA) as well this year. I expect the costs of the PEA to come in at very reasonable levels given the high-grade nature of Eau Claire, and the deposit's close proximity to infrastructure.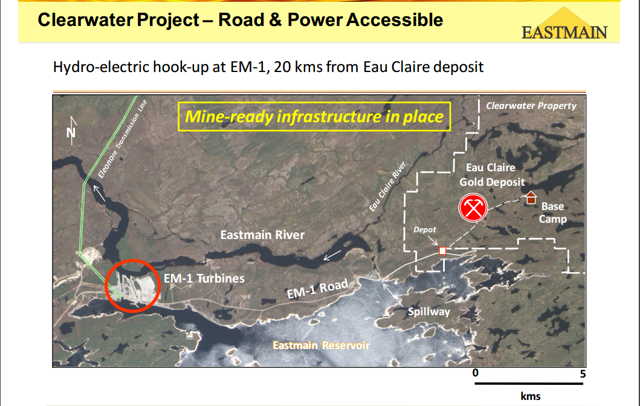 (Source: Company Presentation)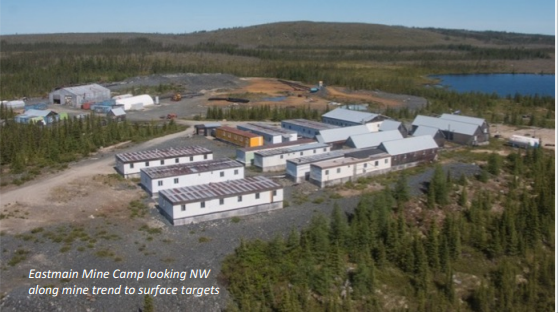 (Source: Company Presentation)
The company has done over 75% more drilling data to enter into its upcoming resource estimate, and grades have been in line with historic drilling. For this reason I would not be surprised to see a minimum 35% increase in the company's resources which would move them above the 2 million ounce mark. This should put the company on the map as an emerging explorer in the space, as few junior gold companies ever make it past the 2 million ounce mark.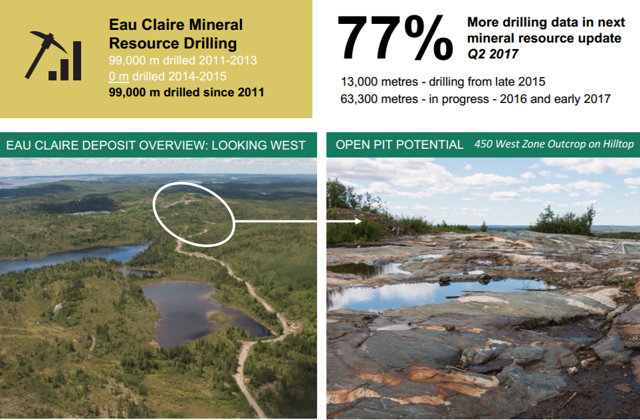 (Source: Company Presentation)
I have not given any credit to Eastmain's other project and their joint venture with Goldcorp, as I want to focus only on projects with current resources. This does not mean the other projects are worthless, I just prefer to use a more conservative approach when evaluating gold juniors. I believe Eastmain's other projects to have promising exploration potential, but prefer to assign a value of zero on them as they are still early stage.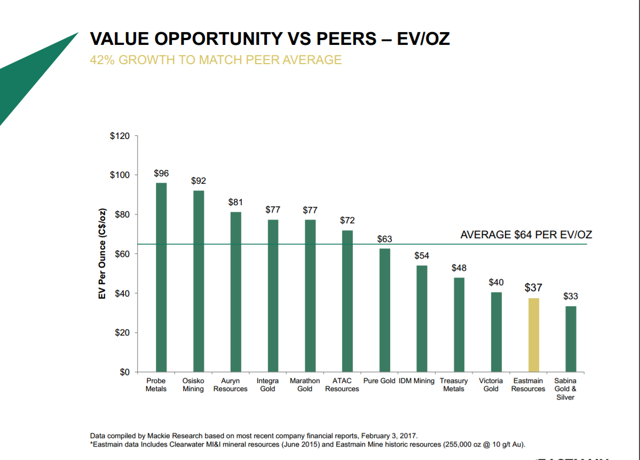 Based on the company's enterprise value of $61 million, it's resources are currently being given a value of $40/oz. This is incredibly low given their grade and jurisdiction and makes little sense when compared to other projects. If the company is able to increase their resources to 2 million ounces for their Q2 resource estimate, this valuation would drop to $30/oz. To show just how undervalued Eastmain is compared to peers, the above chart has been included. The majority of Eastmain's peers are located in less favorable jurisdictions and have similar grades. For this reason I believe Eastmain's discount valuation to be unjustified and deserving of a modest re-rating.
What about the technicals?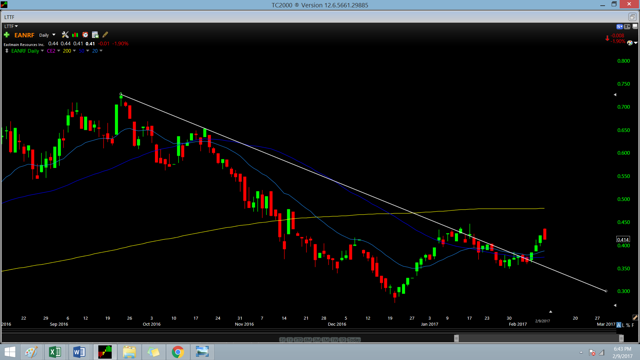 (Source: TC2000.com)
While the fundamentals on Eastmain are compelling, the technicals are difficult to get behind here. The stock is still below its 200-day moving average which is my line in the sand for bull and bear markets. Having said that, Eastmain is above its 50-day moving average, and has also broken out of its downtrend. For this reason I have taken a position in Eastmain, but I have only begun a starter position. I would average up on this position on a close above the 200-day moving average as I did with Avnel.
Summary
Both Avnel and Eastmain are high-grade open-pit explorers which are very rare in the exploration sector. They both have modest resources and are in jurisdictions where they are surrounded by gold producers. I believe their depressed share prices may be presenting an opportunity for mid-tier producers that are looking out a couple years, and willing to take on a little bit of risk. Both of the companies are trading at very reasonable valuations, and are being given no credit for the possibility of resource expansion at their projects. For this reason I have gone long both companies with small positions on the Canadian market and plan to add to them into strength on the right technical setup. While I do have a full position in Avnel Gold as of this week, I do not in Eastmain and would like to see a close above $0.49 (US).
Disclosure: I am/we are long GLD, EANRF, AVNZF.
I wrote this article myself, and it expresses my own opinions. I am not receiving compensation for it (other than from Seeking Alpha). I have no business relationship with any company whose stock is mentioned in this article.
Additional disclosure: If you liked this article and found it useful, please feel free to follow me by clicking on my name next to my avatar at the top of this article. I also invite you to follow me at www.twitter.com/TaylorDart01 where I routinely share my entries, exits, and stops on new positions, as well as updating followers on sentiment data on markets I am following.
Editor's Note: This article covers one or more stocks trading at less than $1 per share and/or with less than a $100 million market cap. Please be aware of the risks associated with these stocks.