"Mors tua, vita mea" (literally "your death is my life) probably was the motto that gladiators, in the ancient Rome, recited before entering in the Coliseum and fighting for their life. Over and above its literal translation, this Latin expression means that what is a damage for one person is often an advantage for another. There can only be one winner in a competition; that is the reason why we can apply it to biotech companies like Merck (NYSE:MRK) and Bristol-Myers Squibb (NYSE:BMY), which are both fighting to gain the lead into immunotherapy market.
In this column, I will introduce these two companies, whose destinies are intertwined and, as Bristol-Myers Squibb is an undervalued stock with great upside potential, I will explain why it could be a good investment. Despite sales could be at risk in 2017, although is not a sure thing, I think it could be worth buying Bristol-Myers Squibb's shares now.
A short introduction to immuno-oncology (I/O) and checkpoint inhibitors
The approaches currently used to fight cancer are multiple. Surgery is not always possible or decisive; therefore chemo- and radiotherapy are largely used, in addition to the recently-introduced targeted therapies. Targeted therapies take full advantage of the presence of targets in cancer cells, which are in small number or totally absent in healthy cells.
For some years now, immunotherapy, which uses the patient's immune system to fight the disease, has found its way. The immune oncology (or I/O) is a part of immunotherapy focused to treat cancers.
The biggest revolution since chemotherapy is the use of checkpoint inhibitors (or CPI), namely the use of drugs (antibodies for the moment) which have the task to get rid of certain mechanisms that limit the patient's immune response. By excluding these checks, the immune system reacts and attacks the disease; however, there is a risk that the reaction may produce side effects too.
Hence, despite the impressive data in terms of benefits, resulting by the clinical trials in which these compounds are used, not all patients can benefit from such therapies. Several companies are working in two directions in order to improve the effectiveness of the checkpoint inhibitors. First, patient selection in accordance with the expression of PD-L1 (ligand for PD1, target of the anti-PD1 antibodies). Second, they adopt the strategy of using other drugs in combination in order to make the cancer susceptible to the used checkpoint inhibitors.
Even though there are still doubts about the real effectiveness of PD-L1 expression to select the patients, some of the choices we will discuss in this article were made on this basis.
Bristol-Myers Squibb - the reason for the fall
The first checkpoint inhibitor approved by FDA was Yervoy (or ipilimumab, an anti-CTLA-4), while the second was Opdivo (or nivolumab, an anti-PD1). Both of these antibodies are marketed by Bristol-Myers Squibb. Currently, FDA has approved other CPI, but now investors are particularly focused on two leading anti-PD1: Opdivo by BMS and Keytruda by Merck.
The head to head fight between the two antibodies (and the two companies) is the reason why BMS's stock went from $75 to $46, a few days ago. The reasons for BMS's plunge are the following.
On the 5th of August, BMS announced that checkmate 026, a clinical trial investigating Opdivo as monotherapy, did not meet its primary endpoint of progression-free survival (PFS) in patients with previously untreated non-small cell lung cancer (1L NSCLC) whose tumors expressed PD-L1 >5%. This was the first backlash during the head to head confrontation with Merck for the conquest of the first line NSCLC market. In fact, betting on patients with expression PD-L1 >5%, BMS was taking a huge risk, whereas Merck turned to patients with PD-L1 >50%. The reason was simple, BMS aimed at a greater number of potential patients, while Merck was focused on a smaller number of patients (only one in 4 has an expression of >50%), but with a better chance of success. With the failure of Checkmate 026, Merck gained a considerable advantage in the head to head with BMS, whose shares went from $75 to $60 instantly, and then in the following weeks slipped to $55. But it was not over.
During the ESMO 2016 Congress, the annual meeting of the European Society for Medical Oncology, Merck announced results from the studies on Keytruda, in 1L NSCLC:
In KEYNOTE-024 (NSCLC patients with expression of PD-L1 >50%), Keytruda provided a 50% risk reduction in disease progression and a 40% reduction in the risk of death (OS) compared to chemotherapy, the current gold standard of care. It was the first anti-PD1 to demonstrate a superior PFS and OS in comparison to chemotherapy for 1L NSCLC in patients whose tumors express high level of PD-L1.

In the trial known as KEYNOTE-021 in cohort "G" (non-squamous NSCLC regardless of PD-L1 expression), Keytruda plus chemotherapy (carboplatin and pemetrexed) archived a 55% overall response rate (ORR) compared to 29% for chemo alone and reduced the risk of disease progression or death by 47%. Again, Keytruda was the first anti-PD-1 to show a superior efficacy when combined with chemotherapy in first-line treatment.
BMS's shares fell another 10%, from $55 to $50.
Three months later, during which the stock recovered to $60, there were the last two aftershocks. In order to exploit the "first mover advantage," both BMS and Merck tried to speed up the process of gaining approval of their own drugs.
On the 10th of January, Merck announced that FDA accepted for review the supplemental Biologic License Application (sBLA) for Keytruda plus chemotherapy for first-line treatment of patients with metastatic or advanced non-squamous NSCLC regardless of PD-L1 expression. The FDA granted Priority Review with PDUFA, or target action, scheduled date being May 10, 2017.
On the 19th of January, BMS announced that it has decided not to pursue an accelerated regulatory filing for the combo Opdivo plus Yervoy in 1L NSCLC in the US. This is based on a review of data available at that time. BMS was trying to go down a dangerous and non-conventional path until the approval based on a prespecified level of efficacy (maybe ORR and/or duration of responses) in CheckMate 568 and/or CheckMate 012. Opdivo +Yervoy did not archive that endpoint, so now BMS has to wait for a full data from the Checkmate 227 trial in the first half of 2018. Shares fell again from $55 to $50.
Three unknowns
The investors' reaction is based on three unknowns:
-unknown No. 1: The combo gets on the market two years after the Merck's antibody and one year after AstraZeneca (NYSE:AZN), if the trial MYSTIC will be positive (data expected by mid-2017).
-Unknown No. 2: The fear that data of CheckMate 568 could show negative results (otherwise BMS would use them from the outset).
-Unknown No. 3: The possible approval of Keytruda restricts Opdivo's sales opportunities in the short period in 2L (since many physicians would prefer not to re-treat patients with an anti-PD1).
As it is evident, the fall of BMS is firmly bound to the events which are related to the market 1L NSCLC. It is very simple, if these three unknowns are correct, BMS would not be a good investment, but is it really like that?
A minimum background
NSCLC is the big market for I/O drugs. First line (1L) treatment is the biggest opportunity (with estimated revenues of up to 14 billion dollars). Currently, chemotherapy combos (two chemotherapeutic agents) are used in 1L with ORR ranging from 25 to 35% and overall survival of 8-10 month. A key issue with the standard of care is the short duration of responses, which leads to a shorter survival. I/O drugs demonstrate a superior ORR, but the question is if they will be translated in a superior overall survival.
In second line, both Opdivo and Keytruda are approved in monotherapy.
As already mentioned, Merck has a temporal advantage over the competition, Bristol-Myers Squibb included, if we assume that by the 10th of May Keytruda will be approved in 1L NSCLC. Given that ultimately efficacy and tolerability will make the difference, we can estimate how much Merck gain. If BMS has to wait for the full data from the CheckMate 227 trial in the first half of 2018, Opdivo + Yervoy will reach the market in the second half of 2018, two years after Keytruda in monotherapy (approved in October 2016) and more than a year after the combo.
BMS has other ways to file in 1L NSCLC (the Opdivo+Yervoy+Chemo arm of the CheckMate 568 trial for instance), but the delay versus Merck is a real problem and the more negative consequence, in the next months, will be the loss of the market position in the second line of treatment.
Investors have therefore reason to fear the unknowns No. 1 and No. 3, but regarding No. 2, the one which involves the first line treatment, should they be scared?
I don't know what hurdle BMS had chosen to surmount, but I guess it was inherent to the rate and duration of response. A faster measurable goal than OS. CheckMate 568 is a single arm phase 2 trial with enrollment expanded from 170 to 590 patients, there is not a control arm. In the press release, with which BMS announced they will not pursue an early filing, they wrote:
(...) based on a review of data available at this time, in order to protect the integrity of ongoing registrational studies, the company will not be providing additional details."
The decision is data driven, but I don't know what kind of data they are referring to.
Perhaps, the bar was set on the basis of what was shown by the competitors or maybe they have prompted BMS to modify its expectations.
Is it possible that even the unknown No. 2 is justified? Here prosecution against BMS begins to crack. It is certainly possible that the response rate of the Opdivo+Yervoy combo is lower than the one shown in previous trials or than the Keytruda+chemo combo, but it does not mean that, at the end, CheckMate 568 will not prove to be a very positive trial in terms of OS.
In essence, what matters to patients (and increasingly to the FDA) is to live longer, not to achieve responses.
Mors tua, vita mea
Will FDA approve a Keytruda-chemo combo? It is possible, but not guaranteed.
Merck's FDA acceptance of sBLA for Keytruda plus chemotherapy for 1L NSCLC was based on data obtained from keynote 021 trial, Cohort G, which enrolled 123 patients regardless of PD-L1 expression. At the cut-off on the 8th of August 2016, the median follow-up was 10.6 months.
Objective Responses assessed per RECIST v1.1 in the intention to treat population (ITT) were 55% for Keytruda+chemo versus 29% for the control arm. Median PFS was 13 months for Keytruda versus 8.9 months. No difference was noted in OS between the two arms, with an estimated OS at 6 months of 92% in both groups. It is important to note that 32% of patients- who were treated with chemotherapy- crossed over to receive Keytruda monotherapy, but nevertheless, there was no benefit in terms of survival.
Furthermore, there are some critical issues with the data, basically due to the small sample size of patients enrolled and the fact that trial was open-label. But that's not all.
Baseline demographics were balanced between groups, but more women were enrolled than men, in the Keytruda arm (63% versus 37%) and in the control arm (59% versus 41%). Women in general, in this indication, have better outcomes with chemotherapy.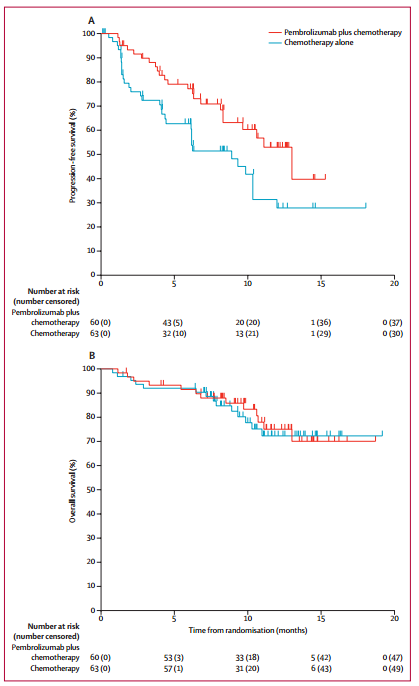 Figure 1: KM curves of PFS and OS. (Source: Lancet Oncol, published online October 9, 2016.)
Again, if you take a closer look at KM curves of PFS and OS (figure 1), after six months, there is a high degree of censoring, especially around the time the median PFS was reached.
The PFS of 8.9 months in the control arm is longer than the 5-7 months observed in recent trials and this suggests that probably PFS in the Keytruda arm is also superior to what should have been in real life's conditions (or in a larger clinical trial with more followup).
Also, overall survival will likely be higher than what have been reported in recent trials for chemotherapy and the clinical trial design (allowing patients crossover) will limit any future attempt to further assess OS. It seems likely that adding chemo to Keytruda was better for patients with low PD-L1 expression, and this seems strange to me because there is a correlation between expression and responses using Keytruda in monotherapy.
Discussion
There is no such thing as a risk-free investment. In this case, the greatest risk would be, with Keytruda approved with chemo in 1L NSCLC, a loss of market share initially in second line lung cancer. As I said before, it is hard to believe that a physician would prescribe another anti-PD1 after the first one has failed.
Merck could achieve a consistent advantage versus BMS in treatment of 1L NSCLC. There is a precise crossroad that will determine the future of these two companies in this field: the question of whether or not Keytruda will be approved in May. Both the market and investors believe that it will indeed gain approval and BMS's stock is already paying for that. In the short term, the repercussions will be the contractions in the sales of Opdivo in 2L and a bigger obstacle for Opdivo+Yervoy in 1L. But the BMS's combo can catch up, thanks to a bigger efficacy, as I will explain in a future article. Meanwhile, a recent trial established that Merck has to pay BMS $625M plus royalties, as it infringed BMS's intellectual property related to the use of anti-PD1 antibodies. The royalties will be 6.5% for sales between January 2017 and the end of 2023, followed by a 2.5% rate for the period from January 2024 to the end of 2026. Bristol-Myers Squibb will share the money by giving a quarter of the amount to the Japanese Ono Pharmaceutical (OTC:OPHLF), the company which had discovered Opdivo.
If one adds the payment of $645M to the prospective royalties, it results that BMS could receive from Merck, in the next ten years, almost $3B, which is almost $1.5B of NVP.
And it means that if Merck secures a clear advantage in the 1L NSCLC, Bristol-Myers Squibb will obtain an indirect benefit with minimum effort, anyway.
Why buy BMS
Investors believe that Keytruda will be approved in combination with chemo in 1L. If so, I guess the worst case scenario will be for BMS's stock to trade at around $45. On the other side, the best case scenario will be Keytruda not approved and BMS's stock at around $60 (mors tua, vita mea).
Also with Keytruda + chemo approved, in 1L NSCLC, the combo Opdivo + Yervoy has still disruptive potential.

Finally, I remind that Merck will pay BMS royalties based on Keytruda sales.
Disclosure: I/we have no positions in any stocks mentioned, but may initiate a long position in BMY over the next 72 hours.
I wrote this article myself, and it expresses my own opinions. I am not receiving compensation for it (other than from Seeking Alpha). I have no business relationship with any company whose stock is mentioned in this article.