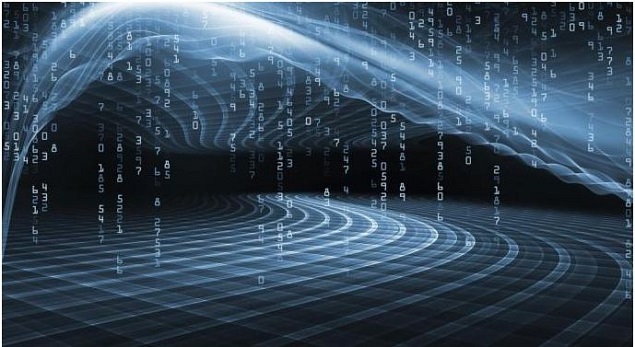 '
Source: Image Benzinga
Data center REIT CoreSite Realty (NYSE: COR) has been a top performing REIT since its IPO in 2010. During 2015, CoreSite provided shareholders with a gaudy 50% return, the highest total return of any REIT.
In fact, the entire data center REIT sector has performed well for investors over the past few years. However, after a huge 1H2016 where this sector averaged 50% price appreciation in just six months, data center shares had become overvalued and sold off.
Then CoreSite announced a 51% dividend boost on November 30, and led the rest of the sector higher to finish the year with a flourish.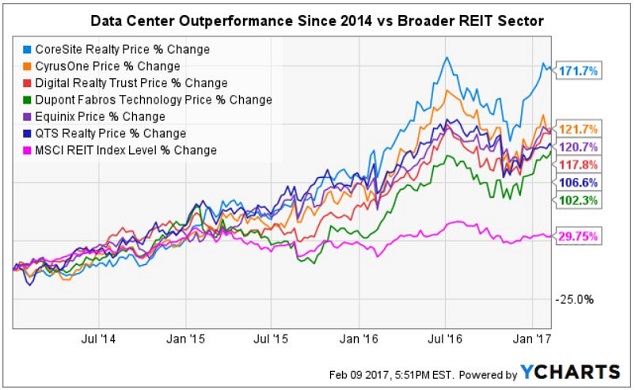 The YChart graphically illustrates this run-up, sell-off and resurgence beginning in December 2016 through the present.
Read more: Data Center REITs: Rags To Riches In 8 Weeks, Now What?
Data Center REITs - Overview
The six publicly traded data center REITs follow different strategies and have portfolios distributed across different markets. While both strategy and markets tend to overlap, upon closer examination there are unique aspects to each of these REITs.
There are wholesale REITs like DuPont Fabros (NYSE: DFT) who focus on large-scale deployments, and retail REITs like global connectivity giant Equinix, Inc. (NASDAQ: EQIX), leasing small chunks of valuable colocation space to tenants who tend to lease in multiple markets, and are willing to pay a premium for connectivity.
Digital Realty (NYSE: DLR), the largest provider of wholesale space worldwide, recently pivoted toward connectivity to become a hybrid REIT able to provide end-to-end solutions. Hybrid REIT CyrusOne (NASDAQ: CONE) has pivoted toward larger-scale cloud services. QTS Reality (NYSE: QTS) also is considered a hybrid REIT providing strategic wholesale solutions, along with colocation and cloud and managed services.
CoreSite is primarily focused on providing smaller retail colocation and connectivity. However, this REIT is a bit of a hybrid will also lease larger chunks of space to strategic anchor tenants.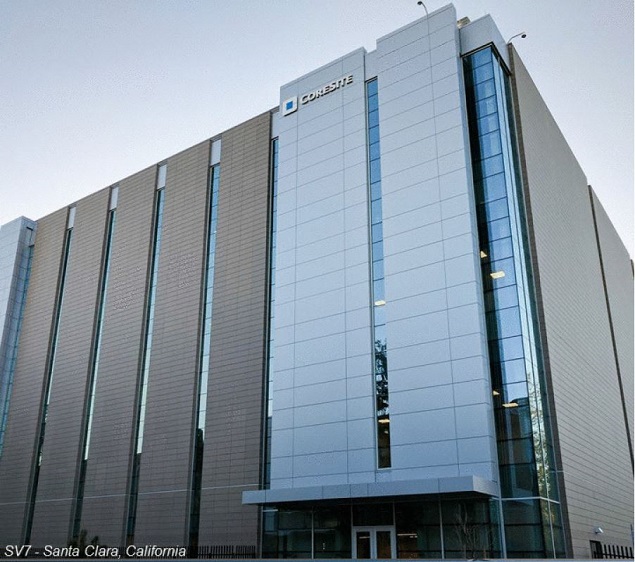 Source - CoreSite 4Q'16 Supplemental
There are three leasable floors in CoreSite's shiny new SV-7 data center shown above. This state-of-the-art facility is the last building data with substantial space availability for CoreSite in Santa Clara, CA (Silicon Valley).
The good news is that when the facility opened, two floors were 100% leased to a wholesale tenant reported to be cloud giant Amazon Web Services. Additionally, 27 percent of the 76,885 square foot third floor was already leased to multiple colocation tenants as of Dec. 31, 2016.
However, this tremendous success also represents a subtle problem for CoreSite, with just a couple of years supply remaining for retail colocation tenant leasing given historical net-absorption.

Source: CoreSite 4Q 2016 Supplemental
The Chicago market also is tight when it comes to available space for CoreSite to lease going forward. However, CoreSite has plenty of space available in Los Angeles and will be developing a new campus in Northern Virginia ((NoVA)) this year.
CoreSite - Q4 Highlights
Here are the latest quarterly results at a glance:
Reported fourth-quarter total operating revenues of $110.5 million, representing a 21.5% increase year over year.

Reported fourth-quarter net income per diluted share of $0.44, representing 37.5% growth year over year.

Reported fourth-quarter funds from operations ("FFO") of $1.06 per diluted share and unit, representing 32.5% growth year over year.

Executed 127 new and expansion data center leases comprising 35,037 net rentable square feet (NRSF), representing $7.4 million of annualized GAAP rent at an average rate of $212 per square foot.

Commenced a record 189,050 NRSF of new and expansion leases representing $34.9 million of annualized GAAP rent at an average rate of $185 per square foot, which includes commenced leases at CoreSite's recently opened SV7 data center in Santa Clara.

Realized rent growth on signed renewals of 2.9% on a cash basis and 5.5% on a GAAP basis and recorded rental churn of 1.9% in the fourth quarter.
The record lease commencements of ~$35 million in Q4 2016 represent more revenue than is included in CoreSite's initial 2017 annual guidance. This is because there is essentially no room at the inn for any more wholesale deals.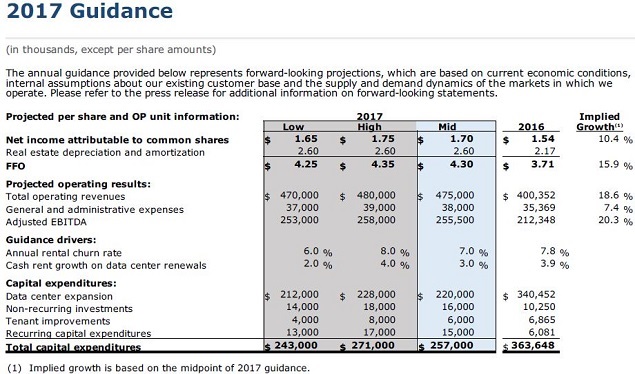 Source: CoreSite Q4 2016 Supplemental
As the portfolio sits right now, there isn't a "golden nugget," or large wholesale deployment available for 2017, according to CEO Paul Szurek on the recent CoreSite earnings call.
Additionally, the eye-popping ~51% boost in the quarterly dividend was also a one-off. The current 74% FFO pay out ratio is now in-line with many other REITs, and seems to reflect a confidence in the repeatability and increased scale of the highly profitable retail colocation and interconnection business.

Source: CoreSite Q4 2016 Supplemental
Only Equinix and CoreSite report this cabinet equivalent metric which emphasizes the small-ball nature of catering to high-performance applications by offering low-latency connectivity and industry ecosystems for retail tenants.
However, the flip-side of returning a larger percentage of cash available for distribution to shareholders means that fewer of these dollars will be reinvested in ongoing growth initiatives.
Another small headwind for 2017 AFFO growth will be a higher cost for $150-$250 million of revolver debt that CoreSite management intends to refinance with a seven- to eight-year term loan. This will result in a ~250 bps increase in interest rate for the principle balance.
Tale Of The Tape - Good News Is Baked In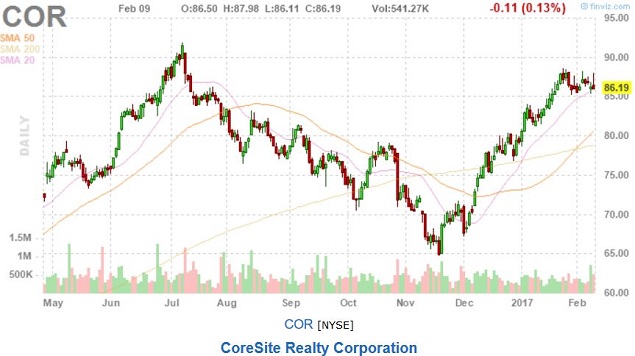 During the past 52 weeks, CoreSite shares have traded in a range of $55.57 - $91.91 per share.
The analyst 12-month consensus price objective for COR is $90.45 per share. On February 8, Guggenheim senior telecom analyst Jonathan Schildkraut (formerly of Evercore ISI) downgraded CoreSite to Neutral from Buy, with a $88 target price.
I have not seen the research report. However, during the Q4 earnings call, management made it a point to proactively address concerns raised in Schildkraut's research note during the Q&A.
These explanations revolved around the iconic One Wilshire carrier hotel in downtown Los Angeles. CoreSite leases space from landlord GI Partners at its mission critical LA1 facility. Notably, CoreSite owns another nearby facility designated as LA2.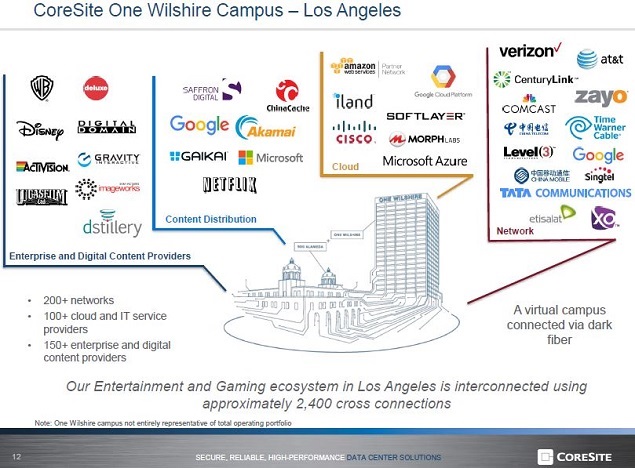 The landlord has undertaken an initiative to extend conduits to spaces within the building and terminate them at Meet Me Rooms in One Wilshire where CoreSite provides interconnections. CoreSite explained to Schildkraut that: 1) COR benefits from any connections by the landlord's tenants in these rooms, 2) COR has a right of first offer on much of the vacant space at One Wilshire, and 3) COR enjoys a "great relationship" with the landlord and manager of the building.
There would naturally be a bit of tension and brinkmanship created by CoreSite favoring its owned LA2 facility for larger expansions over taking down additional lease space at One Wilshire. This dynamic will be playing out over years, and CoreSite management does not see it as being a material concern.
NoVA Catalyst - 2018
Last year, CoreSite closed on Sunrise Technology Park, a 21.75 acre light-industrial/flex office park located 0.3 miles from CoreSite's existing VA1 and VA2 buildings. The Sunrise Tech Park currently has four building totaling 315,000 SF. CoreSite estimates that it can build up to 660,000 SF of data center space utilizing a phased approach.
The industrial/flex office park was purchased for $60 million, and is currently generating $4 million in revenues. CoreSite expects to begin construction on a $100 million Phase 1 when tenants vacate at the end of March 2017. This will reduce the non-core industrial park contribution to $3.2 million.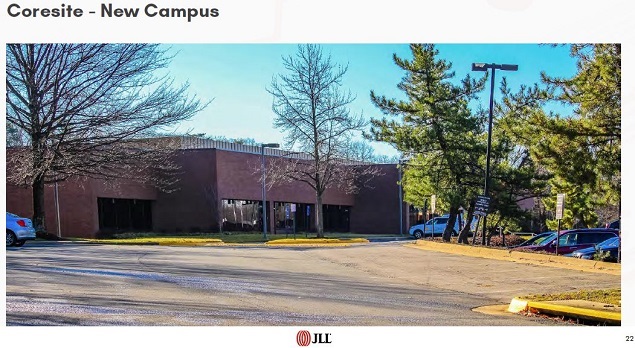 Sunrise Technology Park - Photo credit JLL Allen Tucker
Phase 1 will be comprised of a) redeveloping an existing 48,000 square-foot industrial building to data center use, b) building a ground-up 92,000 square-foot data center shell, and c) building a 92,000 square-foot structure to house centralized infrastructure intended to support needs across the planned full build-out of the campus, according to the release. The total investment to build out the entire multiphase data center campus is estimated to be $400-$500 million.
There is no shortage of competition in the Northern Virginia "data center alley" market which absorbed a record 113 MW of wholesale space in 2017. However, the vast majority of the leasing was generated by a handful of large cloud service providers. One advantage CoreSite has to offer is the existing customer ecosystem in nearby VA1 and VA2 data centers, and secure onramps to the planet scale cloud service providers.
Read more: Data Center REITs: Why Predicting The 'New Normal' Is Difficult
It is too early to tell how wholesale supply and demand will evolve in NoVA in 2017 and 2018. The relatively small scale of the CoreSite Phase 1 is consistent with a phased expansion for its bread and butter retail colocation business. During Q4'16 CoreSite signed 127 expansion and new leases totaling just 35,037 square feet, with all but one under 5,000 square feet.
Notably, there were 30 new logos included in the Q4 lease signings. CoreSite has steadily grown its number of enterprise, cloud and network customers from 630 to 1,100-plus since the 2010 IPO.
FAST Graph - Valuation Analysis
It's time to use the F.A.S.T. Graphs tool to check under the hood. The black line is price. It is a visual comparison relative to the blue line, which is "normal" P/FFO for any time period. The red line corresponds to the dividend yield on the far right of the chart.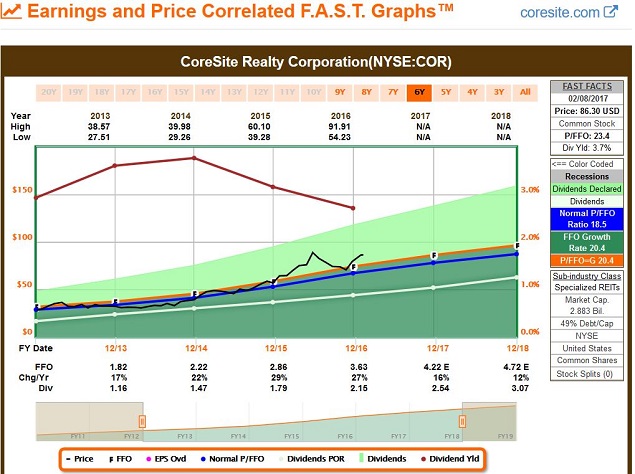 Now that we have updated information from management, we can fine tune the valuation metrics a bit. The midpoint of 2017e FFO guidance is $4.30 per share, or ~20x P/FFO multiple.
This compares with a normal ratio for the past few years of 18.5x, or a $79.55 price, which I believe is a better representation of fair value, given the lack of a wholesale catalyst in 2017.
Investor Takeaway
My view is that the One Wilshire landlord/tenant relationship appears to be fairly typical for the industry when it comes to lowest-latency facilities with high demand and commensurate high pricing for tenants who desire to be part of an interconnected ecosystem.
There is a "coopetition" inherent in some of the long-standing relationships as business strategies and the multi-tenant data center industry continues to evolve.
A similar dance is played out between Equinix and landlord Digital Realty in several markets. The tension has kicked up a notch since Digital acquired connectivity-focused Telx, the operator of carrier hotel Meet Me Rooms, from GI Partners, the same private equity shop that owned Digital Realty prior to its IPO. However, both management teams downplay the conflicts and dial up the advantages of competing with a rational player.
CoreSite has a strong balance sheet with excellent metrics, including a low net-debt to EBITDA of 2.8x, with only 3.3x leverage including the outstanding preferred shares.
It appears that CoreSite's FFO growth rate will be tapering off a bit, at least in the near term. However, a 3.7% yield for a REIT that is able to grow FFO at this clip still seems to be an attractive combination of income and growth. CoreSite is a great data center franchise to own for the long term.
However, given the steep rise in CoreSite shares over the past couple of months, if COR holdings have become too large, this could be a time to consider rebalancing the portfolio by trimming a bit and taking profits. I would wait for a pullback towards $80 per share, or below, prior to initiating a new position.
I am contemplating whether to launch a Seeking Alpha Marketplace Premium subscription service. I would appreciate any feedback from readers who may be interested. Feel free to share them in the comment thread below, or send me an Inbox message.
I relentlessly hunt for diamonds in the rough and rising stars, in addition to closely following data centers, covering REIT blue-chips and breaking news. Please consider following me as a Seeking Alpha author if you would like to be notified when my future articles are published.
Disclosure: I/we have no positions in any stocks mentioned, but may initiate a long position in CONE, COR, DFT, DLR, QTS over the next 72 hours.
I wrote this article myself, and it expresses my own opinions. I am not receiving compensation for it (other than from Seeking Alpha). I have no business relationship with any company whose stock is mentioned in this article.