Comfort Systems USA, Inc ("FIX", or the "company") provides mechanical contracting services, primarily HVAC, plumbing, as well as off-site construction, electrical, monitoring and fire protection. The company has performed well over the last several years, with good revenue growth and margin expansion. FIX and its peers have spoken about increased demand for their products and services. However, FIX is currently undervalued relative to its peer group. There is reason to believe that FIX deserves a higher valuation and we will explore several of those areas.
Per the FIX's 2015 10-K, the company has 35 operating units in 81 cities and 89 locations throughout the U.S. For full-year 2015, revenue was derived from four service activities, including: HVAC (77%); Plumbing (14%); Building Automation Controls (5%); and Other (4%). Approximately 44% of revenue was derived from newly constructed facilities and 56% was from renovation, expansion or maintenance. The service activities have remained steady as outlined in the chart below.
Data was provided through Morningstar. All tables were created by myself unless otherwise noted.

FIX has benefited from the resurgence of the US economy and increase in capital spending. Overall, growth has been good, with a 3-Year and 5-Year CAGR of 6.8% and 5.9%, respectively.

It is important to note that FY 2015 experienced 12% growth over FY 2014, largely due to same-store activity in their Environmental Air Systems ("EAS") operation. This high same-store activity piqued my interest, but this same-store activity has been difficult to lap. Same-store activity was down approximately 0.8% in YTD 2016, driven by a decline in larger projects in EAS.
Organic sales are down due to tough comps; recent acquisitions - especially Shoffner - have sparked YTD 2016 revenue growth of about 4.0%. Looking at a trailing twelve-month basis, revenue is up modestly at 2.8%.
Growth has looked pretty good, but has slowed down. Now, I have to figure out what is going to drive free cash flow. I am curious if there is a possibility in margin expansion with steady and hopefully stronger growth. What is interesting to me is that FIX is at near capacity in the Northeast region. An analyst in the Q3 2016 Earnings Call asked about capacity, and this is what Brian Lane, President and CEO, had to say:
Joe, just to clear up that, mostly in the Northeast, we see near capacity, we are in pretty good shape in the rest of the country. Northeast is extremely active at the moment."

Year-over-year revenue growth has been a mixed bag. Lennox International (NYSE:LII) had a solid third quarter, especially the Commercial Heating & Cooling segment, which was up over 6% over the last nine months. 5% of the revenue growth was due to higher sales volumes in North America. Even though Jacobs Engineering (NYSE:JEC) had an increase in revenue in full-year 2016, their Buildings & Infrastructure segment was down due to a decrease in capital spending in the U.S. and U.K. AAON Inc.'s (NASDAQ:AAON) net sales increased nearly 12% over the last nine months, driven by an increase in volume.
For the peers highlighted, increase in sales has been driven by higher volume. This is also true for the comparable group that had consolidated down years. There was strength in their construction segments.
Okay, so there is a lot of activity in the Northeast. The peer group is also stating there is volume growth and the rest of the country seems to have a good base, but what about margins? The analyst continued to press about the probability of margin expansion. To paraphrase, Mr. Lane guided that margin expansion will come from a combination of pricing and execution.
Now we are getting somewhere, there is a probability of margin expansion from improved pricing and execution. This is probably a good area to show historical gross profit margin.

GPM has almost grown by 100 bps between FY 2015 and TTM 2016, which is… nice. There is something else that might help margin expansion, and that is service projects, and service and maintenance. The executives were nice enough to break out revenue by activity in a new way in the latest earnings deck.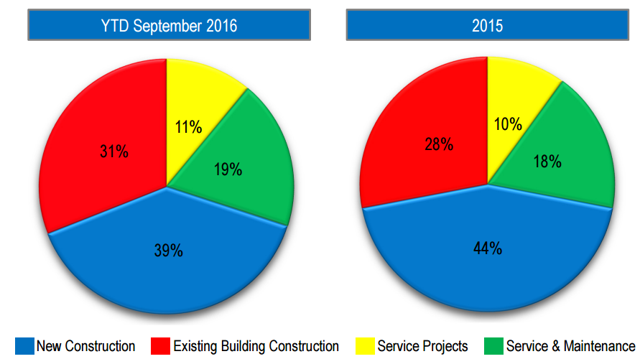 During the call, analysts thanked management for this new toy and then asked what the margins look like in the segments. Mr. Lane reigned in the enthusiasm and basically said that execution is going to drive margins. Fine, right? Well, I am thinking service and maintenance have fatter margins than 20%. FIX has invested more capital into expanding these areas, and we can see as a percentage of revenue that it is growing.

Ugh, just 19%. I was hoping for more, but there is a trend that is up and to the right. On a dollar basis, this is pretty substantial. What is cool is that Maintenance & Repair is like an annuity, with auto-renewal! The company explains that property managers are outsourcing service and maintenance due to the complex nature of modern HVAC systems. Perfect, FIX is coming in for the rescue. The contracts are sticky and have terms of one to three years.
To summarize, we have two things going to drive margins, well, three if we count execution. There is demand in the Northeast and the rest of the country is stable, and we have service & maintenance increasing as a percentage of revenue. Management does not give specific guidance, but they did say revenue should continue to grow.
But, where does FIX stack up with their competitors?

FIX stacks up pretty well to its peer group on a TTM basis. Let's look at what the higher margin peers are doing well. LII had solid 3Q16 margins of 30.7%, as it benefited from higher volume, higher factory productivity and lower material costs. AAON also benefited from higher sales volume. LII and AAON are good comparisons on what FIX could look like. It is important to note that these two companies have a history of higher and more steady GPM than FIX.
Alright, so we see there was good growth in the past, followed by meh growth in LTM 2016. We learned gross margins have expanded and there is evidence that this can continue. Now let's look at operating profit and see if management is good at controlling costs.

SG&A expenses have more or less been in line with revenue growth. In 2015, revenue growth has outpaced SG&A expansion, but YTD SG&A has been impacted by increased compensation costs related to goals being met and acquisition-related costs. The company does not give OPM guidance, but with higher volume, that could flow down and OPM could expand and maintain higher levels, perhaps higher single digits. As a reference, AAON and LII have OPM at 10% and 20%, respectively. Granted I do not expect this to happen for FIX in the near term, but that certainly can be a goal.
FIX's balance sheet is rather boring and straight forward. As of 9/30/16, the revolving credit facility had $259MM in availability, with $25MM outstanding. Total debt was approximately $27MM, with a debt-to-EBITDA of 0.2x. This is nice for equity investors and not so nice for bankers. Free cash flow is sufficient at $50MM for the LTM. FIX has the capacity to continue to buy back shares and continue with their dividend. The share repurchase program has picked up steam lately, but to me, it looks like the company is better off reinvesting in the business rather than giving money back to the shareholders. I do have evidence for this.

ROIC has experienced explosive growth over the last few years. Okay, I just gave you a piece of the puzzle. My estimated cost of capital is 8.25%. Management has successfully invested in projects that are greater than the cost of capital, which generates shareholder value.
Just a quick recap. We learned that revenue has grown and there are reasons to expect that to continue in the near term. Margins have expanded and there are catalysts, including increased volume and execution for that to continue. We explored a few comps and learned that the tailwinds are indeed industry wide. Management has invested capital prudently as evidenced by ROIC being greater than the estimated cost of capital.
The industry data was compiled from Aswath Damodaran's site.

The chart above depicts some return metrics and peer valuation measures. FIX lags LII and AOON in terms of return on capital and thus has a lower P/E ratio. Same holds true for ROE and P/B. On the surface FIX, seems to be fairly valued. I think there is room for multiple expansion, especially for P/E. The P/E ratio is undervalued compared to the peer group and the industry, given modest growth rates, propensity for margins to expand, and solid capital allocation. When we explored the peer group, we learned that there is volume growth and better pricing; however, FIX is not given the same valuation. Not to mention the possibility for increased capital spending by the government on infrastructure that could be a tailwind for the whole sector.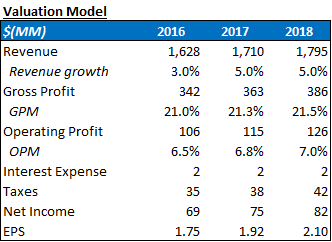 The model has a modest growth rate and margin expansion. I believe the growth rate is sustainable and realistic given the history of capital allocation and pricing increase due to higher volumes. GPM has some expansion given the better pricing, and increasing dollar amount of revenue in the service and maintenance business unit, and that is similar to what peers have been experiencing as well. At the end of 2018, I have estimated an EPS of $2.10. If the current P/E of 21x is used, then the intrinsic value is approximately $44 per share, a premium to the current price. If the current forward P/E is utilized, then the intrinsic value is approximately $35 per share, in line with current price.
Currently, I believe the company is fairly valued. There are several drivers that could push the value higher, including better pricing, higher volumes, margin expansion, a larger percentage of revenue in service and maintenance. When the fourth quarter and year-end results are announced, I am keen to learn about margin expansion and the health of the industry. Revenue has cooled in the LTM for FIX, and I want to see if that was just a blip or a new reality. I also want to see how the service and maintenance business unit is performing and how management is thinking about it. If the financial performance has improved and there is still demand for their products and services, then a higher multiple will be warranted. Right now, we are in a wait and see mode.
Disclosure: I/we have no positions in any stocks mentioned, and no plans to initiate any positions within the next 72 hours.
I wrote this article myself, and it expresses my own opinions. I am not receiving compensation for it (other than from Seeking Alpha). I have no business relationship with any company whose stock is mentioned in this article.