Now that the dust has settled on the election and inauguration of President Trump, and we have updated economic data for the end of 2016 and first month of 2017, we can begin dissecting how the post-election optimism compares with actual economic developments in the real economy.
Unfortunately for the optimists, recent economic data indicates that the post-election surge in hope has failed to translate into tangible improvements in the real economy thus far. First, let's review how lofty expectations became in the wake of Trump's Presidential victory.
Confidence Soars to Bubble-Era Highs
November's election catapulted consumer sentiment to 13-year highs in December, levels last seen during the heydays of the Housing Bubble.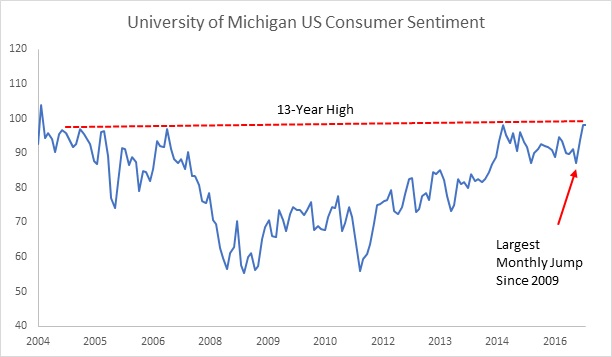 Small business owners became even more ebullient. The National Federation of Independent Business (NFIB) index of small business optimism posted its largest monthly increase on record.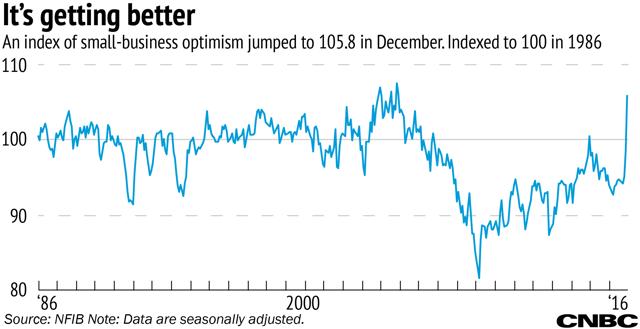 However, the optimism fell flat when it came to translating this renewed hope into economic action. According to surveys, the jump in business optimism was almost entirely based on expectations for growth to improve:
"Members' perceptions that business conditions will improve accounted for 48 percent of the month's increase…Sales expectations also increased by 20 percentage points."
Yet, despite expectations for a major increase in future sales, businesses have yet to begin hiring workers or investing in new equipment. According to a report by the NFIB:
"Owners aren't in a rush to hire even as they're feeling more optimistic. NFIB members said they added 0.01 workers per company, a minimal increase. The number of owners who plan to hire rose 1 percentage point…Many owners have said in surveys they won't hire until their revenue has increased to a level that justifies taking on more staffers."
The following graphic sums it up perfectly- note the divergence between a 38% gain in expectations for economic improvement, compared with only a 1% increase in actual plans to hire more workers: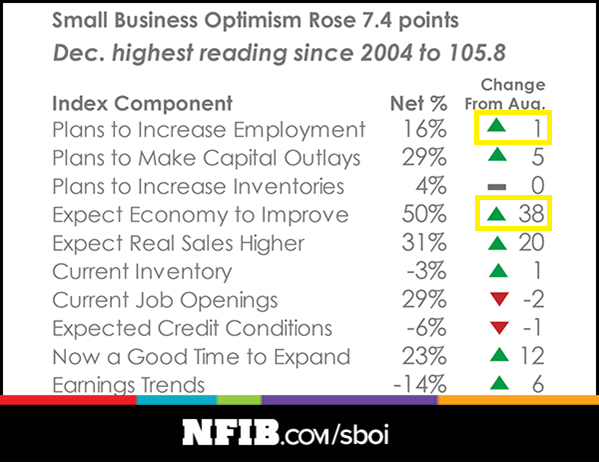 Consumer Spending Disappoints in December
Of course, business owners are typically rational people. They're perfectly fine with buying into the post-election hype when it comes answering survey questions, but when real money is on the line, optimism and hope are quickly replaced by cool-headed calculation. And despite surging optimism, today's consumers simply don't have the disposable income necessary to manifest the increase in sales that businesses need to see before committing to any expansion plans.
For starters, retail sales increased by a modest 0.6% in December- missing expectations of a 0.7% increase. Under the surface, the data was even worse, with most of December's increase driven by rising gas prices and the highly promotional auto sector. Excluding the highly promotional auto sector and rising gas prices, core retail sales were nearly flat in December.
Sluggish discretionary spending was further confirmed by a -0.8% decline in restaurant and bar spending. This should be even more troubling from a macro perspective, because while consumers may justify an auto purchase as a necessary investment for work/travel purposes, bar and restaurant spending is a pure reflection of the consumer's ability and willingness to spend.
Poor discretionary spending is also showing up among individual companies on both the low and high end, evidenced by disappointing same store sales growth at both McDonald's (NYSE:MCD) and Starbucks (NASDAQ:SBUX) in their recent earnings reports. The troubles at traditional retailers like Macy's (NYSE:M) and Sears (SHLD) has been well televised, but the less reported story is the widespread slowdown across luxury retailers as well. Even the online retail superstar Amazon showed signs of disappointing holiday sales growth, causing the stock to miss analyst's top line revenue expectations on its recent earnings report.
Discretionary Spending Down + Credit Up = Tapped Out Consumer
While this broad-based slowdown in discretionary spending played out in Q4, consumer credit card debt (i.e. revolving credit) surged higher. On the surface, this may seem incongruous. Shouldn't higher credit card spending imply an increase in discretionary spending? Normally that would be the case, unless consumers are so utterly tapped out that they have no better options than tapping into their credit cards and pay 18% interest just to cover non-discretionary spending.
Indeed, this trend has been developing for several years, shown in the following chart that compares rising credit card debt against stagnant wage gains since 2013.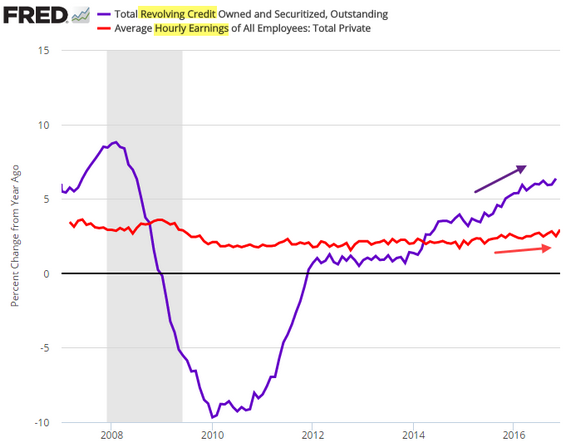 Economy Still Stuck at Sub-2% Growth
This dynamic of higher credit card spending against weak discretionary spending should serve as a major warning sign for those who believe the economy is on the verge of "lift-off" speed. The lack of consumer demand and business investment combined to generate the disappointing Q4 GDP report, which confirmed that the U.S. economy remains stuck at sub-2% growth. By all indicators, the upside surprise in Q3 GDP was an outlier, driven mostly by the one-time effects of a major soybean surplus and inventory adjustments.
The Jobs Picture
The January jobs report confirmed that we've yet to see any uptick in the high wage/high skill manufacturing jobs that Trump campaigned on delivering. Despite some headline generating measures of Trump cajoling CEOs to scrap plans for overseas operations and instead hire domestic workers, January showed almost no increase in manufacturing jobs.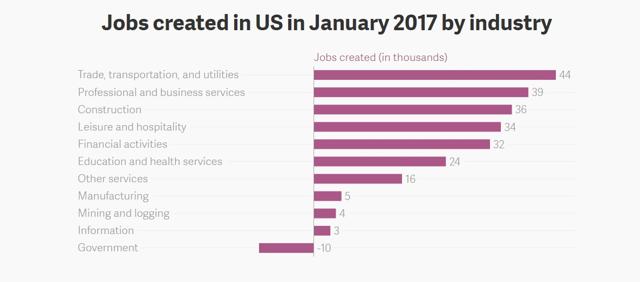 Further, wage gains were lackluster, reverting down to their sluggish trend after December's apparent outlier.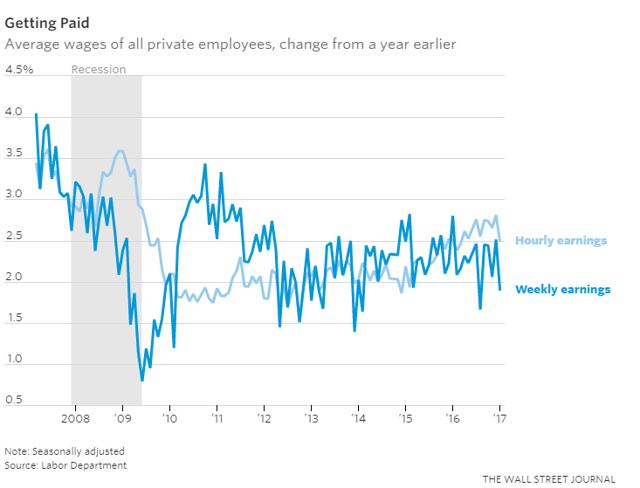 Admittedly, last Friday's Jobs Report beat expectations with 227,000 new jobs created in January, which was sufficient to generate a nice rally in stock prices. However, under the surface, a more troubling picture emerges. I found this article by fellow SA publisher Robert Balan to provide a very thorough analysis of why the internals of the job report indicate an economy in the latter stages of the business cycle.
One key point that I think deserves more scrutiny is the recent dynamic of the increasing unemployment rate in the context of supposedly strong job growth. The previous pattern throughout the recovery had been one of lackluster job growth, but a falling unemployment rate, due to people giving up hope and simply leaving the labor force. However, it appears the surge in post-election optimism might have, at least temporarily, enticed job seekers back into the market. Perhaps encouraged by Donald Trump's humble campaign promise of becoming "the greatest jobs president that God ever created," a surge of new job-seekers entered the labor market to search for jobs in January. Yet, clearly many of these workers were unable to find jobs, evidenced by the simultaneous rise in the unemployment rate along with the rising labor force participation rate.

Putting it all together, weak consumer demand is causing businesses to hold off on hiring, while surging optimism has drawn workers back to the labor force in search of jobs. Yet, the relative lack of jobs (caused by low consumer spending power) lead to January's disappointing wage growth, due to an excess supply of workers relative to a limited supply of available jobs.
If the economy can only support 227,000 new jobs in the context of a wave of eager job seekers coming into the labor market, then January's report should be viewed as a warning sign rather than evidence of economic health.
Given the current economic data, it appears economic reality has yet to catch up with the recent surge in optimism.
Disclosure: I/we have no positions in any stocks mentioned, and no plans to initiate any positions within the next 72 hours.
I wrote this article myself, and it expresses my own opinions. I am not receiving compensation for it (other than from Seeking Alpha). I have no business relationship with any company whose stock is mentioned in this article.