One of my largest personal holdings is Hershey's (NYSE:HSY). It checks a lot of boxes, including:
1.) High returns on both invested capital and equity
2.) It's a "controlled company", and it answers to the Hershey Trust first-and-foremost. Some might not like this, but I think it's a positive because it increases the probability of management having a more long-term mindset and similarly aligned interests as me (a long-term investor not wanting to sell for the sake of short term gains).
3.) It has a few "poison pills" that automatically help prevent another company from snapping up my HSY shares against my will in a takeover. Besides the Trust (who controls the majority of the firm's voting rights), there's also the fact that if any firm other than Nestle (OTCPK:NSRGY) buys Hershey, then the US rights to the KitKat brand evaporate and go back to Nestle.
It's the classic "buy-and-hold forever" type company for me, but that doesn't mean it shouldn't be monitored at least once a year, either.
Economic profits, more of the same...
I created the below model (and all other models and charts in the rest of the article) in Excel, using data from the firm's most recent quarter and previous financial statements.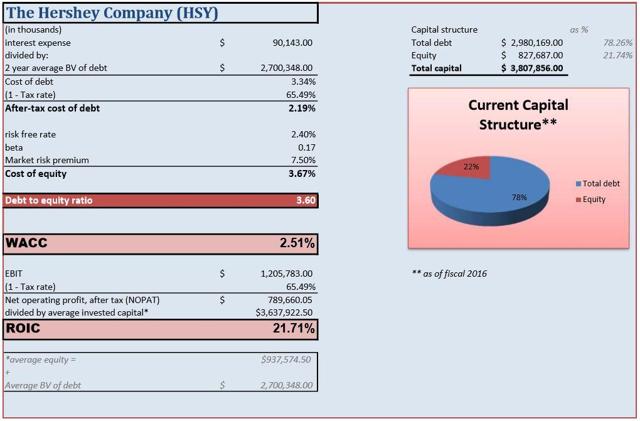 One thing I would like to point out is interest expense in my model above. I'm using "net" interest expense, because Hershey's official 10-K (that usually provides a table that separates interest income from gross income expense) is not yet available. If history is any guide, interest income is usually in the $3,500 to $4,000 (in thousands) range.
Coming back to headline return on invested capital, the company experienced an improvement year-over-year, with fiscal 2015's headline ROIC coming in at only about 16.74%. There's a catch, however, which involves restructuring charges. Hershey's also provided "non-GAAP" numbers, which I inserted into my model below for those who are curious.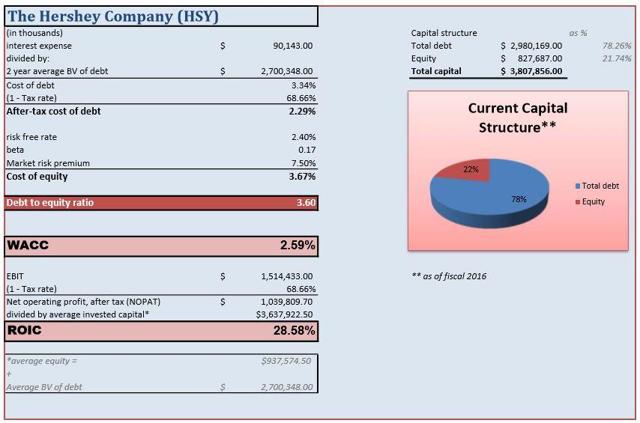 Comparing this to last year's non-GAAP ROIC, and there appears to be an improvement of a little over 50 basis points year-over-year if you trust management's numbers. For my fiscal 2015 models, please check out my previous article here.
While I'm not fond of the fact that HSY has continued to utilize "non-GAAP" numbers, largely due to "business realignment activities" which appear to be a part of the financial statements every year, and hence not exactly "one-time" items, I still think the company's underlying business is very strong.
I also think that its cost of capital might be higher than what's suggested in my models, but even if we give Hershey's a double-digit weighted average cost of capital, or WACC, I'd still figure that it maintains a double digit economic spread (or the difference between ROIC and WACC) using GAAP or non-GAAP numbers.
On to the equity...
Next I'd like to check up on return on equity, using the below DuPont to break down ROE into five pieces for analysis.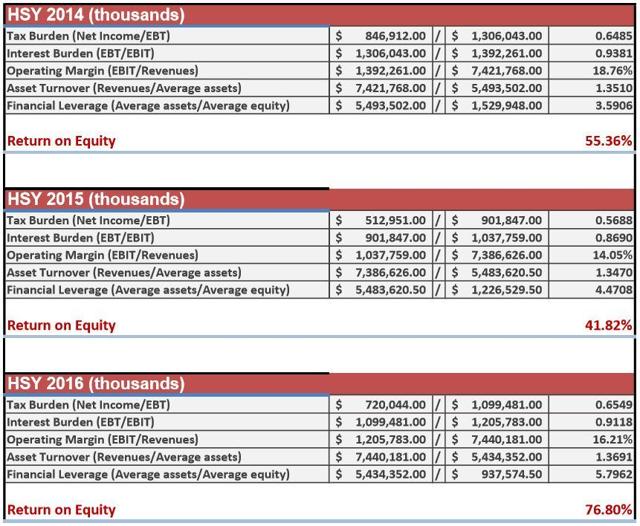 These are GAAP numbers, which indicate recovering margins in fiscal 2016, along with an improving asset turnover. The dramatic decrease in equity has bumped up financial leverage, which in turn has dramatically bumped up ROE in the process through magnification.
The non-GAAP numbers (that management thinks paint a better picture of economic reality) can also be examined.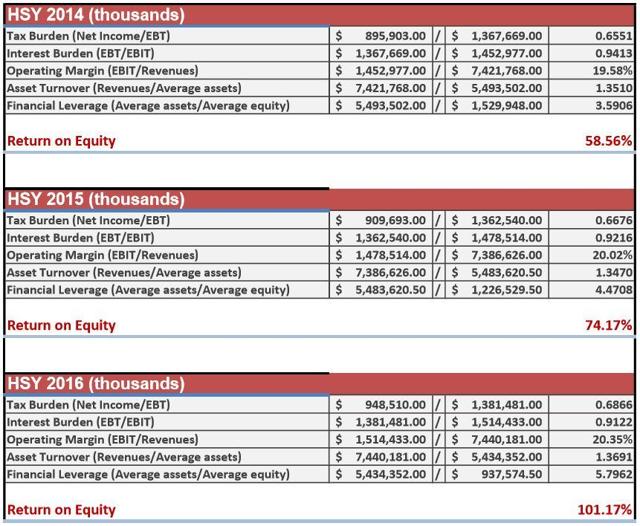 The story regarding margins and asset turnover is largely the same, except that margins only improved by about 32 basis points year-over-year. Obviously ROE over 100% is so magnified that it's basically meaningless, but after looking at both GAAP and non-GAAP numbers, I'd say that underlying ROE improved from fiscal 2015 to 2016.
Hershey's equity has been shrinking for quite some time, largely because of buybacks and accumulated other comprehensive losses. Retained earnings continues to march upwards for the most part.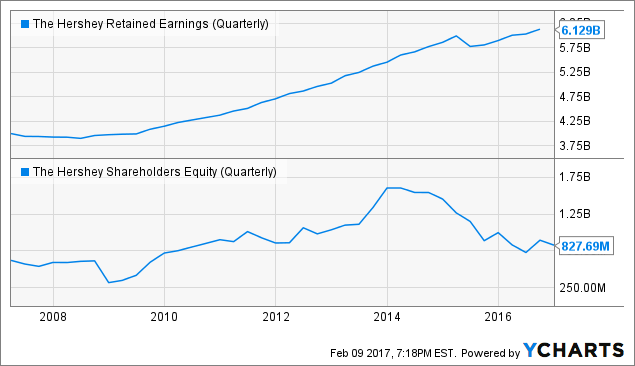 HSY Retained Earnings (Quarterly) data by YCharts
It will be interesting to see why equity took such a big dip in fiscal 2016 when the more detailed 10-K is released, but if I had to guess, I'd say it's probably a result of continued erosion from buybacks and currency headwinds.
Conclusion
It appears that Hershey's underlying fundamentals improved slightly year-over-year, at least judging by its improved capital allocation metrics. The Fourth quarter saw decent topline growth, along with a nice increase in volumes. CMG (which Includes candy, mint, gum, salty snacks, snack bars, meat snacks and grocery items) marketshare continues to sit comfortably above 31% in the US.
The company also has a relatively high tax rate, so it would likely benefit from tax-reform in the States. While valuations look lofty and continue to float higher and higher, I have no problem holding shares and collecting my cash dividends. It's a premium company trading with a premium price tag. The $94 to $95 price range would get me interested again, though.
If you enjoyed this article and would like to receive further updates and articles in the future, please feel free to hit the "Follow" button at the top of the page next to the author's name.
Disclosure: I am/we are long HSY, NSRGY.
I wrote this article myself, and it expresses my own opinions. I am not receiving compensation for it (other than from Seeking Alpha). I have no business relationship with any company whose stock is mentioned in this article.
Additional disclosure: Articles I write for Seeking Alpha represent my own personal opinion and should not be taken as professional investment advice. I am not a registered financial adviser. Due diligence and/or consultation with your investment adviser should be undertaken before making any financial decisions, as these decisions are an individual's personal responsibility.
Editor's Note: This article discusses one or more securities that do not trade on a major U.S. exchange. Please be aware of the risks associated with these stocks.