In December, I penned the article, "Trump Presidency Poses Risks For General Motors". At the time General motors (NYSE:GM) was trading for $35.41, the Company was expected to earn $5.71 in 2017 and I was long the stock.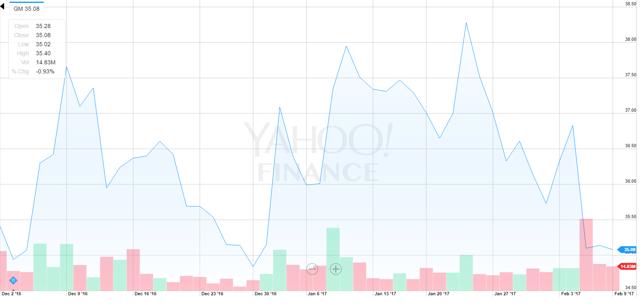 Source: Yahoo
Following, the Company's earnings announcement on January 7, the stock was $35.10, down almost 5% on the day and the Company is expected, by analysts, to earn $5.96/share. GM management, generally more conservative than the "Street" issued guidance of$6.00-$6.50 for 2017.
So, over the course of a bit more than two months, GM was essentially flat while, Trump not-withstanding, the Company's expect 2017 profits increased 9.5% (the mid-point of management's forecast compared to the early December consensus estimate). Another way to look at it, is the PE went down from an already small 6.2x to crazy low 5.6x. By comparison, Ford (NYSE:F) trades at 7.2x 2017 earnings and Gilead Sciences (NASDAQ:GILD), whose sales and earnings are plummeting as its flagship product's addressable user base shrinks, trades for 7.9x 2017 earnings.
Despite, Brexit and a stronger US dollar, GM expects to " improve revenues and maintain or improve EBIT-adjusted (sic) margins." Despite continued weakness (including Venezuela giving up 100 years of progress) in South America, that region will improve in 2017. Europe, even accounting for $300 million impact from Brexit, improved by $550 million over 2016. Even with a full year post-Brexit vote, GM does not expect to see deterioration in Europe for 2017. Global volumes are projected to grow 38% from 2017-2020 compared to a 26% growth from 2011-2016.
In the US, GM continues to see 10%+ margins, and even considering costs associated with ramping up new crossovers and (for the 2018 model year) production changeover for trucks, and another strong year. Cheap gas, continued low interest rates and continued job growth are all macro-economic positives.
Oddly, because the strength of the US dollar, taxes on imports and strains with China are all topics that have been widely discussed in the last three months, it is surprising GM stock dived on what Investor's Business Daily called "Trump Uncertainty". Such is our times that the "Tweeting President" can offset a strong quarter and an improved 2017 outlook. While GM can redesign its pickups to compete with Ford , I am not sure the Company can (or should) redesign its manufacturing to placate President Trump.
Clearly a trade war with China, an import tax and a stronger US dollar (which could occur if an import tax comes to pass) would all be negatives for GM. However, taken on balance, it appears that GM continues to unloved and undervalued.
Personally, I reacted to the news by buying additional shares under the assumption valuation would move from crazy low to merely low.
If you would like to hear further updates on GM, other interesting stocks or my Conservative Total Return portfolio, please consider following me.
Disclosure: I am/we are long GM, F.
I wrote this article myself, and it expresses my own opinions. I am not receiving compensation for it (other than from Seeking Alpha). I have no business relationship with any company whose stock is mentioned in this article.