Over the years, Investors have become accustomed to The Walt Disney Company (NYSE:DIS) beating earnings. This is why it comes as such a surprise when the results come in below analyst estimates. A couple of days ago, DIS posted earnings and missed on the top line. The stock sunk 2% on the news in the after hours and almost immediately I began to read negative commentary calling for investors to run for the hills (it's worth noting that the bulls came in strong the next morning and Disney shares are positive since the earnings release) . This is the type of short-term minded, emotional overreaction that I've come to expect from the market during events like this. It's never fun when you're a shareholder of a company and you experience an onslaught of negative sentiment like this. Inevitably, anxiety and fear will begin to try and creep into your investment thesis. Well, in this article I will discuss why I'm not worried in the least about my large Disney position after the company's recent quarterly report. I have a long-term bullish outlook on the company and I didn't see anything yesterday afternoon that caused me to change that viewpoint.
Here is a screen shot from the company's earnings release. As you can see, the data wasn't good.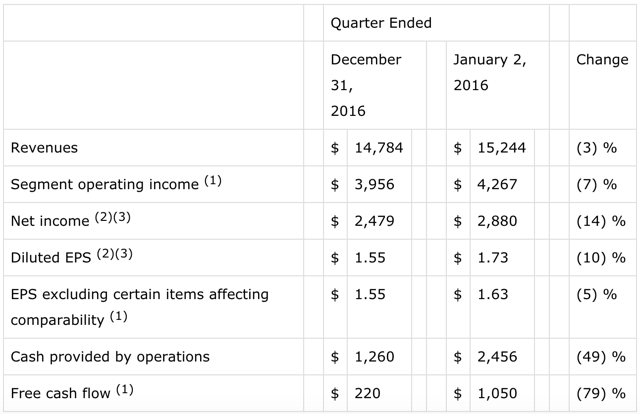 However, I think it's important to recognize that the comp here is an incredibly tough one. One year ago this was the quarter that included the release of the re-vamped Star Wars franchise which really drove Studio and Consumer Products performance (these two segments were up 46% and 8% y/y during the 2015/16 quarter, respectively). While Disney's holiday film slate was impressive this year, it simply couldn't compare to last year's, and I don't think this should have come as a surprise to anyone. The good news is, DIS is releasing the next linear Star Wars film this December and I expect for its performance to be closer to The Force Awakens rather than Rogue One.
Consumer Products:
This was the worst performing segment for the company during the recent quarter, so I'll talk about it first. Revenues in this segment fell 23% y/y, from $1.91b to $1.48b. Operational income performance as even worse, falling 25% from $860m to $642m. The way I see it, this segment basically performs in-line with the success of the Studio division. As DIS moves further and further away from enormously popular titles like Frozen and The Force Awakens, this segment will likely continue to struggle to find growth. Moana was a success for the company during the holiday film season, though it simply doesn't compare to Frozen. I think Beauty and the Beast can boost sales in this segment in the short-term moving forward, especially if the soundtrack to that film becomes mainstream like Frozen's did. A year from now I expect this segment to do much better as well, due to the new Star Wars movie and the prominence of Hulk in the upcoming Thor film; Hulk is a fan favorite and should drive merchandise sales. It's important to note that while this division's revenues fell 23% and the operational income fell 25%, it's the smallest segment of the DIS business.
Parks and Resorts:
This was the company's best performing segment during the previous quarter. Segment revenues were up 6% with operating income growth coming in at 13%. Operating margins were up 150 bp to 24.4%. Attendance at the domestic parks was down 5% on the quarter, though per capita spending was up 7%. Management cited a tough Disneyland 60th anniversary comp, as well as the impact of Hurricane Mathew, on the lower attendance. Without a doubt, this is a strong segment that should continue to be strong so long as the economy remains strong and supports continued consumer discretionary spending.
Iger highlighted the Parks and Resort segment success in the conference call, talking about the new Shanghai Disneyland, which has welcomed more than 7m guests since opening. Iger said it's possible that the Shanghai park could cross the 10m guest in its first year and is happy with the consumer satisfaction results and Chinese New Year demand which could allow the park to reach breakeven this fiscal year. This park is an exciting park of DIS's future as it continues to attempt to penetrate Chinese culture. China is a major, relatively untapped market for domestic media players like DIS. This Chinese exposure comes with risk, as well as reward, especially as the threat of a trade war looms. Disney has invested quite a bit of time, energy, and money into its Chinese operations and it would be a shame for DIS shareholders if this progress was damaged by protectionist policies by either the U.S. or Chinese governments.
Domestically, I'm very excited about the potential of the new Avatar inspired Pandora attractions that are slated to open in the Animal Kingdom resort at Disney World in late May. Animal Kingdom is my favorite park at Disneyworld and this new attraction makes me want to take another trip to Orlando. Iger also mentioned that the new Star Wars lands that are being built at both Disney World and Disneyland resorts are on track to open in 2019. My wife just got into a graduate level nursing school program and should graduate in 2019…maybe we'll wait until then to return to Orlando and a trip to Disney World can be our graduation celebration so we can check out both.
Media Networks:
This much maligned segment has been the cause of fear/anxiety for DIS investors for a couple of years now as ESPN subs fall due to shifts in media consumption trends. The segment's performance in the recent quarter wasn't stellar by any means, but I don't think they inspire doom and gloom either. Segment revenues fell 2% and operating income fell 4% on the quarter. The earnings power of this segment continues to erode, though it's clear that DIS management is working on the issue in terms of new skinny bundle offerings and OTT technology.
Higher affiliate revenues were offset by increased programming cost and a decreasing in advertisement spending in the quarter. Management did highlight that fact that the y/y comparison isn't exactly apples to apples because this year the company only aired 3 of the college football playoff games during the quarter whereas last year all 6 were on during this quarter. Granted, one would think that these 3 games in the previous quarter would have been a boost there; this simply wasn't the case. ESPN has a problem with its advertisement revenues. It makes sense, falling viewership should result in lower fees; without a doubt, this is a problem that management needs to address. ESPN still holds the best content rights and Iger mentioned digital media progress in the conference call, though best in breed or not, it seems ESPN is still in a downtrend.
With that being said, I think it's worth mentioning that Media Networks revenues made up 42% of DIS's total revenues on the quarter. This is still a sizable portion, though so often when you read criticisms of Disney you see things like, "ESPN is sinking and makes up more than HALF of Disney's revenues!" Well, the success of other segments have reduced the company's dependence on Media Networks and ESPN, lessoning the pain investors should expect to incur should this segment continue to struggle.
Studio Entertainment:
Revenues in the Studio segment fell 7% from $2.7b to $2.52b. Operational income was down 17% from $1.01b to $842m. This performance is actually pretty impressive to me, considering the comp. The Force Awakens made headlines a year ago, pulling in over $2b at the global box office. Rogue One only did $1b. Moana and Doctor Strange held up their ends of the bargain well (especially Doctor Strange, which posted higher hero solo film debut numbers than all of his Avenger counterparts). All in all, I'm not worried about the Studio Segment in the least. DIS has a great slate of upcoming films for both 2017 and 2018. The content they own is best in class (by far, I would argue). Obviously the success of this segment (and Disney's operations as a whole) rely on a relatively strong economy and consumer spending, though barring any sort of economic downturn, I think DIS's studio is about as reliable as it gets in terms of sales and cash flows coming from a consumer discretionary company.
DIS's studio segment made headlines in 2016 with record breaking box office totals and I think this unit will continue to be a leader for the company over the coming years. Heading into 2017 the company's studio slate is strong. The first major film being released by the company is the live action re-make of Beauty and the Beast. I've been looking forward to watching this film for some time now, and apparently, I'm not alone. In the conference call, Iger spoke about the anticipation for the film, citing the record breaking viewership of the trailers released for the film (the first Beauty and the Beast trailer received 127m views in the first 24 hours, breaking the previous record held by Star Wars: The Force Awakens). Iger also talked about ticket pre-sales for this movie resembling the demand of some of the "biggest Marvel movies." Now, I don't expect Beauty and the Beast to make the same financial impact on DIS as The Force Awakens or the super hero flicks did for Disney, but then again, Zootopia pulled in over $1b at the box office, showing that there is huge demand for popular children's films. Either way, I think this will be a very lucrative film kicking off the year for DIS when it's released in March.
Another exciting studio offering coming early in the year is the newest Pirates of the Caribbean film, Dead Men Tell No Tales, which was advertised during the Super Bowl. The Pirates series has a long history of box office success with $3.7b of worldwide box office sales to its name. With that said, the most recent Pirates film was the worst performing so it will be interesting to see whether or not DIS can breathe new life into this series with the May release or if it's time for Captain Jack Sparrow to sail off into the sunset for the final time.
DIS studios are releasing two Marvel super hero flicks in 2017.
Guardians of the Galaxy Vol. 2.0, which was also advertised for during the super bowl is set to release in May. According to data published by media measurement firm comScore, the Guardians of the Galaxy was the most popular movie trailer during the Super Bowl, generating 47,800 conversations online. Disney actually held the top two spots with regard to the most talked about movie trailers during the Super Bowl with the aforementioned Dead Men Tell No Tales coming in second place, generating 25,200 conversations. These two movies led by a large margin in this engagement metric with Paramount's Transformers: The Last Night coming in third place with 19,700 conversations, Universal's Fate of the Furious placing fourth with 16,300 conversations, and Fox's Logan (another super hero film based about Wolverine and his clone daughter, X-23) rounding out the top five with 10,200 conversations. The first Guardian of the Galaxy film grossed $773m at the worldwide box office and I wouldn't be surprised to see the second film cross the $1b threshold.
The second Marvel film scheduled for 2017 release is the newest film in the Thor series, Thor: Ragnarok. This film will kick off DIS's holiday season slate with its November 3rd release. Thor will be followed by Pixar's Coco on November 22, and bookended by likely the most popular film of the year, the next Star Wars film, The Last Jedi, on December 15th. The Thor films are trending upwards at the box office with the first film grossing $449m globally and the second grossing $644m. This third flick will feature one of the more popular members of the Marvel universe, The Hulk. I imagine that the Thor/Hulk combo will drive demand and push this film to the $750m range (or slightly better than 2016's holiday season Marvel release, Doctor Strange, which grossed $664m).
And finally, we come to the aforementioned Star Wars flick, The Last Jedi. The title alone here should drive interest. This film will continue the Skywalker family's story, with the plot-line beginning shortly after the end of The Force Awaken's ending. I think it's safe to say that this film will gross $1b globally. The Force Awakens grossed more than $2b and Rogue One crossed the $1b threshold. I'm not certain if we'll see another $2b film here, though I wouldn't be completely surprised to see totals rise that high.
If I had to guess, I'd say that the two bookend films for 2017, Beauty and the Beast and Star Wars: The Last Jedi will be the company's two biggest grossers. I could easily be wrong there, underestimating the power of either of the super heroes, but either way, I enjoy attempting to predict box office numbers so it'll be fun to see how well I can judge the public's intrigue. Either way, I suspect that 2017 will be another banner year for DIS's studio segment and this contributes mightily to my bullish sentiment on the stock.
Conclusion:
So, in the end, I want to reiterate the fact that I feel very comfortable holding shares of The Walt Disney Company. Right now DIS is my largest individual holding (though Apple's recent success may allow that company to re-take the top spot in my portfolio before too long). Right now DIS shares are trading with a 19.1x ttm P/E ratio and a 16.3x forward P/E ratio based upon the average analyst estimate for 2017 EPS. DIS grew revenues 6%, EPS 17%, and increased its dividend 8.75% in 2016. I'm very happy to pay 16x forward earnings for a company posting these types results and this type of brand power.
Source: F.A.S.T. Graphs
Disclosure: I am/we are long DIS.
I wrote this article myself, and it expresses my own opinions. I am not receiving compensation for it (other than from Seeking Alpha). I have no business relationship with any company whose stock is mentioned in this article.