Thesis
Illinois Tool Works (NYSE:ITW) has a strong management team and a history of growth that makes it a smart buy. It offers a dividend similar to the 10 year treasury and a buyback program making it a possible retirement stock.
About The Company
Illinois Tool operates a diverse industrial business with seven segments. These range from automotive and welding products to construction and food equipment. A full breakdown is shown in Figure 1. They are huge with nearly 50,000 employees in 80 divisions across 60 countries.
Figure 1: Illinois Tool Works Business Segments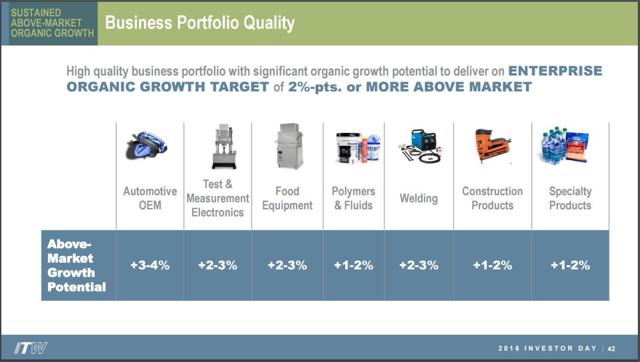 Source: Investor Day Presentation
Key Financials
Illinois Tool has under performed and over delivered in the past. As of the fourth quarter of 2016, organic revenue growth came in at 2% Their guidance was 0-2%. They also beat on earnings and operating margin. I always like to see GAAP EPS advertised in a quarterly report which is the metric they used. Year over year GAAP EPS grew 18%. It came in at $1.45 and exceeded the guidance of $1.36. Their fourth quarter financial performance is shown in Figure 2.
Figure 2: Illinois Tool 4th Qtr. Performance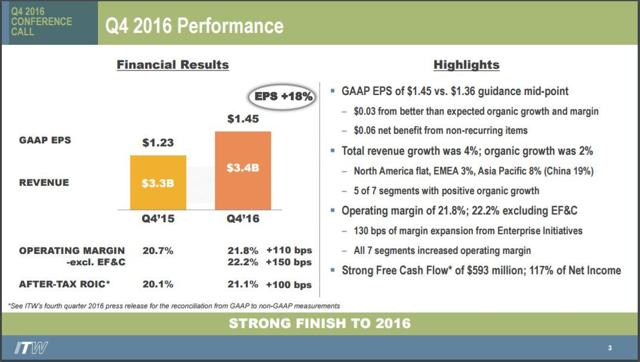 Source: 4th Qtr. Earnings Presentation
All seven business segments expanded their margin in 2016. All, save welding, displayed organic revenue growth as well. In their investor presentation they outlined Oil and Gas recover as a potential growth driver. It is my opinion that this is a safe bet as the Dakota Access and Keystone Pipelines have been revived already by President Trump. I also like their allocation of capital as shown in Figure 3, internal investments are important.
Figure 3: Illinois Tool Capital Allocation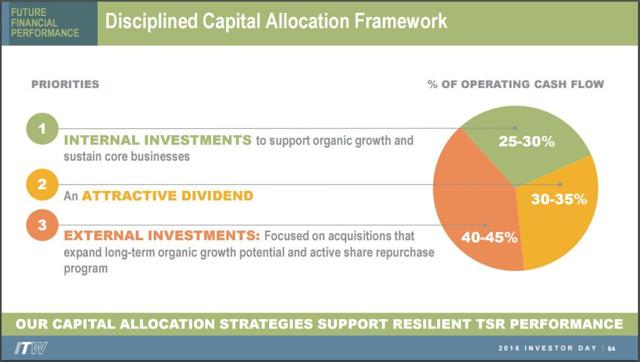 Source: Investor Day Presentation
Opportunity
Their guidance for 2017 looks even better. Organic sales are predicted to grow between 1.5% and 3.5% and organic revenue between 1% and 2%. This is another way of saying that if markets shrink by 2%, Illinois Tool should still come out on top. GAAP EPS have a midpoint of $6.10, an 8.75% increase. With a P/E of 23,some may say that 2017 is already priced in. They might very well be right. However, Illinois Tool has a history of exceeding guidance and any surprise could lead to significant upside. In addition, they have a nice 2% dividend. Since 2012, their dividend has had a CAGR of 14%. In 2016 they also repurchased $2B worth of their own shares. This makes it a candidate to add to the retirement portfolio, in my opinion.
Final Thoughts
Illinois Tool Works is poised for growth. They have under promised and over delivered in the past. They offer an attractive dividend and stock repurchase program. They are a good long term candidate for a retirement portfolio.
Disclosure: I am/we are long ITW.
I wrote this article myself, and it expresses my own opinions. I am not receiving compensation for it (other than from Seeking Alpha). I have no business relationship with any company whose stock is mentioned in this article.