The Future of IBM
In 2011, IBM Watson debuted on the TV show Jeopardy and impressed millions in a spectacle where the artificial intelligence defeated 2 of jeopardy's all time great champions. While Apple, Google, Facebook, Amazon, and Microsoft have been developing their AI to handle daily tasks such as shopping, calling an Uber, or playing music, IBM (NYSE: IBM) has been pushing Watson into tackling real world problems such as cancer diagnosis/treatment, traffic accident prevention, and tax reporting.
IBM Watson, like the rest of its AI colleagues, is a product of machine learning, natural language processing, and statistical analysis. The difference lies in the types of data IBM is feeding Watson. Watson is being taught intellectual knowledge in the form of research papers, large industrial data reports, and other scholarly publishings. In 2015, CEO Virginia Rometty informed investors that IBM expects Watson to generate approximately $10 billion in revenue by 2024. Currently, Watson's platform extends to the fields of commerce, education, financial services, health, internet of things, marketing, supply chain management, and more.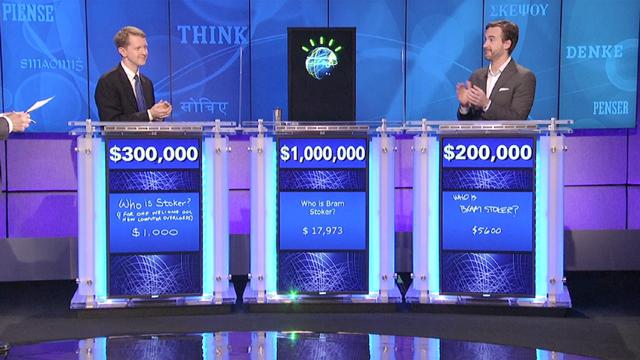 Source: Watson2016
Watson in Recent Action
In December 2016, automaker BMW (ETR:BMW) announced that they would use the Watson AI technology to create "intelligent assistant functions" for the company's i8 hybrid sports cars. These functions refer to conversing with the automobile's AI to get news on efficient routing, traffic, and weather. More importantly, these AI-powered automobiles will communicate with each other through radio transmission to cut down on accidents. The U.S. transportation department has voiced their proposal to implement vehicle to vehicle communication that can save countless lives. With US traffic fatalities rising 8% y/y in the first nine months of 2016, this proposal will certainly garner more attention.
In Forbes' 2016 healthcare summit, pharmaceutical giant Pfizer (NYSE:PFE) revealed their partnership with Watson to expedite cancer drug discoveries. Watson's natural language processing and machine learning prowess will aid Pfizer's immunotherapy (using immune system to fight disease rather than chemotherapy to kill infected cells) approach, which consists of "analyzing and testing hypothesis" from over "30 million sources of laboratory and data reports as well as medical literature". Additionally, Watson will play a key role in merging these new sources of data to Pfizer's existing propriety research database. Mikael Dolsten, president of Pfizer's R&D, remarked that "Drug hunting and treatment development is a vast task in immune-oncology. I read hundreds of papers over a few months, but I cannot read millions like Watson can". Dolsten goes on to note that, without Watson's help, drug discovery and development is comparable to finding three similar trees in a forest.
In addition to the two particular stories above, Watson's internet of things ecosystem has enticed public companies such as Sprint (NYSE:S), Intel (NASDAQ:INTC), Cisco (NASDAQ:CSCO), and AT&T (NYSE:T) to form partnerships with IBM. In the healthcare front, Watson is partnered with other large players like CVS, Medtronic (NYSE:MDT), and J&J (NYSE:JNJ). Just recently, Watson's collaboration with H&R Block (NYSE:HRB) drew attention mass attention in compelling Superbowl commercial. In addition to corporations, Watson also partnered with Harvard University and MIT on a 5 year initiative to study how tumors grow resistant to cancer treatments.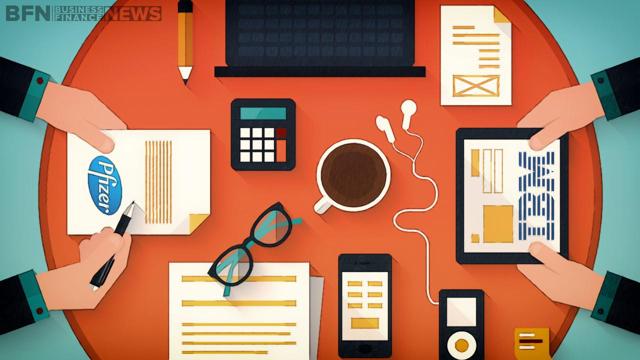 Source: Business Finance News
How does Watson translate to IBM's bottom line?
CEO Virginia Rometty has avoided the topic of how Watson is impacting IBM financially. When she was asked the question during the 2016 code conference, Rometty commented that the Watson platform is "still growing" in both business and capabilities. She declares that "there would be no value in making that disclosure". In the same conference, she remarked that Watson is not looking to compete with front end AIs like Alexa. She notes that Watson is looking to dominate back-end software support for data reliant companies like Berkshire Hathaway.
We initiated a position in IBM almost a year ago due to Watson and we are happy with the capital appreciation but we are far from impressed by IBM's 5 year revenue trend. IBM's total revenue has declined at an average rate of 6.42% for the past 5 years, from 104.5 billion in 2012 to 79.9 billion in 2016. The company's past dominant systems and equipment segment has declined heavily and IBM's transition to a strategic imperative/cognitive solution/cloud business has been met with stagnant growth in the last few fiscal years.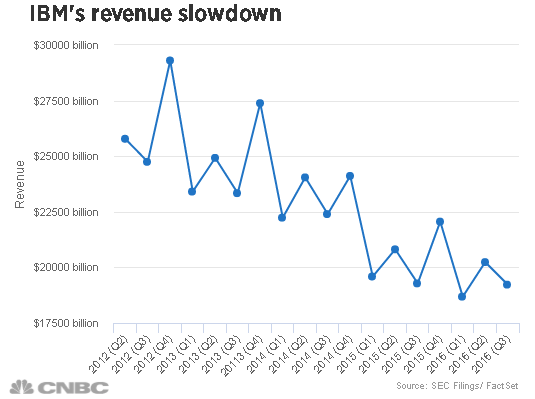 Source: CNBC
Nonetheless, we are still holding the stock due to the company's rock solid fundamentals. At the current price of $177, IBM is trading at a P/E of 14.3, which is in line with other blue chip tech giants like CSCO (15), INTC (16.81), and AAPL (15.86). IBM also has a dividend yield of 3.18%, rewarding shareholders with $1.40 per share quarterly. IBM has rose their quarterly dividend from $0.95 per share in 2013 to $1.40 currently. Despite the increase, IBM's dividend payout ratio is still moderate at .45. With the potential of Watson in addition to the company's strong financials, we remain bullish on IBM's long term outlook and advise investors to buy on upcoming dips.
Disclosure: I am/we are long IBM, INTC, FB.
I wrote this article myself, and it expresses my own opinions. I am not receiving compensation for it (other than from Seeking Alpha). I have no business relationship with any company whose stock is mentioned in this article.