It has been a strong start to the year for gold (NYSEARCA:GLD) as the price of the yellow metal has soared over 10% from its December lows at $1,120/oz. The Gold Miners Index (NYSEARCA:GDX) and Gold Juniors (NYSEARCA:GDXJ) have been the real winners, posting gains of over 30% in the past 8 weeks. The permabears I warned in late December in "GDX: Bears Get Fat, Perma-Bears Get Slaughtered" have been trounced, and are now a staple in the bull's February diet. Despite this massive outperformance and resurgence of the bulls, there seems to be several investors that remain very jittery during every little pullback. Yesterday marked the first 2% down day in 10 trading days for the GDX, and it seems that many investors are already questioning the validity of the bull market. I do not see any reason for skepticism in this rally, unless we close below the $21.80 level, and the rising 50-day moving average.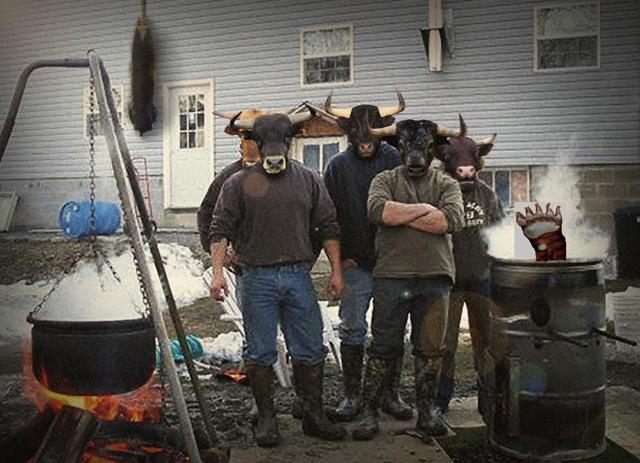 (Source: Author's Photo)
As we can see from the below chart, the GDX has been on an absolute tear to start the year, and has experienced only three 2% down days during this 36% rally. The move has been so powerful that the index not even tagged its 20-day moving average along the way. Despite this, yesterday's drop has all the bears coming back out of their caves and claiming that the rally is now over. One day does not make a trend, and a 2% down day does not mark the top of a 35% rally. If the move is sustained to the downside then red flags will begin to appear, but yesterday's sell-off is nothing to lose sleep over.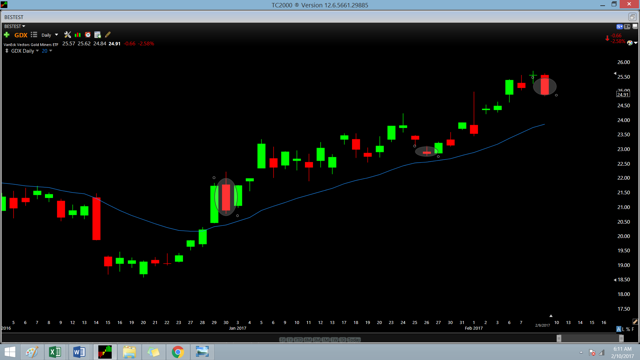 (Source: TC2000.com)
This is very typical of all up-trends and pullbacks like this serve to 'shake the tree,' and take out the investors with the least conviction. This is why many have a hard time staying long during bull markets, and it is never an easy task for those looking at short-term time frames. It's worth noting that if you just position yourself based on weekly charts as I tend to, we are still up for the week.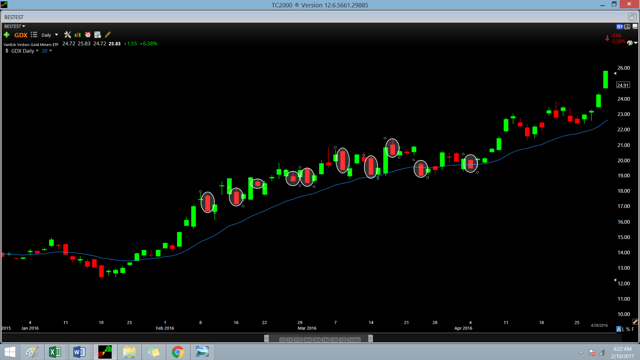 (Source: TC2000.com)
Finally, if we compare this to last year's bull market off the lows, we actually had ten 2% pullbacks between January and April, and we resolved much higher afterwards. We can see this in the image above, which also displays the strong support the 20-day moving average provided. I personally believe a pullback to the 20-day moving average at $24.00 would be healthy and would help us shake out any of the 'late to the party' bulls.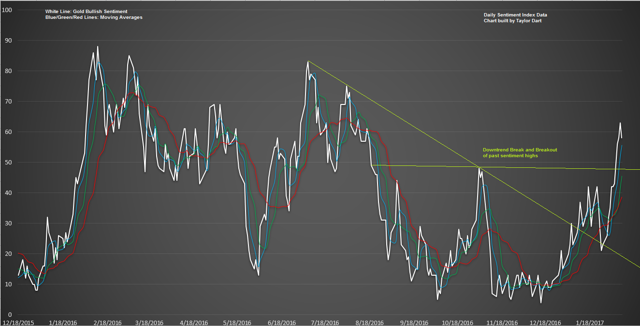 (Source: Daily Sentiment Index, Author's Chart)
So what is sentiment telling us?
The two things I pay the most attention to when trading commodities are sentiment and the dominant price trend. I have noted over the past 6 weeks that gold began a new bull market in sentiment after the powerful buy signal it gave in mid-December. This was registered after bullish sentiment came off its lowest reading in 30 years, and then closed above all of its sentiment moving averages.
Taking a look at the current sentiment chart above, we can see that bullish sentiment is above 55% and trending higher. This is exactly what we want to see as I do not care so much what the sentiment value is, but where sentiment is headed. A reading of 20% bulls in sentiment means very little to me, unless you tell me which way sentiment is trending. If sentiment is trending down then we are likely in for more pain, but if sentiment is trending up then this would be a market I would like to get long. The reason for this is that pessimism often leads to more selling and a capitulation low, whereas when bulls are coming back into the market after extreme pessimism, it's often a time you want to jump back in.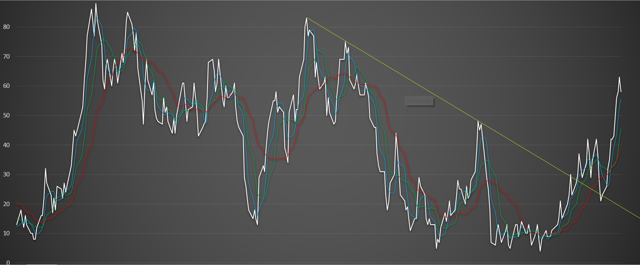 (Source: Daily Sentiment Index, Author's Chart)
As is also visible in the above sentiment chart I have built from DSI values, we have broken out of the downtrend in place since August for bullish sentiment. The election night rally was thwarted by this downtrend line and sent us plunging down to 4% bulls by mid-December. Now that we have broken out we are seeing a change in character by the market, and this is a very positive development for bulls. For this reason I am very bullish on gold, but would prefer if we could get back above the 200-day moving average. This is the last box I need checked to put me into 'max-bull' mode, and I would be willing to entertain the possibility of taking out last year's highs.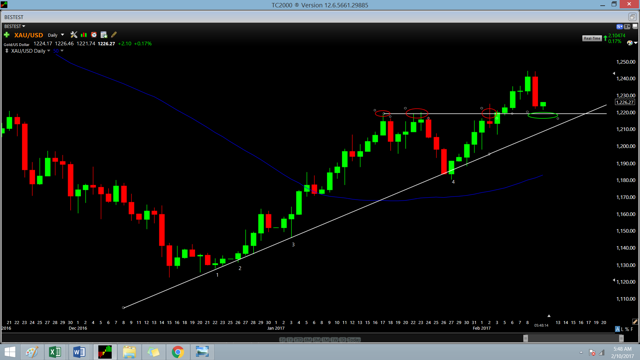 (Source: TC2000.com)
Taking a look at a daily chart of gold overnight, we can see that we are sitting just above what was strong resistance for over two weeks. The $1,220/oz level should act as support on the first test given how it acted as resistance during January, but if it fails we also have the uptrend line below. The red circles are meant to display past resistance, while the green circle is where we should find support today.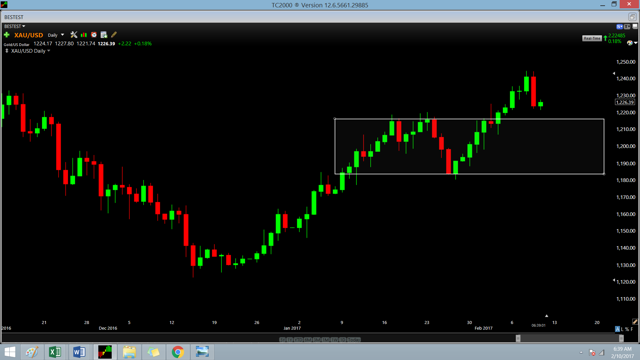 (Source: TC2000.com)
Is it a problem if we trade down to $1,210/oz today or even $1,200/oz? Absolutely not. But I would prefer to see us close the week above $1,220/oz, as this would show lots of resiliency and elasticity in the metal on tests of support levels. As we can see we have yet to test the rising 50-day moving average on this rally, and this is another level where I expect we should find support. So despite the bears cheering that this rally is done, they are forgetting the bulls have $1,220/oz horizontal support, a $1,200/oz uptrend, and a rising 50-day moving average at $1,185/oz to defend them.
Moving on to the GDX, the extremely positive development earlier in the week was unfortunately reversed by the bears. The close above the 200-day moving average has now been reversed and I would like to see the bulls climb back above here. This is not a big deal by any means, as the GDX has several levels of support level. This is simply the final box I needed checked to be completely bullish on GDX, as right now 3 of my 4 time-frames are in bullish mode.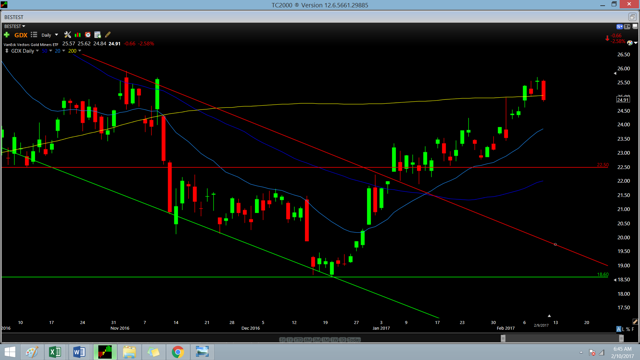 (Source: TC2000.com)
As we can see from the above GDX chart, we are still well above the descending channel which was the fuel that ignited this breakout. We have the 20-day moving average just below which should act as support, and $22.50 horizontal support and a rising 50-day moving average if this fails. I expect us to find support at $23.75-$24.00 which is my short-term trend system's main support and the 20-day moving average on the daily chart, respectively.
In summary, I see no reason to doubt this bull market in the precious metals here. One down day does nothing for the bears, except gives them hope that they might actually get a chance to cover their shorts they decided to hang onto. Until the GDX closes below $23.75, I believe momentum is to the upside, and I see no reason to get overly worried unless $21.75 is violated.
I am up 50% on average on my miners highlighted in my articles, and a pullback of 5% does not bother me. I intend to stay long these miners while the trend is in their favor, and I'm not jumping to try and buy back lower as I am invested within 5% from the December lows. This means that I have almost zero risk on these positions, so there would be no reason for me to jump out and get cute. My goal in trading is to catch the 'big swings,' and the big swings are caught by sitting when the trend is in your favor. Those that jump out trying to buy back lower risk the chance that they cannot, and most will have a difficult time buying their miners back if the pullback does not come. This is why I prefer to do nothing, and I see this pullback as little more than noise as long as we continue to close above $23.75 on the GDX. If we can get back above $25.50 and stay there, I see no reason we can't make a run at last year's highs.
So how am I positioned? I am currently 62% long the miners across various accounts, and added more exposure yesterday. My two most recent additions were a full position in Avnel Gold (OTCPK:AVNZF), and a 1/3 position in Orezone Gold (OTCPK:ORZCF). I have no intention in taking any profits and will let my readers know if I do. Thus far the only profits I have taken are on two miners up 80% off the December lows, and I sold 1/5 of my position and continue to hold 4/5s.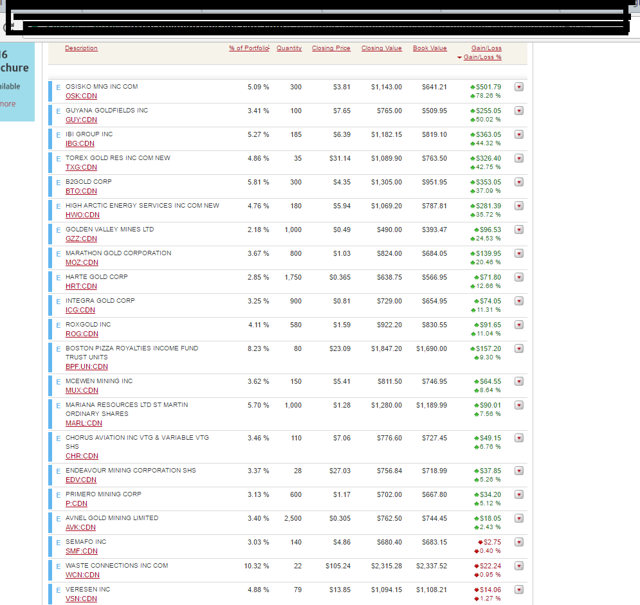 (Source: CIBC Investors Edge Account)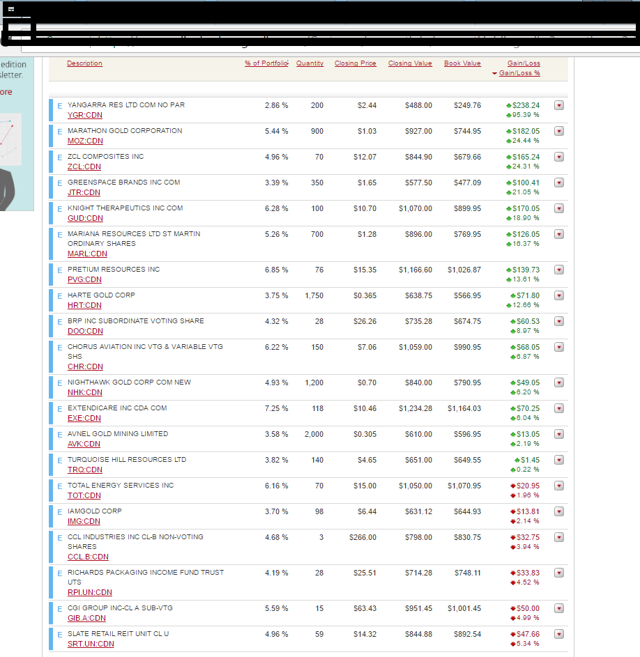 (Source: CIBC Investors Edge Account)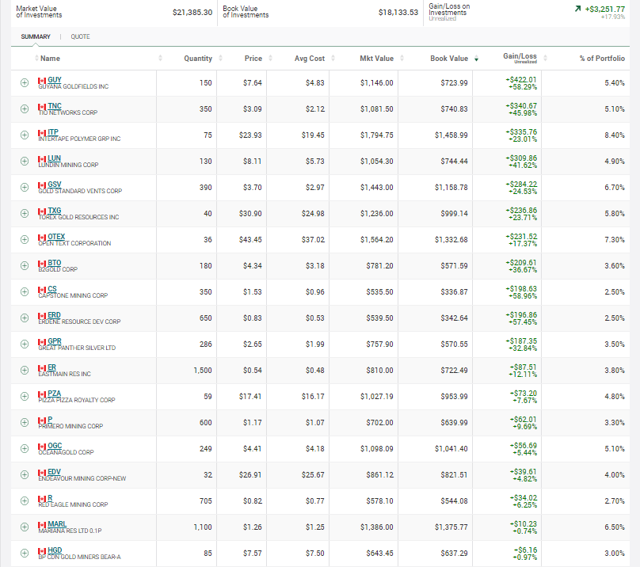 (Source: TD WebBroker Account)
For full transparency I have shown my 3 main accounts above to show my money is where my mouth is.
Disclosure: I am/we are long GLD, AVNZF, ORZCF.
I wrote this article myself, and it expresses my own opinions. I am not receiving compensation for it (other than from Seeking Alpha). I have no business relationship with any company whose stock is mentioned in this article.
Additional disclosure: If you liked this article and found it useful, please feel free to follow me by clicking on my name next to my avatar at the top of this article. I also invite you to follow me at www.twitter.com/TaylorDart01 where I routinely share my entries, exits, and stops on new positions, as well as updating followers on sentiment data on markets I am following.