2017, thus far, has been a year of tailwinds causing U.S. based airlines to soar. A quick glance at a stock screener of U.S. regional airlines and one could easily agree the trend is bullish. Fundamental investing titans like Warren Buffett are continuing to bet big on the airlines industry. The tremendously positive macroeconomic factors for the airline industry in 2016 (including higher demand and lower oil costs) are the main support to airline valuations, but how long will this last? It would behoove a prudent investor to pick tickers that will be able to outperform in 2017 if the macroeconomic landscape becomes less advantageous.
Southwest Airlines (NYSE:LUV) beat analyst expectations on 1/26/2017, and despite Q4 profits slipping amid higher fuel and labor expenditures (slippage in positive macroeconomic factors), CEO Gary Kelly maintained optimistic outlooks for the new year in the conference call with investors. Further, LUV is uniquely placed among the wider airlines industry to outperform into the new year. They are more sheltered from international travel woes destined to drag down international flight numbers. Being predominantly focused on domestic travel within the United States, LUV will not feel the burden of new legislations or sociopolitical issues like U.S. airlines with more skin in the international travel game. U.S. airlines are projected to lead the way in net margin for 2017 by The International Air Transport Association at 8.5%. As a company, LUV has consistently improved on key fundamentals such as: Gross Margin (70% in 2015 from 49% in 2012), Profit Margin (11% in 2015 from 2% in 2012), and Gross Profit ($13.8 Billion in 2015 from $8.5 Billion in 2012) (nasdaq.com). Hence, LUV is not only going to be among the strongest airlines internationally for 2017, but will able to outperform in this country as well.
The consensus price target of LUV over the next 12 months issued by major Wall Street Analysts is near $62 per share. This still leaves a 20% gain to be taken advantage of by an intelligent investor! In addition to the fact this is a fundamentally strong time to buy (as seen from previous facts), LUV is also supported by strong technical factors:
After consolidating and building STRONG technical support near the all time high at the +/- 51.00 area, the stock has shown breakout signals after their most recent earnings report. Currently, LUV is trading at almost 53.00 per share and is demonstrating that the resistance of the previous all time high at +/- 51.30 is going to act as a support -- limiting the downside risk on investments. On a daily, weekly and monthly basis, LUV has maintained a strong position in its upper region of its Bollinger Bands. RSI on LUV has stabilized after a spike on earnings with a slight bullish trend.
Weekly Price Chart of LUV With key Fundamental and Technical Indicators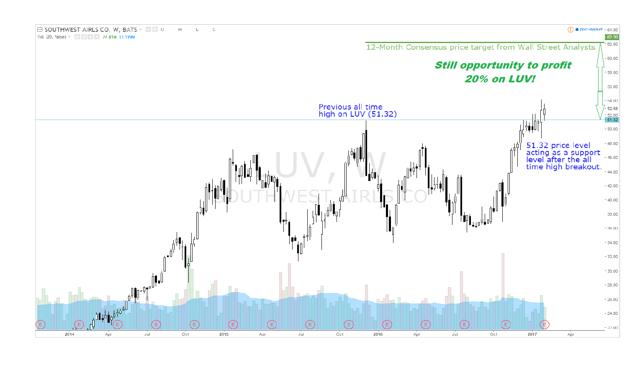 As it is depicted in this weekly diagram of LUV prices since 2014, the trend had been resoundingly bullish long term. LUV's gains were slowed for the better part of 2 months (DEC2016-JAN2017) before Southwest Airlines most recently reported earnings. A common saying among technical traders of the markets is "old resistance becomes new support". This is proving true with LUV as the most recent weekly candle on the stock is showing strong support at the previous resistance at 51.32.
After a tremendous 2016 and making all time highs in 2017, is LUV in a position to pull back? Over the short term, any pullbacks in the price of LUV will likely be to the old all time high level. This level represents a STRONG technical support that will stave off any pullbacks as investors take profits from the previous year's gains. This temporary pullback, in no way, hampers the fundamental factors that will be a bolstering force in LUV's price in 2017.
In closing, the airline industry has had some of the best years on record recently. The International Air Transport Association projects that the U.S. based airlines will outperform international carriers in 2017. LUV is uniquely positioned to outperform in the already strong U.S. airline landscape as they will be sheltered from international travel woes from political and social events. Technically, LUV is showing strength in the breakout to the new price target of major Wall Street analysts and support avoiding a downturn in price. Key technical indicators are at sustainable levels for the bullish trend to continue. LUV represents a 20% gain opportunity in 2017.
Disclosure: I/we have no positions in any stocks mentioned, and no plans to initiate any positions within the next 72 hours.
I wrote this article myself, and it expresses my own opinions. I am not receiving compensation for it (other than from Seeking Alpha). I have no business relationship with any company whose stock is mentioned in this article.