It looks like this company's stock is going to double.
In this article we'll cover some of the opportunity for Quality Systems Inc. (NASDAQ:QSII) and how come the new management team is such a clear sign that we can expect major improvements in QSII's performance. The new executives will each be highlighted and I'll point out the specific contribution they'll make to QSII's business needs.
What Investors Need To Know About This Company
QSII is primarily engaged in providing software to medical professionals. They provide administrative software to help their customers with billing and software to help manage the practice and improve patient outcomes.
The firm has improved its focus on its ambulatory care niche, they've done so by selling their Hospital Solutions Division (HSD) in October 2015 and buying HealthFusion Holdings. Now the shrinking HSD revenues will no longer weigh on the top line (HSD shrank by 15M annual revenue from 2013-2016.)
The HealthFusion Holdings acquisition, completed January 2016, gave QSII access to HealthFusion's client base inclusive of 2,000 physician practices (3,000 physicians). QSII will work to provide these clients increasing amounts of services, getting them hooked up with the company's core products and increasing sales.
This Leadership Change Is A Big Deal
New leadership is a commonly overlooked foreshadowing of big (and good) changes at a company. This fact was acknowledged decades ago by the venerable Benjamin Graham in his book "The Intelligent Investor".
How big of an impact can leadership make? Activist investor's success is entirely premised on appropriate changes in leadership as potentially value creating.
In the case of activist investors, they may have to force the opportunity to put in a crew more intent on improving the business's performance. In the case of QSII, who's not the target of an activist, the firm is choosing to evolve and improve results by bringing in new management by its own volition (the will of preceding executives and the Board).
After reviewing the roster of new executives, I have come to the conclusion major changes are coming to QSII. The new executives are well equipped to address the company's market opportunity as I see it, which come from its brand and focus on its niche, its cross-selling opportunity, plus the financial relationships and balance sheet strength to make the right acquisition(s) if they come along.
Core members of the leadership team are coming in from the successful medical software business Carefusion (NYSE:CFN). These guys' ride with CFN came to an end as the company was acquired by Becton, Dickinson and Company (NYSE:BDX). CFN shareholders ended up in the green.
So with CFN out of the picture these guys were looking for a new gig, or they have been clandestinely assigned to take care of business at QSII by BDX. Either way they're in charge. I believe their skills fit in well with what investors want to see QSII accomplish: Increase earnings.
Here are three executives from Carefusion who joined QSII during 2016 followed by the CFO who came in from another company:
President and Chief Executive Officer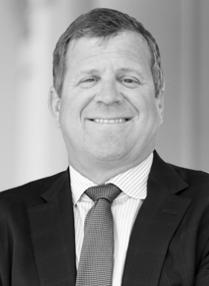 President and CEO Rusty Frantz gets things done. He spearheaded the successful transformation of three divisions at CFN, which accounted for $1B annual revenues, has brought products to market, and is familiar with overcoming the challenges of a growing business. The executive bio points out the changes Rusty helped make happen at CFN made the company significantly more attractive acquisition to BDX.
QSII needs to see revenue growth and is in the middle of its own transformation, as they integrate the medical software and administrative software to make more sales between each division's client base. Rusty's spearheaded a successful transformation before so he seems like the right guy for the job, among the other responsibilities he has at the company.
Executive Vice President, Chief Technology Officer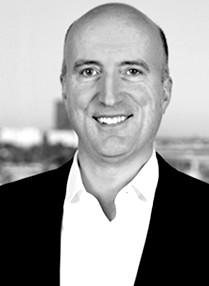 EVP, CTO David A. Metcalfe has relationships Carefusion and BDX. He served in leading product development oversight roles at each company. Carefusion's product sales grew by many hundreds of millions of dollars as he oversaw their development. This is a good bit of experience for our executive to have. His time in the development role may be productive of insight into what QSII's products need to accomplish in order to grow the firm's value.
Executive Vice President, Chief Client Officer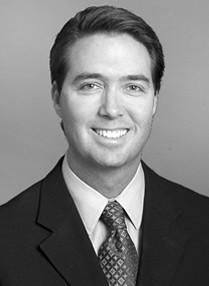 EVP CCO Scott Bostick over saw increasing amounts of Carefusion's $4B of annual sales activity during a period of good organic revenue growth rates. Scott's experience guiding sales organizations in a company going through hundreds of millions of dollars worth of annual sales growth may be critical to QSII's future.
Lots of stuff can go wrong as business volume grows. Scott likely has a good, tested model for how to build a sales organization to generate increasing sales volume.
CFO From Kofax Ltd (KFX), Which Was Acquired By Lexmark (LXK)
CFO James R. Arnold, Jr. also joined the company during 2016. He was CFO of KFX as the company made six acquisitions and streamlined its portfolio of operating segments. KFX was acquired by LXK after a two-year stint as a public company, and shareholders made money overall.
While there's no obvious acquisition for QSII on my radar, the fact the Board selected James for the CFO job speaks volumes as to what opportunity they're seeing from inside the business.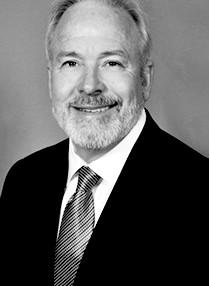 Concluding Remarks
It looks like the heavy hitters recently appointed have their work cut out for them. QSII's main line of business with NextGen has not exhibited much growth lately, with most new sales coming from the company's administrative and billing services. The firm's renewed focus on the niche may help them discover and take advantage of opportunities to grow the main line of business in medical software.
While the main line of business revenues flattened out, the company's administrative software has grown at a healthy clip. Statements on the company's website and Fiscal 2016's 10-K describe their focus on making more of their customers also the customers of more of their products.
This focus on cross-selling is great because customer acquisition costs are typically lower when cross-selling, and incremental expenses associated with the new revenue won't be substantial on account of it being a software business. So we are looking at very profitable growth ahead.
If QSII can really leverage the client base they received with the HealthFusion acquisition, operating results may even be spectacular over the next couple of years.
All-in-all, QSII is trading at 19x of their $50M annual free cash flow (my approximation based on the trailing five years results). At 19x, the valuation is not particularly rich and I believe the company is a good buy here based on the moderate price for each dollar of cash flow coupled with the substantial improvements in operations which are presently taking place. The new executive team's track record make for a major clue that QSII is targeted for improvement and acquisition so why not go along for the ride?
I'm long QSII with a price target of $30.00 based on my expectation of growth through high margin cross-selling which will double annual free cash flow earnings.
QSII Revenues: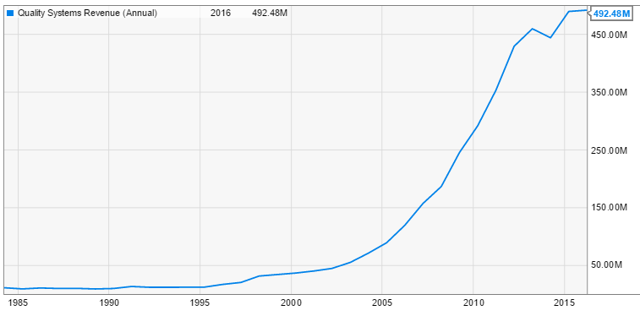 Source: Faloh Investment, YCharts
Appendix: Quality Systems Inc
QSII Chart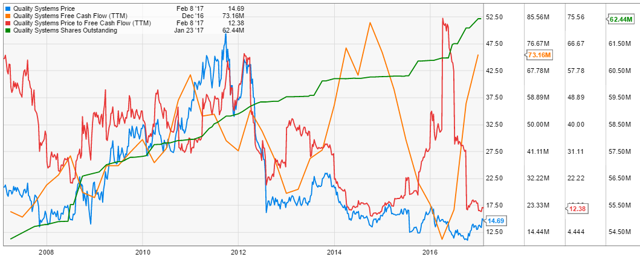 Disclaimer: This article represents the opinion of the author as of the date of this article. This article is based upon information reasonably available to the author and obtained from public sources that the author believes are reliable. The author does not guarantee the accuracy or completeness of this article. This presentation is the author's interpretation of the information contained in the article. The author may close his investment position at any point in time without providing notice. The author encourages all readers to do their own due diligence. This is not a recommendation to buy or sell a security.
Please click the + icon next to my user name and follow me, Faloh Investment, as I work to keep you informed on further developments as the market continues to present major value opportunities.
Disclosure: I am/we are long QSII.
I wrote this article myself, and it expresses my own opinions. I am not receiving compensation for it (other than from Seeking Alpha). I have no business relationship with any company whose stock is mentioned in this article.