Selling covered calls or option premium against dividend growth stocks definitely seems at times to get a bad rap. In one way I understand this. The purpose many times of dividend growth investing is to hold on to quality companies over the long term and invest paid out dividends back into the stock over time. The duration of how long the stocks are held is down to personal opinion. However normally the strategy is simply to buy dividend growth stocks when they're cheap and hold them for the long-term or sell them when their valuation gets out of whack. Dividend growth enthusiasts would state that there is just too much risk associated with selling premium against long stock as the portfolio over time would miss out on potential upside.
Furthermore there is the time element. Investors who trade options around their positions need to be more active to an extent especially around dividend dates and earnings announcements. However if the options investor is nimble and creative, I believe there are many ways which a portfolio can be set up in order to take advantage of total returns from dividend growth stocks.
In our income portfolio at present we actually have a covered call position where the call is expiring next week and will most probably call away the shares at the designated strike price. I'm referring to our covered call trade in Emerson (NYSE:EMR) where we are long stock since the $52.4 level and short the February 17th $57.5 call. Emerson reported an impressive set of earnings number last week where its increased guidance spiked the share price up past the $63 level. This is where the enthusiasts and the purists defend the dividend growth model as in situations like these covered calls reduces the total returns achieved since the trade was initiated.
Nevertheless returns only become currency in a brokerage account when the stock is sold and that's the key point here. Nobody knows where Emerson stock will be trading in a month, 2 months, or 3 months. However what we do know is that its earnings multiple because of the spike in its share price has increased to 24.6 which is well above its price-to-earnings ratios over the past few years. Short term upside limited? That is what we are banking on which is why we will let the shares be "called away" at this present moment in time.
However concerning the purists who want to hold onto their shares through thick and thin, an investor could easily go inverted and sell a put option at a strike price to ensure they take hold of the stock at expiration. So one could sell the $62.5 or even better the $65 put in a week's time which would ensure that stock would be "put" to the option seller if the shares are trading below the strike price next Friday. This is what I mean about being creative with options. By trading strategically, an investor can keep their shares, dividends and trade options around them at the same time.
Any time a stock blasts through a short call option, the short term returns will always be lower than from simply holding the stock. However shouldn't we also be concentrating on covered call returns when the stock doesn't move aggressively to the upside? Even with Emerson being up 33% over the past year, if an investor had sold covered calls on their stock when it got to overbought levels (or when sentiment got lofty), I would wager that the shares would not have been called away (see below). Remember I am talking about a stock that is up $15 a share over the past 12 months. What about a different aristocrat that is only up 5%, 7%? Shouldn't returns be better?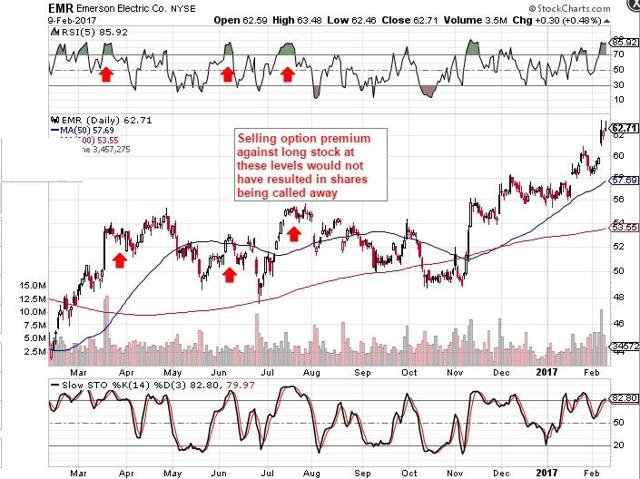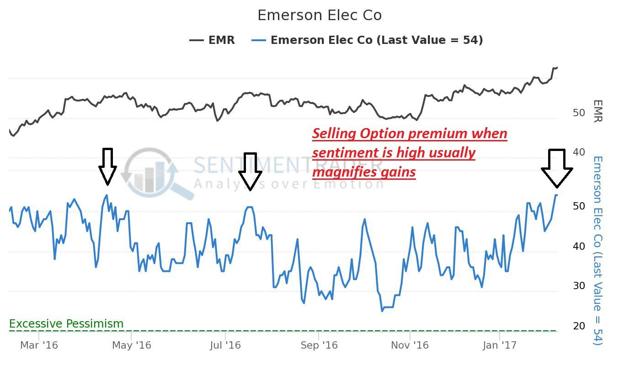 Source : Sentimentrader.com
Therefore what I would be advising dividend growth investors to monitor is their returns on a quarterly basis. Emerson, with Q1 earnings and dividends out of the way this month, won't be in passive investors' minds for at least another 3 months. Shouldn't call premium be sold now with sentiment sky high and the shares trading at a premium? What do you think your returns will be over the next 3 months? Selling covered calls may cap your upside but it does one thing correctly - it brings in income. With the S&P (NYSE:SPX) now blasting through 2,300, it is inevitable that sooner or later, returns will have to slow down. Selling option premium against one's positions is an excellent strategy especially for a market that may be overheating. Please comment below if you have any queries regarding my thoughts here
Disclosure: I am/we are long EMR.
I wrote this article myself, and it expresses my own opinions. I am not receiving compensation for it (other than from Seeking Alpha). I have no business relationship with any company whose stock is mentioned in this article.