(Editor's Note: Investors should be mindful of the risks of transacting in securities with limited liquidity, such as AULRF. Aurelius Equity Opportunities' stock listing in Europe may offer stronger liquidity.)
Aurelius Equity Opportunities SE & Co. KGaA is a private equity company which acquires, restructures and eventually sells companies in special situations, e.g. corporate spin-offs and privately held companies "with issues". Put that in simple words, Aurelius buys unwanted corporate assets from larger sellers, then turn them around. Aurelius has offices in Munich, London, Stockholm, and Madrid. Over the last ten years, Aurelius has grown from a local turnaround investor to an international multi-asset manager investing in a wide range of sectors and across the capital structure.
As I mentioned, Aurelius is structured as the PE Company, but the main difference is that Aurelius invests its own money/capital. This is an advantage in bidding for assets when sellers want a longer-term owner.
Aurelius executes deals that require a lot of time, but not a lot of cash. Due to this fact, Aurelius is in the sweet spot, where there is no strong competition. The average purchase price is around EUR 8m. During the last ten years, Aurelius did over 60 company acquisitions. The current portfolio consists of over 23 subsidiaries with EUR 4.5bn of sales. Aurelius has achieved average return multiple of 9.0x cash invested.
Aurelius does not focus on particular sectors when selecting its acquisitions targets, although they prefer the following sectors: IT & Business Services, Industrials & Chemicals, Lifestyle & Consumer Goods. They are searching for the following characteristics: below-average profitability and the need for restructuring, synergies to existing platform investments and growth potential.
Here is an example of sourcing ideas: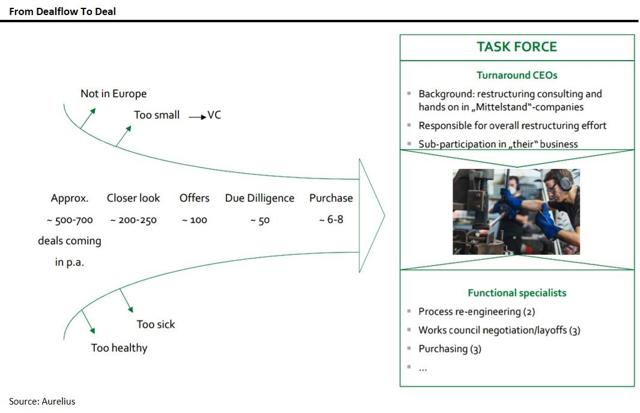 Aurelius called itself a hospital for companies because each and every company which they acquired have some challenges. In that process, they try to avoid too healthy and too sick companies.
After the screening and purchase of suitable companies, Aurelius employees assist the management of acquired companies in the operational and strategic development of these companies. For instance, Aurelius has a pool of experienced managers and function specialists in fields like finance, organization, production, IT, purchasing, contracts, marketing, and sales. These experts are deployed in the companies on a project-specific basis. Aurelius initiates measures in line with the specific circumstances of a given company to further develop its portfolio of companies immediately after the acquisitions. Such measures may include:
Analyzing existing and often introducing the new, more modern IT systems;
Devising new sales and marketing concepts;
Negotiating with banks and creditors on debt restructuring;
Establishing new supplier relationships and settling inherited liabilities;
Concluding agreements with work council and trade unions;
Restructuring current assets;
Reorganizing productions process; and/or
Streamlining the product portfolio.
The managing directors of the portfolio companies receive, to a large proportion, variable remuneration. The amount of this variable remuneration is based on the performance of the company in question, thus aligning the interests of the portfolio company with those of the parent company.
Post-acquisition case study of improvement measures: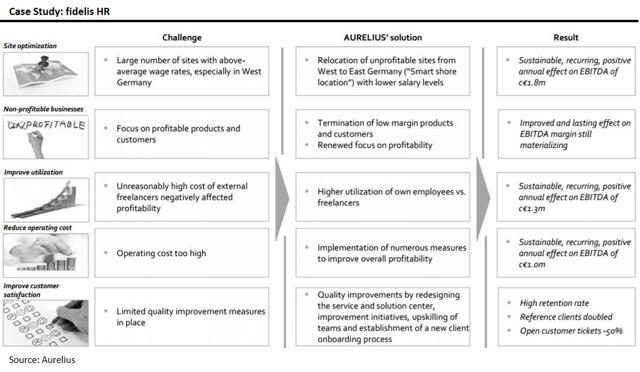 The main shareholders are Dirk Markus (CEO) 19.72% and Gert Purkert (Board Member) 5.87%. Other big shareholders are FMR 5.19%, Schroders 2.99%, Swedbank 2.36%, and Boston Partners 1.98%.
Since 2010, Aurelius has achieved strong financial results, while simultaneously paid growing dividend.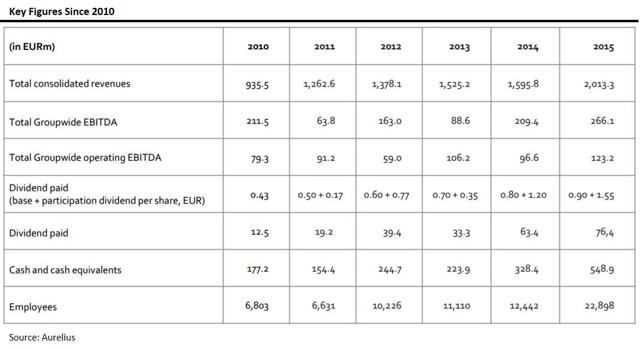 According to Dirk Markus , the biggest bottleneck for Aurelius is a qualified force. At the first glance, it looks like a prestige job, but the reality is that Aurelius subsidiaries operate in outskirt places.
Risks
This type of business is not without risks. In fact, risk management is extremely important in Aurelius business model. The acquisition of companies in difficulties includes specific knowledge and judgment. If the key parameters (market position, earnings potential, profitability, growth options and etc.) are wrongly assessed, this has consequence for the operational development of the company and hence for the return on investment. It is also possible that the initiated measures will not prove successful and acquired company would not be able to reach the desired level of profitability. The economic and industry-specific environment, the condition on capital markets and also unforeseeable factors determines the amount of possible proceeds upon disposal. At the end, this business model is very dependent on its management and their ability to continue sourcing good ideas and executing on them.
Valuation
As of 30 September 2016, the net asset value of group entities was EUR 1.35bn, which is an increase of 8% comparing the end of last year. After reporting period Aurelius did three disposals and two acquisitions. Financial details of the transactions were not disclosed so we can only roughly estimate its impact on the NAV. If we assume that the proceeds from disposals were in line with NAV calculation, in that case, there is no significant impact on NAV calculation from September 30, 2016. Furthermore, we can also assume that Aurelius paid a fair price for the new companies at least in the short term. In the long term, I believe Aurelius will be able to extract value from the newly acquired entities. That way, NAV should be between EUR 1.35bn and EUR 1.4bn. On the other side, market cap is EUR 1.84bn. Based on that simple calculation share price trades at a significant premium to that NAV. However, Aurelius has demonstrated the ability to generate significant value (return multiple of 9.0x cash invested). Second, I believe Aurelius will be able to further increase its NAV during the long term period. Putting that into perspective, Aurelius would be on my list, but I would wait for the better entry point because the Company trades at the highest price ever.
Conclusion
Aurelius business model was built on its own capital. That way Aurelius could focus its energy on the long-term value creation. There is no pressure from investors who want to redeem their capital. Second, Aurelius operates in a niche market, doing deals which are not interesting for the big players due to its low ticket size. It is a perfect market for someone like Aurelius, which has gained a specific knowledge in corporate restructuring. Finally, the management has its skin in the game. Founder and CEO Dirk Markus owns less than 20% of the company and another board member owns close to 6% of shares.
Disclosure: I/we have no positions in any stocks mentioned, and no plans to initiate any positions within the next 72 hours.
I wrote this article myself, and it expresses my own opinions. I am not receiving compensation for it (other than from Seeking Alpha). I have no business relationship with any company whose stock is mentioned in this article.