Per Seeking Alpha's excellent breaking news coverage, we learned that shares of Sears Holdings (NASDAQ:SHLD) are rocketing in pre-market trading. Not to be hyperbolic, but I wouldn't touch Sears from the long side, even for a trade. It takes an amazing imagination to work out how Sears doesn't, ultimately, go bankrupt given their massive operating losses, broken business model, and seed corn divestitures to keep the lights on. However, as an interested market observer that currently own two stocks that are highly shorted in the hedge fund community: Weight Watchers (NYSE:WTW) and GNC Holdings Inc. (NYSE:GNC)., the shorts may be "put on notice" and reminded that this is what a short squeeze looks like.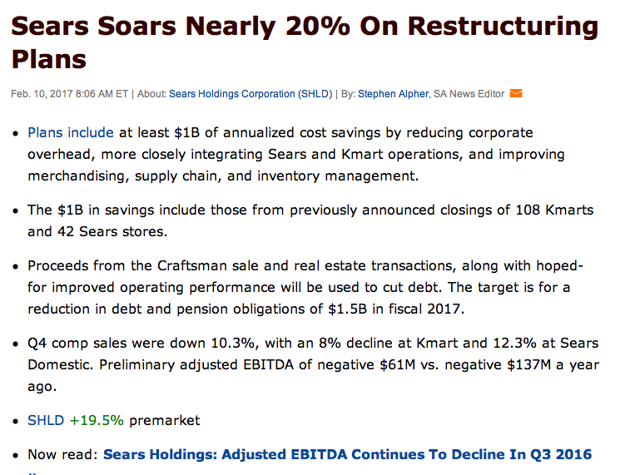 Last night after the bell, short interest data for the period ending January 31, 2017 was released. Per the WSJ, short interest for Sears climbed again by 600K shares and there were 16.3 million shares short as of January 31, 2017. Sears has 107 million shares outstanding, but only has a public float of roughly 22 million shares because former, emphasis on former, Masters of the Universe, Eddy Lampert and Bruce Berkowitz (Fairholme Capital) own most of the shares.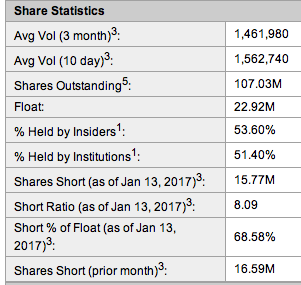 Source: Yahoo Finance

Source: WSJ short interest data 1/31/17
Given this massive short interest on a small public float, we are witnessing quite the short squeeze on pretty tame news. As of 8:23am, Sears shares were up 46% on pretty thin volume.
SA contributor, Chris Spadone, wrote an interesting article in early January when Sears was trading in the high $8s that we may witness an epic squeeze.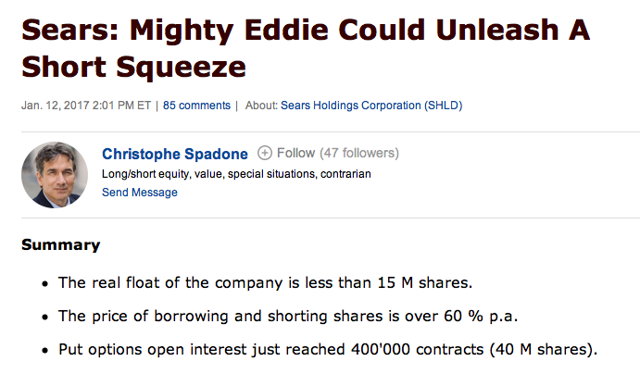 Source: Seeking Alpha
Takeaway
Lo and behold, we have a nice short squeeze setup in shares of Sears. It will be very interesting to watch from a behavioral finance perspective. That said, I can't recommend shares of Sears even for a short squeeze trade, as it has no relevance in consumers' minds whatsoever. Its appliance business has been siphoned away by big hardware (Home Depot and Lowe's) and even Best Buy (NYSE:BBY), its Sears Auto is way behind the curve, Craftsman has been sold off (although they keep exclusive rights to sell within the stores for a period of time), they can't compete in electronics, and its apparel business has no competitive advantage. Besides we all know how badly retail apparel has struggled. Ultimately, the hedge funds have this one right, as its equity is no more than a short squeeze lottery ticket that can be rented, but never owned.
Disclosure: I am/we are long GNC, WTW.
I wrote this article myself, and it expresses my own opinions. I am not receiving compensation for it (other than from Seeking Alpha). I have no business relationship with any company whose stock is mentioned in this article.