Pandora Media (NYSE:P) reported earnings yesterday, after the bell, and beat analyst expectations on both the top and bottom lines. P reported revenue growth of 16.8% to $392.6 million, which beat expectations by $18.36 million. Moreover, they reported Q4 EPS of -$0.13, which beat expectations by $0.08 per share. Although they beat expectations, the stock has been trading down in after-market trading, with management giving light Q1 guidance and showing that listener hours fell sequentially for the second quarter in a row, despite some expected seasonal strength.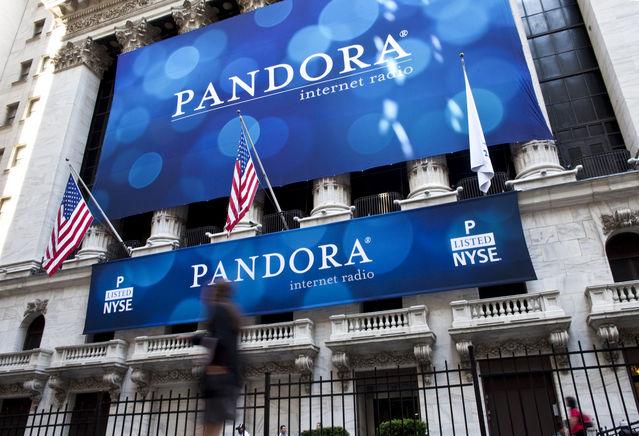 Source: Seneca Globe
In my previous article, entitled "Pandora: The Day The Music Died," I outlined my bearish thesis. The main tenet of my bearish thesis was that Pandora does not have a competitive moat to thwart off the deluge of competition that has entered the industry. This influx of competition is causing stagnating active listener numbers and is driving up the cost of content, which is crimping revenue growth and constraining margins.
Deconstructing the Earnings Release
First, I will discuss the guidance since it had a salient impact on the stock. For Q1, management is guiding to revenue of $310M-$320M (light of consensus for $344.4M), and adjusted EBITDA of -$80M to -$70M (below expectations for -$58.9M). For the full year, it's guiding to revenues of $1.55B-$1.7B (vs. $1.677B consensus); it declined to guide on full-year EBITDA as it's "managing towards full year 2017 adjusted EBITDA profitability."
Management also said that Q4 is typically their strongest year, but the sequential decline in Q1 is expected to be even more pronounced due to the additional contribution in revenue from political advertising in Q4.
Some positives from the earnings conference call:
Grew paid subscriptions 12% y/y to 4.39 million and ended January with 4.48 million paid subscribers.
Advertising revenue grew 16% y/y in Q4.
Added 375,000 net new Pandora Plus subscribers in Q4 and 70% of those new Plus subscribers were acquired on the Pandora platform, virtually free of acquisition cost.
Some negatives from the earnings conference call:
Adjusted EBITDA for Q4 was a loss of $30.4 million, compared to a profit of $24.8 million in the same period last year.
Full year adjusted EBITDA was a loss of $119.5 million, compared to a profit of $51.7 million in 2015.
GAAP net loss per share was $90 million in the quarter or $0.38 per share, compared to a net loss of $19.4 million in the same period last year.
Content costs represented 54% of total revenue in Q4, which is up from 52% for the full year in 2015, representing a growth of $124 million in the year.
This increased cost of content led to non-GAAP gross margins dropping in Q4 to 36% compared to 50% in the same period a year ago.
Active listeners dropped to 81 million from the prior year's 81.1 million.
One of the most important figures to note was that active listener numbers dropped in the quarter, and with more competitors entering the industry, it appears P has reached a peak in terms of active listener numbers. With advertising representing the lion's share of its total revenue, this is quite alarming. Management will be constrained by its ability to increase ad load rates on existing users and, without the ability to add more users to its platform, revenue growth will stagnate. Even if P is able to add more paid subscribers, this will likely not be enough to offset the declining advertising revenue growth.
Moreover, another concerning figure was that content costs, as a percentage of revenue, increased to 54% in the most recent quarter. With content becoming an ever growing percentage of revenue, it will be increasingly more difficult for management to reach profitability through operational efficiency measures.
Pandora's Deteriorating Balance Sheet
Pandora has never been a profitable company and its cash burn rate continues to be high. Management has been financing this company through the capital markets, which makes Pandora a less attractive takeover target.
In December 2015, Pandora completed an issuance of $345 million of 1.75% Convertible Senior Notes due in 2020. The conversion price is approximately $16.42 per share with a maximum of 27.3 million shares.
Additionally, Pandora has a credit facility of $120 million, which expires in September 2018. In September 2016, Pandora borrowed $90 million from the facility so it has already substantially borrowed all under this plan and will have to soon look to the capital markets to borrow further. With this overhang of debt and convertible debt, coupled with the rising interest rate environment, Pandora will face increasing interest expenses in future quarters. Additionally, this debt makes Pandora a less attractive takeover target.
Pandora ended Q4 with $243.3 million in cash and investments, compared to $264 million at the end of the prior quarter. Although cash did not decline much over this quarter, with cash used in operating activities only being $2.6 million, investors should expect the cash burn to increase next quarter, as this lower cash burn was driven by different timing in its payments for content acquisition costs, as outlined in the 8K:
Cash used in operating activities was $2.6 million for the fourth quarter of 2016, compared to $71.0 million of cash used in operating activities in the same period of the prior year. The year-over-year decrease in cash used in operating activities is primarily due to a decrease in payments of content acquisition costs compared to the year ago quarter. Content acquisition costs paid during the quarter decreased year-over-year as a result of the prepayment of such costs during the third quarter of 2016.
Risks of a Short
Despite my negative sentiment on Pandora, I would advise investors to stay on the sidelines. Pandora presents a risk as a short for two principal reasons. First, Pandora has a high percentage of shares outstanding shorted, 27.20%, which could result in a spike from a short squeeze in the event of positive news. Second, a related point, there has been speculation over Pandora possibly being taken over by a competitor. Although I am very pessimistic about Pandora's operating model as a stand-alone company, this high short interest coupled with takeover speculation equates to a significant risk in shorting Pandora.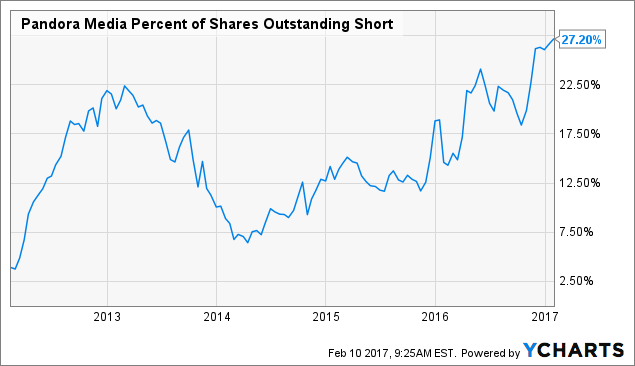 Final Remarks
Pandora's original IPO was in 2011 and it is still not profitable. The company is trying to realize "operational efficiencies" to improve profitability, but considering the competitive landscape, that seems unlikely to have success. Pandora's market is saturated and its slowing revenue growth coupled with increasing content costs, from more competitors bidding up the price of content, will lead to Pandora staying in the red. The only hope for investors would be a buyout, but with over a $3 billion market cap and no profits to show, this seems more like a pipe dream.
Note: To get my latest updates, just click on my profile and hit the "Follow" button.
Disclosure: I/we have no positions in any stocks mentioned, and no plans to initiate any positions within the next 72 hours.
I wrote this article myself, and it expresses my own opinions. I am not receiving compensation for it (other than from Seeking Alpha). I have no business relationship with any company whose stock is mentioned in this article.