Introduction
In this article, I present a set of arguments in favor of taking a long position on YRC Worldwide (NASDAQ:YRCW). I will start by giving a brief overview of the company's history and turnaround progress. I also discuss my outlook for the trucking industry and move on to present my own fair valuation of the company. All the numerical figures discussed in this article can be found in the company's presentations and financial reports here and here.
Company Summary
YRC Worldwide Inc. is a Fortune 500 company and one of the largest transportation service providers in the world. The company operates the following portfolio of brands: YRC Freight, YRC Reimer, YRC Glen Moore, YRC Logistics, New Penn, Holland and Reddaway. These business subsidiaries facilitate local, regional, national and international shipping capabilities. YRC Worldwide offers a bit of everything from heavyweight shipments to supply chain solutions. This flexibility allows them to service clients needing industrial, commercial, and retail goods shipments. Some of YRC's well-recognized clients are presented in the image below.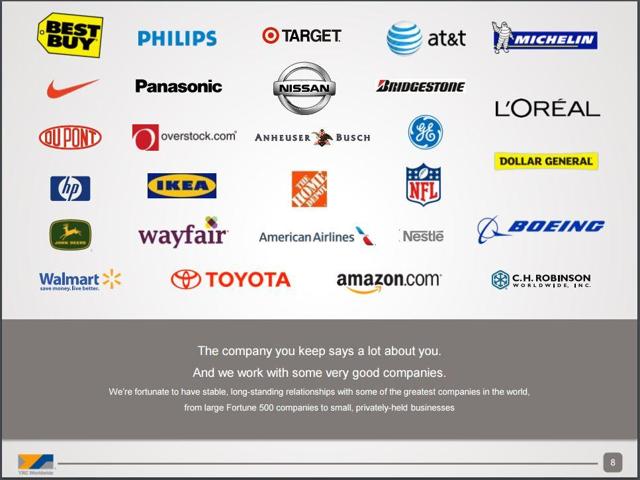 YRCW provides a variety of freight transportation services within the Less-than-truckload (LTL) and Regional Transportation business spaces.
At December 31, 2015, the LTL segment had a fleet of approximately 8,500 tractors (~7,300 owned and ~1,200 leased), and approximately 32,000 trailers (~27,300 owned and ~4,700 leased). Also, as of December 31, 2015, the Regional segment had a fleet of approximately 6,600 tractors (~5,500 owned and ~1,100 leased), and approximately 13,000 trailers (~11,300 owned and ~2,000 leased).
YRC Worldwide has the largest and most comprehensive network of 383 terminals strategically allocated across North America. The map below illustrates this composition.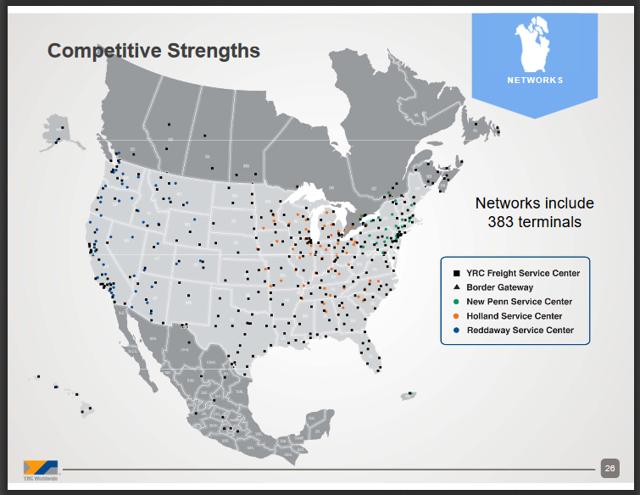 YRC was founded in 1924 and is headquartered in Overland Park, Kansas and is currently being spearheaded by CEO James L. Welch. Welch is a 35-year veteran who once left the company to lead Dynamex Inc., as CEO. In 2011, Welch returned to YRC to organize a complicated corporate turnaround which included lengthy labor union negotiation efforts and a series of credit agreements. Fast-forward six years later, as of December 31 st, 2016, YRCW's total debt figure has contracted to $980 million and the company is free-cash-flow positive and achieving annual profitability.
Key Executives
| | | | |
| --- | --- | --- | --- |
| Name | Title | Pay | Age |
| James L. Welch | Chief Exec. Officer and Director | 5.21M | 61 |
| Stephanie D. Fisher | Acting Chief Financial Officer | 250K | 39 |
| James A. Fry | VP, Gen. Counsel and Sec. | 1.42M | 54 |
| Thomas J. O'Connor | President of USF Reddaway | N/A | 55 |
| Darren D. Hawkins | Pres of YRC Freight | 1.49M | 46 |
| Scott D. Ware | Pres of YRC Holland | 1.35M | 55 |
| Donald R. Foust | President of New Penn | N/A | 58 |
| James G. Pierson | Consultant | 2.67M | 46 |
Thesis
As many investors are aware, the company's stock has been quite volatile for several years now and this volatility yields difficulty predicting which way the company's stock will head. However, pulling away from this technical view and looking at the investment as what it is, a business, the company appears to be valued rather cheaply. The shares of YRC Worldwide currently trade for a mere $0.09 of each dollar generated in sales. YRCW is the third largest less-than-truckload carrier with a market share size just below those of shipping giant FedEx (NYSE:FDX) and XPO Logistics (NYSEMKT:XPO).
My thesis is simple and only focused on two things: improving margins and continued profitability. I believe that moving forward, YRCW is set to benefit from a margin expansion driven by an overhaul across all areas of operations management. The work YRCW management has done is reflected on the quarter-by-quarter and year-on-year improvement in corporate profits, the bottom line driver of value. I believe this trend is going to continue and that the days of volatility in YRCW may soon be over.
One thing I look forward to in YRC's earnings calls is that their management always seems to be disappointed with their results rather than overly optimistic, even after a quarter that outperformed analyst expectations. This is the type of management attitude that produces constant improvement.
An objection about YRC Worldwide is the downward trend in revenue. There are two reasons for the trend and neither of the two is cause for alarm. First, some of the revenue decline is attributable to fuel surcharge. As spill-overs from the decline in oil prices affected other industries, fuel prices began to decline. Trucking companies pass their fuel-related expenses on to the customer by way of fuel surcharge. So as fuel prices declined, the surcharge which is embedded into sales revenue also declined.
Second, YRC Worldwide began implementing a new pricing structure in the last year. The company switched from their traditional approach of charging only by weight, to charging for weight and space. This new pricing structure was designed to maximize profit per volume of shipment. Though some price-sensitive customers were initially priced-out, many of the industry's shippers were also adopting similar pricing structures. If you look at YRCW's margins quarter-by-quarter, the margin improvement is evident as the company's earnings improved, even with the decline in revenue. At the beginning of the year, investors were a bit skeptical about YRC's revenue decline. The company's stock price fell after the Q1 2016 financial report. However, investors regained confidence when margin improvements continued in the Q2 financial report. See the price chart below.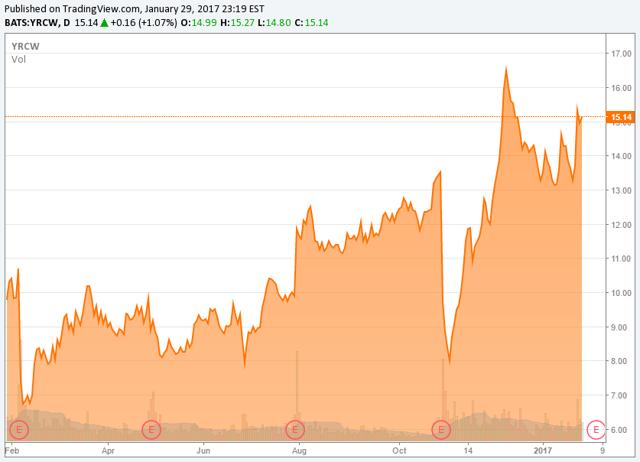 The company recently announced their preliminary earnings along with an amendment to their term loan credit agreement to adjust the leverage ratio requirement. The company benefits from a positive relationship with their creditors and any liquidity or solvency issues should no longer be a problem at this stage. In addition, the company has remained true to their commitment on capital expenditures to modernize their fleet and equipment. Many of the concerns that once gave investors and analysts a negative stigma to the company appear to have been resolved. With these uncertainties out of the way, I believe YRCW is now well-positioned for value generation through free-cash-flows.
In a recent press release, Mr. Welch noted precisely how much progress has been made at YRCW since the 2008 financial crisis.
" During the quarter, we used our liquidity position to pay down a portion of the term loan, further de-risking the balance sheet and reducing long-term debt to the lowest level since 2005. The term loan amendment allows us to maintain our focus on running the business and positioning the company for long-term success."
" Despite the soft industrial conditions and lower fuel surcharge revenue during the year, we reported the highest full-year operating income since 2006." (See the press release here.)
- James L. Welch
Regarding the freight industry, in recent years freight demand took a bit of a downturn and shipping tonnage was a bit sluggish as global trade growth slowed. Still, the trucking industry is set to benefit from a wave of continued consumer and business optimism since the current administration took control in Washington. The industry may benefit from deregulation and tax overhauls being promised by the new administration. As crude oil prices start to tick back up, the fuel surcharge should also allow for increases in shipping revenue across the industry. Lastly, YRCW is not as dependent on global trade or imports as it is on domestic consumer and business activity. By this notion YRC has some insulation from the adverse effects a potential trade war could bring, relative to say, global shippers such as United Parcel Service (NYSE:UPS) or FedEx.
Valuation
At just 4.9x enterprise value-to-EBITDA, 0.26x enterprise value-to-revenue, and 0.09x price to sales, YRCW is unarguably valued extremely cheap right now. I believe that YRCW will continue to generate an average annual free-cash-flow just above $100 million over the next five years. In the long-run margin improvement and positive return-on-invested-capital will make achieving and sustaining positive return-on-equity possible. As net income continues to grow, YRCW should see a considerable increase in market capitalization. The image below illustrates projected operating and free cash flow. You can find the entire presentation given at a Credit Suisse Industrials Conference in November 2016 here.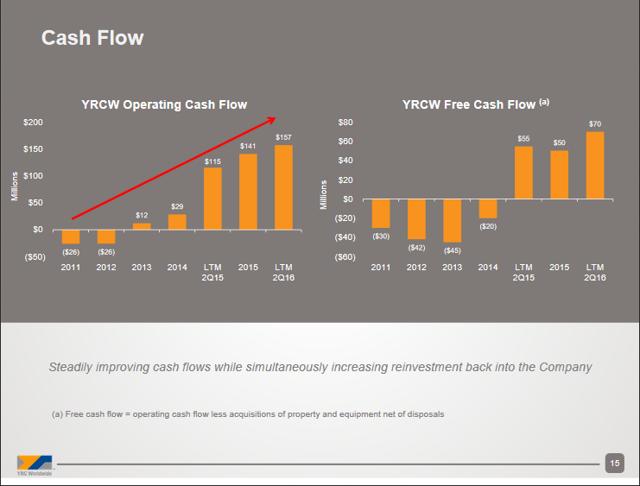 To estimate YRC's valuation I used a discounted cash flow model rather than comparable multiples due to the company's unique situation. In the model, I used the weighted-average cost of capital to arrive at an appropriate discount. The company's weighted-average cost of debt is 8.9% and the company's loss carryforward will continue to generate favorable tax benefits. The discount multiple applied was 14% and a 1.5% perpetuity growth rate to the terminal value. The model arrives at a market capitalization of approximately $663 million and a price target of $20. This valuation represents at least ~50% upside from today's stock price. The company is without a doubt trading at a steep discount. From a price-to-earnings perspective it is slightly expensive, valued at 19x, but again this should normalize as earnings continue to grow.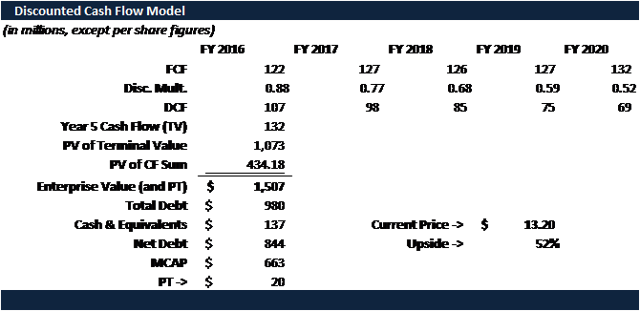 Conclusion
Hunting for relative-value when the market environment hovers at historical records is challenging. If you are looking for an attractive investment in a company with considerable market share and opportunity for steady growth at an attractive valuation, I think YRC Worldwide is a solid bet. Investor psychology shows that some speculators panic or become overly optimistic when financial results deviate from analyst expectations. This may be why a company's stock price appears more volatile in the days around their earnings announcements. You may see cases of short-squeeze and forced buying or long-squeeze and forced selling depending on the direction investors crowded into prior to any important event or piece of news. The latter case appears to be applicable for YRCW since the company missed Q4 2016 analyst expectations by $0.11. YRCW may continue to fluctuate over the next few days before the stock price begins to normalize. I believe investors should be ready to take advantage of the market's currently mispriced shares of YRC Worldwide as the company's best days are still ahead.
Disclosure: I/we have no positions in any stocks mentioned, but may initiate a long position in YRCW over the next 72 hours.
I wrote this article myself, and it expresses my own opinions. I am not receiving compensation for it (other than from Seeking Alpha). I have no business relationship with any company whose stock is mentioned in this article.
Additional disclosure: Past performance is not an indicator of future performance. This post is illustrative and educational and is not a specific offer of products or services. Information in this article is not an offer to buy or sell, or a solicitation of any offer to buy or sell the securities mentioned herein. Information presented is believed to be factual and up-to-date, but I/We do not guarantee its accuracy and it should not be regarded as a complete analysis of the subjects discussed. All expressions of opinion reflect the judgment of the authors as of the date of publication and are subject to change. Please conduct your own due diligence prior to investing in any of the securities mentioned in this article.