The occasional partial contradiction between things Warren Buffett has said is human and inevitable. One of those often commented on is the contrast between some of his general opinions about bankers, banking and Wall Street and the huge positions he runs in banks.
Looking at Berkshire Hathaway's portfolio in detail starts to resolve some of the apparent contradiction. Three banks of very different size seem completely in keeping with the Buffett philosophy. These are Wells Fargo (NYSE:WFC), U.S. Bancorp (NYSE:USB) and M&T Bank (NYSE:MTB). WFC and USB are income rich banks with extensive cross selling that have built more fee income than is typical for domestically focused banks in the U.S. M&T is a little different. It has considerably less non-interest income than USB and WFC, and consequently its ROE is lower. However, due to its close relationship management with SME clients and households M&T has enjoyed better asset quality at times of general system distress than is typical.
Bank of America (NYSE:BAC) has many global operations and its trading line can be volatile. Still, more importantly, it has a huge and very sticky U.S. deposit base and conforms to certain other aspects of the USB and WFC models, especially after it has simplified its operations in mortgage banking. Buffett got in very cheaply just after the financial crisis and perhaps the reason BAC has so many followers on Seeking Alpha is due to Buffett's involvement.
Where I scratch head in the list of Berkshire's holdings is the position in Goldman Sachs (NYSE:GS). I've no moral objection, but sometimes Buffett and his famous partner Charlie Munger have spoken as if they might do! Still, if we look at the way that GS has managed its cost base and capital risk, it is hard to find great fault with management's competence. GS isn't a more superficially homely community bank, like M&T, but it is excellent at what it does.
What does tie Buffett's bank investments together is that they are generally a little cheaper in terms of PE than the majority of U.S. Bank stocks. In the sample below, which represents the U.S. banks coverage of FIG Ideas, we find that the average 2018 PE ratio is 13.4x, while Buffett's banks are on 12.3x for that year. If we remove M&T Bank from the sample, purely because it is the one bank that is on an above average PE, then Buffett's banks are on 11.6x 2018, which is a material difference in value.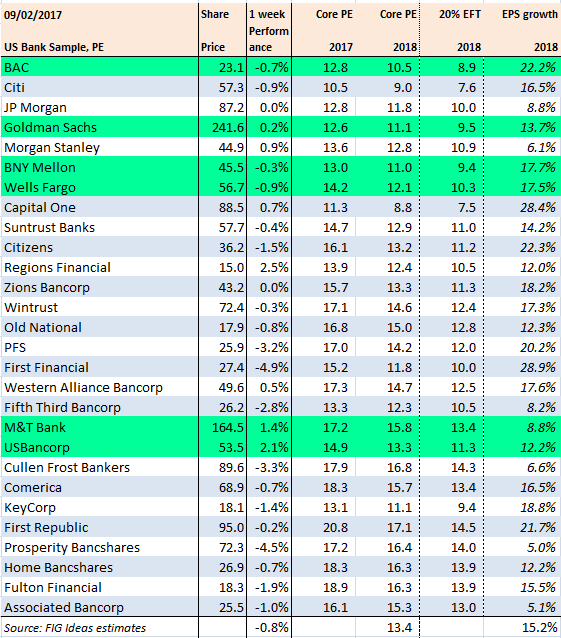 Here let me crave readers' indulgence and link to a video of Buffett that I have used before, in which he essentially says that he values banks off PE and doesn't consider book value to be key. In fact the most important sentence to my own mind isn't Buffett's comments on earnings, it is the way that he treats a particular level of P/BV (or actually tangible book value) as just the bi-product of ROA (see if you can guess the implicit assumption the Sage makes on cost of equity there!). Naturally, banks - or any company - should want to be valued above their equity value, but while many people are quick to advocate breaking up sub-1x BV banks, Buffett doesn't regard that valuation in itself as a barrier to investment in the ongoing concern. It's all about the price.
Investment ideas
So in banks Buffett thinks in terms of earnings (consistency, quality, level and risk to) and he thinks in terms of what he pays for them, much like most other investments he makes. High quality and low PE seems to be the combination he stays with, while M&T certainly gives him the quality if not currently the low PE. My guess is he won't add any time soon to M&T at these levels.
What's exciting for Bank of America investors is that the stock is on the lowest PE for next year of all of these names, at 10.5x. It also offers the highest growth that year. Growth should be 22% in 2018, while the next nearest is BNY Mellon (NYSE:BK) and WFC with 17.5%. These are certainly punchy growth numbers, but simply reflect a happy combination of prospective higher rates, cost management opportunity and strong buybacks in the sector. BAC won't grow at that pace forever, but then it is not priced to do so.
I recently committed sacrilege by suggesting someone feeling the altitude on M&T Bank might start switching (or at least think about it) to one of Zions (NASDAQ:ZION) Citizens (NYSE:CFG) or the one I am thinking of a lot right now, KeyCorp (NYSE:KEY): 11x 2018 with 18% growth happening that year is compelling.
I think you also get something of a Buffett type value in Citigroup (NYSE:C), which seems to be getting a lot of attention from SA users. It compliments BAC well, in my view.
Conclusion
Apart from a question over M&T short term, I find it hard to argue with the value and growth parameters of the main Berkshire Holdings and BAC seems to be the most attractive in a strong bunch.
Disclosure: I am/we are long BAC, KEY, WFC, SIVB, FITB.
I wrote this article myself, and it expresses my own opinions. I am not receiving compensation for it (other than from Seeking Alpha). I have no business relationship with any company whose stock is mentioned in this article.