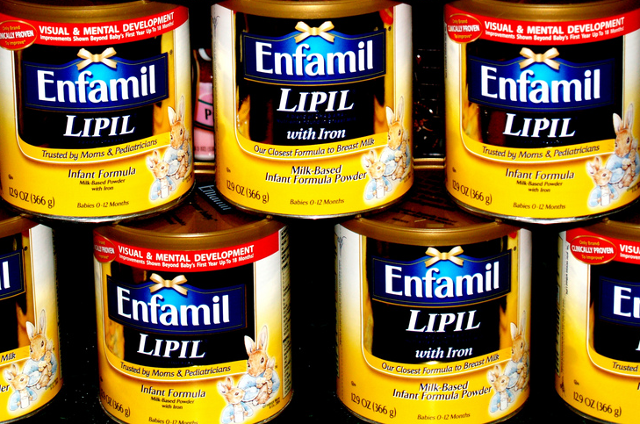 It's official. UK-headquartered global consumer healthcare company Reckitt Benckiser (OTCPK:RBGLY) has finalised terms to buy infant formula maker Mead Johnson Nutrition (NYSE:MJN). Recently, I wrote a more detailed article on the attractions of the deal possibly going through. Here I will provide an addendum to that discussion.
Some Deal Details
The final deal was announced at $90 per share. This is an equity value of $16.6 billion and a full value (including debt) of $17.9 billion. For Mead Johnson shareholders, the immediate value of the deal is fairly obvious. Mead Johnson was trailing on a share price of just $69.50 on 1 February 2017 before the deal was announced - a 29% premium. Of course, for those who invested at Mead Johnson's highs early in 2015, it may hardly seem a perfect deal: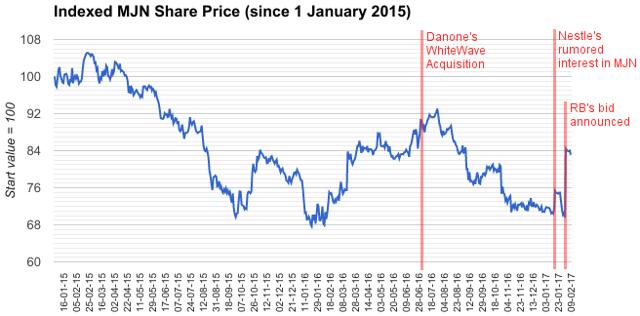 Yet, since Danone (OTCQX:DANOY) was presumed to have dropped out of a potential acquisition with its announcement of buying WhiteWave (NYSE:WWAV), it seemed only acquisition activity of another sort (either Nestle (OTCPK:NSRGY) or, as happened, RB) seemed likely to prop up their share price any time soon.
Whatever the case, despite my belief that the synergies were limited between the businesses. RB reckons that it can put together annual costs savings around the £200 million mark by the end of the full third year. This would be quite an attractive saving for a combination in which obvious synergies, as I explained in my previous article, were hardly the most obvious. Unsurprisingly, the levers it intends to pull to achieve those savings are fairly generic ones:
The integration of RB's and Mead Johnson's businesses is expected to deliver cost savings of £200 million per annum by the end of the third full year following completion. These arise principally from removing duplication in back office functions and leveraging the enhanced scale of the combined business in the procurement of raw and packaging materials, advertising and promotional expenditure and other spend. One-off costs to achieve the savings are expected to be approximately £450 million.
Nothing spectacular, perhaps. Yet something which will be a welcome addition to profitability and margin growth in the future. What is more, the further I look at the deal and how the new combined company will look, the more attracted to it I have become even setting aside potential cost savings. Here I will explain a little.
Enfamil: RB's Newest "Powerbrand"
In the process, it will be bringing the Enfa brand (including Enfamil). Interesting, this will make Enfamil the biggest of RB's key "powerbrands." This is perhaps little surprise. Whilst RB has to be admired for its remarkably focused brand portfolio, it still contains a number of key "powerbrands" from its Durex condoms to Nurofen painkillers and Dettol cleaning products to Scholl footcare items (Source: Reckitt Benckiser):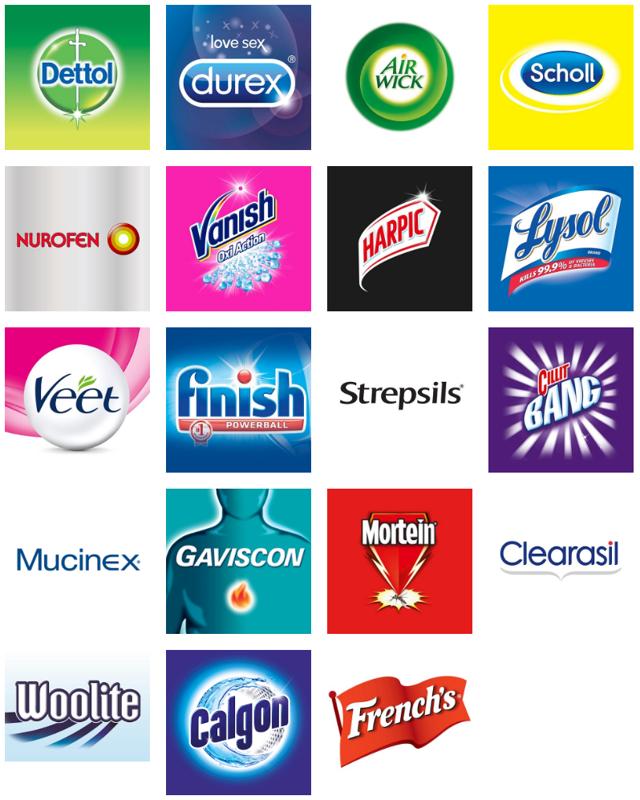 Indeed, compared to Mead Johnson's brand portfolio, RB's brand portfolio looks positively sprawling. As the announcement points out:
Mead Johnson's portfolio is attractive in its simplicity and focus, with approximately 80% of 2015 net sales from the Enfa family of brands.
This means that immediately the Enfa brand will rocket to the top of RB's powerbrand list.
Interestingly, RB is taking a more modest view of the infant nutrition market's growth prospects. It argues that:
RB expects the [global infant and children's nutrition] category to grow at approximately 3-5% per annum in the medium to long term.
This is slower than some other commentators are predicting. One, for instance, sees the market growing at a CAGR of over 6% per year to around $76.5 billion globally in 2021 (Data Source: Zion Market Research Report from August 2016):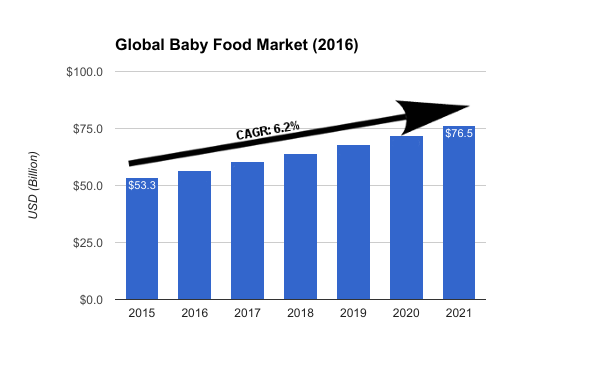 The fairly conservative expectations from RB related to the market growth are encouraging to some extent. Indeed, it introduces the prospect of further upside in the value of the acquisition than currently anticipated.
Developing Market Powerhouse
Mead Johnson's geographic focus, in particular, suggests that RB's predictions may be a little on the conservative side. As noted previously, Mead Johnson derives most of its revenue from its Asian operations with its further developing markets in Latin America expanding its presence in some of the other high-growth markets: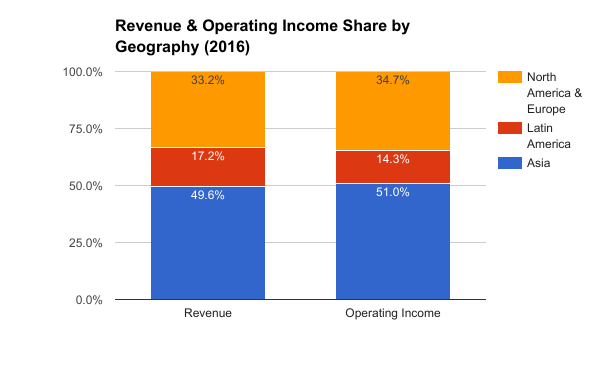 Admittedly, recent revenue growth in these regions has left a lot to be desired: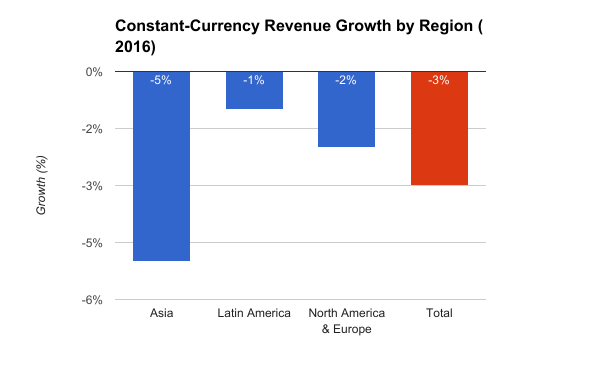 Nonetheless, most agree that these are due to short-term headwinds. In general, it is Mead Johnson's attractive geographical exposure which pulled RB towards it:
Mead Johnson's geographic footprint significantly strengthens our position in developing markets, which will account for approximately 40% of the combined group's sales, with China becoming our second largest Powermarket.
This certainly appears to be the case. RB takes a rather unconventional approach to breaking up its regional revenue share figures. Chiefly it is split between "ENA" (developed) and "DvM" (developing) markets with the geographically-neutral "Foods" tagged on afterwards (Source: RB 2015 Annual Report):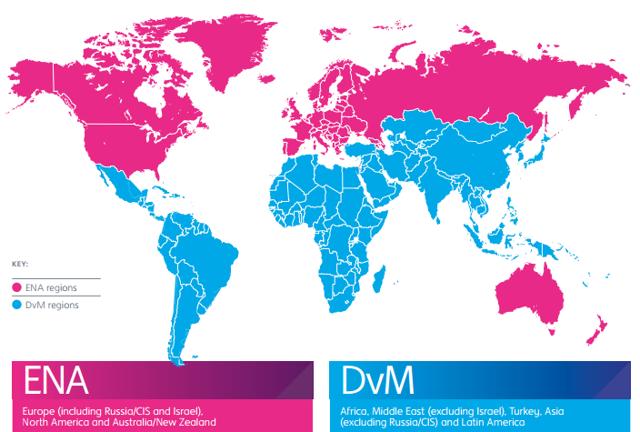 The combined company's revenue will certainly be increasingly tilted towards emerging markets with RB's 30% "DvM" revenue set to grow to over 39% after RB and Mead Johnson combine (Data source: RB's FY2016 Results):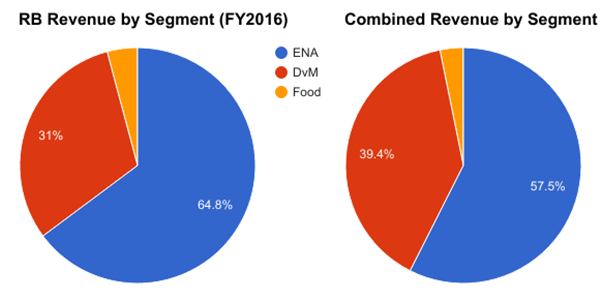 Indeed, those areas where Mead Johnson is currently less established do not overlap much with RB. As such, the potential for geographical expansion of the Enfamil brand is immense:
RB's multi-geography supply chain infrastructure and distribution network will enhance Mead Johnson's go-to-market capabilities. RB's scale and expertise will also enable accelerated market entry into nascent territories for Mead Johnson where RB has existing and deep understanding of the local consumer health dynamics.
This could be very handy. Mead Johnson does generally have robust market shares in most (except France) of the top 10 largest infant formula markets (Data source: JPMorgan via HF Research):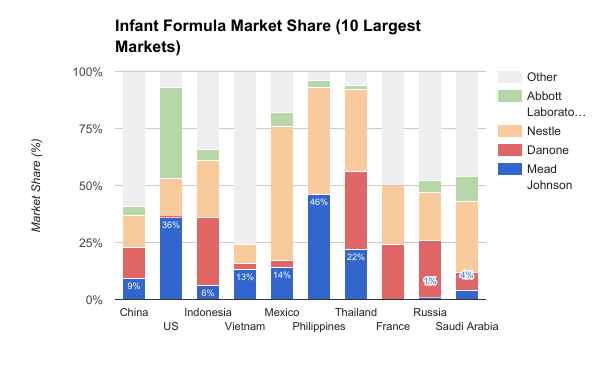 Nonetheless, Mead Johnson's exclusive focus on the infant formula market has meant that it has kept out of many markets (or at least retained a small presence) where the cost of setting up a distribution network outweighed the potential benefits from the market itself. With the potential of piggy-backing off RB's more broad-based global distribution network, Mead Johnson's brands should be able to enter new markets quickly and comparatively cheaply (and thus profitably).
Healthy Post-Acquisition Balance Sheet
As I noted in my previous article, RB was in a good condition from a debt perspective to take on a big acquisition like Mead Johnson. Yet its FY2016 results released about the same time as the acquisition announcement highlights just how well prepared with debt (and net debt) materially lower than the already low levels seen in H1 2016 which I referenced in the previous article: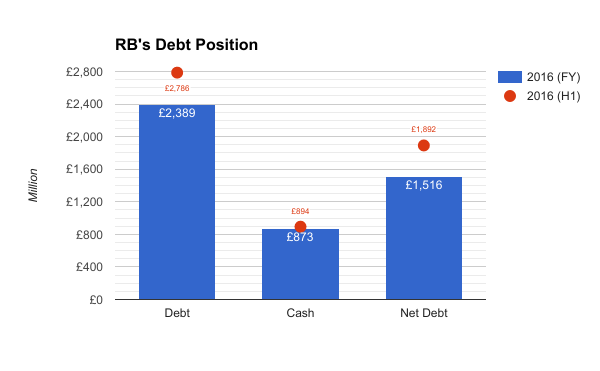 Indeed, it has historically retained low debt to equity levels (including net debt to equity) which has continued to shrink:

This means that even after RB describes its deal-related debt facilities - "$9 billion of term loans over 3 to 5 years and $8 billion of bridge funding to cover the cash consideration plus a further $3 billion to refinance existing Mead Johnson bonds if required" - investors can still come away comfortable with the company's leverage levels. Sure we should expect to see its credit ratings decline somewhat. Nonetheless, it currently has such healthy credit ratings - A+ (Stable) from S&P and A1 (Stable) from Moody's - it should continue to attract solid interest rates even after the deal is closed.
I suspect that RB will seek to reduce debt levels pretty sharply after completion. This is especially true as my prediction that RB's FCF for FY2016 would come out around the £2 billion mark was about spot on. Combined with Mead Johnson's FCF (also for FY2016) suggests a total FCF figure around £2.5 billion ($3.1 billion).
Although not all of that FCF will be going to servicing debt (RB plans to maintain its current 50% adjusted net income dividend payout policy even though it is retiring its share buyback program), a lot of it will be able to courtesy of its modest dividend payout ratio. All told, the combined FCF of the two looks pretty healthy against their combined debt levels as it currently stands: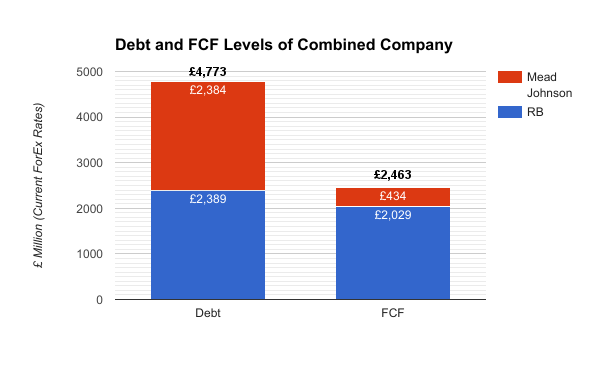 Throw in the likely debt added by the acquisition and the situation looks less spectacular: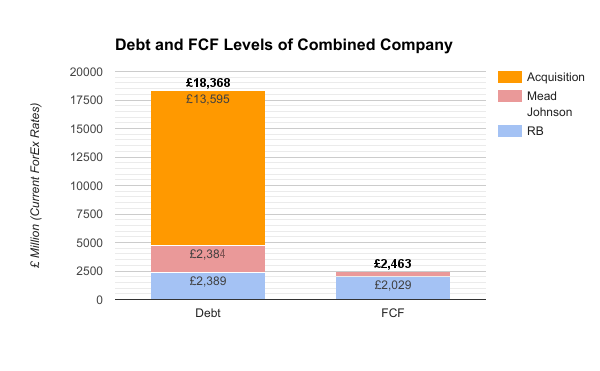 Yet here is the thing, its FCF to Debt ratio remains around 13.5% even with the massive addition of the acquisition debt load. Sure, not as impressive as RB's current 85% FCF to Debt ratio (an incredibly high level), yet still a healthy looking level.
Conclusion
RB's move for Mead Johnson was, as I noted before, something of a surprise. Yet it strikes me as an inspired move. Digging deeper into what the company will look like as a combined entity only encourages me further. RB has added another compelling global brand which, in particular, enhances its sales position in key developing markets.
RB's intense focus on expanding its powerbrands global clout has proven an effective strategy in the past. With Enfamil aboard too, I see no reason why this strategy won't continue to reap rewards.
According to the announcement, it expects the deal to close by Q3 2017. Quite a quick turnaround reflecting the fact that competition authorities are unlikely to find much to aggravate them in RB's acquisition of Mead Johnson.
Of course, there are still hurdles to its completion. Should Mead Johnson terminate the deal, it is in line to pay a $480 million fee to RB (only $20 million if due to shareholders failing to approve the deal). The same $480 million fee will be paid by RB to Mead Johnson if it cancels the deal or RB's shareholders reject the proposal.
Nonetheless, I expect it to close and I find it hard to argue against RB making it a success. As it stated itself:
RB has a track record of effectively integrating consumer health companies as evidenced by the acquisitions of Boots Healthcare International, Adams and SSL. Each has delivered an important inflection point of growth for RB.
This is certainly true. RB has successfully bought Boots Healthcare International (2005, £1.9 billion), Adams (2007, $2.3 billion) and SSL International (2010, £2.5 billion) as well as most recently Schiff Nutrition (2012, $1.4 billion). Over time, it has successfully integrated and expanded brands bought such as Nurofen and Strepsils (Boots), Mucinex (Adams) and Durex and Scholl (SSL International) as well as increasingly MegaRed (Schiff). Enfamil is now set to join this family. If RB can do as it has done for these historic brand acquisitions, its shareholders will be fortunate in holding a company with another market-leading global brand under their ownership. Mead Johnson is, however, an acquisition on a different scale altogether to these historic ones. Nonetheless, its incredibly focused portfolio of brands should allow integration to be smooth and expansion of opportunities to be rapid.
Of course, this deal is not without risks. Naturally the acquisition will require a high level of debt to be taken on. Yet as becomes apparent, RB's incredibly strong balance sheet going into the deal as well as strikingly high levels of FCF should see it be able to pay down debt levels quickly whilst also satisfying shareholders through continued dividend payments. Indeed, its debt levels (and FCF to Debt ratios) even after the acquisition closes remain remarkably robust compared to its peers despite this hefty acquisition. There are few companies which you can say that about.
For me, RB's move for Mead Johnson is very attractive for a long-term investor. Short term, I expect the market headwinds facing Mead Johnson's business will continue. Yet for the patient, the long-term growth potential of the baby nutrition category remains compelling. Mead Johnson's leading brand profile, in particular, leaves it in a very strong position indeed to take advantage of this secular category growth. RB's share price still remains (modestly) below its recent highs: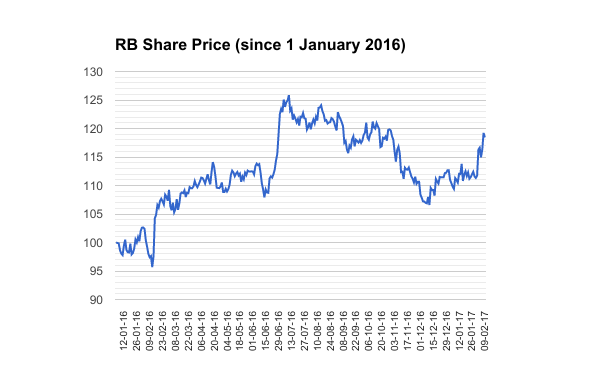 I'd argue that despite the additional risk an acquisition of this size poses, the acquisition story is one worth investing in. RB's established portfolio of brands continue to be solid performers with high levels of FCF generation. Mead Johnson's brands will add to this increasingly as the acquisition matures. With the acquisition also not overstretching RB's financial capabilities, RB's share price still looks attractive as it sets about extracting additional value from its newest powerbrand as it has done with its others.
Notes
All graphs, tables and the calculations contained within them were created by the author unless otherwise noted. All data was collected from publicly accessible company filings and reports. Creative Commons image reproduced from Flickr user amber235.
Disclosure: I/we have no positions in any stocks mentioned, and no plans to initiate any positions within the next 72 hours.
I wrote this article myself, and it expresses my own opinions. I am not receiving compensation for it (other than from Seeking Alpha). I have no business relationship with any company whose stock is mentioned in this article.