Have you been hypnotized by the commanding and supremely confident tone of our new President? It appears that the majority of investors have fallen under his spell, as the Dow Jones Industrials (NYSEARCA:DIA), S&P 500 (NYSEARCA:SPY) and Nasdaq Composite (NASDAQ:QQQ) hit new all-time highs yesterday. These new highs came in the wake of the President's promise, while speaking to a group of airline CEOs, to upgrade the nation's airports in a major infrastructure overhaul.
He also asserted that he would be rolling out his new plan to lower the overall tax burden on businesses in the next couple of weeks. It will be "phenomenal," according to the President. That was enough to lure investors into a buying spree, which resulted in an equally phenomenal day for the market.
Is it his overwhelming confidence or his shameless refusal to ever accept defeat, even when defeated, that has assured so many that he will always prevail, even when he hasn't? Investors have priced in the best of all possible scenarios for the stock market when it comes to deregulation, infrastructure spending and tax reform. Even with regard to trade policies, immigration and a new healthcare plan, there seems to be only upside, while vulnerabilities to adverse consequences are off the table.
Accordingly, everything will be better than it has ever been, and at an unbelievable low cost. As a result, we will grow our economy faster, balance our budget sooner, pay down our debt and all will prosper. It isn't a hope or a goal, but a proclamation! You better believe it.
While America's "forgotten man and woman" wait patiently for their economic well-being to improve, which was Trump's primary concern on the campaign trail, investors seem convinced that whatever he says will happen is as certain as tomorrow's sunrise - a sunrise that will be the best you have ever seen, ever. It's a guarantee! It is this burgeoning investor confidence in the future that is levitating what are already historically high valuations for the stock market, among other things.
Someone bid nearly $100,000 on eBay (NASDAQ:EBAY) last week for a Flamin' Hot Cheeto that supposedly looks like the silverback Gorilla, named Harambe, that was shot and killed at the Cincinnati Zoo last year. I thought things were getting out of hand when two parking spaces in Boston sold for $560,000, but the Cheeto redefines the definition of a bubble.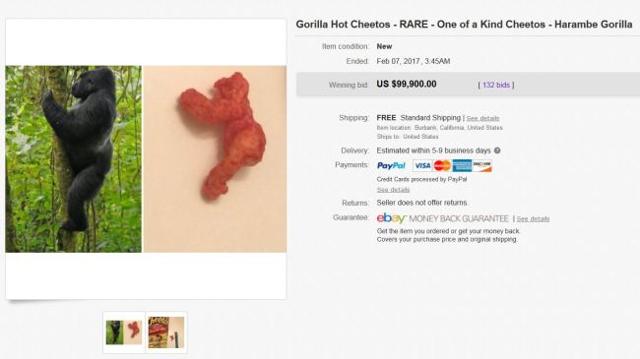 The stock market is high on Presidential rhetoric, yet starving for legislative substance, but investors don't seem to care. Wall Street analysts are under the same hypnotic spell, raising estimates for corporate revenues and earnings, as well as the rate of economic growth from which both are derived, taking every word from the President's mouth in a literal sense. I have serious reservations.
What if the President's tax plan isn't "phenomenal," and what if the massive infrastructure spending that he has promised never happens? What if corporations use their tax cuts to buy back stock and pay dividends to shareholders rather than reinvest in their businesses and hire new workers? What if the attempt to halt globalization in lieu of protectionist trade policies result in higher prices for consumers, job losses and a slower rate of economic growth?
What if his tax cuts lead to an increase in the budget deficit? What if the wealthy receive the vast majority of the tax cuts and choose to save or invest the additional income in financial assets rather than spend it on goods and services? How will Trump's "forgotten" feel about that?
To use one of the President's own words, and not my own, that would be a "disaster." Because if it isn't phenomenal, incredible or the best ever, it has to be a disaster. There is no in between. The President's reaction to the defeat of his travel ban is a warning sign for me. His hubris may be entertaining in a reality TV show format, but not when he disrespects and demeans the judicial and legislative branches of the federal government, as well as powerful members of his own party. This will make it exceedingly difficult for him to accomplish his objectives.
I am in the camp that whatever happens, it will not be phenomenal. I hope I am wrong. In fact, however, I see most of what the Trump administration has proposed so far as stifling economic growth rather than stimulating it. Again, I hope I am wrong. I think the bond market has been slowly coming to the same conclusion since mid-December, as the yield on the 10-year Treasury (NYSEARCA:IEF) has gradually declined since that time, and the spread between short- and long-term rates has narrowed. This does not imply an acceleration in the rate of economic growth ahead, as the stock market is reflecting. I believe that the yield on the 10-year Treasury may fall to as low as 2% during the first half of this year.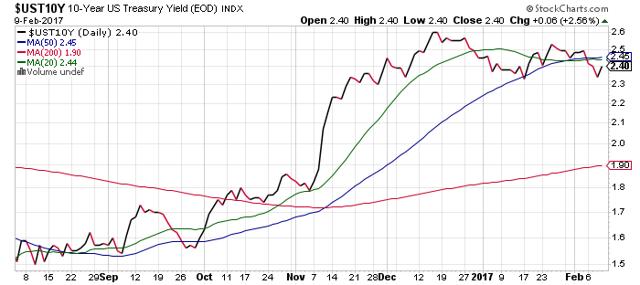 I think the continued rise in the price of gold (NYSEARCA:GLD) since mid-December is reflecting a heightened level of uncertainty, which corroborates the decline in long-term bond yields. I expect gold prices to continue to rise during the first half of this year.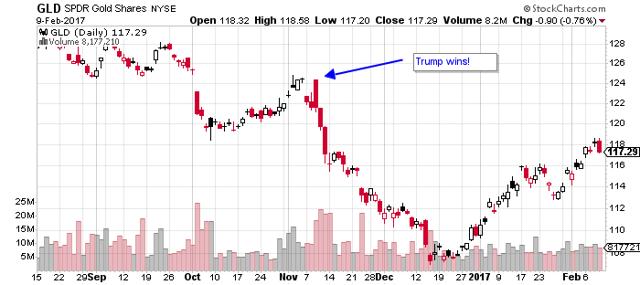 It is impossible to see beyond the next few months without more clarity on the Trump administration's proposals. My greatest near-term concerns have to do with deteriorating levels of consumer confidence and spending, as inflation-adjusted (real) income has now declined on a year-over-year basis for a second month in a row. Declining year-over-year average hourly earnings growth, much less an actual decline, as we have today, has been a reliable leading indicator of eventual downturns in year-over-year consumer spending growth and economic growth. A tax cut targeted at the middle class could buffer such a decline, but will it happen?
If the President's tax reforms are not as "phenomenal" for America's forgotten, otherwise known as the middle class, as they are for the wealthy, then consumer confidence will deteriorate along with spending. The Trump premium that investors have awarded the stock market may become the Trump discount, especially when the President realizes that the legislative branch could be as much of a roadblock to his policy proposals as the judicial branch has already been. I think his authoritarian and combative style should be more alarming to investors than it is hypnotic, because it is bound to cause more harm than good.
Disclosure: I am/we are long GLD, TLT.
I wrote this article myself, and it expresses my own opinions. I am not receiving compensation for it (other than from Seeking Alpha). I have no business relationship with any company whose stock is mentioned in this article.
Additional disclosure: Lawrence Fuller is the Managing Director of Fuller Asset Management, a Registered Investment Adviser. This post is for informational purposes only. There are risks involved with investing including loss of principal. Lawrence Fuller makes no explicit or implicit guarantee with respect to performance or the outcome of any investment or projections made by him or Fuller Asset Management. There is no guarantee that the goals of the strategies discussed by will be met. Information or opinions expressed may change without notice, and should not be considered recommendations to buy or sell any particular security.