Nvidia (NASDAQ:NVDA) posted record quarterly revenue up 55% y/y for its fiscal 2017 Q4 and record revenue for the full year. GAAP operating income was up a huge 191% y/y to $733 million for the quarter. Nvidia's momentum in the datacenter, automotive and gaming markets is only going to continue.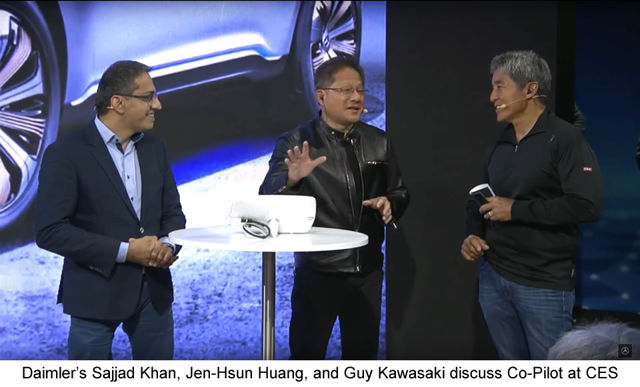 Source: YouTube
Beating Expectations
It was not going to be easy for Nvidia to beat the very high expectations of the street, as I outlined in my earnings preview, but Nvidia did so anyway. Nvidia's growth borders on astonishing. For fiscal Q4 revenue was $2.173 billion, up 55% y/y. Net income was $655 million, up 216% y/y. Diluted EPS of $0.99 easily beat expectations of $0.83.
The results are even more impressive when broken down by segment and market. The GPU business grew by 57% y/y to $1.850 billion in revenue. The Tegra processor business was up even more, growing by 64% y/y to $257 million. Tegra seems finally to have found the right growth markets in automotive and in the Nintendo Switch console.
Gaming continues to be a growth area, despite the supposed market share gains claimed by rival Advanced Micro Devices (NASDAQ:AMD), with a 66% y/y gain to $1.348 billion in revenue. Datacenter revenue growth was a huge 205% y/y to $296 million.
Sustaining the Momentum
Questions will naturally arise whether Nvidia can sustain such a torrid growth pace. Certainly, guidance for fiscal 2018 Q1 suggests that growth will abate slightly. Nvidia guided to revenue of $1.9 billion for the quarter for y/y growth of 45%. Nvidia expects to maintain its admirable GAAP gross margin of about 60%, while operating expenses are projected to rise to $603 million, a 20% y/y increase.
I expect datacenter growth to continue. Intel's (NASDAQ:INTC) Xeon Phi isn't really competitive with Nvidia's GPUs from the standpoint of energy efficiency. For instance, Nvidia's Tesla P100 PCIe accelerator produces 0.0188 TFLOPs/Watt, whereas the best Xeon Phi (7290) produces 0.0122 TFLOPs/Watt. This is an efficiency advantage of 50% for Nvidia. Datacenters care about efficiency.
It's possible that AMD's Vega GPUs may gain some share in the datacenter, but that impact probably will not be felt in Nvidia's fiscal Q1, since AMD will probably not deliver Vega until calendar Q2. And it remains to be seen how competitive Vega will be. Although AMD has touted TFLOP capability better than the Tesla P100, the energy efficiency of Vega remains to be seen.
Energy efficiency was a major area in which AMD's Polaris lagged Nvidia's Pascal GPUs, and this will be critical in a Vega vs. Pascal match-up. Energy efficiency will be the deciding factor in datacenter competitiveness, not absolute TFLOPs.
We also don't know what Nvidia may have waiting in the wings in terms of a follow-on to Pascal. Almost nothing was said during the conference call about future products, except to reiterate that the Tegra Xavier processor to be used for a future Drive PX system will consolidate the 2 Tegra and 2 Pascal processors of the current Drive PX 2 system into a single chip solution.
Xavier has a Volta architecture GPU component, so this is more confirmation that Volta is on the way, but we may not know until the GPU Technology Conference on May 8 when Xavier or Volta GPUs could arrive.
While little specific guidance was offered during the conference call regarding future products, the higher spend rate for OPEX suggests that Nvidia is putting its enormous profitability to good use, and we should see a number of new product introductions in the coming year.
I also expect growth in automotive to accelerate. Although the automotive market growth was substantial at 38% y/y for the quarter to $128 million, I was a little surprised that the sequential growth was only 1%. I had been expecting sales to Tesla (NASDAQ:TSLA) to drive somewhat more sequential growth. This suggests that Nvidia began deliveries to Tesla right at the start of fiscal Q4 and has been keeping a steady pace since then.
But the Mercedes partnership that I recently highlighted should begin to bear fruit soon. During the joint Q&A between Daimler's (OTCPK:DDAIF) Vice President of Digital Vehicle and Mobility Sajjad Khan and Jen-Hsun Huang at CES, it was disclosed that a new Nvidia equipped C class would be released soon in addition to another more ambitious AI equipped car due within the next year.
Both Daimler and Nvidia appear to be backing off from the claim that I felt was made during the CES Q&A that this more ambitious car would be self-driving. It's now being called just an "AI equipped car," Well, this is probably a conservative move to ensure that Daimler and Nvidia don't get into the Tesla rut of overpromising features.
Nevertheless, Huang made this bullish prediction regarding self-driving cars during the conference call:
And I expect that self-driving cars will be available on the road starting this year with early movers, and no later than 2020 for Level 4 by the majors, and you might even see some of them pull into 2019. And so those are some of the things that we're looking forward to.
In my mind, it's a horse race between Tesla and Daimler, and may the best horse win.
Nvidia CFO Colette Kress did acknowledge that the licensing agreement with Intel will not be renewed. This means that the licensing revenue will go away during fiscal Q1. Many AMD fans have pinned their hopes on a licensing deal between AMD and Intel in place of the Nvidia deal.
While this cannot be completely ruled out, there was no announcement of such a deal at Intel's Investor Meeting held on February 9. Also, as I've pointed out, the deal still gives Intel access to any patents applied for by Nvidia through March. This gives Intel a rich reservoir of IP that it can mine for years to come, so there's no immediate need for Intel to strike a deal with AMD for GPU technology. Intel will be able to continue to use Nvidia's IP that it has been using.
And I got the distinct impression from the Intel Investor Meeting presentations that Intel wants to minimize its investments in its Client Computing Group. I'll have much more to say about the Investor Meeting in a forthcoming article.
Investor Takeaway
Nvidia's enormous profitability and continuing success position it to continue to expand in growth areas such as gaming, datacenter and automotive. Sure, there are competitive challenges. There always will be. Nvidia just happens to be in much better shape financially and is much better positioned technologically than its competitors.
Nvidia's position in ARM devices and GPUs is really the right answer for a wide variety of computing applications, whether personal or server-based. The combination of ARM processor and GPU expertise is something that neither AMD nor Intel has. When asked about the "inference market," Huang had this to say:
And so the largest inferencing platform will likely be ARM devices. I think that goes without saying. ARM will likely be running inferencing networks . . .
I'm certainly convinced that ARM is the future of automotive AI, and it's probably the future of mobile, personal computing and data center AI as well. With Nvidia's performance leadership in GPU-based HPC and AI and with the advent of the Xavier ARM-based processor, I can easily see Tegra growing into a much wider ranging business than what it is currently. It has energy efficiency and computational power to be attractive in the datacenter, and it seems well suited to mobile computing applications as well. Tegra could well be Nvidia's true long-term growth opportunity.
I continue to be long Nvidia and recommend it as a buy.
Disclosure: I am/we are long NVDA.
I wrote this article myself, and it expresses my own opinions. I am not receiving compensation for it (other than from Seeking Alpha). I have no business relationship with any company whose stock is mentioned in this article.