BioDelivery (NASDAQ:BDSI) gave a pretty good presentation about Belbuca and the company's sales and marketing strategy going forward. There was some disruption in the market since early December since Endo (NASDAQ:ENDP) terminated its sales force in early to mid-December and BDSI only started promoting Belbuca in late January. Considering the disruption, scripts held up pretty well during the period (if we take the disruption around the holidays into account). In this article, I share my notes from the presentation and my thoughts about BDSI's chances of success with Belbuca and Bunavail.
Endo's problems create opportunity for BDSI
The question that was most often asked since early December is why would Endo give Belbuca back to BDSI if the product has such tremendous potential? The company's answer was that Endo is having issues that are much greater than one product and it decided to terminate its pain sales force. Endo concluded that promoting Belbuca would take too much effort and that the product is not aligned with its strategy anymore. Endo has made some additional restructuring steps since giving Belbuca back to BDSI and I think this explanation is more than reasonable and believable. However, the additional reason behind this decision is not good for BDSI as it relates to the significant weakness in the opioid market.
And the weakness is mostly coming from the primary care market, where Endo was heavily focused. The overall long-acting opioid (LAO) market declined 6% Y/Y for the 12 months ending September 2016 and new to brand prescriptions were down 15% Y/Y. The primary care segment is doing significantly worse than the pain specialist segment and overall prescriptions for pain specialists have actually grown 6% Y/Y, and this is the market BDSI will focus on.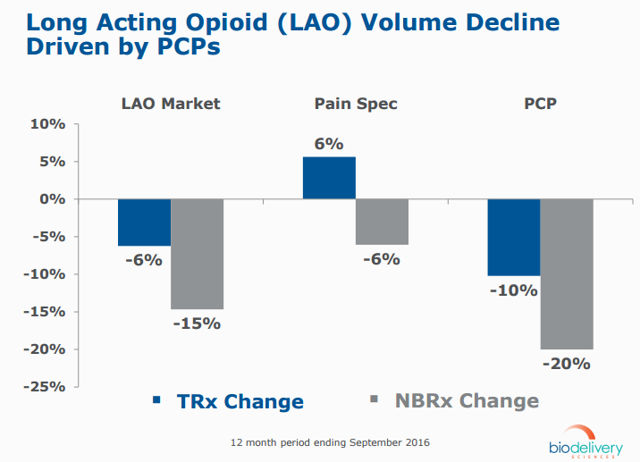 Source: BDSI investor presentation
BDSI hired 19 new sales reps, including 14 top-performing Endo pain reps, and the company now has 65 sales reps and five regional sales managers. The sales force is roughly five times smaller than Endo's, but a more focused approach should still lead to prescription growth for Belbuca. And BDSI's sales reps are familiar with the molecule since they are already selling Bunavail.
BDSI will focus on high-prescribing physicians and physicians familiar with buprenorphine. There are approximately 4,400 Belbuca prescribers and the company intends to target 2,400 more for a total of 6,800. Conversion from Butrans will be the primary goal, and those 6,800 prescribers wrote 116,000 Butrans scripts over the last six months (or 232,000 annualized) compared to 33,000 scripts for Belbuca over the same period. The total number of scripts over the last six months for the targeted prescriber base was around 700,000, or 1.4 million a year.
Source: BDSI investor presentation
Endo was fairly successful in increasing buprenorphine market share. New to brand market share was 20% at the end of September while TRx share was 10.1% (the company noted that TRx market share was 10.4% at the end of December). Given Belbuca's advantages over Butrans, 50-60% TRx market share is not unrealistic, which translates into $150-180 million in annual gross sales and probably around $80-100 million in net sales, which could do wonders for BDSI's share price.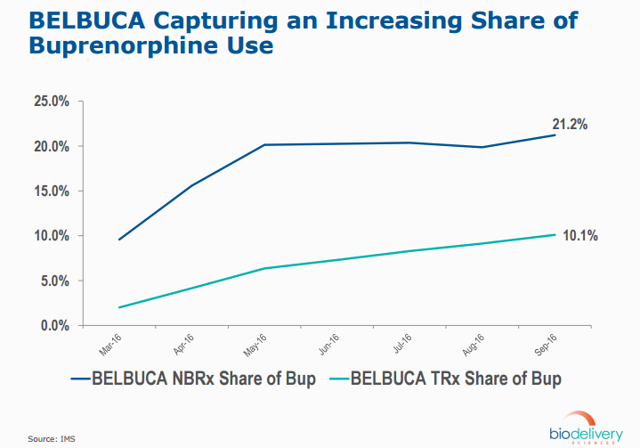 Source: BDSI investor presentation
And those advantages are:
Easier titration. Belbuca can be titrated daily versus every seven days for Butrans. It takes 2-3 days for Butrans to reach steady state and this is probably the reason Butrans scripts haven't taken off in a more meaningful way.
Belbuca has four times the dose range. Butrans is not approved for morphine equivalent dose greater than 80mg. Belbuca covers up to 160mg and has the opportunity to treat real pain.
It is also important to note that Belbuca isn't just eating Butrans's market share. It is expanding the buprenorphine market.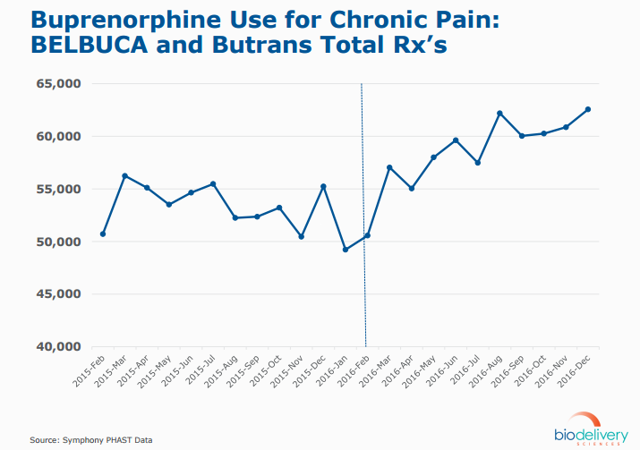 Source: BDSI investor presentation
The advantages over Butrans come on top of the advantages over other long-acting opioids: low abuse liability (Belbuca is a schedule III product, unlike most LAOs which are CII), lower constipation rates, low rates of drug withdrawal syndrome, lower risk of respiratory depression.
BDSI has a product with certain competitive advantages it can use to push sales higher in the following months. One of the potential problems with taking market share from Butrans is the fact it is going generic in September 2017 which means Belbuca may find it harder to compete on price. Management expects a limited impact and the above-mentioned advantages should make this less of a problem than it might seem at the moment. After all, they are just similar products, not identical. But nonetheless, it is an issue that needs to be considered.
On the market access side, Endo has done a great job. All major PBMs are covering Belbuca and UnitedHealthcare put it in a preferred position and excluded Butrans, which is a significant growth opportunity in 2017. On the other hand, Medicare is more challenging, but it's related to timing. Belbuca was approved after 2017 formulary bids were submitted and the situation there should improve substantially in 2018. Management noted it might see Belbuca added to some formularies during 2017 as well.
So, the situation is not ideal, but the presentation looked promising and it seems well prepared to try to get scripts higher in the following quarters. Q1 will probably be a tough quarter and scripts will likely be down sequentially, but the situation should improve in Q2 and beyond as BDSI's voice is heard in a more meaningful way. Better formulary access, competitive advantages, a more focused approach and the fact that the sales force is already familiar with the molecule are the key growth drivers for Belbuca while the downside risks are a much smaller sales force than Endo's, significant competition and opioid market headwinds.
Another thing to consider is the fact that BDSI's sales force has not done a very good job with Bunavail - the product has been a big disappointment since launch. But a few things are different with Belbuca:
Belbuca is not facing an entrenched player like Bunavail is with Suboxone.
Belbuca is targeting more commercial scripts while Bunavail is targeting Medicare, where contracting is essential and hard to achieve.
So, there are reasons to be more optimistic about execution with Belbuca than with Bunavail.
And since I mentioned Bunavail, BDSI's sales reps will focus on existing 1,200 prescribers and additional 800 prescribers due to the contract wins over the last six months. But the sales force will spend just around 20% of the time promoting Bunavail, which might hurt the product's growth trajectory in 2017 and beyond, but the focus on Belbuca is understandable considering the economics and market dynamics.
A few words on funding
BDSI said it has enough cash to last through Q3 2017 and longer if it reduces R&D spending. But the company has a few non-dilutive options. Since it got Belbuca back, the company saw some inbound inquiries from potential partners. Belbuca should be approved in Canada soon and ex-U.S. partnerships could result in upfront payments that eliminate the need to raise funds through debt or dilutive offerings. Of course, these partnerships are still fairly uncertain and funding could remain an overhang on the share price in the following months.
Conclusion and thoughts about valuation and upside
BDSI's sales and marketing plans sound reasonable and achievable and I continue to look at BDSI as a speculative investment that could yield substantial returns even with moderate success. Getting combined Belbuca and Bunavail sales to $100 million by 2020 ($80 million Belbuca and $20 million Bunavail) results in an NPV of $3.80 per share while getting sales to $150 million drives the NPV to $8 per share, with a mid-range target of $6 (model available to Growth Stock Forum subscribers).
The NPV does not include potential Belbuca partnership milestones and royalties, Onsolis royalties from Collegium (NASDAQ:COLL) (which should be modest) and pipeline value. That said, the commercial risk is still quite significant and BDSI needs to prove it can get Belbuca prescriptions higher in the following quarters. Funding is another issue that needs to be addressed in the following months.
Author's note: Growth Stock Forum subscribers had an early look at this article, and have access to regular exclusive updates on every stock I am covering. Readers are invited to take a two-week free trial in the Seeking Alpha Marketplace.
Disclosure: I am/we are long BDSI.
I wrote this article myself, and it expresses my own opinions. I am not receiving compensation for it (other than from Seeking Alpha). I have no business relationship with any company whose stock is mentioned in this article.
Additional disclosure: This article reflects the author's personal opinion and should not be regarded as a buy or sell recommendation or investment advice in any way.