Prospect Capital (NASDAQ:PSEC) has a devout following of perpetual bears. For evidence all you need to do is look in the comments of any PSEC article published on seeking, I am sure I will get more emails once this one is published. The common theme is simple; management is perpetrating a sinister scheme to rip off shareholders. When I point out that the top two managers are substantial shareholders themselves they say it's part of the plan.
Based on recent price action I'd say it might be time to start covering those shorts because investors are interested. Since earnings were released 2 days ago the stock has risen more than 2% on rising volume, broken above long term resistance and set a new 2 year high.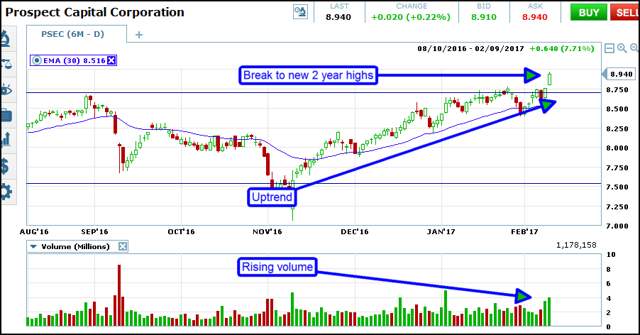 NII Missed Again . . .
Net Investment Income missed for the second quarter in a row and raises a few red flags. NII in the fiscal 2nd quarter was only $0.24, a penny shy of distributions paid in the quarter, but was a penny ahead of expectations and up from the previous quarter. For the 6 months ending 12/31, fiscal 1st half, NII totaled a mere $.046, almost a nickel shy of distributions. This leaves a large gap to be filled. Net income and spillback will cover it for now but the reserve is dwindling.
Why Are The Bulls So Happy?
The bulls are so happy because there are mitigating factors which explain away weakness in the 1st half, new activity has been robust, forward outlook is positive and the dividend looks secure.
First half weakness is due primarily to the sale of Harbor Touch and to a lesser extent repayment of loans/maturation of investments. Management characterized the fund, specifically the first quarter, as under invested, carrying a large average daily cash balance and suffering from a reduced income producing asset base. They went on to point out that if the extra cash had been invested along with a modest amount of their revolving credit facility NII would have increased at least $14.5 million and more than made up the difference.
Second quarter performance was driven by an increase in investment income, fees from generating new loans and unrealized gains from capital appreciation. This will positively affect NII going forward although the quarter saw net-inflow due to repayments of other loans.
Current quarter investment include $273 million in new and follow-on investments including a recently announced $136 million in senior secured floating rate notes from Centerfield Media Holding Company. Repayments to date are just over $26 million which resulted in net new investment of just under $247 million.
Annualized portfolio yield increased 0.40% to 13.2% from the previous quarter and is flat from the year ago period. Portfolio mixed continues to improve and is positioned for a rising rate environment. 90.4% of assets are floating rate, 99.9% of liabilities are fixed rate.
The dividend is stable at $1.00 annually/$0.0833 monthly. Current yield is narrowing in the wake of earnings results but still robust and greater than 11%. The next three monthly distributions have been declared, in line with previous, with no expectation for it to be cut in the near to short term.
EPS estimates have fallen over the past 90 days and hit a low just prior to the 2nd quarter release. These estimates do not yet reflect results or portfolio activity. Consensus estimate is $0.93, $0.07 shy of projected distributions. To hit this target Prospect will have to produce $0.24 per share in each of the next two quarters, an easy mark to hit considering the pace of new investments and increasing yield. This means that PSEC will either beat estimates, or analysts will raise estimates, or both and there will be less reliance on spillback for dividend distribution, if at all.
Economic outlook is positive. Deregulation, lower corporate taxes, job creation, enhanced economic growth and rising rates only bode well for lenders. Prospect is expected to see an increase in activity, a decrease in default rates, widening margins and rising portfolio yield.
Prospect May Not Be A Buy But It Isn't A Sell Either
Now that share prices have broken out to new highs the funds discount to NAV is shrinking and the value it once presented is gone. At current prices, just shy of $9.00, the discount is only 6.8%. This is quite narrow, less than half of the average -16% and well off the low -45%. For some bears this alone is reason to sell, playing the averages, expecting shares to fall and the discount to revert to mean.
Despite this the stock is still a buy in my opinion, and here is why. The company is performing solidly, the dividend is more than robust with healthy outlook, forward earnings potential is positive and economic conditions are good. Not only that, the recent rise in share value and narrowing discount shows an expectation for positive performance and the possibility for NAV to increase in the future. From that perspective the possibility of dividend increases or special dividends comes back into the picture and makes it even more attractive for long term holding. Short covering, it may not be in the cards but I wouldn't be surprised to see this rally made more than a few bears sweat.
Disclosure: I am/we are long PSEC.
I wrote this article myself, and it expresses my own opinions. I am not receiving compensation for it (other than from Seeking Alpha). I have no business relationship with any company whose stock is mentioned in this article.
Additional disclosure: I am long Prospect Capital and intend to hold it indefinitely.