Yesterday, February 9, 2017, SPY adjusted for dividends set a new, intraday record high of $230.95.
In my Nov. 30, 2016 article "SPY Made A Record High Today While Many Sentiment Indicators Flash Warnings" under this Investor's Intelligence (II) sentiment graph I wrote, "While the decline in bullishness is not enough for a "fat pitch" it certainly fell enough for another run to new market highs." Chart 1 below shows the market has made record high after record high without as much as a pullback to test the rising 50-day moving average, MA(50) on my graph, since that November article.
Pullbacks of 3% to 8% from record highs, or at least to a major moving average, are common and usually buying opportunities for those with patience. The odds the pullbacks don't turn into bigger declines improve when sentiment for stocks is poor.


The time to buy stocks is when there is "blood in the streets" while others are fearful and selling. In late August through early September of 2015, my investor sentiment charts were screaming BUY and I added to many positions during this time. I took profits as the market rose into the end of the year.
The markets fell again in early 2016 with SPY and the S&P 500 testing their 2015 lows while the Russell 2000 and Nasdaq went even lower. I added again to positions.
I was asked by many to write less and get to the charts that follow so if you want to read more about each of these charts, then read my February 11, 2016 article" With SPY Down 14% Again, Sentiment Charts Suggest Another Tradable Low." That article shows what my charts were like when I wrote "now I believe we are in another good time to add to positions."
TABLE 1: Current Market Levels Compared with Benchmarks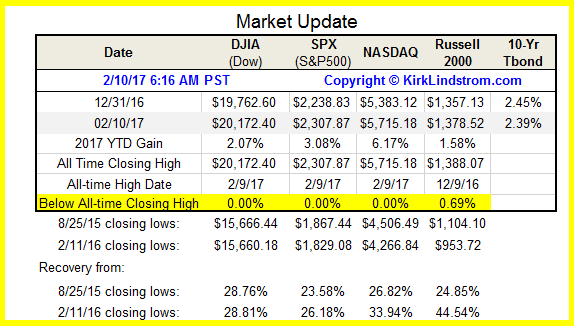 On 2/11/16, on an intraday basis the S&P 500 was down 14.4% from its record high. Today, roughly a year later, it is up 28.81% from that low, thus the period around 2/11/16 was a great time to buy! Those of us who bought small cap stocks found in the Russell 2000 index during the periods of market weakness saw even greater rewards as that index is now up 44.54% since 2/11/16.
Chart 1: S&P 500 Price & Yield ($SPX & !YLDSPX) with SPY Over Time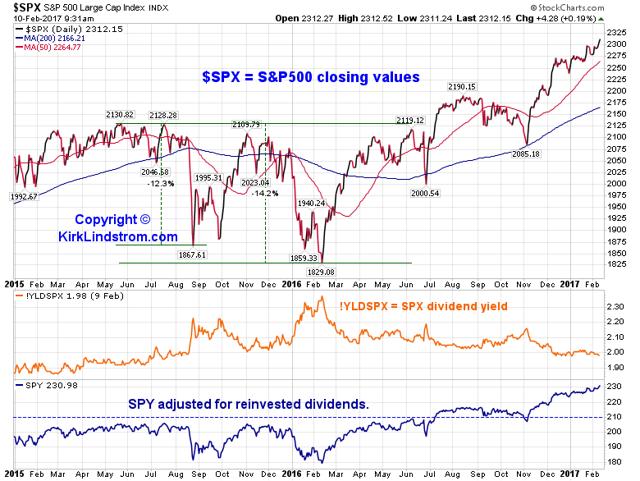 TABLE 2: Market Levels Compared with Benchmarks for the Feb. 11, 2016 Low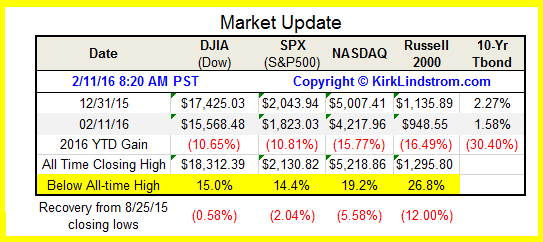 Chart 2 below shows the S&P 500 and SPY were down over 14% from their record intraday highs three times since the summer of 2015. All were great times to buy or add to your positions. Pullbacks between 3% and 14% can also be good times to buy back shares if you use sentiment charts to help identify a turn in the markets.
Chart 2: SPY Intraday Adjusted for Dividends Over Time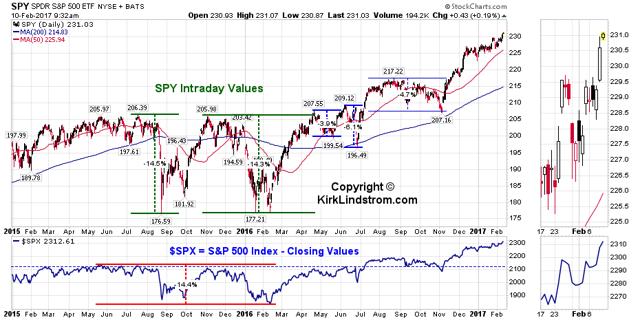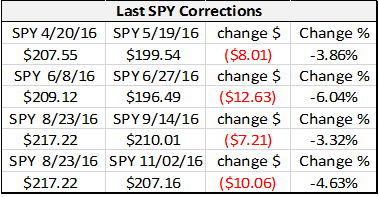 Every week I review my sentiment charts of the weekly data. In this article, I compare the sentiment levels from various surveys in my table to get an idea of overall investor sentiment.
I've explained in past articles such as "SPY 8% Off Record High While WLI Rises To 6-Week High" why I like SPY as an investment for the long-term. I use fundamentals to pick individual stocks and SPY for my portfolio, but I seldom buy as they are making new 52-week highs. I try to buy when they are on sale and when the blood is running in the streets.
To get better prices, I start with my list of "Explore Portfolio" stock picks then wait for market pullbacks and extreme negative sentiment levels to buy if they haven't quite reached the "low ball" prices I set ahead of time to buy during market panics and other periods of market inefficiency. Said another way, I like to take profits as markets make new highs then buy back shares when my sentiment charts loudly shout at once "Buy" as most investors are afraid and selling.
On August 25, 2015, when the S&P 500 made its closing low for the year, most of my sentiment indicators were at screaming buy levels not seen since the 21% bear market correction in 2011. Below is a market summary for the 8/25/15 closing prices showing four major indexes were down double digits from record highs. Several of the stocks I bought during these major declines have recovered and I took some profits as sentiment recovered. Now I am ready to buy again if the markets go lower to hit my buy zones with a further decline in sentiment or take more profits if the markets continue higher.
TABLE 3: Market Levels Compared with Benchmarks for the Aug. 25, 2015 Low

As I wrote in my Seeking Alpha articles, I used that period of weakness to add to positions then I took profits as the markets recovered in the end of 2015.
If you have other favorite sentiment indicators you want tracked in my articles, then let me know in the comments and I will consider adding them to future articles.
What follows are the charts and brief explanations for the measures of sentiment I follow, in no particular order of importance.
Chart 3a: Put-to-Call Ratio - 10 & 66 day moving averages - 10-Years:
This chart shows the ten day moving average, MA(10), of the Put-to-Call ratio was above its 1.25 peak value at the bottom of the 2011 mini bear market correction.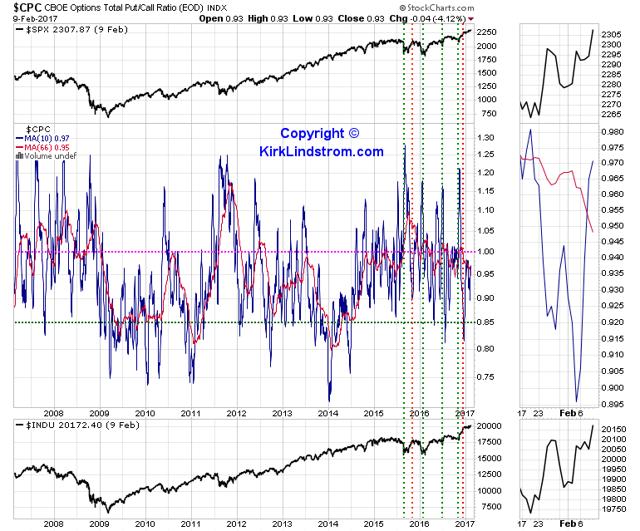 Chart courtesy of Stockcharts.com
Chart 3b: Put-to-Call Ratio - 10 day moving average - 3-Years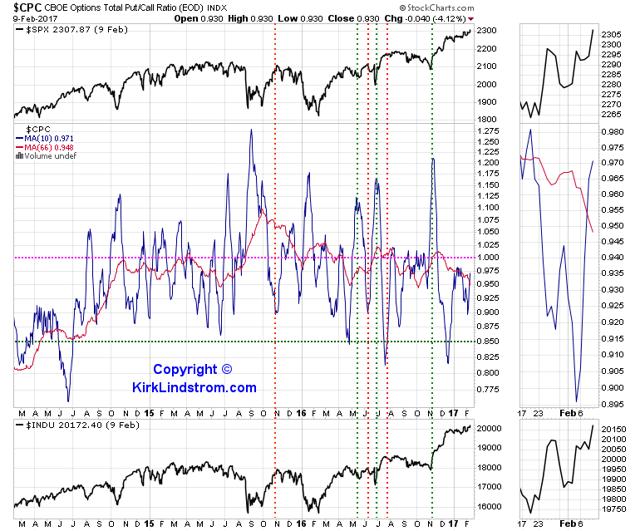 The 10-DMA (ten day moving average) in these CPC charts sentiment was ripe for a rally last November then fell all the way to the "danger zone" below 0.85 but without a major market sell-off. Instead, the markets appear to have completed a major sideways consolidation until breakout to new highs again this week.
The bears will say yet again that this is one more chance to get out now near record highs before the market collapses. They sure must get hoarse from this warning.
Personally, I rebalance or take profits near market highs so I have cash to buy potential future large declines. If the markets continue higher and never return, then I spend some of the cash and take more profits.
Chart 4a: AAII American Association of Individual Investors Sentiment Survey
These AAII numbers are posted weekly here on Seeking Alpha. From AAII Sentiment Indicator, "The sentiment survey, taken once a week on the AAII web site, measures the percentage of individual investors who take the survey who are bullish, neutral and bearish."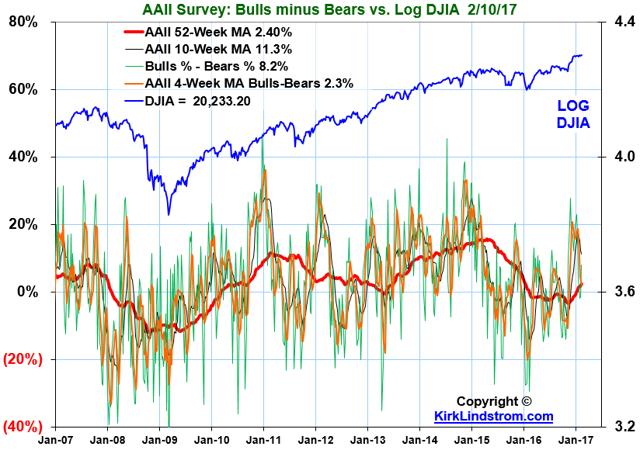 Chart 4b: AAII American Association of Individual Investors Sentiment Survey
Green curve shows a faster signal due to use of weekly data

These AAII sentiment charts (using data through 12/22/16) show the 52-week moving average of the percentage of bulls minus the percentage of bears remains in the rare negative zone for the 46th consecutive week. The weekly and 10-week moving average appear to have peaked and are starting to work toward bearishness. This is certainly not the level of bullishness one would expect at a major market top, but it suggests a short-term pullback would be a healthy event.
Chart 5a: II: Investor's Intelligence Survey: Standard Bulls Minus Bears vs. the Dow Graph:
From Investors' Intelligence Sentiment Indicator: The "Investors Intelligence Survey or IIS questions stock-market newsletter writers once a week to see if they were bullish or bearish on the stock markets in the near-term. Newsletter writers have a large following as a group and are thus considered "market experts." See Investor's Intelligence web site for more information.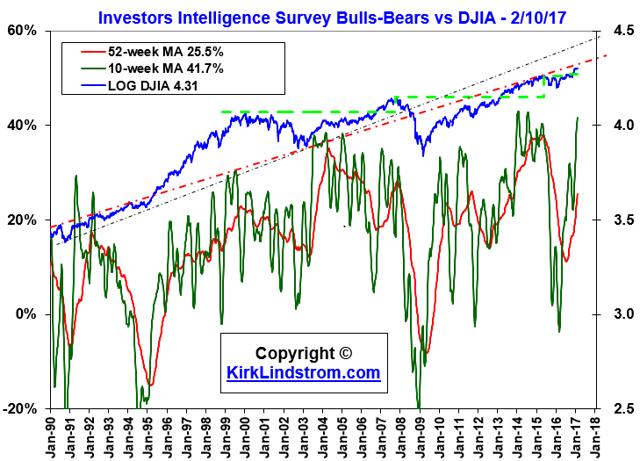 Chart 5b: II: Investor's Intelligence Survey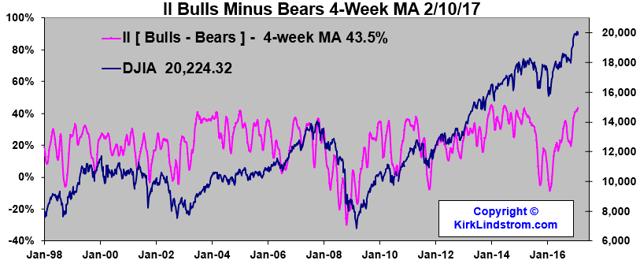 Chart 5c: II: Investor's Intelligence Survey
In an attempt to account from those who are "neutral" this graph shows the percentage of bulls divided by the percentage of bulls plus bears.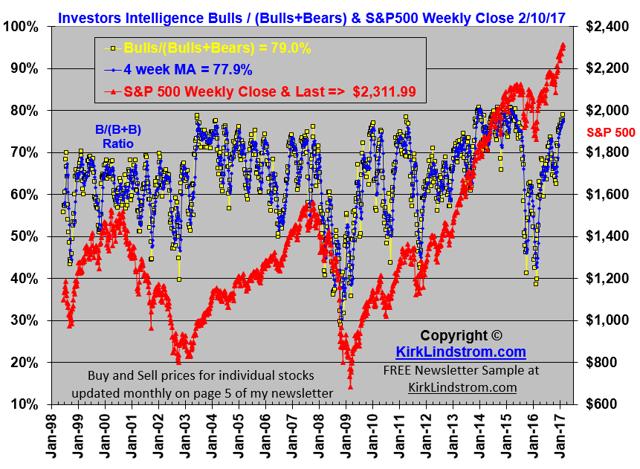 These charts show near record bullishness. My guess is these II charts show significant "survivor bias" of professional newsletter writers which is why the absolute levels to me are not nearly as important as quick changes. Currently, these II sentiment charts scream "take profits" so you are wise to raise some cash, but don't completely jump out of the markets as the chart shows the market did very well short-term in the past when sentiment was even higher.
Chart 6: CNN Fear & Greed Index Charts
From CNN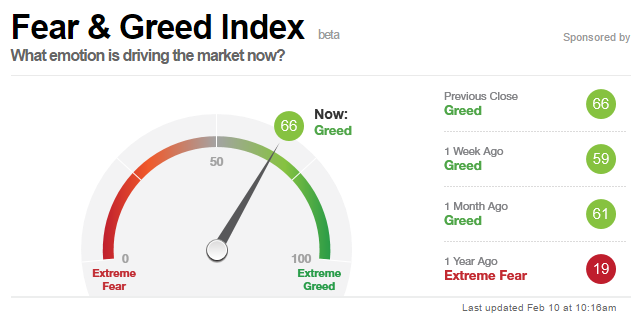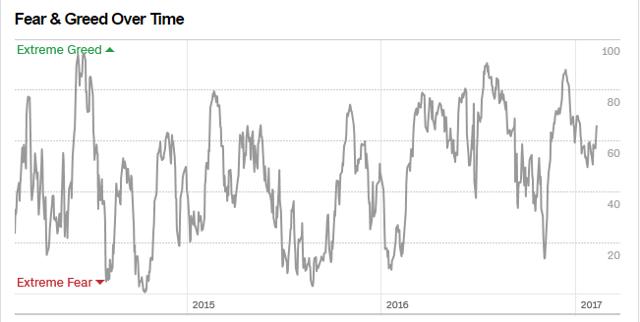 These Fear and Greed charts have fallen from the "Extreme Greed" of last December to the "Greed" level. I took profits since my last (12/27/16 article) update. I also used some of those profits during the recent consolidation to start accumulating a new stock was out of favor and down over 50% from its high. "All or nothing" buying and selling seldom works over the long term, but scaling in and out around core positions is well documented to have helped me out perform the markets for over 18 years with my measured "Explore portfolio."
Chart 7: SPY Charts
The top (black) curve is SPY adjusted for dividends. The middle (green) curve is SPY prices not adjusted for dividends. The bottom (orange) curve is the yield of the S&P 500 which closely matches the yield of SPY less the small management fee.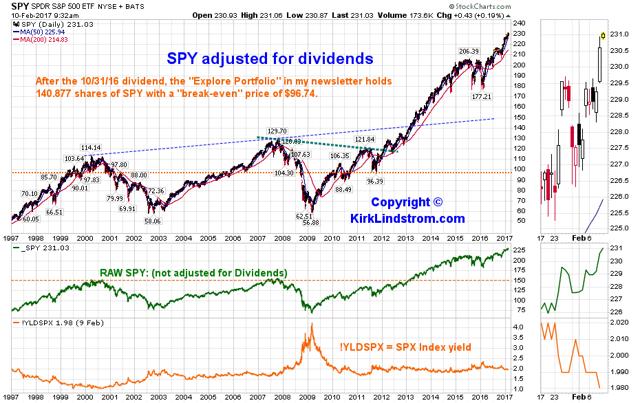 From charting sentiment for nearly 20 years, I've observed that major market (S&P 500 or SPY) bottoms usually line up well with major spikes in the sentiment charts. The absolute levels are not as important as the relative levels of sentiment. For example, notice how the two biggest declines in SPY since the bottom in 2009 align with the two largest spikes in charts 1a and 1b above.
Timer Digest update:
Timer Digest, TD, monitors over 100 of the leading market timing models, ranking the top stock, bond, and gold timing according to the performance of their recommendations over various periods of time. Timer Digest profiles many of the top investment and financial newsletter writers, including discussions of their timing models.
I often get confirmation of "blood in the street" when 50 to 100% of the short term leaders are bearish as it indicates the long-term bears were finally right after a good sized decline.
Excerpt from the TD Hotline dated 2/28/17 about the top ten short-term (1-year) market timers:
"The Top Ten Consensus is now Bearish with 4 Bulls, 5 Bears, and 1 Neutral."
That is a lot of bearishness given the markets are at record highs!
I am one of the four bulls included in this month's top-ten list with this comment "Kirk Lindstrom of Kirk Lindstrom's Investment Letter is on a May 17, 2011 Buy Signal. However, he also mentioned that sentiment indicators reflect a need for caution with respect for a potential short-term correction."
Shortly after SPY's 9/12/16 intraday low, the 9/14/16 TD Hotline showed 5 bulls and 5 bears and the 9/17/16 monthly TD issue recovered to 6 Bulls and 4 Bears. Recently, having more bears than bulls has come just before nice advances. I have scored high as a "market timer" by staying bullish because the corrections have come so fast and shallow that most of the "professional timers" followed by Timer Digest have had a difficult time beating buy and hold the past few years.
The latest Timer Digest "Annual Review" issue dated 1/31/17 covers its "Top 10 Long-term Timers" where "Kirk Lindstrom's Investment Newsletter" is tied for 3rd place for 2-year and 3-year timing, then tied for 2nd place for 5-year long-term market timers. I was last featured in this article " Timer Digest Features Kirk Lindstrom's Investment Letter on Cover."
Summary:
I find it helpful to have two monitors so I can pull up my last article to compare the charts side-by-side.
Short-term SPY is at a record high and investors are getting more bullish.
The Timer Digest consensus is bearish which often happens just before major advances. (Very bullish would be 10 of 10 are bulls.)
It appears the markets were consolidating with the widely-followed Dow just below 20,000. It is possible that Dow 20,000 could be a new floor and serve as a new launching pad for the next move up.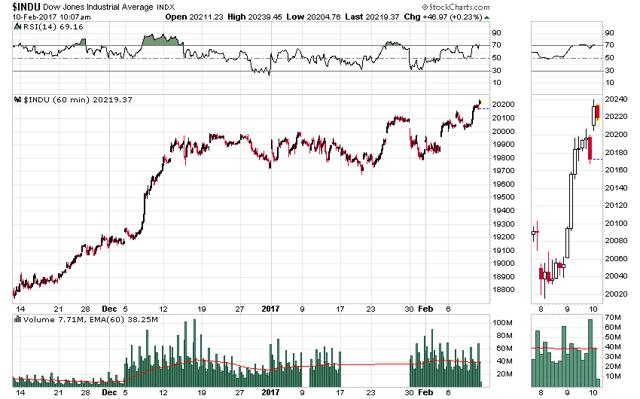 Most of my sentiment indicators show bullishness is still well above "fat-pitch lows." In the longer term, bullishness is far below levels seen at major market tops. Some backing and filling, perhaps back to the 200-day moving averages again for SPY (and many stocks I took profits in since then) would be bullish if it came with an even larger decline in market sentiment.
Sentiment charts are not perfect."All or nothing Market timing" seems foolish to me. If you have nothing in the markets, these pullbacks may be your only opportunity before the markets reverse to new highs. Likewise, even if you are extremely bullish for the future, I feel it is always wise to have some cash for the three extraordinary buying opportunities like we saw during the past two years when the market was down over 14%.
Notes
I trade SPY around a core position in my newsletter's " Explore Portfolio" and with my personal account. With dividends reinvested, my newsletter's explore portfolio holds 141.693 shares of SPY with a "break-even" price, after the 2/2/17 dividend, of $96.18. I also have the index fund version of SPY in both my newsletter's "core" portfolios.
I started sending my newsletter to "Timer Digest" in December 2010 which made me eligible for inclusion in their rankings a year later. "We track subscription-based services once they've been in business for a year or more. Services must issue clear signals (Buy, Sell/Short, Neutral) on the asset classes they analyze. Signals must be delivered to us by the same method used for the subscriber base… When we have accumulated a year's worth of data on a timer, they become eligible for inclusion in the ranking of top timers in their chosen categories."
SPY is the exchange traded fund for the S&P 500 Index with a net expense ratio of 0.0945%.
IVV is Blackrock's "iShares Core S&P 500 ETF" which is another exchange traded fund that tracks the S&P 500 Index with a very low net expense ratio of only 0.04%as of 11/3/16. You can trade IVV at Fidelity without commissions. It is a lower cost alternative to SPY.
VOO is Vanguard's newer (than SPY) exchange traded fund that tracks the S&P 500 Index.
I own and write about SPY, as I have many years of data for it, but IVV and VOO could do slightly better than SPY over time because they have lower expense ratios.
VTI is Vanguard's "Total Stock Market" exchange traded fund. If you want to invest in a single fund, that is my first choice over SPY. I recommend SPY and several other ETFs (or their index fund equivalents at Vanguard and Fidelity) in my core portfolios for more opportunities to rebalance between these funds.
Disclosure: I am long SPY and own the traditional index fund versions of VTI and VOO bought long ago in various taxable and tax deferred accounts.
Disclosure: I am/we are long SPY.
I wrote this article myself, and it expresses my own opinions. I am not receiving compensation for it (other than from Seeking Alpha). I have no business relationship with any company whose stock is mentioned in this article.