EQT Corporation (NYSE:EQT) is a vertically integrated domestic energy company comprised by EQT Production and EQT Midstream. Production is focused on natural gas (NYSEARCA:UNG) in the Appalachian Basin. The Midstream services its big brother E&P operation including natural gas gathering, transmission, and storage services as well as for third parties throughout the Marcellus and Utica Basins.
EQT is a stalwart in Appalachia. Seasoned for 125 years, headquartered in Pittsburgh, EQT is among the Marcellus's most prominent players. According to its presentation to analysts last week, it held 13.5 trillion cubic feet of proved natural gas, NGL, and crude oil reserves, across approximately 3.4 million gross acres, of which 720,000 gross acres are in the Marcellus. Management is confident it holds 97 Trillion cfe within its resource potential near current pricing and existing technologies.
The opportunity is an extension of my long thesis for nat gas and here' s why. As a follow-up I promised where to place bets in this recent article, and I still hold all my full position as recommended here. Constructing your portfolio requires some extrapolation of fundamentals and anticipation too. Natural gas markets are benefiting from structural changes; namely broader reach to markets and ample demand. As I've pounded the desk to splinters about takeaway capacity, EQT will equally grow. More should be read here about the Mountain Valley Pipeline, its capacity and unlocking the Marcellus and Utica.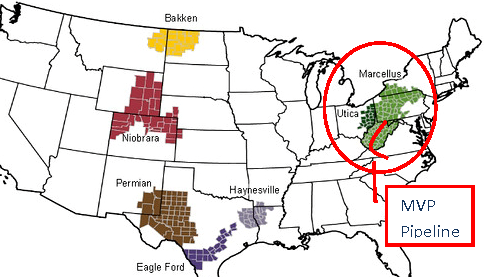 Under The Hood
In 2015, EQT restructured and created EQT GP Holdings, LP (NYSE:EQGP), where EQT dropped down much of its partnership interests to EQT Midstream Partners, LP, (NYSE:EQM). The effort was completed in Q4 '16. EQM owns approximately 950 miles of FERC interstate pipelines, and also owns more than 1,800 miles of gathering lines with delivery interconnects throughout the transmission and storage system.
Complicated at first, but to simplify the investment, simply owning EQT gives investors the benefits of the sister midstream entities because EQT owns a 90% interest in EQT GP Holdings, which further owns 26% interest in EQ Midstream, the limited partner which holds the midstream assets. These sister entities reliably deliver their profitability to the parent EQT; $200 million anticipated in 2017 which comes from 48% of EQM's distributions to EQGP.
How that benefits EQT shareholders is straight forward. EQT GP Holdings owns the general partner interest, all of the incentive distribution rights, and a portion of the limited partner interests in EQT Midstream Partners. Simply hold EQT and avoid K-1 tax complication. Important to appreciate and worthy to reiterate, EQT is vertically integrated from the well head to gathering to transport and storage. What it pays for transport it receives back though its incentive distribution rights across its midstream.
More Under the Hood
EQT Production achieved record production sales volume of 759 Bcfe for 2016. Some may say so, but this represents a 26% increase over 2015. EQT has focus on the Marcellus and that production was the seventh consecutive year of more than 25% volume growth.
EQT is still just warming up. The executive team was a bit stealthy during the presentation. McNally discussed the balance sheet and liquidity:
"We closed the year in a great liquidity position, with zero net short-term debt outstanding under EQT's $1.5 billion unsecured revolver and about $1.4 billion of cash and marketable securities on the balance sheet…"
Following along, I thought EQT was going to live within cash flow and modulate its volume growth. McNally continued:
"We currently forecast $1.3 billion of operating cash flow for 2017 at EQT, which includes approximately $200 million of distributions to EQT from EQGP. So we are fully capable of funding our roughly $1.5 billion of 2017 CapEx."
And Schlotterbeck confirmed the posture:
"Our 2017 activity will result in 15% to 20% growth in 2018 and we expect to grow in the 15% to 20% range for at least the next several years."
I was wrong! Yesterday, EQT announced it has won a bankruptcy auction to acquire more production in the Marcellus. The deal added 53,400 core net Marcellus acres, including drilling rights on 44,100 net acres in the Utica and current natural gas production of approximately 80 MMcfe per day. The purchase price was $527 million and is expected to close on or about February 28, 2017. And here's what a strong balance sheet and ample liquidity can do, EQT will finance the acquisition with cash on hand.
The acquisition fits strategically within EQT's core development areas; Wetzel, Marshall, Tyler, and Marion Counties of West Virginia. These complement the Company's adjacent operations and midstream. The assets include 174 Marcellus wells; 123 are developed and 51 are in-progress. Also included are 20 miles of gathering pipeline. The acreage has an average 85% net revenue interest and 86% is either held by production or has lease expiration terms that extend beyond 2019.
The Trade & How to Express Your Opinion
It's well known every domestic E&P lost money of late. Waiting for reports of profits will simple be too late. Following the fundamentals may lead us into trades early, but if I'm not early, I simply don't follow.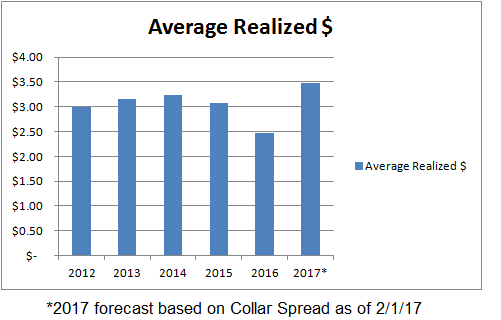 Realized pricing into 2017 is forecast to be higher than since 2012 though 2016. A deeper read will confirm management has reduced costs as laterals have grown from 5000' to 9000'. With higher realized revenues, there is a direct correlation to higher equity prices.
As show below, EQT is trading with anticipation of falling pricing, rising costs, and or lower realized revenue. But production is still eclipsing 26% yoy growth, costs are controlled, and realized pricing is hedged by collars.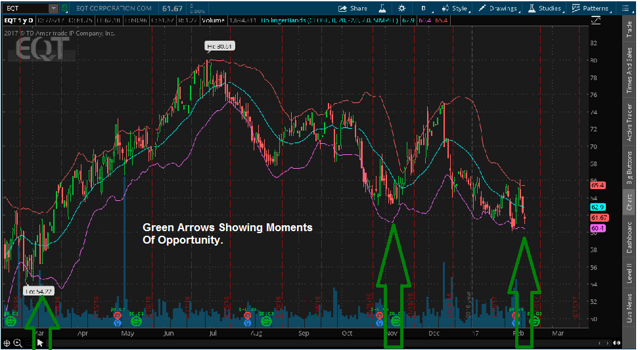 Notwithstanding the mild surge on Feb. 9th, $2 to $63.75, there remains ample time to own EQT here. Buy and hold of EQT should revisit recent highs ~$80.
Most know I look how to collect now versus spend or wait. EQT doesn't pay more than $.03/quarter, so an options strategy with low Henry Hub pricing equally works because volatilities and premiums remain rich. There are several Put series that would be good writes, but given the maximum premium resides in the December '17 contract, the slightly ITM $65 strike best suits my profit potential and possible If Put cost basis. My only hesitation is the wide spread so be sure to use limit orders. Or September's series B/A is slightly more narrow. Noted below the midpoint between the December $65 bid/ask is $7.60 (If Put cost basis of $57.40 = $65 - $7.60).

Note: To get these and more articles on options and equity opportunities as soon as they are published, click on my profile and hit the big orange "Follow" button and choose the real-time alerts option.
Disclosure: I am/we are long EQT.
I wrote this article myself, and it expresses my own opinions. I am not receiving compensation for it (other than from Seeking Alpha). I have no business relationship with any company whose stock is mentioned in this article.
Additional disclosure: Short EQT Puts