Folks, if you thought yesterday's trading action on Twitter (NYSE:TWTR) was bad just wait and see what happens today. I believe there's going to be a broader realization that something went wrong over at Twitter. Like some big and major structural issues are going to be priced into shares soon.
I'm now projecting revenue of $533 million in Q1'17, which conforms to high-end of "implied outlook," but I also expect full-year revenue to decline by 7.1% to $2.325 billion in FY'17 versus FY'16 revenues of $2.53 billion. I'm modelling non-GAAP EPS of $0.40 for FY'17, which compares to consensus figures from Morgan Stanley, (NYSE:MS) UBS (NYSE:UBS) and Canaccord Genuity at $0.22, $0.35 and $0.36 (the latest figures currently).
Clearly, I'm anticipating Twitter to under-deliver on revenue and overdeliver on headcount reductions. The revenue narrative is bad, but there's still plenty of cost levers to pull, so expect EPS beats but don't count on Twitter to deliver revenue upside.
What in the heck is going on with advertising revenue?
At the forefront of investor concerns is the bad advertising figures. Things went from bad to ugly in Q4'16. While TWTR increased ad-engagements by 151%, the price on ad-engagements fell by 60% y/y and ad-inventory dropped by 66% y/y. Twitter basically stated that the per user ad engagements went up by 151% times a 60% reduction on pricing and another 66% reduction on overall inventory = .9936.
Simply multiply the variables: ad engagements delta (ratio) x ad pricing delta (ratio) x ad inventory delta (ratio) = growth factor of consolidated ad revenue.
Past quarter: 2.51 x .66 x .60 = .9936 or -.66%.
This means that there was a 66% drop in inventory + 60% drop in pricing + 251% increase in ads consumed per user.
The adjustment factor I insert is that net inventory must have dropped by 66% to account for the blend of pricing decline and increase in advertising units clicked per average user. This is the only way we could rationalize how Twitter is generating a 0% to 1% decline in advertising revenue y/y.
Ok, so how do we rationalize all of this together?
Well, the thing about Twitter's ad-units is that they're sold on an engagement basis, and it gets progressively cheaper the more engagements you get per thousand impressions. What's going on is that the big companies (think in terms of Procter & Gamble) which have built-in assumptions on optimizing their bid plus a higher lifetime value equation can pay something like $50 to $60 per conversion assuming they can earn it back over several years (like three to four years). Most ad-agencies equate this to ad-conversion- cost divided by average unit profit cumulative over number of years (conversion cost divided by definite integral of cumulative profit over years) to reach break-even.
The smart advertisers have found ways to optimize the click-through function so they pay less. So, the amount they pay per engagement has dropped, and they're still hovering at that conversion rate threshold where they can earn back the ad-unit cost over 2 to 3 years.
But, in the past quarter, the time spent per user dropped. So, the same user pool on lower minutes are clicking more ads due to optimization of the remaining ad inventory pool. However, the users less engaged were the low-hanging fruits where Twitter could charge more for the same impression. These less active accounts that were barely hanging on and would never engage with site content started dropping out of the user pool.
Hence, the engagement got better on ads, because the people who aren't interested and barely use Twitter now use it even less. The people who are loyalists and use Twitter more also clicked on more stuff, and hence the divergence in engagements of ads per users yet the inventory drop off.
We're now seeing an inflection point where core users got more active and the bottom quartile of lower activity generating accounts became even less active. That all equates into lower number of eye balls, hence the inventory reduction; because Twitter can't tell advertisers they served up more impressions to people who aren't on the app anymore. Hence, the remaining people left in the pool added to the engagement rate (due to higher activity), but it could barely offset the price and inventory declines.
This is a huge problem and we have some actual figures to back this up (courtesy of Morgan Stanley analyst Brian Nowak.)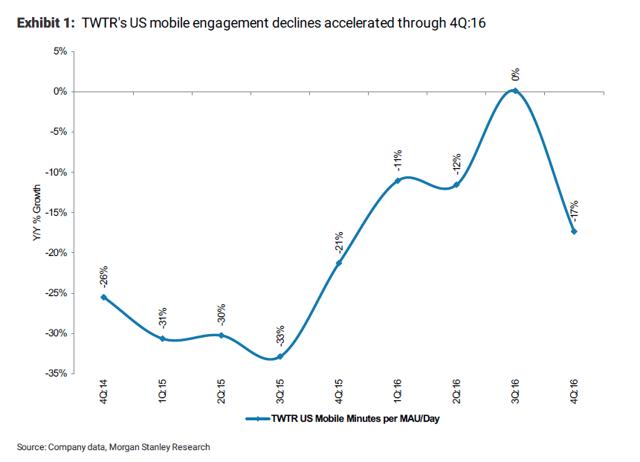 Source: Morgan Stanley
In the past quarter alone, the average time spent per MAU dropped by 17%. So, we're seeing a combination of fewer impressions and less time spent. So, Twitter's ad monetization model is working against itself, because it always operated on the assumption that it could continue adding the high value user (for Twitter), but bad value user (for advertiser) that would simply swipe past ads but never click on them.
But, with the gradually eroding user base that's spending less time and clicking on less stuff. We run into Q4'16 where the advertisers outwit Twitter and the users migrate from bird to ghost app, i.e. Snapchat (NYSE:SNAP). You have ad-optimization at the high-end making ads cheaper for big buyers, and you have fewer people wasting advertiser dollars by scrolling and never doing anything. Big win for ad-agencies, but bigger problems for Twitter shareholders.
Why I'm modeling downside to revenues
I think it's going to be a combination of less active user decline (MAUs) with Twitter loyalists (DAUs) increasing. Basically, a divergence in the user base, which conforms with the reasoning I've supplied. I think ARPU drops consistently by 7% in line with the q/q deceleration of ARPU we saw in the past quarter (which also confirms with implied managed guidance when working the adjusted EBITDA guide backwards).
I'm anticipating that revenue continues to trough at a 7% y/y decline rate. This is because user churn results in a continued downwards spiral in the MAU figures. Whereas DAU growth diminishes pricing on higher engagement rates per thousand impression. So the drop in inventory and cratering ad prices equal a revenue declining narrative.
Prevailing trends will offset efforts by management to increase ad load, increase pricing or introduce other ad units. So, I'm actually expecting a sustained decline in y/y comps for most of FY'17.
Morgan Stanley analyst Brian Nowak was the most skeptical on valuation ($10 price target) and forecasted non-GAAP EPS figures for FY'17 at $0.22. I summarize his commentary here, but his stance on user churn and various other drivers of revenue comp weakness makes sense.
UBS analyst Eric Sheridan also cut his price target to $12 from $18. I summarize his report here, but basically, he lowered his rating to "sell." His EPS estimate for FY'17 at $0.35 seems to be the newly forming base line, but I could be wrong. I haven't seen the rest of the consensus commentary, but will review when it becomes available on Friday.
Canaccord Genuity analyst Michael Graham also takes on a more muted tone on 1H'17, but believes that revenue will show patterns of y/y comp strength in 2H'17. He's cautiously optimistic on 2H'17 trends, which I summarize here.
I disagree with revenue estimates currently and view them as a big risk factor for shareholders going into the next quarter and beyond.
On Friday, I expect remaining members of the consensus to lower revenue, earnings and price target estimates. I also anticipate consensus revenue estimates to decline and revise lower over the course of 2017.
Watch out for volatility this year
M&A speculation will provide TWTR bulls with a relief rally at some point. Yes, I'm sure we'll hear M&A chatter this year from Deal Book, WSJ, Bloomberg and so forth.
I'm sure they'll toss around Verizon (NYSE:VZ) or Alphabet (NASDAQ:GOOG) (NASDAQ:GOOGL) as potential suitors. But, unless TWTR tanks below $10, I'd be hard-pressed to imagine a shareholder bailout.
People just can't get enough merger speculation, so the conversation of a potential sale happens every other year. It's the equivalent of Federal Reserve interest rate chatter, but on such micro scale and with such disastrous volatility.
Yellen won't raise rates! Twitter can't find a buyer! Yellen might raise rates! Twitter might find a buyer!
#where's #the #bailout
You get the picture?
We're likely to see a series of disappointing quarters and a plethora of hype on M&A speculation this year. So, the stock will trade on both disappointing fundamentals and ramped-up expectations of an exit event.
Shares are likely to be choppy, but I anticipate that it will trend even lower following the Q4'16 earnings announcement.
Final thoughts
Though I couldn't summarize everything that I wanted to, I believe investors should anticipate further downside to share price before things get better this year.
I also view estimates slightly optimistic on revenue, but beatable on non-GAAP EPS. We all know the stock moves on revenue and not on earnings. So, I can't help but anticipate disaster in the following quarters ahead.
I'm lowering my recommendation from hold to high conviction sell.
Premium Research Subscribers to Cho Technology Research will get an early look at Cho's Twitter financial model and price target revision. For more information click here.
Disclosure: I/we have no positions in any stocks mentioned, and no plans to initiate any positions within the next 72 hours.
I wrote this article myself, and it expresses my own opinions. I am not receiving compensation for it (other than from Seeking Alpha). I have no business relationship with any company whose stock is mentioned in this article.