Occidental Petroleum (NYSE:OXY) grew total production by 7% in 2016 while its reserves replacement ratio (RRR) was an impressive 190%. More telling going forward was that Permian Basin production grew 13% with an RRR of 290% while operating costs declined 25%.
For Q4, average production was 607,000 boe/d as compared to 605,000 boe/d in Q3 and 680,000 boe/d for Q4 of 2015. However, discontinued operations and asset sales produced 83,000 boe/d in the year earlier quarter - resulting in comparison production volumes from on-going operations of 597,000 boe/d.
Higher Realized Prices Across The Board
The average WTI and Brent benchmarks were $49.29/bbl and $51.13/bbl during the quarter. Average worldwide realized crude oil prices for OXY were $45.08/bbl for Q4 - an increase of 9% over Q3.
Average worldwide realized NGL prices were $18.36/bbl in Q4, an increase of 31% compared to Q3. This continues the theme of higher price expectations for domestic NGLs in 2017 (see "Mt. Belvieu Propane Hits A 2-Year High"):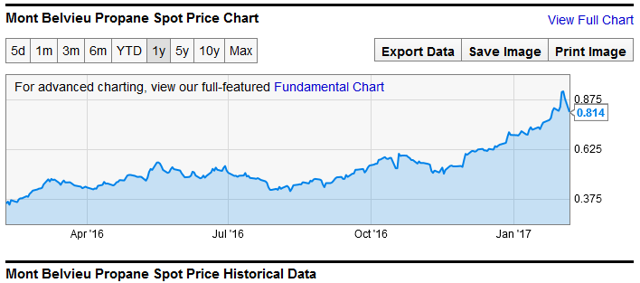 Source: Ycharts
During the quarter, average domestic realized natural gas prices were $2.39/Mcf, up 4% from Q3 and up 37% yoy. The rise in natural gas and NGL pricing is very positive for OXY going forward because 38% of OXY's unconventional Permian production is non-oil: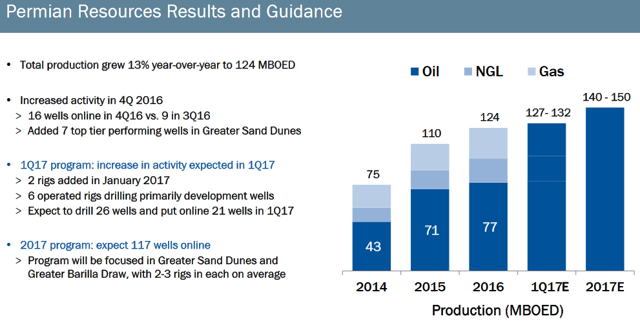 Source: Q4 Presentation
Meantime, OXY continues to drive down its cash costs (F&D + Opex + G&A + taxes) in the Permian to a range of $16-$19/boe. The company says that means a pre-tax margin of greater than 50% at $50/bbl oil across some of its Permian acreage. OXY has 2,000+ drilling locations in the Greater Sand Dunes multi-stack play in New Mexico (the NW Delaware Basin) where it is drilling some very impressive wells into the Bone Springs and Wolfcamp benches: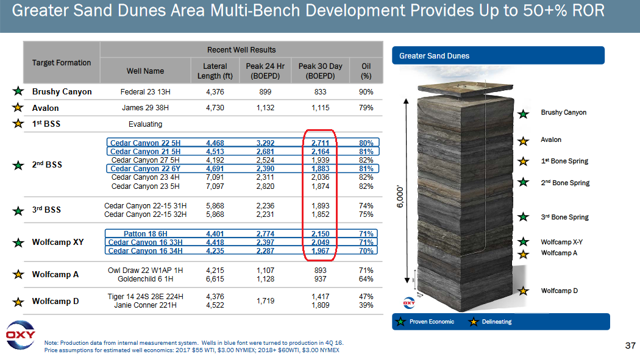 These wells are averaging an impressive 30-day peak production of ~2,000 boe/d. As a result, it's no surprise that OXY added two rigs to the Permian in January. The midpoint of OXY's Q1 FY17 guidance is for Permian Resources' (unconventional) production to reach ~130,000 boe/d. For all of 2017, OXY is guiding for average daily production of ~145,000 boe/d. That would be up 17% over 2016. Again, that is unconventional production and excludes EOR production from the Permian.
Summary and Conclusion
Don't overreact to the headlines from Q4 EPS report (the revenue miss, the wider-than-expected loss). 2017 is going to be the year when OXY's Permian Basin assets will really shine as the company shifts capex to short-cycle production from Hz drilling. Expected production growth in OXY's unconventional drilling in the Permian this year (17%), combined with higher realized prices for domestic natural gas and NGLs, is a very positive catalyst for OXY going forward. The company has a solid balance sheet and will likely earn ~$1.25/share this year and ~$2/share in 2018. At ~10X estimated 2017 EBITDA, shares should work higher toward $78. In addition, the 4.4% yield is secure and very attractive here.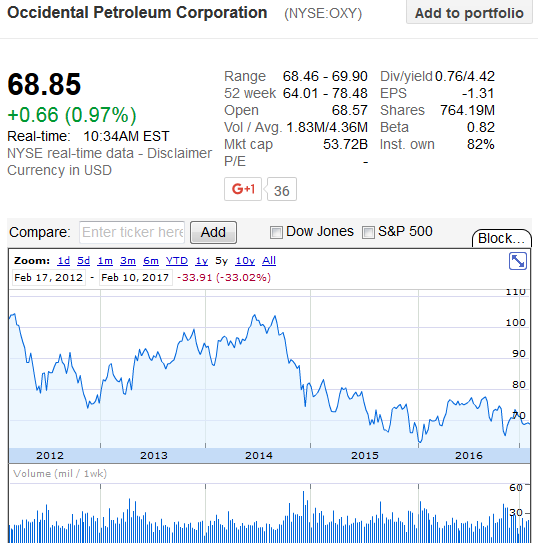 Disclosure: I/we have no positions in any stocks mentioned, and no plans to initiate any positions within the next 72 hours.
I wrote this article myself, and it expresses my own opinions. I am not receiving compensation for it (other than from Seeking Alpha). I have no business relationship with any company whose stock is mentioned in this article.
Additional disclosure: I am an engineer, not a CFA. The information and data presented in this article were obtained from company documents and/or sources believed to be reliable, but have not been independently verified. Therefore, the author cannot guarantee their accuracy. Please do your own research and contact a qualified investment advisor. I am not responsible for investment decisions you make.