Slowing growth, a lofty valuation, the CEO leaving, worries about Trump upsetting trade in China... these are all valid concerns when making a long-term investment in Starbucks (NASDAQ:SBUX). Then you have the positives; a global brand, a loyal customer base, a growing dividend, potential for international growth.
You can jot all these variables down and research them thoroughly. Institutional investors will be doing the same. But what if your conclusions differ from the institutions? Even worse, what if your analysis is right, but the institutions are pushing price around so it looks like you are wrong?
This is where it helps to look at what the institutions are actually doing, and it can be as simple as drawing a line: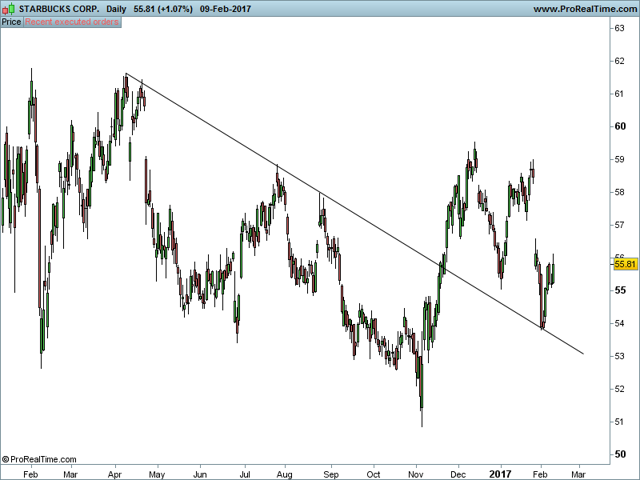 If your thesis is bearish, then you are not in sync with the institutions that are moving price. At least not in the above time frame. Participants broke the downtrend last November and bought the re-test.
If your thesis is bullish, then the above chart gives you a great entry point.
Are They Buying Or Selling?
Not all technical analysis is as simple as drawing a line. Cycles of buying and selling can be seen on the charts using Elliott Wave.
This theory asserts that crowd behavior ebbs and flows in clear trends. Based on this ebb and flow, Elliott identified a certain structure to price movements in the financial markets.
This is the basic structure: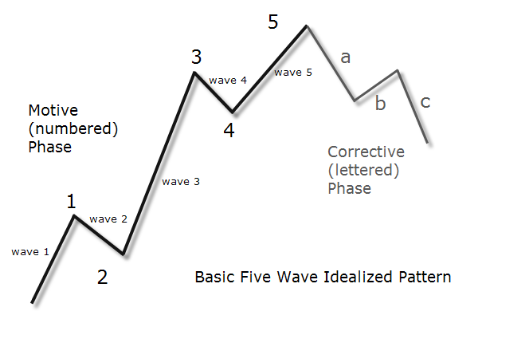 5 waves up indicate buying, and 3 waves down correct this trend. With this in mind, look at what has been happening in Starbucks since November: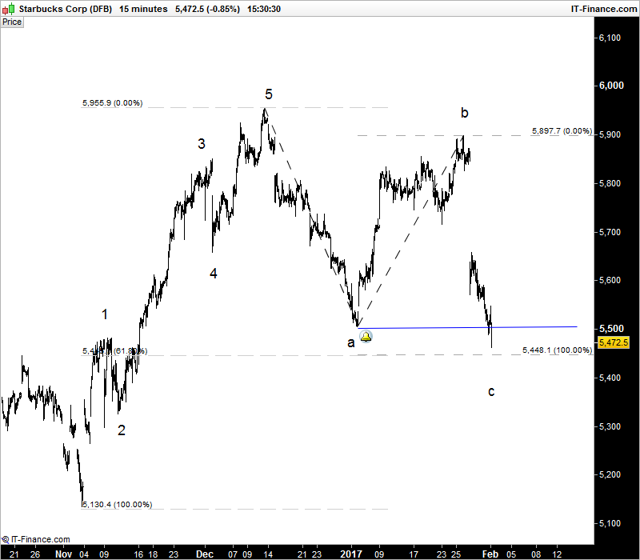 I tweeted this chart on the day of the recent reversal. The two waves down were equal in size at $54.4, which is also where the 61.8% Fibonacci retrace lies.
The technical setup is quite clear now: price should not make another low below last week's low if this move is to remain correctional and lead to a rally higher.
Any rally could be expected to be proportional to the preceding rally in November to December. This targets $62, but of course everyone manages their trades in a different way.
Fundamentals
The main risk at the moment is the lofty valuation and forward PE ratio of over 25 when growth is slowing.
Nicholas Ward addresses this in his recent article on Starbucks:
Eventually, even the very best growth companies mature. There is nothing inherently wrong with this maturation process taking its course, so long as the market's growth expectations are realistic. Theoretically, as rampant growth slows, so will capex, and a higher percentage of free cash flows can be directed into the pockets of shareholders. My primary concern right now is that the market is behind the curve with regard to the valuation that it is placing on SBUX shares. As the gap widens between expectations and actual growth, the risk shareholders face while holding their shares increases. While the market may not be completely rational in the short term, eventually it will realize its folly and re-examine the premium valuation that it has placed on a company with slowing growth like this. Typically, this results in one of two things: a quick re-pricing, resulting in a share price crash, or a long period of time where share prices stagnate while fundamental multiples catch back up.
Nicholas suggests two possible paths for price: "A quick re-pricing, resulting in a share price crash, or a long period of time where share prices stagnate while fundamental multiples catch back up." At the moment, the latter of these seems most probable based on the technicals. A rally back to the highs would stretch valuations and likely reverse back down to form a range of $50-65.
Conclusions
There is currently a good setup to buy Starbucks with defined risk and reward. The charts show the institutions are bullish, and are buying, so it makes sense to follow in their footsteps.
Whether this buying is rational or not remains to be seen. I think the most likely scenario is a move back to $62 and a reversal back down, forming a range.
Disclosure: I am/we are long SBUX.
I wrote this article myself, and it expresses my own opinions. I am not receiving compensation for it (other than from Seeking Alpha). I have no business relationship with any company whose stock is mentioned in this article.