Have markets gotten ahead of themselves?
To paraphrase a good friend, that's probably the most trite question I'll ask this week.
That said, it's particularly apt.
The market is supposed to be a discounting mechanism (another trite observation) and there's a very real sense that it may have ceased to effectively function as such in the months since the US election.
Essentially, the argument is that the simultaneous run-up in stocks, the dollar, and rates (the "reflation trinity", as it were) was based on the assumption that the new administration would prioritize the growth-friendly parts of Trump's agenda (tax reform and fiscal stimulus) while relegating things like immigration policy and trade battles to the backburner. It's becoming increasingly apparent that the opposite may be true.
If you want to know just how anxious the market is for a sign that the White House is ready to "get to work" on the platform that got Trump elected, just look at what happened on Thursday when the President mentioned tax reform in a meeting with airline executives:

All that from one passing remark. "Imagine you get an [actual] corporate tax cut," Michael Bell, global market strategist at JPMorgan (JPM) told Bloomberg TV.
But we don't really want to be running on pure, unadulterated "hope." Obviously, that's a recipe for disaster.
Instead, it would be comforting if we discovered that really, Trump was just a wake-up call for a market that wasn't accurately pricing real growth. That is, the market was behind and the Trump trade really just represents us all catching up to economic reality.
I don't believe that, but if you're in the mood for some optimism going into the weekend, I've got some for you courtesy of Goldman (GS). Consider the following interesting exercise the bank conducted this week (my highlights):
Two of the most basic macro forces underlying movements in asset prices are 1) news about growth and 2) news about monetary policy. An improvement in the market's view of the growth picture (a "growth" shock) should push both yields and equities higher. But a perceived increase in inflation or hawkish shift of central banks (a "policy" shock) would be expected to push yields up but equities down.

We rely on this intuition to disentangle the contributions of growth and policy shocks for equity prices and long-term yields since the US presidential election. Intuitively, the methodology provides an estimated decomposition of observed movements in rates and equities into underlying shocks by labeling positive co-movement of equities and rates as a growth shock and negative co-movement as a monetary policy shock. For example, a situation in which both bond yields and equity prices rise would be labeled a positive growth shock; circumstances in which bond yields rise but equity prices fall would be viewed as a hawkish policy shock. It is important to stress that this approach uses only the time variation of equities and rates-and no other information, such as actual economic data-to identify the shocks.
Ok, so basically Goldman is looking to explain movements in stocks and bond yields in terms of growth "shocks" and policy "shocks" where the former is stocks up, yields up, and the latter is yields up, stocks down.
Here's a visualization of what the bank found when it decomposed post-election returns: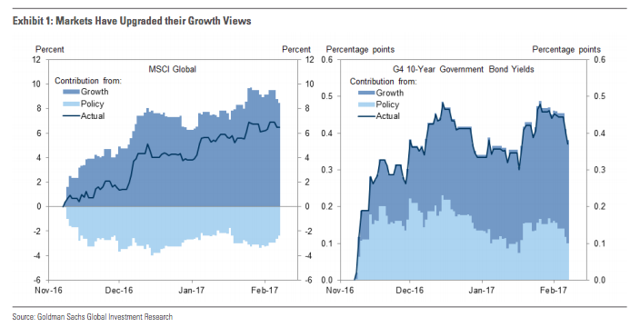 (Charts: Goldman)
What you're seeing there is that since the election, growth shocks have pushed up equities (NYSEARCA:SPY) by ~8%, while policy shocks have put around 2% of downward pressure on stocks, resulting in a net ~6% gain.
On the Treasury (NYSEARCA:TLT) side of things, around 30bps of the run-up in yields is attributable to growth shocks and around 10bps is due to policy shocks.
Now once again, this is based solely on how markets moved. When stock and bond returns exhibit a negative correlation (stocks up, bonds down) Goldman intuits a growth shock. When the correlation is positive (stocks down, bonds down), the bank surmises a policy shock.
Ok, Heisenberg, who cares? Goldman decomposed returns and plotted them in pleasing blue hues. So what?
Well, that's where the "somewhat reassuring" (to quote Goldman) bit comes in.
The bank takes those results, scales them to the same units as its current activity indicator and checks for a fit. Here's the result: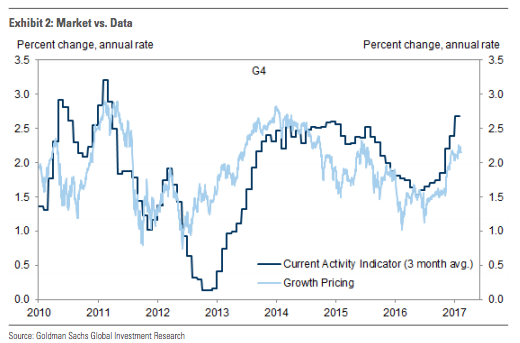 (Chart: Goldman)
Did you catch the implication there? Essentially what this suggests is that the market really isn't pricing Trump at all. It's pricing the data as represented by the current activity indicator.
That, in turn, brings us back to the point made above about the impact of Trump's tax reform comment. Any indication that the administration is on the verge of moving forward with growth-friendly policy could provide material upside if it turns out that the market action we've seen thus far is simply a reflection of a more upbeat economic reality. To quote JPMorgan's Michael Bell again, "imagine you get actual reform."
Here's Goldman again:
Our results have practical implications, [that are] somewhat reassuring. The recent price action does not necessarily mean that markets have incorporated a highly optimistic view of how the Trump administration will boost US economic growth. Instead, our analysis suggests that the election outcome should at least partly be viewed as a catalyst for a convergence of the market's growth view toward improved actual growth. Going forward, the market's growth view may have a bit more upside if the Trump administration's policies-specifically on the fiscal side- have a net positive impact.
So, for those of you aching to see a bit of bullish analysis, there you go. I aim to please.
Needless to say there are myriad problems with the study cited above, not the least of which is the fact that it's probably impossible to completely separate the data from optimism around Trump's policy proposals. That is, you can talk all day about "hard" data versus "soft," but in the final analysis, "hope" is going to find its way into every econ print you see, so there's a kind of tangled relationship that's difficult to sort out.
Nevertheless, there are bulls and they need something to cling to. The above should suffice.
For now.
Disclosure: I/we have no positions in any stocks mentioned, and no plans to initiate any positions within the next 72 hours.
I wrote this article myself, and it expresses my own opinions. I am not receiving compensation for it (other than from Seeking Alpha). I have no business relationship with any company whose stock is mentioned in this article.