Introduction
Back in July of 2016, I examined various senior gold producers, such as Barrick (NYSE:ABX), Newmont (NYSE:NEM), Goldcorp (NYSE:GG), Agnico Eagle (NYSE:AEM), Kinross (NYSE:KGC), and Randgold Resources (NASDAQ:GOLD) through fundamental financial analysis, using metrics such as operating efficiency ("cash cost"/AISC), capital structure, or return on equity.
It became clear that Randgold stood out as one of the only major senior gold miners with sustainable and expansionary fundamentals. For example, it was one of the only majors that managed a stable, double-digit operating margin for many years, regardless of the price of gold. And of all the senior miners, it had the least amount of financial leverage, i.e. debt. So, I've been following the company ever since.
This quarter particularly stood out to me. While Randgold did miss estimates by about 7%, or 20 cents, this quarter, with approx. $2.61 earnings per share versus the estimate of $2.82 a share for the full year, it was not necessarily a cause for disappointment and was still higher than the previous year's EPS of $2.01.
Let's look at the quarterly results in more detail.
The Results
| Revenue YoY Growth | Earnings (per share) YoY Growth | Production YoY Growth | "Cash Cost" YoY Change |
| --- | --- | --- | --- |
| 19.9% | 28.7% | 3.2% | (6.0%) |
Why were the estimates off? For one, Randgold did have to outlay about another $30 million to the Massawa project to finalize feasibility models, which will be discussed in further detail below. Additionally, an outlay of ~$55 million was spent in Gounkoto for the Super Pit and equipment refresh there.
All other things considered, everything was in guidance:
Revenues set a new record for the fiscal year of about ~$1.2 billion
Gold production set a new record for the sixth consecutive year of about 1.25 million oz.
Managed to reduce average "cash cost"* to $635 from about $679 per oz, down 17% QoQ or 6% YoY
Achieved $500 million in net cash (no debt) on the balance sheet
Proposed raising dividend by 52%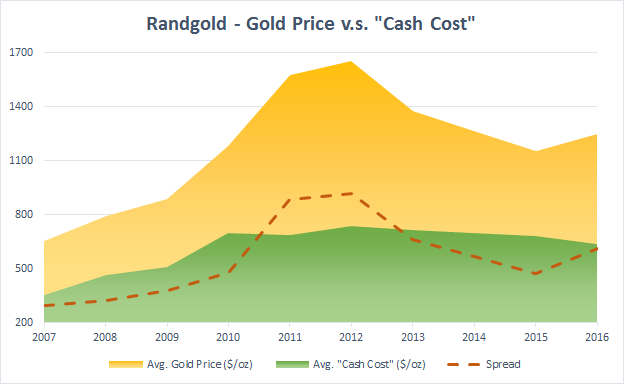 (Source: Bloomberg)
*"Cash cost" or AISC is not indicative of all operating costs.
(Source: Bloomberg)
Including the reduction in injury rates and environmental measures, all in all, Randgold had a very successful year. And with the growing likelihood of the Massawa project finally coming to fruition, the picture for the future looks bright.
The Massawa-Sofia Project
Since the 90s, Randgold has spent considerable effort and money, to the tune of about $70 million, on exploration and studies for the Massawa project on the border of Senegal and Mali in West Africa. However, technical and economic feasibility studies are reaching their final stages and management will soon be prepared to make a final decision as to whether or not the company will go ahead with the project. According to CFO Shuttleworth, this would occur by mid-2018.
The Massawa and Sofia updated technical and financial study was completed. Orientation drilling has been completed on the Central Zone of Massawa allowing for an updated resource model to be completed while infill drilling of Sofia Main was also completed. Drilling has confirmed the mineralisation at Sofia, while the CZ drilling has clearly defined the two styles of mineralisation consisting of a thin high grade Phase 2, with a significant coarse gold component surrounded by a lower grade Phase 1 mineralisation.

Metallurgical testwork has identified the transition boundary between the refractory ore of North Zone 2 and the CZ. Flotation and ultra-fine grind to 15um of concentrate, followed by intensive cyanide leaching of the CZ concentrate and standard leaching of the flotation tails, has recovery benefits taking the total expected average recovery of this material to 80%. The refractory North Zone 2 material has shown recovery of 89% with the use of bio-oxidation technology. The Sofia ore is free leaching and a recovery of 89% is possible with gravity and cyanide leaching. Oxide ores range from 91% recovery in Sofia to 85% recovery in North Zone 2.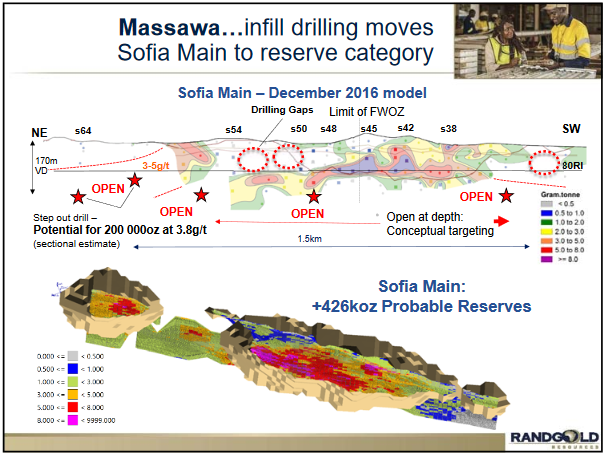 If the project is to be fully pursued, Randgold has thoroughly outlined its estimates as to how much it would cost, rate of return, etc. Let's focus in on the financial model assumptions.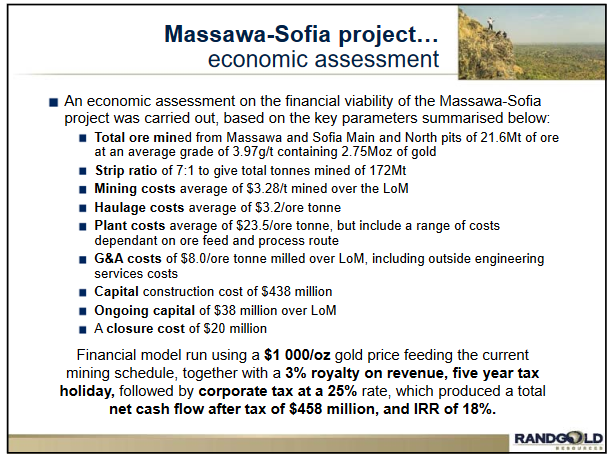 | Assumed Gold Price | Estimated Average Ore Grade | Estimated CapEx (Construction) | Estimated Net Cash Flow After Tax | Estimated IRR |
| --- | --- | --- | --- | --- |
| $1000/oz | 3.97 g/t | $438 million | $458 million | 18% |
Assumed Gold Price
For one, the company uses an $1000/oz gold spot price into its estimates. If we look back just over the past year, gold spot cumulatively averaged about $1250/oz. Below are the various estimates for the net cash flow based on gold price and discount rate.
| Discount Rate/Gold Price | $800/oz | $1000/oz | $1200/oz |
| --- | --- | --- | --- |
| 0% | $48 million | $458 million | $871 million |
| 5% | ($50 million) | $249 million | $550 million |
| 10% | ($107 million) | $117 million | $343 million |
Even if we factor in the most aggressive Fed funds/interest rate and tight dollar/credit scenarios, gold cumulatively falling below $1000/oz over the period of the project, i.e. the next 6 years, is quite unlikely; in fact, there is a 75% probability that gold actually stays in a range above $1000/oz.
Investment demand for gold has had significant momentum over the past decade due to the ever-present threat of deflation and flat yields. So, Randgold's assumed gold price is appropriate for the duration of the Massawa-Sofia project. If anything, the assumption may be too conservative as gold may actually recover and stabilize as the "Trump trade", or reflation/Treasury short/long USD consensus thesis unwinds, and investors migrate back into gold and out of financials.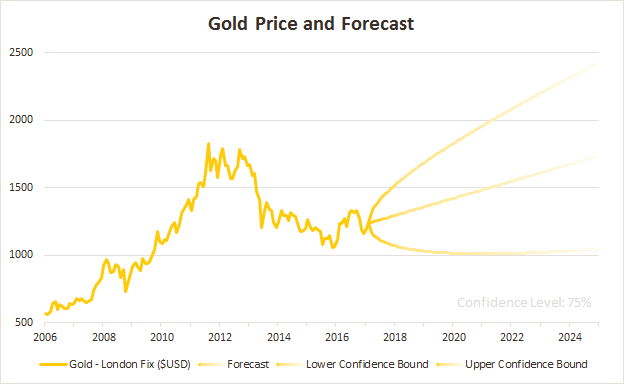 (Source: London Bullion Market Assoc.)
Average Ore Grade and Reserves
The second factor to highlight is the estimated average ore grade of the Massawa and Sofia Main and North pits - 3.97 grammes per tonne. As I've noted in other writings, ore grade is not the penultimate factor in determining the quality of an asset, but it is an important factor in determining how long an asset may last.
According to the deportment studies (BLEG) by Randgold, Massawa-Sofia is defined as a complex ore body. However, the higher-grade ore implies the Massawa project should last, meaning Randgold won't have invested all of this time and money just to have to immediately "sweat", i.e. churn out high-volume low-grade ore, simply to make its money back.
On the whole, Randgold has been historically prudent in acquiring high-performing assets and is ahead of its peers in the composition of all of its reserves, not just the Massawa-Sofia project.
Average Grade of Proven and Probable Reserves (2015) (g/t)
Randgold Resources
3.60
Goldcorp
3.60
Agnico Eagle Mines
2.40
Barrick Gold
1.30
Newmont Mining
0.90
Kinross Gold
0.70
Massawa-Sofia project
3.97
All current producing gold ore deposits worldwide
1.06
One final point to mention is that Randgold had hoped for an additional one million in reserves from the Massawa project on top of 4.8 million oz of resources already accounted for, however, as far as I understand, it seems that the Sofia add-on will only add about half a million in reserves. This is only a minor point and does not affect that the project is still economically feasible.
FX Risk
As always, tail risks related to the price of gold or forex are present but are far smaller compared to other over-leveraged, operationally-inefficient miners. Randgold's main forex risk stems from possible fluctuations in its operational costs in West Africa, i.e. XOF/US. however seeing as the dollar is and will remain quite strong for some time, this may be more of a positive than a negative. Randgold reports all of its revenues in U.S. dollar.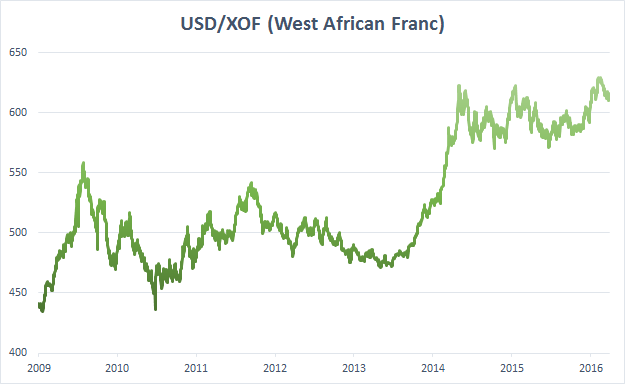 Conclusion
In the commodity space, particularly precious metals, maintaining consistent returns and conservative financing/capital structure is the formula for long-term stable growth. The volatility of gold and other precious metals is such that it pays to be conservative, i.e. underestimate future returns and thoroughly estimate any and all possible operating costs, even as far as estimating injury rates or fluctuations in the price of diesel for hauling. Overleveraging or gobbling up assets simply because the spot price of gold rises in a certain period is a mistake too many miners make.
In that vein, Randgold Resources continues to impress with sustainable expansion. The Massawa-Sofia project is the latest example of such. Looking forward, estimates for next year's EPS are around $3.50 a share, however more important is that revenues and production continue to grow steadily regardless of tail risks. Of all the major gold miners, Randgold is one of the few that I would be willing to place a long-term investment in.
Disclosure: I/we have no positions in any stocks mentioned, and no plans to initiate any positions within the next 72 hours.
I wrote this article myself, and it expresses my own opinions. I am not receiving compensation for it (other than from Seeking Alpha). I have no business relationship with any company whose stock is mentioned in this article.