This article includes an analysis of Hudson's Bay Company (OTCPK:HBAYF), including business operations, management's performance, and a valuation of the business. This stock initially wound up on my radar through my funneling process you can see here. Currently HBC is sitting at an all-time low price of $11.
Description of Business
Hudson's Bay Company, or "HBC", has a rich history dating back to the 1600s, evolving from holding control of the fur trade (think The Revenant) to one of the largest department store holders in the world. Although HBC is ubiquitous with Canadian history and culture, it is a diversified department store holding company throughout Canada, the US and Europe. HBC's main businesses include:
Hudson's Bay
Lord & Taylor
Find @ Lord & Taylor
Saks Fifth Avenue
Saks Fifth Avenue OFF 5TH
Gilt
Home Outfitters
Galeria Kaufhof
Sportarena
Prior to 2006, HBC was publicly traded, but was privatized until its eventual IPO in Nov. 2012. During the private years, HBC was owned and run by NRDC Equity Partners which also owned Lord & Taylor, the oldest luxury department store chain in the United States. In July 2013, HBC acquired Saks Incorporated. In Sept. 2015, the German department store Kaufhof was acquired, further positioning HBC in Europe. More recent speculation is pointing to an HBC takeover of Macy's (NYSE:M) (Feb. 2017).
Business Model
I'll admit that I initially thought HBC would have a simple business model consisting of revenue, cost of sales, and admin expenses. If you look at evaluating HBC using the traditional retail valuation lens (free cash flow, EPS, etc.) or by comparables, you are missing half the pie. For investors who really understand HBC, they know they are buying a joint venture between a real estate operating business (i.e. REIT) and a retail business. In fact, in the 2015 annual report, management highlighted that the ability to leverage real assets is integral to its acquisition growth plan. I would almost argue that HBC's primary business is real estate. In other words, its retail business serves to grow the real estate holdings, but that might be a little farfetched. Here's an outline of HBC's organizational structure as of April 2016 (investor presentation):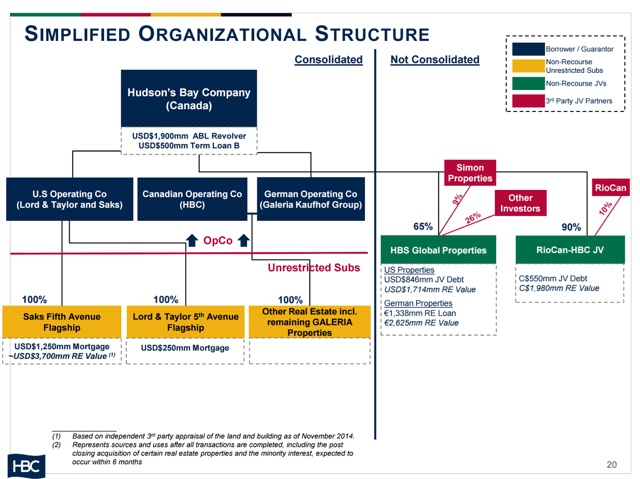 I think most analysts and investors focus on HBC's bottom-line retail performance and ignore what the company does best: acquiring high-value retail assets through M&A. HBC's financial statements intertwine both real estate and retail operations, which makes it difficult to analyse. Although there have been several articles that have tried to report on HBC's true net asset value, I couldn't find anyone who completely separated the businesses into holistic chunks. Let's have a look and see if we can uncover what's really going on.
Real Estate Value
HBC owns a significant amount or real estate in several tranches: wholly owned, ground leases, and joint venture ownerships. The following slide from an April 2016 investor presentation outlines real estate values conducted by independent valuators: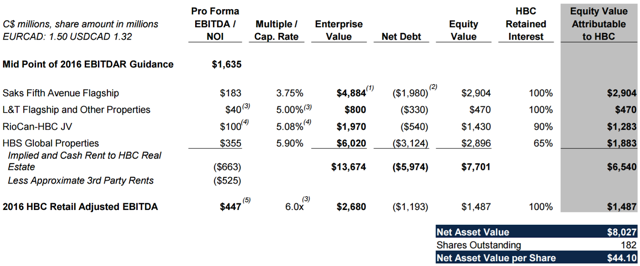 Note that this analysis values the total business equity at over $44 per share. The real estate portion is valued at about $36/share or $6.5 billion (net). Total real estate asset value is about $13.7 billion. I think this is a reasonable valuation. Some may question the extremely low cap rates, but consider that these are the crème de la crème of downtown real estate, not your typical suburban box store real estate.
Separating Real Assets from Retail
When the above valuation was calculated in April 2016, the asset sheet (Q2 2016) looked like this: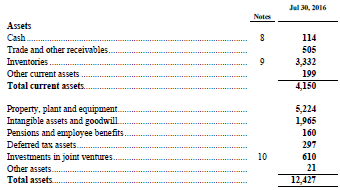 Note: I'll use the Q2 results for this section to keep consistent with the investor presentation.
Notice that the asset value of the Joint Venture and the Property, Plant, and Equipment line items only represents $5.8 billion on the books, not the $13.7 billion real estate valuation. In a REIT (under IFRS) these values would have been updated to reflect the true value. Now comes the difficult part - trying to update the retail balance sheet by removing the right book values that represent the cost of the real estate. For that, we need to look more deep into the Property, Plant, and Equipment line item (see note 10 2015 annual report - this level of detail is not available in quarterly reports):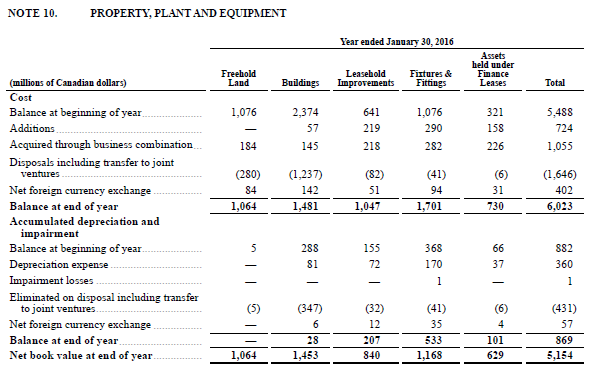 Let's go over the line items:
Freehold land - Wholly owned land at cost. I'm assuming that when HBC buys buildings assets, the land value portion of the acquisition cost gets accounted here. In other words, the cost of the building and the land value get separated into two line items.

Buildings - Wholly owned buildings at cost. This is the portion of the acquisition cost that represents the building value.

Leasehold improvements - HBC and its joint ventures own many ground leases. These leases are typically very long term, allowing the company to develop the property on the leased land. This is the development costs associated with those leases.

Fixtures and fittings - FF&E are movable furniture, fixtures, or other equipment that have no permanent connection to the structure of a building or utilities.

Assets held under finance leases - I suspect these are the ground lease values. Since ground leases are very long term and transferable to third parties, the leases typically hold a residual value that is depreciated to the end of the lease.
Based on these line items, I would say that the freehold land and the buildings line items represent the book value of the Saks, and Lord & Taylor, and the other wholly owned stores. Therefore, I would remove $2.517 billion from the retail asset balance sheet to separate the real estate from the retail.
Looking at the liabilities, specifically the "loans and borrowings," we see $2.729 billion on the books (Q2 July 2016):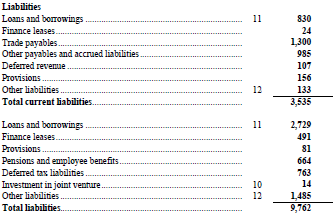 Deeper into the notes, we see the mortgages for the properties (Q2 July 2016):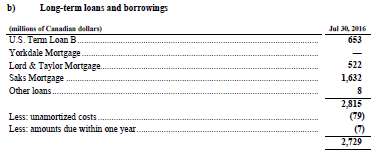 Notice that from April 2016 (investor presentation) to July 2016, the mortgage values changed. As stated before, HBC is a master of leveraging and moving money around its real estate portfolio to fund its operations and M&A activity. Either way, about $2.2 billion of liabilities represent the real estate mortgages wholly owned by HBC. Note this doesn't include any mortgages held under the joint ventures. Therefore, to remove the real estate wholly owned by HBC, you need to remove $2.517 billion from assets and $2.2 billion from liabilities.
Real Estate Joint Ventures
The joint ventures sit at around $596 million (i.e. = $610-$14 million) on the balance sheet. Through the ownership in the RioCan and HBS joint ventures, HBC has been able to raise significant capital to make strategic acquisitions or to close company debt. If you read the MD&A each quarter or the annual reports, it's amazing to see how management shuffles money and debt around. A good presentation to go through is the Galeria Holding acquisition. I think this highlights HBC's skills at leveraging the real estate portfolio to grow.
There is a lot of speculation on whether a REIT will spin out of HBC, especially since the CFO previously spun out Crombie REIT from the Sobeys Empire Company. "The structures of the [real estate] joint ventures are designed to facilitate an IPO or other monetization transactions of each joint venture at a future date" (MD&A Oct 2016). I wouldn't be surprised if it happens.
Valuation Summary as of Q2 2016
As of spring/summer 2016, the net asset value of HBC's real estate business was about $6.5 billion or $35.71 per share (at 182 million shares). Removal from the balance sheet would reduce the assets and liabilities by $3.1 and $2.2 billion, respectively. In other words, the net retail value is about -$300 million:
Retail Assets: $12.4 - $3.1 billion = $9.3 billion
Retail Liabilities: $9.8 - $2.2 billion = $7.6 billion
Intangibles and Goodwill: $2 billion
Net Retail Asset Value: -$300 million
The liquidation value of the retail side is around -$3.8 billion (i.e. current assets - total retail liabilities). Therefore, the worst-case liquidated share price is around $14/share.
Operations
Since we removed the real estate portfolio in our valuation of the net asset values, we should also ignore any income statement activities related to real estate. Let's take a look at the top of the income statement. Note that this does not include theoretical rents that would need to be paid to cover the Saks and Lord & Taylor flagship stores (i.e. $663 million).

Note that after cost of sales and SG&A, the business is profitable. Also notice that HBC has experienced significant revenue growth through its M&A activities. Next have a look at the cash flow from operations: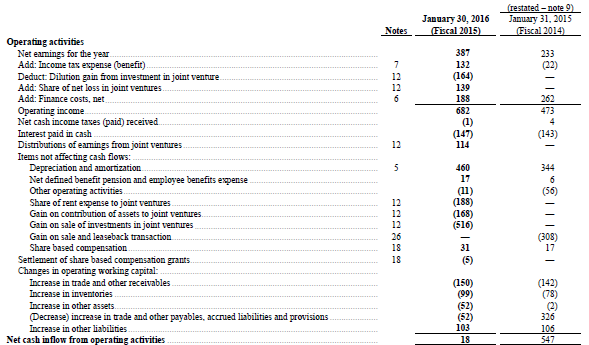 HBC was cash flow positive for 2014 and 2015. Next, look at the income for Q3 2016 and the Q3 cash flows from operations: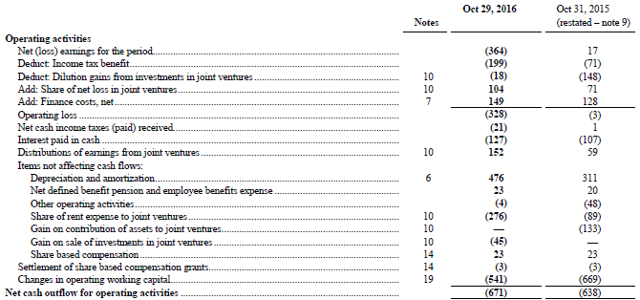 Note that Q3 does not include the revenue from the holiday season. HBC was in a similar negative cash flow situation in Q3 2015 and became cash flow positive by Jan. 2016. Overall, the cash flow from operations at year end gives a better view of its retail operations.
Long-Term Business Outlook (10-20 Years)
HBC's mission is to become the world's largest all channel retailer. In order to achieve this, HBC has been implementing the following strategies (from Q3 2016):
Driving Growth Across All Channels - The Company is focused on driving growth in its stores and through digital channels. The Gilt acquisition was an important move for HBC in the digital space.

Expanding the Company's Off-Price Business - The Company plans to continue new store openings and has introduced a larger Saks OFF 5TH format.

Bringing Saks Fifth Avenue and Saks OFF 5TH to Canada - The Company has leveraged its existing Canadian infrastructure, institutional knowledge and experience to bring Saks Fifth Avenue and Saks OFF 5TH to Canada.

Plans to Drive Sales Growth Across All Banners - HBC will continue to implement revenue growth across its department segments.

Expansions - The Company has signed long-term lease agreements for 13 locations in the Netherlands. Hudson's Bay stores will open in Amsterdam, Den Bosch, The Hague, Enschede, Zwolle, Amstelveen and Almere.
From the spring 2016 investor presentation, here is a glimpse of the growth success: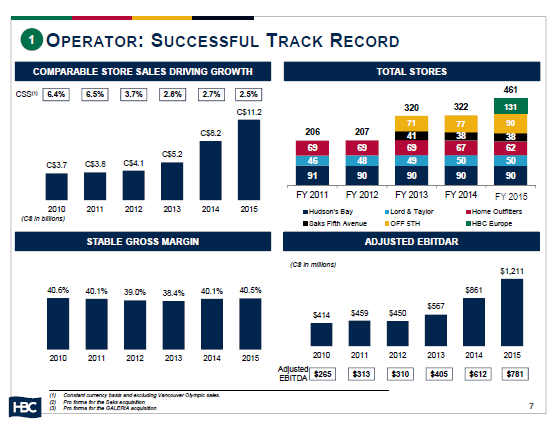 I forecast that HBC will continue to do large M&A activities where it makes sense. However, in the latest conference call, management did caution on M&A exhaustion and the ability for existing HR to cope with too much growth.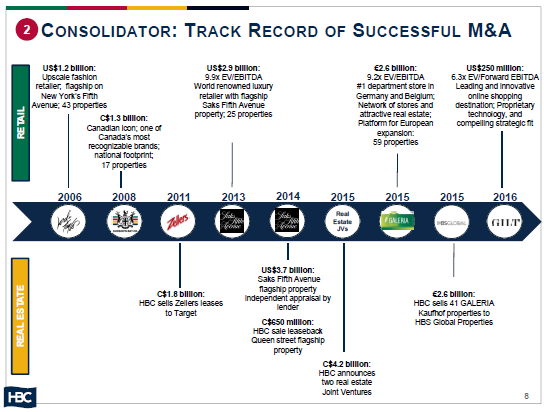 The big question is will HBC be able to turn its revenue growth into net income. Currently the following cost reduction programs have been put into place to decrease costs as growth occurs:
Investments in cost reduction information technologies

Distribution center automation

Back office efficiency programs

Early retirement options
It's also worth mentioning that there is a lot of speculation and negative forecasting for the brick-and-mortar retail space, losing to digital sales. However, I think the world is more complicated than that. If I were look through my time traveling binoculars, I think I would still see malls and people shopping. The retail experience is evolving, single channel operators will face increasing competition, but I believe there will always be a place for brick and mortar.
Some may see this as a business in decline, however I see HBC as a growth stock in a low tech business. It is growing by leveraging its assets, diversifying globally, and implementing strategies to reach customers over a multi-channel approach. Eventually HBC should be able to switch from growth mode into profit generation mode, however, notably difficult in a cyclical, seasonal business. The downside is mitigated by the real estate and a very conservative liquid value of around $14/share.
Valuation
At this point, I usually value the business by forecasting cash flows for 10 years and estimating the net present value. I'm pretty confident that HBC could continue to pay a $0.40 dividend for several years. In my original article, my back-of-the-envelope valuation was $19/share based on the current book value/share and a $0.40 dividend issued over 10 years. If you consider the growth, value of the retail operations more realistically, and account for the value of the real estate, I don't see problems with a $35-40 valuation. Look at it this way, if HBC spun out its real estate at true values, each shareholder would get over $35 and keep ownership of the retail business, owning over 400 store worldwide.
Strategy for Dealing with the Market
The market is only valuing HBC based on its short-term retail performance and speculation about the industry outlook. It is also troubling that financial analysts from the big banks don't ask questions about HBC's real estate during the earnings conference calls. Also the accounting industry didn't get the memo that annual reports should make it easy for the public to evaluate a business and evaluate performance. When you amass stockpiles of real estate, the real values need to be clearly quantified and separated from other operations.
I think at $8-11/share, there is a reasonable margin of safety in HBC. That, coupled with the opportunity to leverage HBC's growth, there is significant upside if it can turn a profit. I think if you buy, you need to hold 5+ years for the REIT spin-out. Comments welcome!
Cheers,
Wayne
Disclosure: I/we have no positions in any stocks mentioned, but may initiate a long position in HBAYF over the next 72 hours.
I wrote this article myself, and it expresses my own opinions. I am not receiving compensation for it (other than from Seeking Alpha). I have no business relationship with any company whose stock is mentioned in this article.