Around 1993-94, my brother was trying to convince my then aging father that if he didn't have an online marketing strategy and an automated sales system in the next five years, his company was toast. My brother's prediction might not have been exact in terms of its time-scale, but today it has most certainly come true. The data is incontrovertible. Six months ago, United Parcel Service Inc. (NYSE:UPS), noted that 'for the first time, consumers say they bought more of their purchases on the web than in stores.' 60% of marketers, according to stateofinbound.com, consider online content creation one of their highest priorities. The average person spends up to three hours online per day. Big data means all our personal information is available for targeted, direct advertising. I could go on. The fact is however, these trends are set to continue to rise and, with more and more of our lives lived online, companies that help others to market their products in the virtual space should benefit. This article turns its attention on two such companies: Hubspot (NYSE:HUBS), and CallidusCloud (NASDAQ:CALD).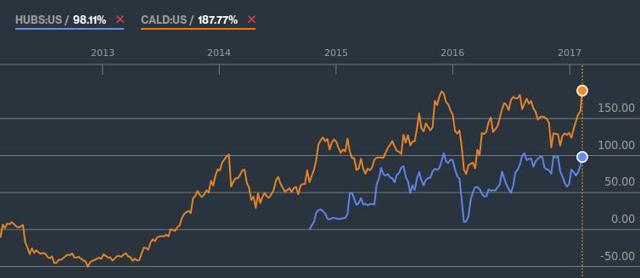 Hubspot & Callidus Cloud - 5 Year Share Price. Source: Bloomberg
Callidus and Hubspot do not operate in precisely the same space, though there is some overlap. Hubspot is an inbound marketing company, that uses content marketing, social media and SEO to draw attention to its clients, whilst Callidus is an enterprise company providing cloud sales tools, including lead analysis and content generation tools. What they have in common, however, is a strong performance in share price terms, room to grow, good reputations, small to mid-cap market capitalisation and exposure to the digital marketing sector at-large - which is sure to grow. Granted there are big-hitter investments in these sectors from Adobe (NASDAQ:ADBE), whose recent stock performance is more than worth keeping an eye on, to IBM (NYSE:IBM), Google (NASDAQ:GOOG) (NASDAQ:GOOGL), Salesforce (NYSE:CRM), et al. But for the weekend it might be worth considering two smaller stocks that could interest you should you want to increase your exposure to the online sales and marketing sector.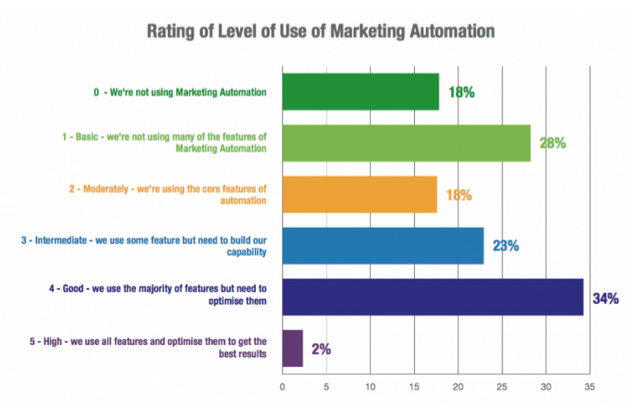 Plenty of Room to Grow - Current Online Marketing Automation Tools Use - Source: smartinsights.com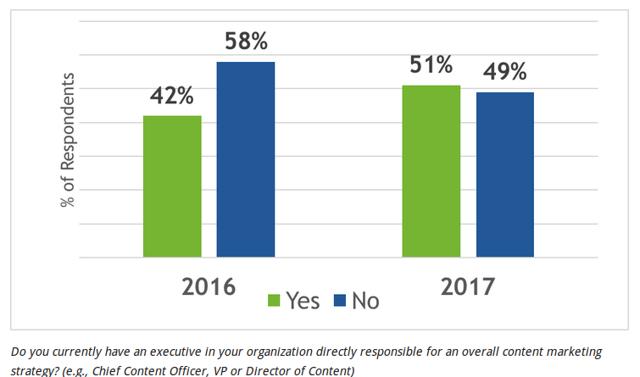 Survey of Companies and Content Creation - Source: Curata
The Companies:
Hubspot:

HUBS - 1 Year. Source: Bloomberg
Hubspot, with a market capitalisation of $2.049bn, had an excellent 2016 and has begun 2017 in the same spirit. Rising from $29.04 in February to almost $60 per share in 2016, the one year return in this stock was just over 98%. In the year to date this figure is an excellent 22.45% and the company's price again seems to be testing that $60 mark, sitting currently near to the $57 range. The 11-year-old Massachusetts company has had an excellently managed rise since its inception in MIT, providing integration for its content delivery, SEO, and other services, with a host of widely used systems from SalesForce to SugarCRM. The company is expected by many analysts, for instance those at Stifel, to continue its hot run of growth, whilst Terry Tillman believes growth may continue at 30% levels for several more years.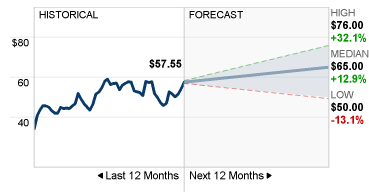 CNN Forecast for HUBS, Reflects other available forecasts. Source: CNN
The content provider, amongst other services, is also rumoured to be a potential M&A target according to Stifel and Marketwatch, and with strong billings growth of 48% in its last filed report, you can see why. Indeed, they seem to have an eye on the future, having just recently announced a partnership with leading image-content provider Shutterstock (NYSE:SSTK) in order to boost their content delivery provision, a deal which is likely to be of some benefit. Fourth quarter and final year results are expected to be released on the 14th of February and with each of the last four quarters providing an average earnings surprise of over 15%, the outlook seems positive for the company. Hubspot has had a well-managed rise and is now one of the leading companies in its sector; it has 22.9% of the market share of the Alexa top 1m, as per Datanyze, and with the market set to grow, HUBS is likely to capitalise, and is certainly one to watch.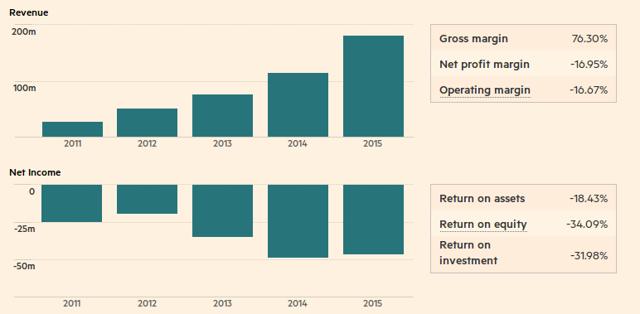 HUBS Financials. Source: FT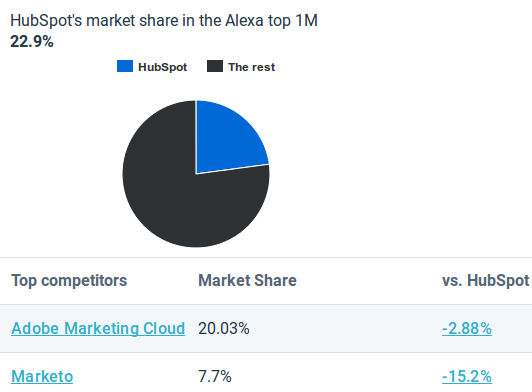 Hubspot Market Share Data. Source: Datanyze.com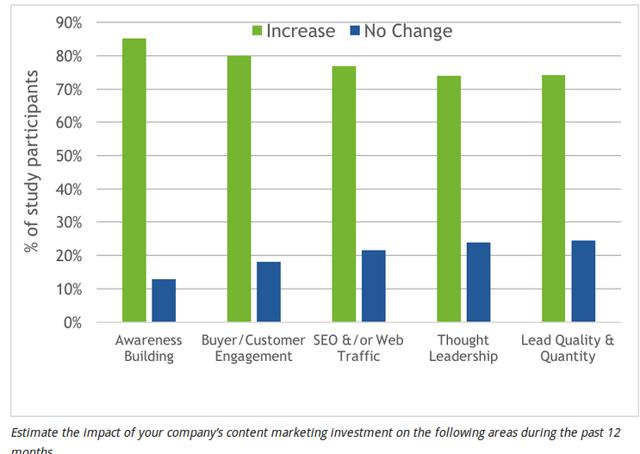 CallidusCloud:

CALD - 1 Year. Source: Bloomberg
Callidus, like Hubspot, enjoyed a good 2016 and is so far having a good year to date. From lows of near to $12 a share last year, the company almost doubled in value to around the $21.50 mark. After such highs, Callidus saw its share price fall to around $15 a share, still 20% up on its February price, however a slow and steady rebound has been underway ever since and, over the last month, the company has seen its share price rise by over 20%. All in all, this and yearly gains of 71.44% signals a good yearly performance from the California based company.

The FT's share price forecast for Callidus, broadly in line with market sentiment. Source: FT
Callidus provides a web-based marketing solution for aligning sales and marketing campaigns in order to drive business demand and thus revenues, integrating marketing strategies through its platform provisions. Essentially an analytical suite with delivery provision, Callidus' software has helped the $1.33bn market-cap company to gather the plaudits, including 41 awards at the American Business Awards Ceremony of 2016, which, while perhaps not a direct share price support, indicates the company's market status. The 21-year-old company, which floated in 2003, is also no stranger to using M&A to boost its service offering, acquiring 14 distinct companies in the last seven years. Its revenues continue to increase year on year, though it has some way to go before becoming strongly profitable; still with little to no debt, and solid assets, the company retains a good base on which to build. In terms of growth, the company is expected by analysts, including those of the Nasdaq, to continue to grow, with 2017 projections of approximately 22.5%.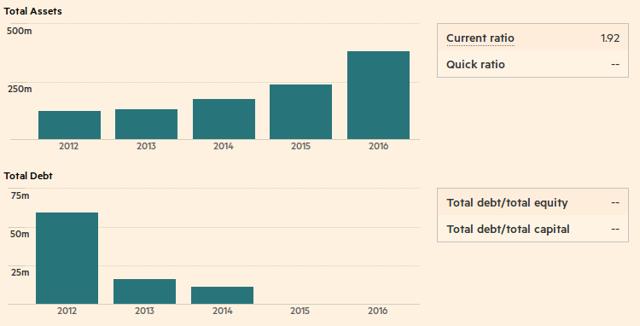 Callidus Balance Sheet. Source: FT
In terms of its share price performance, Callidus has broken through recent levels of resistance and looks set to test the $21 mark it last tested in the summer of 2016. Generally speaking, analysts, including those of Craig Hallum, consider CALD a strong buy. The actions of large capital investors also follow suit, with BlackRock (NYSE:BLK) for instance, raising its investment by 21%. Stockinvest notes that shares in CALD may have a volatility level of around 5%, so an investment should be carefully monitored. The company has seen revenues rise, has exposure to a growing sector and is worth considering as an addition to your portfolio, though perhaps some patience should be exercised as the company's share price tests resistance levels.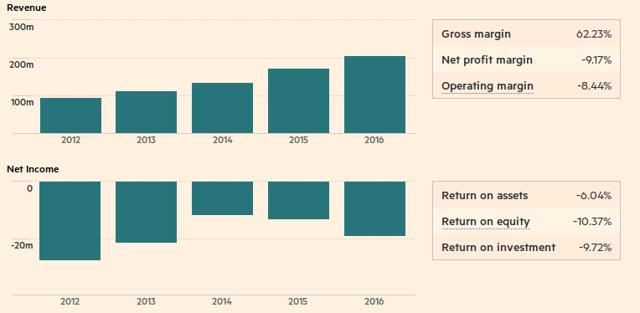 Callidus Financials. Source: FT
(Oisin Breen, Technical Analyst at Accendo Markets)
Disclosure: I/we have no positions in any stocks mentioned, and no plans to initiate any positions within the next 72 hours.
I wrote this article myself, and it expresses my own opinions. I am not receiving compensation for it (other than from Seeking Alpha). I have no business relationship with any company whose stock is mentioned in this article.
Additional disclosure: CFDs, spread-betting and FX can result in losses exceeding your initial deposit. They are not suitable for everyone, so please ensure you understand the risks. Seek independent financial advice if necessary. Nothing in this article should be considered a personal recommendation. It does not account for your personal circumstances or appetite for risk.