Software has greatly improved efficiency but in industrial production most software functions on a machine basis. New technologies enable factories to get more data from their machines and let them communicate for further efficiency gains. For this communication a common platform is needed so that machines can understand each other. The use of a software platform in industrial production can greatly improve efficiency and also open possibilities for further improvements in the future. This means that manufacturing companies are eager to invest in them and a significant portion of R&D is going into this field.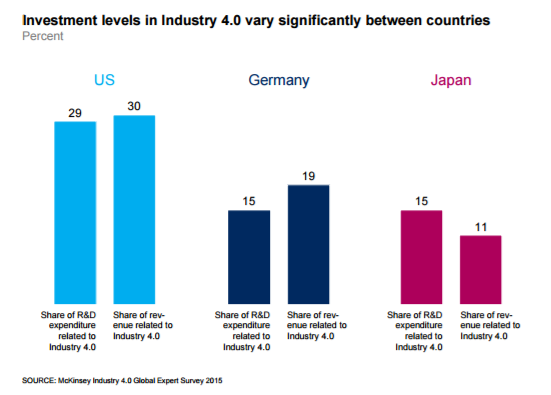 General Electric (NYSE:GE) with its Predix platform has strong position to create one of the leading industrial platforms because of its large scale, scope and many different businesses. Digital orders through its Predix platform increased 36% while the use outside of GE verticals improved with 90%. Orders are expected to increase further in 2017 which will give Predix substantial scale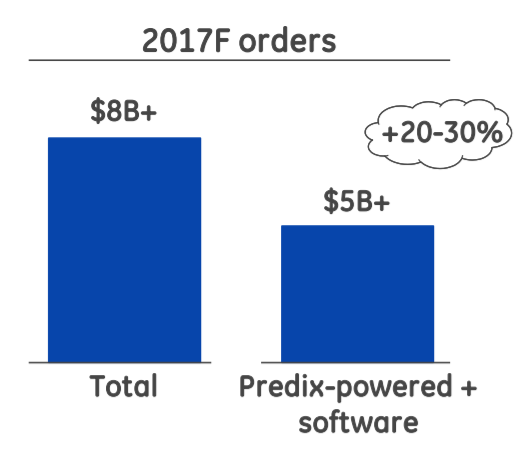 Source: GE presentation
Deals with companies like Exelon and partnerships with Baker Hughes and others can help GE to increase adoption of its platform (source). Growth of the platform is important because the largest platform has the strongest network effects which allows for further growth.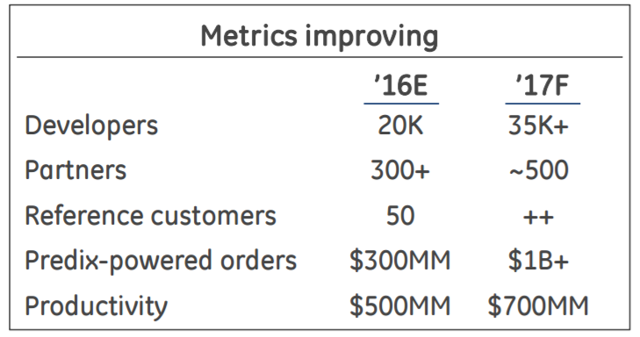 Source: GE presentation
Platforms are also fairly sticky which makes great barriers against competition which can be seen with databases from Oracle and offerings from Microsoft like Windows.
Competition
GE however is not the only company that wants to become the leading company in industrial digitization. Siemens (OTCPK:SIEGY)which has its own platform MindSphere has recently partnered with IBM (NYSE:IBM) to integrate its platform with Watson Analytics (source). Siemens is a European conglomerate with operations in similar industries as GE like power, gas, renewable energy, healthcare and automation. The digitization of the factory will probably become another place where the companies will clash. Other competitors are Microsoft, Oracle and other industrial companies like ABB and Emerson. The strong backlog of GE amounts to $321B of which $237B is in services. This historic backlog build up over decades can be combined with the size of GE. GE is still a $263B market cap company after all the divestitures, roughly the size of IBM and Siemens combined. This lead in data can give GE an edge by allowing for better analysis. Which makes it more likely that GE can become one of the strong players in industrial digitization.
Divestitures
GE has divesting assets since the financial crisis which almost bankrupted the company through GE Capital. Most of GE Capital is now divested as well as its appliances business. Further potential divestitures could be Lighting which was divested by Siemens and more recently Philips and potentially healthcare which is in the process of being spun off by Siemens. Further divestitures however are not a clear path to value creation now GE is a more focused industrial company.
Valuation
Because of its conglomerate structure and its recent divestitures and acquisitions it is difficult to put a valuation of GE. In 2016 both its Oil & Gas business as well as Transportation suffered from weak end markets. With lower comparable numbers 2017 has to potential to offer significant improvements. Management guidance for operational earnings of $1.60-1.70 per share makes the shares more expensive than I would like with a price to operating earnings of 17.5. Compared to an expected p/e of 16 for Siemens. Industrial digitization has clear potential and GE has a strong position to profit from it but historically execution has been underwhelming at GE. Its other divisions are not growing which makes the valuation even richer. That is why because of valuation and historical execution I favor Siemens and rate General Electric as an expensive hold.
Supporting Documents
Disclosure: I/we have no positions in any stocks mentioned, and no plans to initiate any positions within the next 72 hours.
I wrote this article myself, and it expresses my own opinions. I am not receiving compensation for it (other than from Seeking Alpha). I have no business relationship with any company whose stock is mentioned in this article.
Editor's Note: This article discusses one or more securities that do not trade on a major U.S. exchange. Please be aware of the risks associated with these stocks.