Although BNP Paribas (OTCQX:BNPQF) (OTCQX:BNPQY) (OTC:BNPZY) reported an earnings beat, its 4Q results revealed several disappointing trends.
The bad
French retail is still suffering from a low interest rate environment. Revenues were down 3.4% y/y and 3.3% q/q due mainly to weaker interest income dynamics. Deposit margins have continued to deteriorate, while there was also a decline in asset yields, driven by renegotiated loans. As a reminder, the main issue for French banks remains their inability to re-price deposits due to the Livret A, which is an instant-access tax-free cash account available to everyone in France. The product is highly competitive, and its rate (currently set at 0.75%) acts as a floor on deposit rates. The French government recently proposed a new method for calculating the Livret A rate, but it is still early days. Fees also were down and that was unexpected, given that BNPP recorded strong flows in its life insurance business. Costs were flat on a yearly basis. The potential for cost savings in French Retail is still significant given that the segment has a cost/income ratio in the high 60s.
BNP Paribas also presented its new business plan. The revised strategy is ambitious and, in fact, it is positive for a long-term investor. That being said, the plan is a costly procedure as BNPP will incur a EUR3bn restructuring charge over the next three years.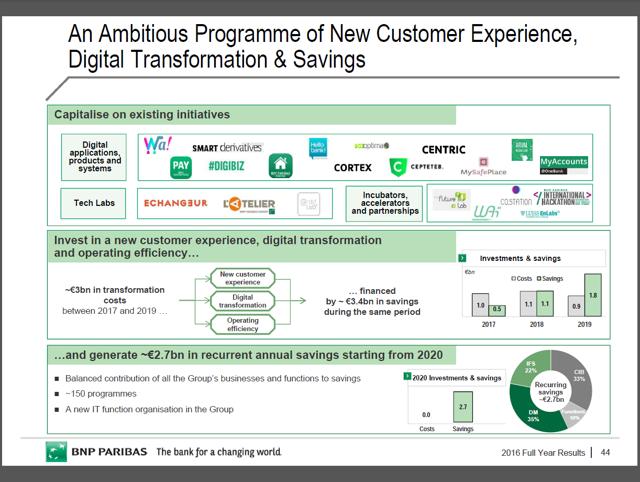 Source: Company data
The good
The key positive takeaway from the results and the 2020 strategy is that BNPP still targets a 10% return on equity on a 12% CET1. From a capital perspective, the bank already is above its 2019 regulatory requirements and investors might take comfort in knowing that the bank is still trading at a significant discount to the peer group despite its solid capital position.
European banks: P/B vs RoE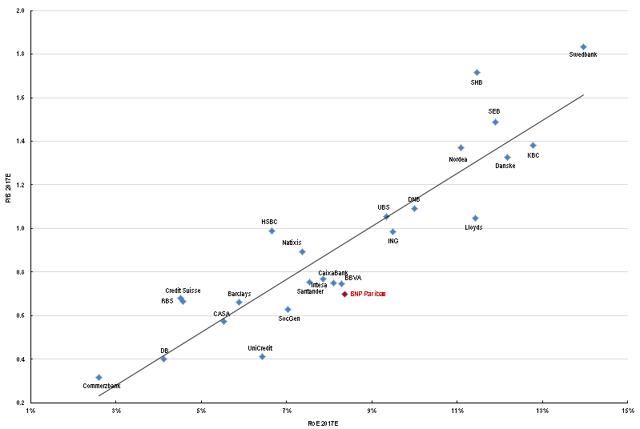 Source: Bloomberg, Renaissance Research
European banks: P/TB vs RoTE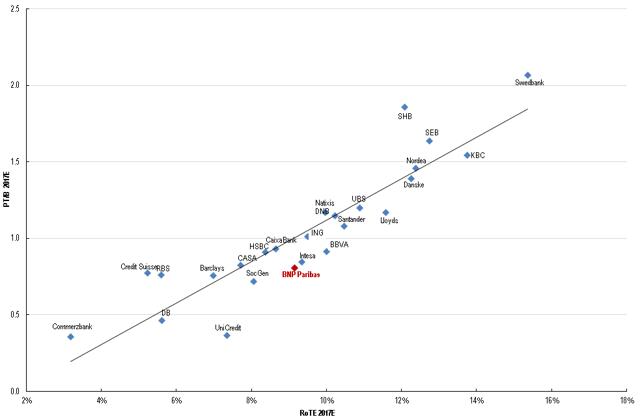 Source: Bloomberg, Renaissance Research
It is also worth mentioning that the bank increased its dividend payout ratio to 50%. The stock is currently offering a dividend yield of 5%.
Bottom line
Before the Q3 results announcement, BNP Paribas had been one of the largest holdings in our portfolio However, as mentioned in our prior article, we reduced our position in BNPP's shares. With that being said, we still believe that BNPP remains a very attractive banking stock for long-term investors with a 3-5 year investment horizon. It is a quality name with resilient earnings, a diversified business model and defensive characteristics. BNPP's shareholders might also take comfort in knowing that the bank remains one of the most undervalued names in the European banking space despite delivering a 9-10% return on equity on a 11.5-12% CET1.
As a buy-side analyst and a deputy portfolio manager, I oversee a financials-focused fund and will be continuously providing research coverage on developments with global banks and financial companies. If you are interested in the topic, consider following us by clicking the "Follow" button beside our name at the top of the page. Thank you for reading.
We also invite readers to check out our recently launched subscription service. Get in-depth fundamental research, stock recommendations, trading ideas, exclusive access to professional databases, sophisticated valuation models and expert commentary on Wall Street recommendation from a hedge-fund analyst with a proven track record. Go here to learn more or to sign up, we look forward to having you on board.
Disclosure: I am/we are long BNPQY.
I wrote this article myself, and it expresses my own opinions. I am not receiving compensation for it (other than from Seeking Alpha). I have no business relationship with any company whose stock is mentioned in this article.
Editor's Note: This article discusses one or more securities that do not trade on a major U.S. exchange. Please be aware of the risks associated with these stocks.