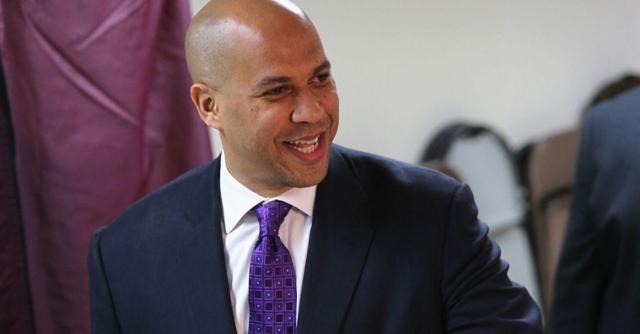 New Jersey Senator Cory Booker. Source: Mashable
The debate over drug prices remains at a fever pitch. Senator Bernie Sanders recently urged the federal government to allow Americans to purchase pharmaceutical drugs from Canada where they are cheaper. Currently it is illegal to import drugs from Canada. The Faustian bargain for many Americans is, "Break the law or go without medicine." However, the Senate voted down the plan; At least 13 Democrats opposed the amendment, including New Jersey's Cory Booker:
The Senate voted down the amendment 52-46, with two senators not voting. Unusually, the vote was not purely along party lines: 13 Republicans joined Sanders and a majority of Democrats in supporting the amendment, while 13 Democrats and a majority of Republicans opposed it.

One of those Democrats was New Jersey's Cory Booker, who is considered a rising star in the party and a possible 2020 presidential contender.
The loss appeared to be a bitter defeat for the democrats who helped bring runaway drug prices into the public consciousness. They are also looking for ways to win the hearts of millions of middle class Americans who voted for Donald Trump in the recent presidential election.
A Stinging Defeat For Senator Sanders
In 2015 Senator Bernie Sanders ranted about U.S. soldiers deserving access to cheaper HCV treatments. It prompted the VA to negotiated steep discounts for Gilead's (NASDAQ:GILD) HCV regimen; it gave other large payers like Medicaid and Medicare the blueprint to negotiate better HCV prices. It worked too. In Q4 2016 Gilead divulged that inclusive of discounts [i] the volume-weighted average price for Harvoni had fallen below $15,000 per bottle, and [ii] Medicaid paid less than 10,000 per bottle for states opening access to all patients. These are steep discounts when you consider Harvoni was originally priced at greater than $90,000 per regimen.
That said, Senator Booker's dissent on Senator's Sanders' recent proposal was apparently to a lack of consumer protections to ensure foreign drugs met American safety standards:
In a statement to the media after the vote, Booker's office said he supports the importation of prescription drugs but that "any plan to allow the importation of prescription medications should also include consumer protections that ensure foreign drugs meet American safety standards. I opposed an amendment put forward last night that didn't meet this test."
The Pharmaceutical Research and Manufacturers of America ("PhRMA") has taken a similar stance. Bills to legalize the importation of drugs were not passed by the Clinton and Bush Administrations over safety concerns as well. Given that backdrop, Booker's steadfastness on "American safety standards" is a defacto veto of Sanders' plan. His "safety" excuse could be considered null and void if the lion's share of drugs imported from Canada were originally manufactured in the U.S. In that scenario, U.S. citizens could get access to cheaper drugs because Canadian lawmakers have more political will to negotiate lower drug prices those in the U.S.
On the surface, Senator Booker's stance would appear odd given his image as been a "man of the people," and "defender of the little guy." When one considers he represents the state of New Jersey, Booker's stance makes more sense. New Jersey is home to several well-known pharmaceutical companies, including but not limited to, Merck (NYSE:MRK), Bristol-Myers Squibb (NYSE:BMY), Celgene (NASDAQ:CELG), Johnson & Johnson (NYSE:JNJ), and Valeant (NYSE:VRX). That said, of the campaign contributions received from pharmaceutical manufacturers over the past six years, Booker's $267 thousand in contributions rank third only to Orrin Hatch ($342 thousand) and Mitch McConnell ($323 thousand).
Is Booker's Stance A Win For Valeant?
For certain pharmaceutical companies price increases are a "want;" for highly-indebted names like Valeant or Mallinckrodt (NYSE:MNK) they might be a "need." Due to excessive price hikes on Cuprimine and Syprine, two drugs that treat Wilson disease, Valeant was recently cited for price gouging by the Senate Special Committee on Aging; the Senate also cited Turing Pharmaceuticals, Retrophin, Inc. (NASDAQ:RTRX), and Rodelis Therapeutics.
Despite promises to repair its public image as a price-gouger, Valeant has continued to raise prices for certain drugs. It recently hiked prices for some of its eye medicines by 9.9%; reports also suggest that hospitals have not received promised discounts on certain of the company's heart drugs. The company has successfully divested certain of its underlying assets to help pare debt. However, I believe price hikes are necessary to help Valeant service its $30 billion debt load at about 7x EBITDA.
The rub is that the company's U.S. Diversified segment and Branded Rx segment (ex-Salix) represent less than 40% of total revenue, but due to hefty EBITDA margins they represent the lion's share of Valeant's EBITDA. They also have the worst growth prospects. Due to competition from generics and/or waning pricing power, these segments' EBITDA is expected to fall by double-digits going forward. That could mean price hikes are paramount to offset such declines.
The Senate Special Committee on Aging suggested that importing drugs could be an important tool to combat price hikes from Valeant and/or other price gougers. Of the suggestions made by the Senate, I thought this could have had the most immediate impact on drug prices. In my opinion, the dissent from Booker and other lawmakers on importing drugs is a big victory for Valeant.
Conclusion
The Senate Special Committee on Aging spent several months studying price-gougers and crafting recommendations to combat them. I do not believe the debate is over. In the meantime, I have a sell rating on VRX given its high debt load, shrinking EBITDA and potential legal exposures.
Disclosure: I am/we are short GILD, VRX, MNK.
I wrote this article myself, and it expresses my own opinions. I am not receiving compensation for it. I have no business relationship with any company whose stock is mentioned in this article.